Lee Dong-wook: "I want to conquer the universe"
With Scent of a Woman having wrapped up over the weekend, it's managed to raise the profiles of its two stars — or, should I say, re-raise, since Kim Sun-ah and Lee Dong-wook were successful leading actors before as well. But as is the case with many a well-received, heart-warming TV series, what we're left with isn't just the warm fuzzies over the drama plot, but also newer, fresher impressions of the actors who played the characters we laughed and cried over. (Although in this case, it was probably more crying than laughs.)
The following is taken from multiple interviews with Scent's leading man Lee Dong-wook given over the past few weeks, as he was shooting and wrapping the show.
Scent of a Woman is Lee's first project after being released from military service, and he wasted no time getting to work; he headed to the drama's poster shoot on the day he was discharged.
Lee laughed about seeing an article while he was still in the army (his hair stylist sent a camera-phone picture of the story), which listed Can You Hear My Heart's Kim Jae-won as number 1 pick for the actor who'd do the best in his post-army project, and Lee Dong-wook as number 2. He joked, "It was my goal to beat Kim Jae-won."
But he can say that, he explains, because they're both good friends, having worked the same army radio DJ gig together for eight months. "We call each other frequently now, too. When I said I'd beat him, hyung just laughed." (Also: Can you believe Kim Jae-won is the hyung? That seems odd to me, since Lee Dong-wook looks mature for his age and Kim Jae-won's still rocking the baby face.)
Other entertainers he became close with in the army: Dynamic Duo, Lee Jin-wook, Andy, and Boom, who are "just like brothers to me."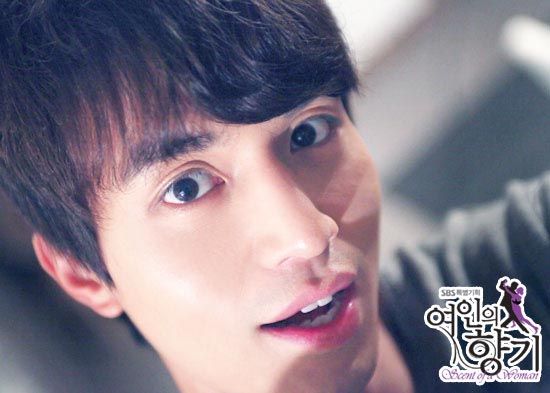 He's considering what role he'll take after Scent of a Woman, wondering if it's best to go with a film, or try a different character. He said, "Personally, I want to do another drama. And I've never done a sageuk, so I'd like to film one of those, too. But everyone tells me my face isn't right for sageuk. [Laughs]"
In a recent interview given while he was still shooting Scent, he talked about the toll the all-night shoots were taking on his body: "What stresses me out the most is hearing people tell me to stop losing weight. I'm not trying to lose it, it's just coming off. Shooting this drama, I've stayed up for ten nights. I've never gone to sleep in a bed, I've only slept in brief spurts while traveling from here to there. For instance, this team might finish shooting at 4 am, and another team goes on standby at 6 am. Can you imagine how doing this for ten days straight would be tough?"
Uh, yikes. And we wonder why the big A-list stars tend to shy away from dramas. Maybe it's not because films bring them greater fame, or global reach, or artistic freedom. Maybe they're just tired.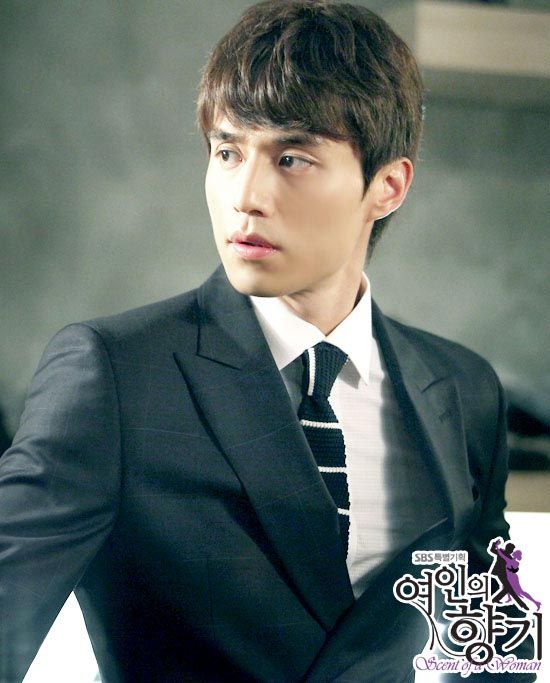 His Ji-wook character has received a number of comparisons to Hyun Bin's kka-do-nam (uptight city man) in Secret Garden, another SBS weekend drama where the male lead was a chaebol who falls for an ordinary woman and gets in touch with his emotional side. Asked about being called "the next Hyun Bin," Lee quipped, "I'd rather be the first Lee Dong-wook." Score 1 for the actor, 0 for the dim reporter who thought that was a clever question.
Lee added, "Actually after My Girl [where Lee played another chaebol], I got a lot of offers for dramas in this genre. But if you pump out all the water in stream, it dries up. When I received the script for Scent of a Woman, I felt I could do it now, when the water level was full. He is a chaebol, but he's not a kka-do-nam or a cha-do-nam [cold city man], which I liked. And while he is at odds with the Yeon-jae character, they are able to support and depend on each other when they're in pain, which I also liked."
The drama has its share of obvious setups and predictable characters, but one of its strengths has been in playing out the scenarios in ways that defy the obvious chaebol-in-love-with-terminal-cancer-patient storyline. Lee said, "On one hand, it can be seen as conventional and obvious. It's the terminal patient and the chaebol, and Cinderella on top of that. What was important was in making that less conventional. There's something different about Ji-wook from other romantic comedy men, with his indifferent eyes and his lack of will to do anything. In the first half of the drama, I heard a lot of comments like, 'Why the heck is the hero like that?' But as time went on, people began to understand Ji-wook."
Lee considers his current popularity "just good luck." He added, "What's funny is that I feel like I was acting the same in La Dolce Vita and Partner as in this drama, but it seems like the viewer's perception has changed."
He explained that initially, his first thought upon choosing this project was that he hoped viewers would watch comfortably, since he's heard that they had trouble with La Dolce Vita and Partner. But: "I keep hearing from people that the response to the drama is good and that a lot of people have favorable reactions to me, but nobody says that to me directly so I almost want to ask where I can go to hear all his." Ha! Although it makes sense that if you're in a bubble where you aren't as privy to the popular sentiment as normal folk, it can all feel like a lie, or at least a fantasy.
Lee described meeting Kim Sun-ah following their shoot for Episode 11, when Ji-wook finds out about Yeon-jae's diagnosis: "She and I were both in the same state — the moment we saw each other's faces, we started tearing up, thinking, 'What happens with us now?' We'd developed a sense of compassion for each other. Because I was crying, I couldn't act. [Laughs]"
Asked about his similarities with Ji-wook, Lee said, "I think we're similar in not wanting to trouble ourselves with bothersome things. My mother was even surprised at how I changed, because if I'm not working, I don't leave the house much. There's a separate study in the house, where I'll read manhwa books, use the computer, listen to music, and even drink by myself."
He said of Kim, "When I heard she was cast as my co-star, I thought that she could help me out a lot. Kim Sun-ah is thoughtful and looks after people when we're on set, and has a way of making things fun for her co-star. That's why I could film the bicycle date and the tent kiss scenes while smiling. [Laughs]"
Lee has a lot of ambitions about his future, and when asked about his own bucket list, he said, "If I were to write one like Yeon-jae did, I'd like to conquer the universe with my acting. Before I die, I want to be recognized for my acting. I'd also like to be a good father, a good husband, and keep my body in this shape till I'm ninety."
Rawr.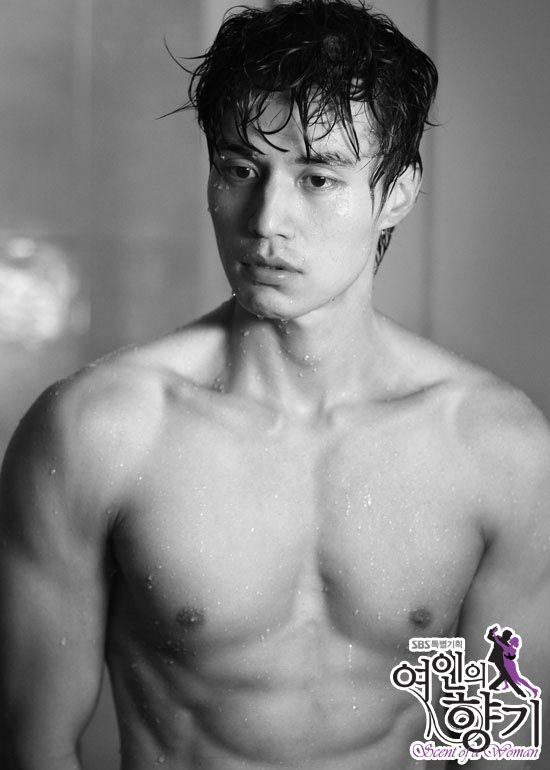 RELATED POSTS
Tags: interviews, Lee Dong-wook, Scent of a Woman