Medical drama Brain lines up male leads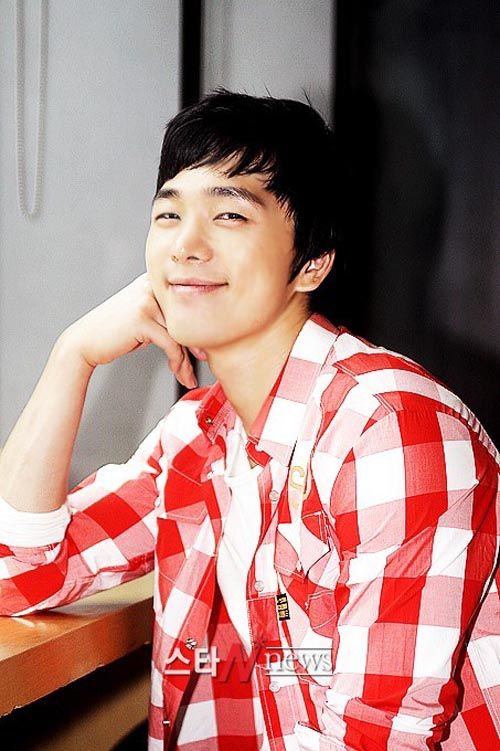 A new KBS medical drama titled Brain is prepping for production and lining up its lead actors: Jung Jin-young (Dong Yi, Kingdom of the Wind) has been cast, and it's looking likely that both Lee Sang-yoon (The Duo, Life Is Beautiful) and Lee Hyun-jin (You've Fallen For Me, Boy Meets Boy, pictured above) will join them.
Lee Sang-yoon's management confirmed a few days ago that he has yet to sign contracts but is looking favorably at the project, while Lee Hyun-jin has reportedly verbally agreed and is in final contract negotiations.
My first thought upon hearing this news was: Yay, Lee Hyun-jin! He was probably my favorite character in You've Fallen For Me, playing stagefright-stricken Ki-young with the amazing voice. Talk about stealing your tiny bits of screentime with powerful onscreen presence and a natural charisma. My second thought after that: Boo, so I guess it's not about zombies, then? Although in that case, the title would've probably been Brains. (Or, as I pronounce it, Braaaaaaaiiinnnns.)
As one article put it: Is Brain only casting brains? That's because two of its leading men — Jung Jin-young and Lee Sang-yoon — hail from Korea's elite Seoul National University; the 46-year-old Jung earned a degree in Korean language and literature, while 29-year-old Lee is studying physics. (Since we're comparing notes, 26-year-old Lee Hyun-jin is currently on leave from studying industrial economics at Joongang University.) Schooling is one of those automatic ajumma-heart-warmers, and goes a long way toward Lee Sang-yoon's image as an eom-chin-ah (the son you want for your own, see: Lee Seung-gi). Now all Brain needs is to cast Kim Tae-hee to round out its Seoul U cast.

Lee Sang-yoon
Plot-ularly speaking, Lee Sang-yoon will be playing the lead role as an ambitious neurosurgeon who's obsessed with advancing to the position of university hospital director. However, once he meets his sunbae, the prickly genius doctor played by Jung Jin-young, he turns over a new leaf and becomes a sincere doctor. Lee Hyun-jin will play another doctor and Lee Sang-yoon's rival.
Brain is a re-teaming of the PD and writer of KBS's hit drama God of Study, which I suppose is supposed to recommend the drama but makes me a little leery. I found God of Study incredibly cute…about a quarter of the time, and mind-numbingly dull the rest of the time. Based on that series alone, I think pacing and sufficient plot content will be areas to work on, but this IS an entirely different topic/genre, so maybe it'll work.
Brain plans to follow Poseidon on Mondays and Tuesday nights, which puts its premiere sometime in November.

Jung Jin-young
RELATED POSTS
Tags: Jung Jin-young, Lee Hyun-jin, Lee Sang-yoon