Movie Review: The Man From Nowhere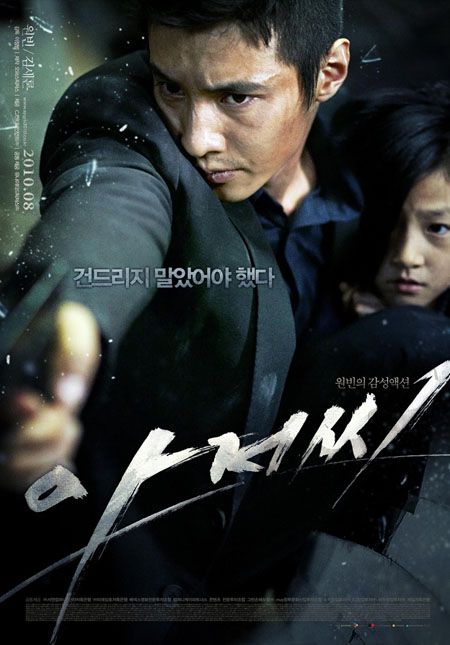 [Please join us in welcoming a guest blogger to Dramabeans, movie reviewer only1tony. We've been wanting to cover movies for so long, but barring cloning and/or dangerous 4th dimension travel, we had to find someone awesome who loves dramas and movies and the DB community just as much as we do. Be on the lookout for new features! Without further ado, here's tony! -girlfriday]
Compelling, passionate, thrilling, heart-warming, dark, and above all well-acted, it is no surprise why The Man From Nowhere (aka Ajusshi) swept the board with awards last year. The partnership of Won Bin and Kim Sae-Ron is excellent, and their chemistry as mysterious man and the little girl who loves him is incredible.
This movie is beautifully constructed in both visual and story aspects. The sheer emotion this movie elicits is simply unspeakable: from the pain of societal rejection, to hopelessness, to unadulterated anger, and finally a sense of what it means to purely love. It is definitely a must-see.
THE MAN FROM NOWHERE REVIEW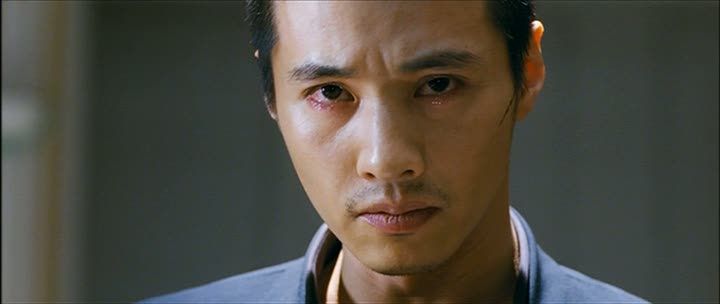 The premise of The Man From Nowhere centers around a mysterious Ajusshi named CHA TAE-SHIK (Won Bin), who is very solitary and largely stigmatized as a societal outcast. He is befriended by his neighbor's daughter JUNG SO-MI (Kim Sae-ron) who is also looked upon with disdain because of her socioeconomic status. So-mi's mother gets involved in a complex drug ring that leads to her and her daughter's kidnapping, and the only person who can rescue them is Tae-shik. He goes to any lengths to save the one little girl who believes in him. It is an action-packed, rollercoaster of emotions that will grab hold of you until the very end.
This movie is wonderful from a multitude of aspects that I will try my hardest to capture in this review. First and foremost, I must call attention to the extensive pool of talented actors.
We meet our hero, Tae-shik, who looks a little disheveled and very much like an outcast, but despite his appearance he still manages to show a sweet side admiring some white flowers. He arrives at his residence where we meet So-mi for the first time. She is an energetic girl, talking to Tae-shik despite his refusal to respond with little more than monosyllabic answers.
I love this duo because it's so unexpected, but they fit each other so well. He's so silent and solemn and she's so energetic and youthful. They also don't act like they have a typical adult/child relationship, but they're more like argumentative best friends. So-mi is without a doubt a wise little girl because despite what everyone thinks of the mysterious Ajusshi, she can see that he is a good person underneath all the gruffness. Sigh. I wish I could have Won Bin as my best friend and mysterious neighbor!
Character introduction is one example of how efficient and well-rounded the production team is at framing each character. Unlike a drama which has some leeway in establishing character traits and personalities, movies are limited to a finite amount of time to accomplish the same exact level of familiarity. This film, however, delivers in all categories by familiarizing the viewer with almost every character we encounter, setting up a clear love/hate relationship.
Won Bin as Cha Tae-shik really should be called the "King of Expression." There are numerous moments in the movie in which his eyes tell you more than any dialogue could. I have been a long-time fan of Won Bin so I have come to expect this amazing level of acting, but he truly did step it up. You can see the pain in his eyes, the heartache, the regret, and for those few moments, even happiness and relief. I have to say that by far Won Bin contributed most to the emotional rollercoaster that made this film so moving.
Kim Sae-ron as Jung So-mi is a relatively new actress whose performance was really enjoyable. I loved how quirky and cute she was. The emotional parts that she had to do, which I'm sure must be hard for any actress, let alone a child actor, were simply brilliant. She made me cry a few times, and I consider myself made of stone, so you can imagine! Sae-ron is definitely one of those child actors to be on the lookout for, because with acting abilities like hers, there is no telling what the future holds.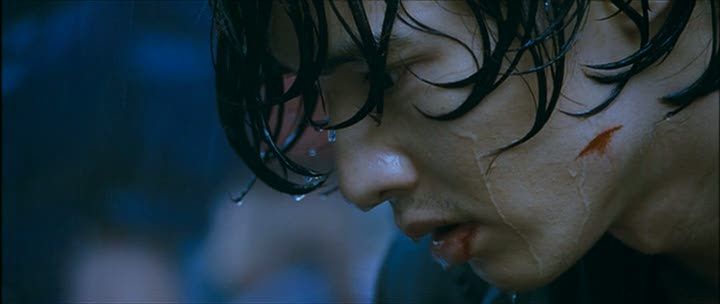 What made the movie really special though was the excellent chemistry between Won Bin and Kim Sae-ron. The duo was quite eccentric, but somehow managed to be adorable at the same time. They played off of each other really well and most of all their friendship seemed natural, not at all forced. The movie would not have been the same without this pairing, and the tender/tormenting moments would not have been as emotionally charged.
The pair was honestly really cute together and I found myself wishing I had a mysterious Ajusshi neighbor that would come to my rescue! I guess dreaming of one will have to do.
In one of the most important scenes in the movie, So-mi gives Ajusshi her most prized possession: a Yu-gi-oh card called Dark Night which she says "beats everything." She turns to leave but faces him one more time to say:
So-mi: Ajusshi! I embarrass you too, right? That's why you ignored me? It's okay. My teacher and all the kids at school do that, too. Mom said that if I get lost, I should forget our address and phone number. She gets drunk and says we should die. Even though that pig called me a bum… You're meaner. But I don't hate you. Because if I do, I won't have anyone I like. Thinking about it hurts me here (she pounds her chest near her heart). So I won't hate you.
This is by far one of the saddest speeches I've heard in a long time. She pours out her soul to him, revealing her hopeless situation. This is really one of the turning points in the movie because this is where we find out that she really needs Ajusshi. He's important to her, and although not readily apparent, he needs her too.
Aside from the main characters, the secondary characters were also quite brilliant.
Kim Sung-oh, who plays evil drug baddie Jong-seok, was really surprising. I've seen him in minor roles in Secret Garden and Midas, where both times he played a silly/not-so-well-off-intellectually type of person, but his role here was drastically different. He plays an amazing sadistic evil guy, with a bit of a psychopathic edge. I like it when an actor is not a one-trick pony and delivers lots of range. He was actually one of my favorite characters just because of how demented his character was.
Kim Hyo-seo, as So-mi's drug addicted and negligent mother, was probably the biggest surprise. She was incredible in the scene that displayed the horrors of drug addiction. The representation of drug world is drastically real. We see the conditions of drug abuse, the treatment of children as cattle, and even the violent and often relentless business that is drug dealing.
The movie is so good at capturing experiences/real life situations, like addiction, violence and sadness. The ecstasy on the mother's face as soon as she injects the heroin is stunningly real and I must give proper recognition to Kim Hyo-seo for her incredible acting in the role of the drug-obsessed, negligent mother. I think I'm going to keep a closer eye on her from now on.
Other notable actors included Kim Tae-hoon, who played the lead detective Kim Chi-gon, and Kim Hee-won, who played super evil drug baddie Man-seok. Tae-hoon was good at playing an all-time serious detective, but his character in all honesty did not pique my interest as much as the others. Hee-won was by far one of the most dynamic characters in the movie and really worked the angle of loathed drug tycoon really well. There was also the inclusion of funny man Lee Jong-pil, as detective Noh, and Thai actor Thanayong Wongtrakul, as a psychopath with a knife Ramrowan, who spoke perfect English.
Now for the really juicy stuff: the plot and production value. At first, I thought the plot sounded mundane; super mystery man gets involved with the underground drug world leading to danger and sadness, but ultimately ends up saving the day. Man was I ever wrong. The plot itself is not contrived and is in fact well-written.
The premise is pretty classic: hero needs to save people from evil guys. But that's where the classic nature ends. Relationships are built that give rise to the action. The dynamics of these relationships are not all black and white, and as such there is definitely an inherent struggle in the viewer. We connect to the characters in such a way that draws us into their world, and as a result we become invested.
From the beginning, the film manages to set up the relationship between So-mi and Tae-shik, defining every aspect of this movie. And let me just say I am so glad that a romantic relationship was not the main focus for at least one movie I have seen in the last year. The production crew manages to capture the eccentric yet realistic relationship between mysterious/kind stranger and youthful/spunky misfortunate girl (if you can imagine that). This is a talent that you will see is noticeable throughout the film: the ability of the production team, as well as the actors, to capture epically realistic and emotionally charged scenes really well.
The story centers on a very mysterious Ajusshi, and we gradually learn more about him as the film progresses, and see what led him to his present state. His backstory is really kind of tragic, but that tragedy allows us to connect as viewers to his story. He might be a recluse, but he has one friend in So-mi, equally jaded, despite being such a young girl.
What I thought was one of the most brilliant aspects of this movie was its strategic (and not overwhelming) use of action. I cannot tell you how many times I have seen a Hollywood blockbuster that simply pounds the action at you every minute and never develops its characters or storyline. Thankfully, The Man From Nowhere does not follow in their steps. Storyline and character development are first and foremost, followed by the use of action as a supporting device to further the story.
From explosions to fight scenes and even portrayal of death, action did play a big part in the excitement factor of this movie. I will admit, had action not been involved, this movie would have been a huge melodrama cry-my-eyes-out-until-I-dehydrate parade. The action though, provided a great sense of thrill. Some of the fight scenes were some of my all-time favorites because the fighting was actually visible.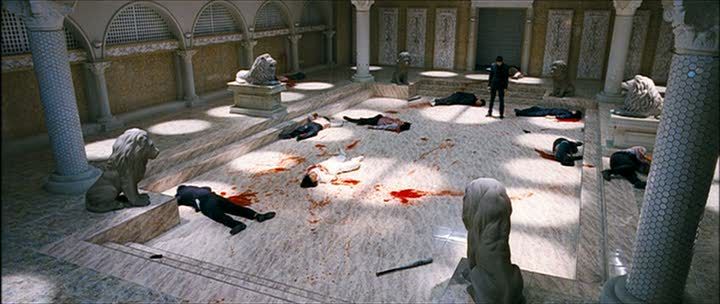 Far too often cameras can't capture the rapid movements in fight scenes, and they end up a big blurry mess of twisted bodies. But the visual acuity of the camera work really helps bring out the stunning nature of the fight scenes.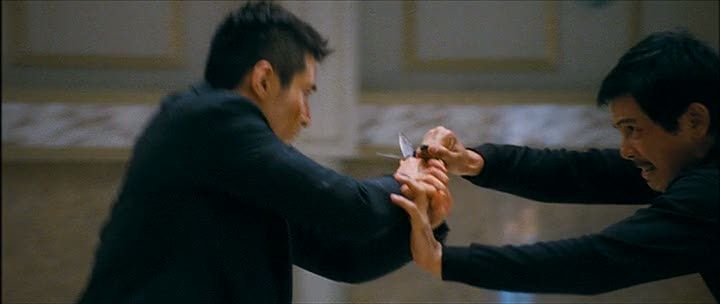 The graphic nature of the killings — an axe to the head, a knife to the mouth, even organ removal — was really well done. I truly was not expecting that. And from then on, the explicit nature of the scenes only grows. Deaths became bloody and violent, revelations even more shocking and the action sequences much more involved.
The acts of killing become really dramatic and so tangibly painful. I'm not squeamish when it comes to blood, but just thinking about the way these people died makes my skin crawl. I promise never to steal drugs for the sheer fear of how I might die!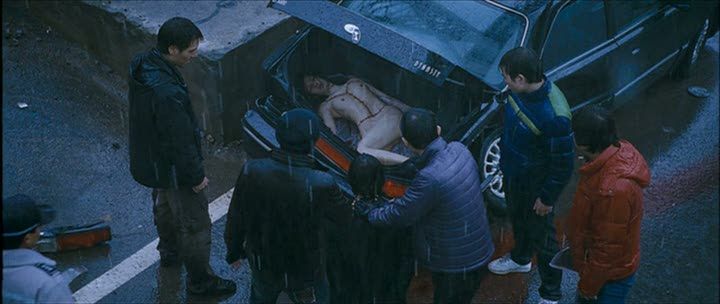 Symbols, as a plot device, are very important as well. Specifically the nail art that So-mi likes to do from the start of the film. With her mom on drugs, she turns to the only person she can, Tae-shik, and buckles down in his place for the night. When he awakens the following morning, he finds So-mi has already left, but she did not leave without a thank you gift: a painted fingernail with her special brand of nail art, which he can't help but smile at. So cute!
The nail becomes a transient symbol throughout the movie. That one fingernail represents everything that Tae-shik is fighting for and reminds us that love, in the purest form of family love, is more important than anything.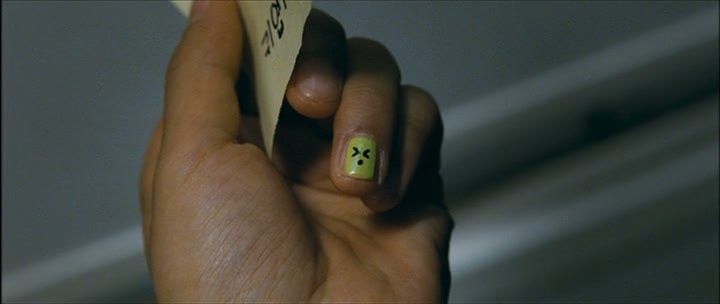 The hair cutting scene is very symbolic and crucial to this movie's incredible second half. This is the crux when our hero, who has been so disadvantaged for the entire movie, turns the tables. He transforms himself back into the person he used to be, releasing what I like to call the hidden beast. He's willing to give up everything to save this little girl. I love the symbolic nature of the actions the writer-director employs because it helps the viewer understand the stages of his development.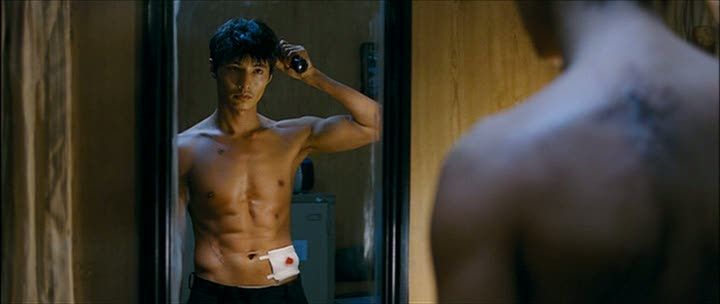 The greatest aspect of the movie by far was the emotional side of the storyline. My heart was wrenched out of my chest, stepped on a few times, thrown across the world, and put back in my chest and bandaged with one of those cute penguin band-aids. I literally felt everything the characters felt, and for it I was an emotional wreck by the time it was over. I love a movie that can make me feel everything that a drama makes me feel, but in less than 2 hours. (I still love you, dramas!)
In terms of cinematography, this movie was definitely in a class of its own. The angles, the lighting, the scenery, and even the set design were truly marvelous. In fact, I think a big part of what made this movie great was the acuity of the camera work. At times it was clean and focused so we could see every detail within the frame, and at others, when the action was chaotic, was face moving and even dizzying, but still visible. It was the camera work that made the fighting scenes so realistic.
But I think it is safe to say that the movie itself was truly enhanced by the incredible degree of acting. Won Bin is a master at expressing emotion with his eyes. Without many words he was able to take us from melancholy to surprise, to misery, to anger, and finally to relief and happiness. Whether it was tears of sorrow or tears of contentment, I truly think the powerful facial expressions of Won Bin made the movie that much more special.
The Many Faces of Won Bin:
Overall I think writer-director Lee Jeong-beom was spectacular. He had the vision and skill to execute this dream film with such finesse and artistic aptitude that it really was inspiring. I hope that we see more great works from this writer-director, preferably more action films, although other genres wouldn't disappoint. (Imagine what he could do with a romantic comedy!)
The Man From Nowhere is a must-watch and I promise you won't regret it.
Thank you for reading and I hope you liked this first movie review. Please let me know what you think and ways I can improve!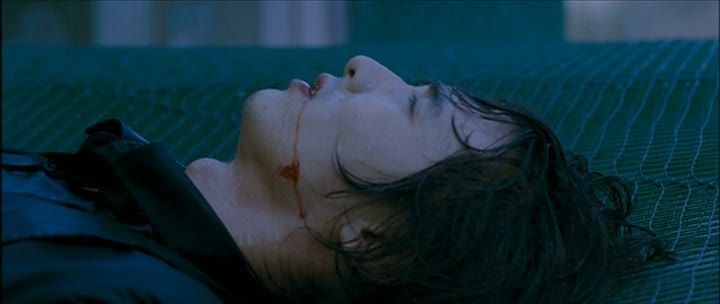 RELATED POSTS
Tags: featured, Kim Sae-ron, Won Bin