Mr. Idol's posters, stills, and teaser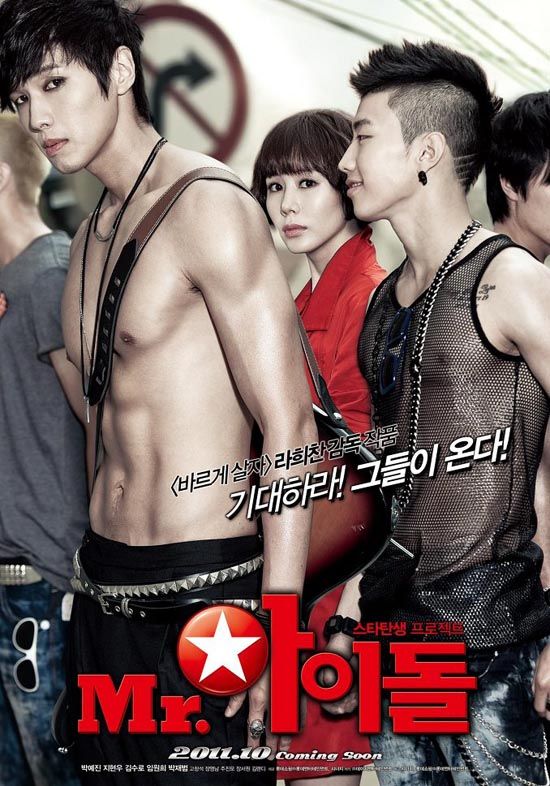 It's the era of the idol singer (seriously, Korea's practically drowning in idols these days), so it's only appropriate that we start making them the focus of dramas (see: Dream High and the upcoming and hopefully hilarious Vampire Idol) and movies like this one, Mr. Idol.
The plot of Mr. Idol centers around a star-making "dream variety show"; Kim Su-ro (God of Study) and Park Ye-jin (My Princess) put together a boy band called Mystery Children, made up of four young men from different backgrounds. The members are all troublemakers of sorts, and the movie tracks their progress from motley crew to popular success.
The movie, which releases in October, stars Ji Hyun-woo (A Thousand Kisses, Birth of the Rich) and Park Jae-bum, which seems appropriate; Ji started out as the guitarist in pop-rock band The Nuts, while Park is formerly of idol band 2PM. In the supporting cast, you've got another musician in Kim Randy, a member of Electroboyz, a rap/hip-hop group that debuted last year. The fourth member of the fictional movie band is Jang Seo-won, whom you may recall as one of Ha Ji-won's stuntman buddies in Secret Garden.
Here's the trailer:
(Hee. The tag is pretty funny, with Park Ye-jin giving her newly assembled boys their first lesson: "This is the fundamental element of all dance." Her "instructor" demonstrates a floppy handstand, then tells the group, "I don't have the fundamentals down. Why not? Because I'm not an idol. You guys try.")
The character posters below give us more of a glimpse into each member's personality. Ji Hyun-woo plays the group's leader Eugene, whose poster bears the tagline, "All I have to give is my singing!" (What about the abs? You're an idol, surely your abs count for at least half your appeal, with the moody emo guyliner netting another 10 percent.)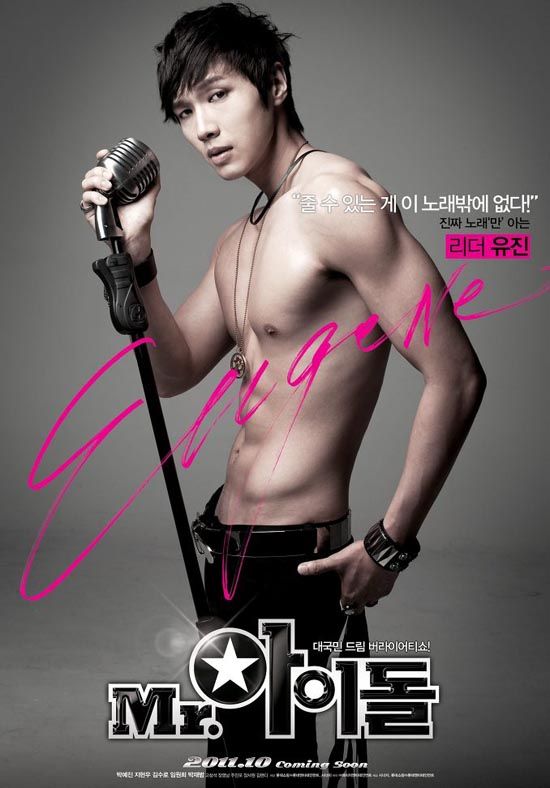 Below that, there's Park Jae-bum playing dancer Jio, whose poster reads, "Body quicker than words, a dancing machine!" (Surely abs will play a role here as well, no? Sure, his are covered up below, but he's wearing mesh in the top poster, which, despite its affront to all fashion, is almost the same as going without a top altogether.)

Randy Kim plays rapper Ricky, and has the tagline, "I learned Korean through rapping!" (Is that like Woo-bin learning English via rapping in Boys Before Flowers? 'Cause I'm pretty sure "Yo yo ma bro" doesn't constitute language skill. Let's hope Ricky's version yields better results.)

And then there's vocalist Hyun, a former noraebang CEO played by Jang Seo-won whose poster has the copy, "A superstar, discovered by Taejin and raised by Geumyoung!" (They're karaoke machine names.)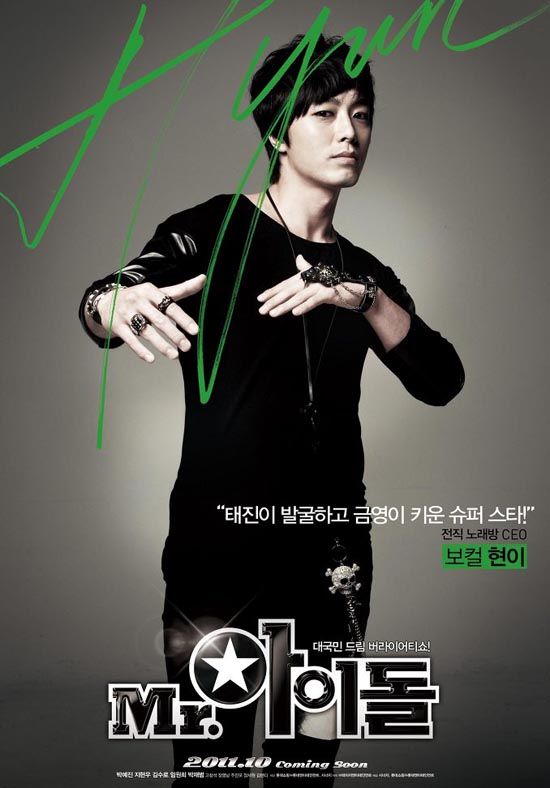 Via Osen
RELATED POSTS
Tags: Ji Hyun-woo, Kim Su-ro, Park Jae-bum, Park Ye-jin