My Name Is Kim Sam Soon: Episode 13
At the end of Episode 12, Sam Soon made the decision to climb Mt. Halla alone. Jobless and the loser in yet another game of love, she would remake herself once she reached the top. She would be Pâtissier Solitaire Kim Hee Jin, her own boss and free from the tragic baggage of her old life. And after the long march up Mt. Halla, after the struggle against gale-force winds and driving rain to reach the top, she makes and triumphantly calls out her victory to Sam Shik. But who does she find at the top but Jin Heon, waiting for her.
Anyway, given some of the mature themes dealt with by immature characters in this episode recap, I slapped the Korean television rating of 15+ on the intro picture. Not that that will stop anyone, but someone's gotta think of the children.
SONG OF THE DAY
My Name Is Kim Sam Soon OST – "Goodbye" [ Download ]
Audio clip: Adobe Flash Player (version 9 or above) is required to play this audio clip. Download the latest version here. You also need to have JavaScript enabled in your browser.
Episode 13 – The Way To Break Up With Her
You can like someone. You can have strong feelings that person. And then, *poof* that person can appear like magic on top of a mountain. But so what? If we all did what our feelings told us to do, we'd just end up in front of the computer, drinking coffee, eating choco-pies and watching k-dramas all day… and of course, we don't do that (right?). The point is that adults do what they must do, not necessarily what they want to do.
And yet, here's Sam Soon sitting with Sam Shik, sharing sea urchin sea-weed soup. To her credit, Sam Soon isn't all swoon-y like Mrs. Samsooki was when she saw Jin Heon standing at there at the top of the mountain. It's Sam Soon's birthday and Jin Heon brought the traditional food for birthdays so that Sam Soon would have it and have someone to share it with. Where was this romantic person when Sam Soon was plucking flower petals and crying her eyes out on her swing? Oh right, sorry, I forgot – he was sleeping with Hee Jin that night.
That night, Sam Soon and Jin Heon do shack up in the same hotel room but there's no touching allowed by Sam Soon. Well, let me rephrase that. There's actually plenty of groping and moaning going on, because Jin Heon is totally rubbing his hands all over and squeezing Sam Soon's swollen….um, legs. Hehe!
Sam Soon permits the chaebol massage on her bod, but this isn't really surprising. One, she's probably thrilled at the physical contact and has turned all gooey on the inside like a 10-second microwaved marshmellow. Two, it's not like they've not had previous skin-shipping encounters. And three, it's not sex – it's just a massage because Sam Soon's sore legs and butt really need some TLC (tender loving chaebol).
Of course, there are massages, and then, there are… *wink* massages. Jin Heon decides that he should change his name too, because Randy seems to fit him better. But Sam Soon totally does the Little Samshiki Block though. Not because Sam Soon is angry, but because she's embarrassed at being overweight. She wants Jin Heon to wait until she loses a few.
Note: I was going to let this one go, but I can't. Now, I'm not talking about the "No Sex Until I'm Thinner." In just about every k-drama rom-com I've ever seen, the heroine doesn't play the Hide-The-Kimbap-Roll game with a guy until (a) marriage or (b) a formal declaration of serious gf/bf. In fact, generally speaking, the heroine is even a chaste V. Contrast that with Sam Soon. The only reason Sam Soon isn't making the Beast With Two Backs with Jin Heon is due to Sam Soon's issue with her weight, and not cuz she's STILL the other woman! I'm NOT judging Sam Soon, mind you, I'm just noting!
Anyway, Sam Soon takes out her name-change application approval that she has to file with the district clerk, and Jin Heon yoinks it from Sam Soon and tears it up. He's a man and Sam Soon's his woman. Didn't he tell her not to do it? Of course, Sam Soon is enraged by this completely inappropriate act and starts beating Jin Heon. finally ending up kicking him off the bed and giving Jin Heon a bloody nose. Not that that prevents Jin Heon from climbing back into bed, of course. I love this scene, as Jin Heon drops his arrogant chaebol attitude and just becomes his cute and immature self. The real Jin Heon fits snugly with Sam Soon like lock and key, even if nosebleeds occasionally happen.
Still, they aren't the only two with chemistry! Back in Seoul, Henry and Hee Jin go do a bit of sight-seeing and find themselves at Chang Kyung Palace, one of the main palaces built during the Koryo Dynasty almost a 1,000 years ago. Hee Jin spreads her arms out wide and welcomes Henry to humble abode, she's got a few empty rooms so there's plenty of room if he wants to crash. Hee Jin then teaches Henry a bit about the historical site, and Henry breaks out a bit of Korean – no doubt charmingly (Mrs. Samsooki says, "Absolutely perfect pronunciation – he's perfect!").
Hee Jin, even as she is with Henry, still checks her phone for calls from Jin Heon. She doesn't know where Jin Heon went the night before and he's evidently not picking up his phone. Out of the blue though, Hee Jin asks Henry to go to royal palace pond and catch her some golden carp. Henry is understandably confused, but goes to the edge of the water and tries to grab a few fish as they swim by. This is forbidden of course, and Hee Jin tells Henry that she's just kidding.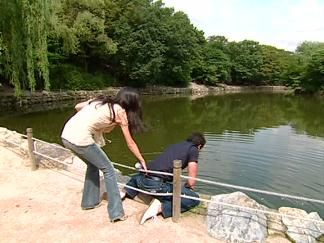 This might (MIGHT?) seem a little weird, but there's a few things to this. First, as to why Hee Jin asked in the first place- carps are associated with courage, endurance and success. There's this legend of carps swimming against the current in this one particular stream and the one that would survive the journey would turn into a dragon. Similarly, in the olden days (back when Korea was called Joseon), individuals who would successfully undergo the tremendous hardship of trying to study and pass the royal exams would be seen as dragon carps. Second, since they lay so many eggs, carps are a reproductive symbol. And third and more to the point, Hee Jin just basically wanted to see if Henry would do anything for her, which, of course, he would. Amazing what love can do.
Jin Heon heads into work and after a brief discussion with his mom (who wants to set him up with another blind date, this one to get rid of both Hee Jin and Sam Soon), he heads into his office. He turns on his phone and he sees he's missed 3 texts and 2 voice-mails. The first voicemail is from Hee Jin, who remarks that Jin Heon didn't seem to be eating the kimichi that she made for him so she's taking it back, but that he should still try to eat well.
Jin Heon is stuck. He stares at his phone and let's out a deep breath.
How do you tell someone with whom you've had an eight-year relationship it's over? That the love is gone and you've moved on? Is it possible to love one person for one reason and love another person for another reason? Let me make one more comment here – more than a few peepz have said that it is unfair of Jin Heon to string along both women, to rather cowardly waffle between them. But in Jin Heon's defense – he would not be so ambivalent if he didn't care so deeply about both.
As Jin Heon is staring at bathroom mirrors and reflecting on the past, others are in motion – life moves forward even if you are standing still. Yi Young and Sam Soon are hunting for a retail space to set up their pastry shop and shopping for commercial appliances. They are moving forward to build the foundation for their dreams.
And in more contrast, Jin Heon's mom has gone straight for Sam Soon's mom in a flanking maneuver to bypass Jin Heon. As SOON as I saw this scene, I cringed big-time because when a couple's respective moms go tête-à-tête, there are always issues. Class, money, employment, education social status issues. Whose son or daughter likes or needs the other more issues. Family background issues. Beauty, style, language and culture issues. Come to think of it, there's not a SINGLE thing that isn't a bomb waiting to explode when two Korean moms get together.
So, here's the set up. Jin Heon's mom comes in a chauffered car, right to Sam Soon's door. But she doesn't get out of the car, she sends her assistant to do the initial meet. And so when Sam Soon's mom comes out, she is accosted by Assistant Yoon, who tells her rather disrespectfully to get in the car. In fact, Assistant Yoon is addressing Sam Soon's mom with her arms crossed (a no-no) and with lack of sufficient honorifics for a first meeting (a big no-no). Given the circumstances, Sam Soon's mom refuses to do anything until she finds out more, and this forces Jin Heon's mom to exit her car – bringing her back down to Sam Soon's mom's level. Jin Heon's mom hands over a fancy business card as her introduction, and asks if Sam Soon's mom knows who Hyun Jin Heon is.
Sam Soon's mom says (without a trace of irony), "ohhh, you're talking about that ill-mannered Samshiki or whatever his name is?" LOL! Jin Heon's mom is forced to say that that's her son. Then Sam Soon's mom says, "oh, then that means you are that motel owner…" Hehe! Now we know that Sam Soon's blurt-out-the-first-thing-that-pops-into-your-head gene comes from the maternal side.
Jin Heon's mom asks Sam Soon's mom to take a ride with her. Sam Soon's mom refuses, and instead offers her home to sit and chat. Jin Heon's mom refuses. Jin Heon's mom loses the subsequent staredown, however (she's the one who needs to talk), and she is forced accept standing in the street as neutral ground. And in delicate terms, Jin Heon's mom notes that while the two kids might have feelings for each other, marriage is another story altogether. A surprised Sam Soon's mom drops TWO bombs in return: (A) Hey, I ain't about to give my daughter to a jerk who buys love for money, and (B) their relationship was just a fake-love contract thing. Ooops! Jin Heon's mom never got that memo….
Jin Heon's mom heads directly to the restaurant but Jin Heon is not there. Instead, she runs into Hee Jin. Seriously, Jin Heon's mom's head must be spinning as her son seems to be dating two women at once. Where is that rascal anyway?
Why, he's off to visit… Henry? Henry seems to have taken Jin Heon's place as Hee Jin's support/help/comfort, and I guess Jin Heon wants to know why? At this point, I can't really say for sure about anything that's going on in Jin Heon's head. This part is more of a guess-cap rather than a recap; one would guess that he's there to see if Hee Jin would be in good hands if Jin Heon dumps her, but I'm not so sure.
Henry comes back to see Jin Heon sitting in Henry's room and rifling through Henry's stuff – including a Practice Korean book where Henry has written the words, "Hee Jin, Henry, Jin Heon, Fried Octopus" about a dozen times (weird!). But rather than be offended by the invasion of privacy, Henry smiles broadly.
Jin Heon challenges Henry to a game of one-on-one basketball and they head to a court at Jin Heon's club gym. A bunch of guys there are running pick-up 5's half-court but Jin Heon doesn't want to be part of a team. A stray ball rolls over to Henry and grabs the ball, starts dribbing between his legs and runs the length of the court and DUNKS it. This surgical oncologist has got game.
Running pick-up fives means that teams are made on the spot and winners stay on. Henry dominates and so Jin Heon watches in dismay. EVERY guy on the floor looks to be 6'2 or taller (in a random pickup game??) – eh… but I get it. If Henry had been playing and dunking over average-height guys 5-6 inches shorter than him it wouldn't have been as impressive.
Jin Heon asks to go swimming with Henry, and happily Jin Heon finds that he's slightly bit faster at swimming than Henry (still, proving absolutely nothing but that he's a bit faster at swimming). An understanding Henry pats him on the check and tells him he's cute. In response, Jin Heon punches him.
Henry: Are you crazy? What are you doing?
Jin Heon (in Korean): If you have a problem, do something. Come on, boy! (And then in English) I don't like you. You suck.
This is the problem with straight translation, and a problem that is well-known to drama subbers everywhere. What Jin Heon says to Henry in English ("I don't like you, you suck") is pretty much verbatim what Sam Soon's sister said to Jin Heon (but in Korean) last episode. Jin Heon says the exact same thing in English, but it comes out sounding weak. If only Jin Heon had a translator in the pool with him to tell him to tell Henry to go eff himself. Still, Henry didn't need the words since he received the punch. Henry finally punches back and the fight that needed to happen finally happens.
After the fight, Jin Heon asks Henry if he loves Hee Jin. Henry says yes. Jin Heon accepts this and mumbles to himself that Henry isn't such a babo (a fool) after all. (Jin Heon's point is that only a fool would be so dedicated to someone without loving them). They go to dinner together, and Jin Heon does two things: (1) Jin Heon helps make Henry's soup – an act of service (like a Dad might do to a son-in-law) and (2) Jin Heon tells Henry (in Korean) to take good care of Hee Jin, just like Henry has always done. Henry doesn't understand the Korean, but that's okay – it's more for Jin Heon's sake than Henry's. It's Jin Heon's first official act to give away someone who has been so special to him for so long.
Back to Sam Soon, who has picked up another certified name-change authorization form to replace the one that Jin Heon had ripped up. She gets off the bus at her stop but doesn't see the flour ambush attack by Chae Ri, who is upset at the ruination of her marriage to Hyun Woo. Sam Soon instantly understands, as that was her position less than a year ago. Rather than slap her around again, Sam Soon takes Chae Ri to a jim-jil-bang (sauna / spa) to talk things over.
Sam Soon notes that she actually did Chae Ri a favor by revealing how much of a cheater Hyun Woo really is. Chae Ri scoffs at that – if Sam Soon knows so much, how come she went out with Hyun Woo too. Sam Soon starts to say that she did because she was young at the time but now that she's 30… Perhaps thinking about Jin Heon, Sam Soon admits that really, everyone is in the same boat when it comes to love – we all end up fooling ourselves.
Sam Soon ends the discussion by noting that since she saved Chae Ri, Chae Ri should buy the soup. Chae Ri responds cheekily by saying that Sam Soon should buy the drinks since Sam Soon keeps hitting her. That brings more klonks to the head – and Chae Ri retains her spunky side by insisting that all of the food and drink should be paid by Sam Soon. A mirror to the Henry-Jin Heon scene, and one that reinforces the notion of how the unni-dongseng relationship works – at least when man-chasing doesn't get in the way.
Anyway, it's taken a while for Jin Heon to get around to it, but here he is.
Jin Heon is there waiting for Hee Jin as she arrives home from a day of errands and shopping. Hee Jin takes out a shirt that she bought for Jin Heon but Jin Heon doesn't wear it. There's something on his mind. Hee Jin asks if something happened, and if there was a reason he turned off his cell phone.
Jin Heon looks Hee Jin and Hee Jin is suddenly scared. She gets up hastily, saying she wants to soak her feet. But Jin Heon grabs her and hugs her for a second, but in a way that a child might hug his mom. Hee Jin is more than a little anxious now, especially when Jin Heon asks to wash her feet for her.
Jin Heon: During the three years we were apart, I changed a little too… Let's stop this, now.
Hee Jin (shocked): Look at me. I said look at me. Is this because of Kim Sam Soon?
Jin Heon: Eo (yes).
Hee Jin (delicately): Do you love her?
Jin Heon: …
Hee Jin (insistent): Hmm?
Jin Heon: I can't. Stop. Thinking about her.
Hee Jin (sobbing): Do you love her, I said.
Jin Heon: I miss her.
Hee Jin (upset): I asked if you love her!
Jin Heon: When I am with her, I'm happy.
Hee Jin: She might be all sparkly now, but with time, she'll be just like all the rest. However bright she may shine now, as time passes, it will be like she's a nothing, just like the way we are now. Jin-Heon-ah, even knowing this will you still go (from me to her)?
Jin Heon: People, even knowing that they will die, still try to live.
Then Hee Jin cries as she beats on Jin Heon, with whom she had always thought she would marry and grow old together one day. And actually, so did Jin Heon. He grabs her and hugs her tight, even as she strikes him multiple times.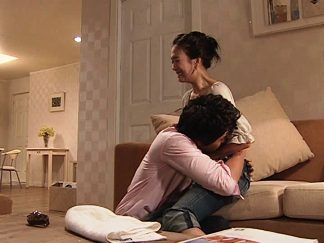 And so with that history and expectation, how do you wipe away those dreams? How do you break up with someone that you've held in your heart for so long, especially when that other person still loves you?
Comments:
For everyone who said that Jin Heon was this or Jin Heon was that – you gotta at least give props to the man for facing up Hee Jin and telling the truth. No deflection or prevarication. At the very least, to honor and respect the woman he loved for so long, Jin Heon owed it to Hee Jin to tell it to her straight up and he did.
This episode might have started out all fun and games but there was always the other shoe that was dangling by a lace, just waiting to drop. Well, it finally dropped and it hurts just as much as you thought it might hurt. There's no getting around it. For every beautiful relationship that begins, there may be another just like it that must end.
RELATED POSTS
Tags: Daniel Henney, featured, Hyun Bin, Jung Ryeo-won, Kim Sun-ah, My Name Is Kim Sam-soon