Myung-wol the Spy: Episode 18 (Final)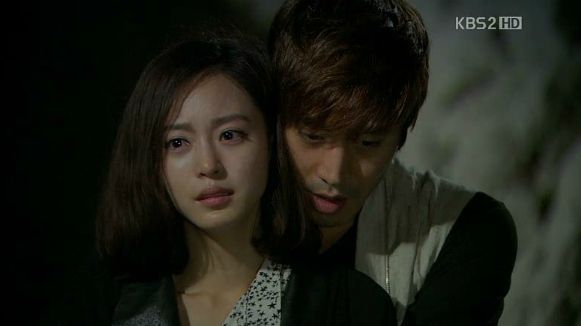 Oh, Myung-wol. It saddens me to think of the drama you could've been, when you were at the height of funny. You were quirky and offbeat and something new, and the possibilities were endless. But you caved to some of the laziest writing and directing known to man, and worst of all, you lost your quirky charm, your sense of fun, what made you… you. Despite it all I held out hope for a good ending… because I'm a glutton for punishment that way. What say you, one good episode, for old times' sake? Why do I feel like I'm about to regret asking?

FINAL EPISODE RECAP
Kang-woo finds Myung-wol in the cave and tells her that he can't live without her. Heaven or hell, he won't let her go, and if they die, they die together. She still refuses (after that?) telling him that she doesn't have it in her to stay here with him.
She tries to walk away but he backhugs her and asks if she'll let him stay with her on her last night here. It's a last-ditch effort, but he says if she leaves, he'll never get to see her again.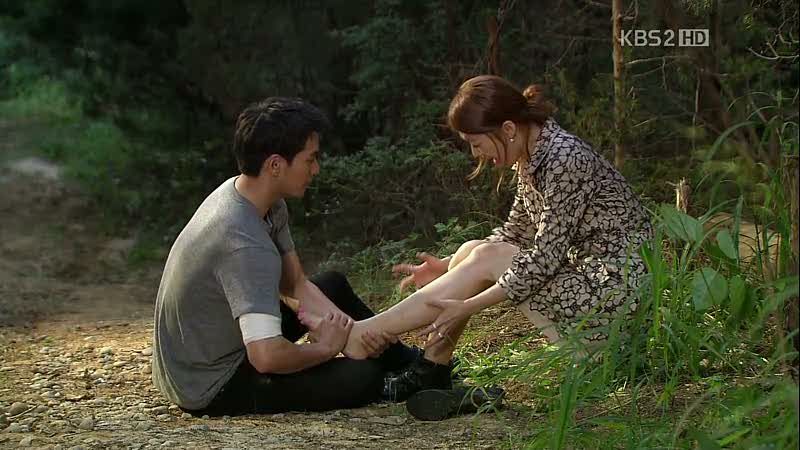 Meanwhile, outside the cave, Ryu fights off Chairman Joo's minions who have come after them, and finds In-ah hiding, having followed Kang-woo. He gruffly walks her down the mountain grumbling at her for coming up here, and finally snaps off her heels when she starts complaining.
He asks why she came, and she confesses that she was worried about him. He asks how much she knows, and by her evasive look, he can tell she knows everything about who he is. He asks why she's still here then, if she knows.
In-ah: "Because I like you! You don't know women. That's why you're always getting dumped." Haha. One point for the princess. She adds, "You only see the woman you like. You can't see the woman who likes you, can you?"
She asks him to turn himself in, but he tells her not to like someone like him. He apologizes and tells her that he can't accept her feelings. She starts to cry and he's startled by her tears, perhaps not realizing that she was serious until that moment. Aw, I actually feel bad for In-ah. (I know!)
She goes home and cries, and he contemplates the scarf she had given him to wrap around his knife wound the night before.
Back at spy central, Dae-kang rushes over to tell Hee-bok the big news that Myung-wol is a spy. He then deduces that Ok-soon must be a spy as well, since they're mother-daughter. Eyes wide, he yells, "You were conned into your marriage!"
Hee-bok pretends to faint at the news, and wonders if he should just turn them in for the reward money, since no one suspects him. Sure, there's no way that plan will backfire on you.
In the cave, Kang-woo leans on Myung-wol's shoulder and they sit by the fire. He reminisces about their first meeting, and she's surprised to hear that he knows it was in Singapore, when she chased him down for an autograph pretending to be the crazy fangirl.
He asks if she won't run away with him, to somewhere where they won't be recognized or found. That's what I'm sayin'! But she refuses, asking why he should have to give up everything in his life for her.
She says that she won't be happy that way, and has decided to think of it all – her being born in the north, falling in love with a man from the south, their having to part like this – as fate.
And she adds that if they're fated to be, they'll meet again. But… that's… so passive and lame. Guh.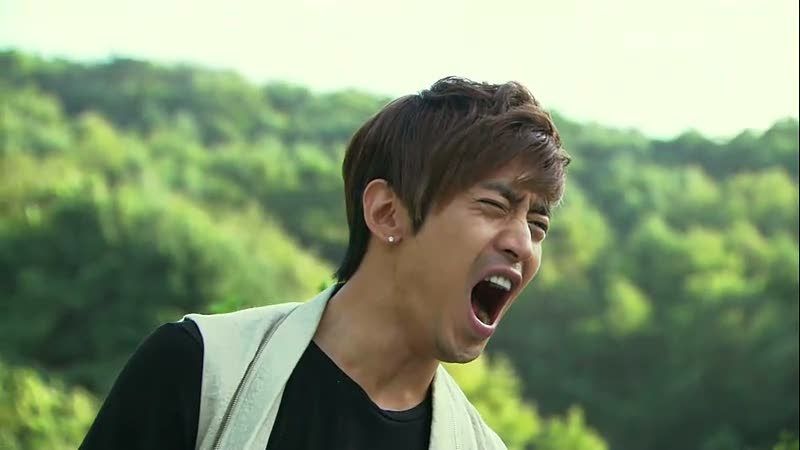 She wakes up the next morning and comes out to meet Ryu and asks why he led Kang-woo here. He asks if she wants to change her mind there's still time…
She tells him that either way she'll regret it. But she'd rather regret it alone than to watch Kang-woo suffer as well, and says that she'll carry that pain on her own. Sigh. I'm not even going to argue with you anymore. Go ahead and be alone with your pain. I hope you have a lovely life together, you and PAIN.
Kang-woo wakes up alone and finds Myung-wol's ring sitting next to him. He comes out of the cave and shouts her name over and over, breaking my heart. She stops when she hears him, but keeps going forward with determination.
They stop in to say goodbye to the spy parents, and Hee-bok sends Ryu off with worries over their well-being, and they thank each other for everything. And then Ok-soon cooks for Myung-wol, wanting once to make her food like a real mom.
With tears, Myung-wol thanks them for being like her real parents, and Ok-soon in turn thanks her for being her daughter when all she ever really wanted was a family of her own. Aw, can't you guys stay and be a fam-uh-ly? *sniff*
Ryu waits at the dock for Myung-wol to arrive, and she manages to evade the NSA agents, but someone chloroforms her and grabs her just before she can get to Ryu. Chairman Joo gets the call that they've succeeded in nabbing her.
Ryu panics and heads to Kang-woo's, searching for Myung-wol. Kang-woo hasn't seen her either and then both boys start panicking. Just then, Kang-woo gets the call from Chairman Joo. He has Myung-wol, and he'll kill her if he doesn't get two things: the evidence of his involvement in his father's murder, and Ryu's file on the decoded books.
In-ah happens to overhear the phone call, and is appalled to find out just how scary Grandpa really is. Um… the house full of minions clad in minion-wear didn't tip you off?
She can't believe that he killed Kang-woo's father and is threatening to kill Myung-wol, and insists that there's time for him to back out now. But of course he's way too far gone to do that, and orders the minions to lock her up in her tower.
Kang-woo contemplates the deal, and decides that he'll do as Chairman Joo asks. Ryu says that there's no guarantee that he'll do as he promised, and offers his help – they'll rescue her together. Aw, team-up! It sure took an awful long time for you guys to give in to the bromance.
Meanwhile Hee-bok heads to the police station, ready to turn Ok-soon in for a bundle of cash, but he catches sight of a pretty lady who reminds him of Ok-soon, and turns back around.
On his way out, he runs into Ok-soon who's here attempting to do the same thing. They both accuse each other of betrayal, and then both confess that they couldn't do it. They decide to go surrender together, holding hands. Aw.
Kang-woo meets Chairman Joo and hands over his last bit of evidence in his dad's murder, in exchange for Myung-wol's location. He decides he's going to trust Joo one last time. Hello, mistake!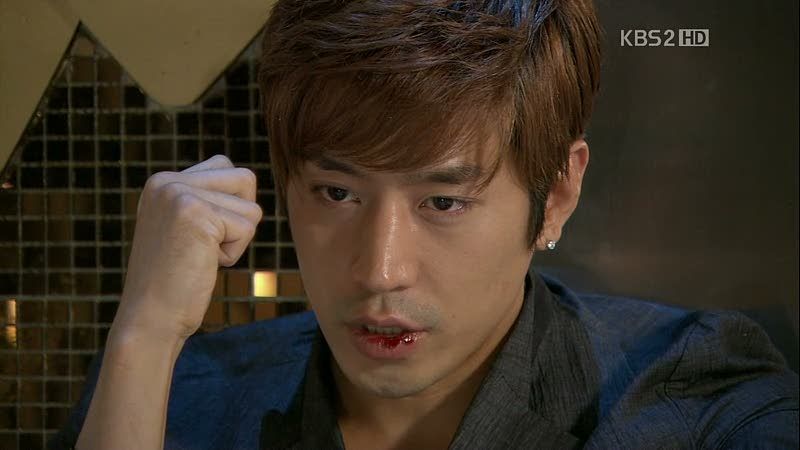 Sure enough, as soon as Chairman Joo gets what he wants, he sends his minions to beat Kang-woo, and sends Ryu to the wrong location, and straight into a trap.
Kang-woo takes out the file that Ryu had given him. It contains the books' contents as well as a record of all of Chairman Joo's misdeeds, that he entrusted to Kang-woo.
Ryu asked him to take it to the NSA in exchange for Myung-wol's freedom. It was the last thing he could do for her, essentially betraying his country and exchanging his own freedom for hers.
Chairman Joo arrives back home, and Ryu meets him at gunpoint. He tells him that Kang-woo is on his way to give the books over to the NSA, and orders him to free Myung-wol, so Joo picks up his phone and calls his minions… and orders her killed.
Well duh. What kind of hostage negotiator doesn't see that coming? Tsk, tsk, the spies in this world. They all went to Low-Rent Discount Spy Academy. Ryu is furious that the murdering backstabber… backstabbed him… AGAIN (never heard, "fool me twice, shame on me"?) and raises his gun to Joo's throat.
In-ah rushes in and begs him not to do ite, and stands between Ryu and Grandpa, pleading for his life. Ryu gives in, of course, and leaves. In-ah follows him out and tells him where Myung-wol is being held.
Soon after, NSA agents bust into the house and arrest Chairman Joo for his crimes.
Ryu rushes over to save Myung-wol just in time, and tells her they're headed to meet Kang-woo, so that she can start her new life, free and clear. She smiles in anticipation and so does Kang-woo, as the two cars speed toward each other on the same road.
But just as they spot each other, the North Korean sniper assassin appears and fires a shot at Ryu's car, which sends them careening off the cliff.
The car flips over and bursts into flames, and Kang-woo collapses to the ground in tears, screaming her name.
One year later, Kang-woo continues to have dreams about Myung-wol and their happily married life that could have been. He plans to head to the States to clear his head and do some studying, and says goodbye to Dae-kang and In-ah.
In-ah has taken over her grandfather's hotels, and being a CEO certainly suits her bossy style more than being a lousy actress. She still thinks fondly of Ryu, remembering him every time she trips in her heels.
Ok-soon and Hee-bok are married and doing well with restaurants and coffee shops. Ok-soon opened a Pyongyang Noodle Shop that's booming, and Kang-woo comes by to visit and say goodbye on his way to the States.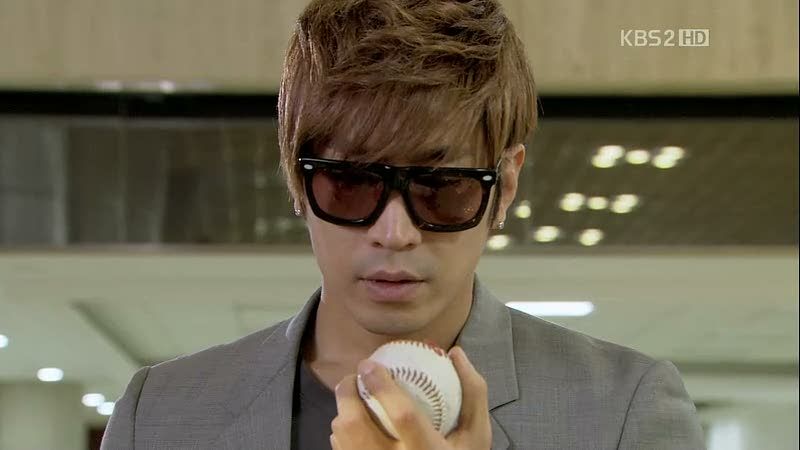 At the airport a woman brushes past him, and though he can only see her from behind, she's dressed exactly the way Myung-wol was, on the day he first met her. He chases her down and loses her.
He stands there, lost, confused, and then his baseball rolls toward him and stops at his feet. He picks it up and stares at it in shock.
And then Myung-wol's voice calls out to him, "Have you been well, Comrade Kang-woo?"
He turns around in disbelief, as she tells him that it's been a long time. She holds up the meanie face autograph he gave her on the day they met, and tells him that she's going to get his autograph this time, and marry him and live happily with him here.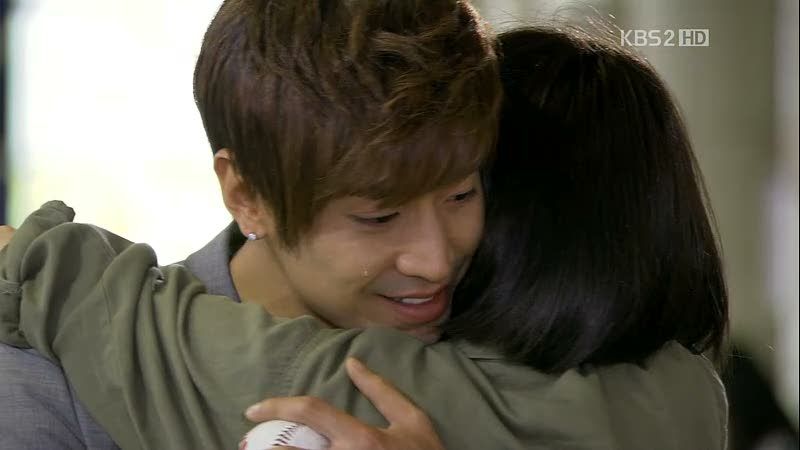 His eyes fill with tears and he finally breaks into a big smile. She tells him that it took too long to get to this point, and that she won't ever leave him again. She runs flying into his arms and he hugs her tight.
Aw, despite the circumstances and her whole disappearing-reappearing act being TOTALLY ridiculous, I'm happy for him because he looks so happy in the moment.
Wedding time! Myung-wol and Kang-woo finally get their dream wedding with the spy parents and everyone else in attendance. Dae-kang asks the spy parents where Myung-wol's been this whole time and they say she wouldn't tell them. They're just happy that she's back, but sigh that it's too bad for Ryu.
In-ah hears this and leaves, saddened at the mention of Ryu, and comes out to find her scarf on her windshield – the one she gave him. She clutches it and looks around, hope filling her eyes.
Though he doesn't show himself, he watches the wedding and In-ah from a distance, burn scars showing on his arm and his neck. Why am I more moved by this couple than the main one? Sigh.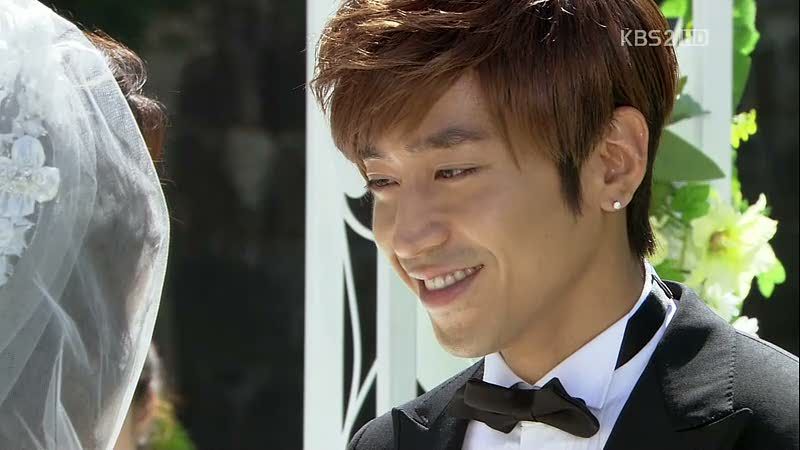 Newlyweds Myung-wol and Kang-woo drive off, calling each other by their insulting/endearing nicknames. In the distance a billboard announces the news of their wedding and Kang-woo's return to showbiz, in the drama Myung-wol the Spy.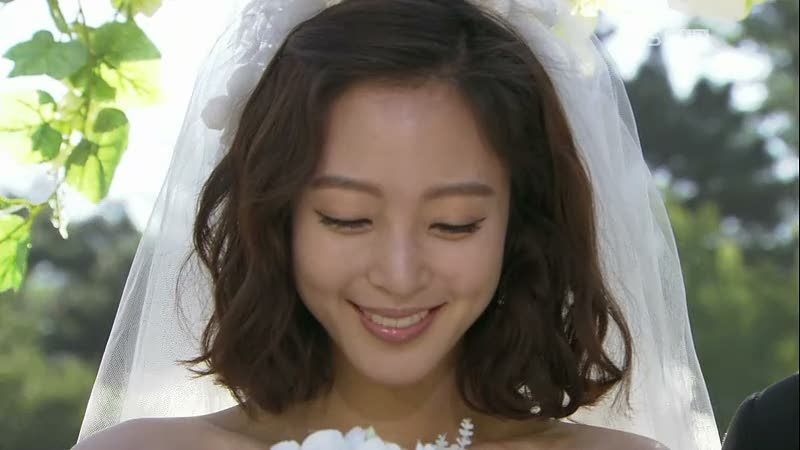 COMMENTS
Sigh. The thing is, that death fakeout was so obvious that it was hard to feel the kind of dramatic tension that the drama was aiming for. In fact, most of the dramatic tension in this finale was pretty much moot, because we were just re-treading the same ground as before.
Deal gone wrong with Chairman Joo? Check. Warehouse kidnappings? Check. Guns ablaze and no firing? Check. I at least thought that everything with the NSA and North Korea would come to a head in the final episode… but all the stuff I wanted to see "happened" offscreen, which is the lamest cop-out in the book.
Where did they go for a year? Why did it have to be that long? Did they make a deal with the NSA? What were the terms? What about North Korea? Even if the fake death made the North think they'd succeeded in assassinating them, doesn't her very public marriage to Kang-woo negate all that? So then what the hell was the point of disappearing for a year?
What kills me about this drama is that it started out so funny and absurdist and wacky, with such potential for a fun take on the spy world with hijinks and showbiz meta. But the writing lost all of that initial creative flair and regurgitated one conflict over and over and over and over… until I stopped caring.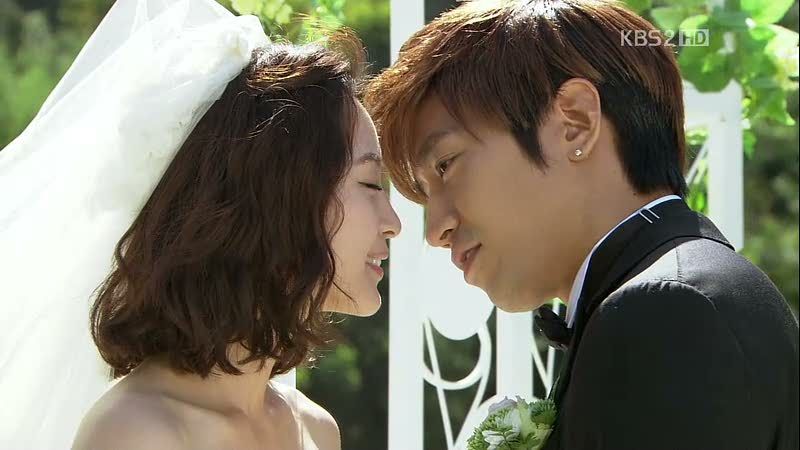 I'm glad that they got their happy ending, but I honestly couldn't have cared less, especially since I knew they'd get their romantic happy ending. What I was curious about was HOW they were going to tie up all the high-stakes loose ends and earn their well-deserved peace. But this drama was all setup and no payoff.
If the solution was going to be this easy, then why did we have to go through all the leaving, not leaving, hiding, dealing, kidnapping, and fake death? When Kang-woo finally got shot to save Myung-wol, my hopes went back up a tiny bit, thinking that at least danger was afoot with the North Korean assassin, and that we'd see a big face-off at the very end. But I suppose if I kept going on about all the things I wished this drama had done, we'd be here till next year.
In the end I guess the only thing I really liked was what the drama used to be early on, and Eric's performance throughout. He held on to the very end, acting his heart out, despite no one else really being in the game. While I liked everyone else in their roles and have no major complaints about them (unlike my gripes with the writing and directing), his was the only performance that stood a cut above the rest. While I didn't love his character, I thought he brought an edge in his portrayal, which surprised me.
You know what this feels like? A breakup after you give a relationship a second, third, fourth, fifth chance, because you're still clinging to the memories of the happy times… until it dawns on you that now the angst outweighs the happy. Sigh. Ain't love a bitch?

RELATED POSTS
Tags: Eric, featured, Han Ye-seul, Jang Hee-jin, Lee Jin-wook, Myung-wol the Spy