Poseidon gets off to uneasy ratings start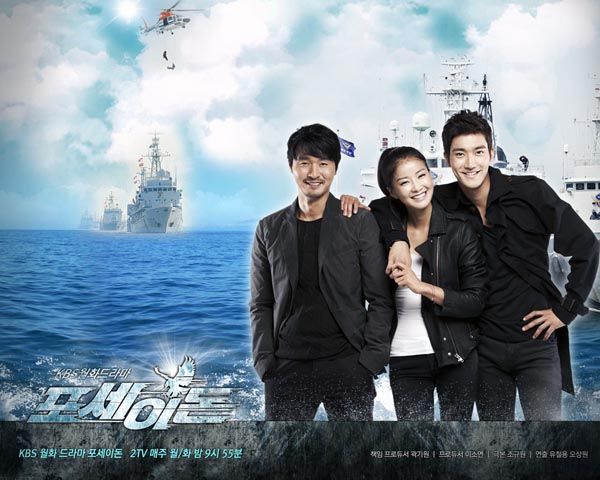 Now that a new player has joined the Monday-Tuesday game, let's take a look at the ratings:
Poseidon premiered yesterday with a fairly low 6.8% rating, which didn't surprise me given that its competitors are holding steady. Plus, you know, I thought it was kind of dull. But the number was surely below the hopes of the drama's production; it improved upon Myung-wol the Spy's low numbers (which hovered in the 5%-6% range toward the end), but not by much.
Meanwhile, Monday episodes for MBC's Kye Baek pulled in a 12.8%, while SBS's Warrior Baek Dong-soo kept its lead with a 17.8%.
Tuesday's episodes were better, though, and signal some hope: Poseidon pulled up to a 7.1%. Warrior Baek Dong-soo also crept up to record an 18.5% rating, its personal best. Interestingly, even with the two increases Kye Baek maintained the same numbers, which means that the uptick came from other programs airing in that 10 pm hour.
Now, what does this mean?
With Warrior Baek Dong-soo steadily increasing its numbers, it's likely to remain well in first place for the rest of its run, justifying its earlier six-episode extension. It premiered with modest 10.1% ratings, but has managed to edge out its competitors with its action and, of course, the bromance.
Kye Baek has been hovering in that 11%-12% range, and while that's considered safe these days (how the times have changed), I don't think it hit the production's hopes either, with its star-studded cast and sprawling sageuk landscape.
Poseidon didn't impress me too much with its premiere yesterday, but from initial news reports, it looks like people appreciate its cast and the quick plot advancements — although the overpowering and mismatched soundtrack has been noted as a complaint by many. I suspect that once Baek Dong-soo bows out — in mid-October — both Kye Baek and Poseidon will be scrambling to claim the leftover 20% in viewership ratings.
However, they'll have to duke it out with another potential heavy hitter, and one that'll be claiming more of my attentions: Thousand Day Promise, with Kim Rae-won and Su Ae, takes over in that timeslot. It's a melo (he loves a woman who's losing her memory), but it's got a solid writer (veteran Kim Soo-hyun) who's notably already completed the scripts for the first ten episodes. A definite boon, in these turbulent days of live-shoot drama production.
Via Osen
RELATED POSTS