Running Man: Episode 58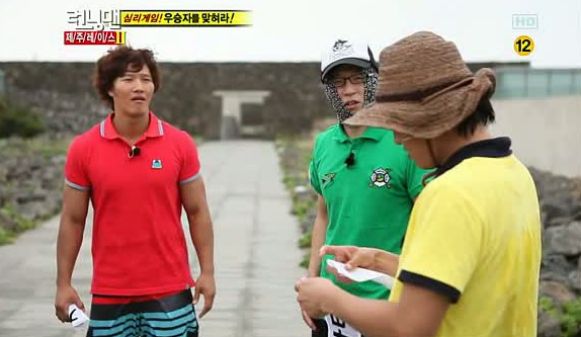 Last week's episode was all about brawn and this week is all about brain. It's a battle of wits where the stakes are high. Who will be the ultimate victor?
EPISODE 58. Broadcast on August 28, 2011.
After a grueling all-day Jeju Race Part 1, everyone is told to hold on to their remaining Running Man Currency (RMC) for the next day. In the evening, the staff visits each cast member's rooms to deliver the morning mission: arrive at the hotel restaurant by 9 AM.
Their reactions vary from suspicion (Gary) to excitement (Se-kyung) to Jae-suk complaining about his demanding roommate, Suk-jin. I can't get over Tae-hyun in a face mask. Hallyu star's gotta get his beauty sleep!
The next morning however, Mr. PD visits the guests' rooms an hour early. The staff wakes a disheveled Tae-hyun and a sleepy Se-kyung to let them in on their secret mission during breakfast…and it's ridiculous. The guests have to trick each member to say a certain phrase (Gary: "Streessss") or perform an action (A stare from Ji-hyo). Goodness gracious, Mr. PD – Tae-hyun's not even AWAKE yet.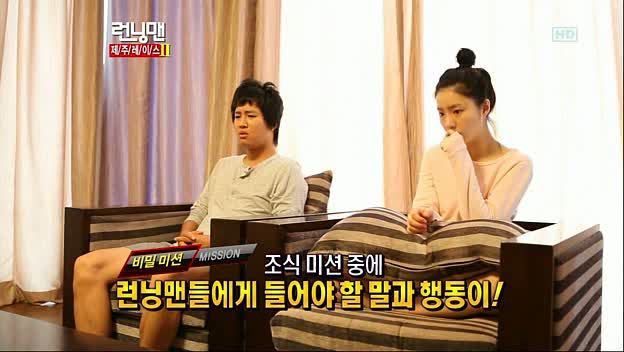 Mr. PD continues by saying there's a reward if they succeed and a punishment should they fail and Se-kyung mutters that they're likely to fail, given the difficulty of the tasks. The two imagine how each member will react – Tae-hyun is unsure if Jong-kook will feed him and Haha will definitely declare his undying love for Se-kyung today. The RM suspicion radar is sensitive, so proceed with caution!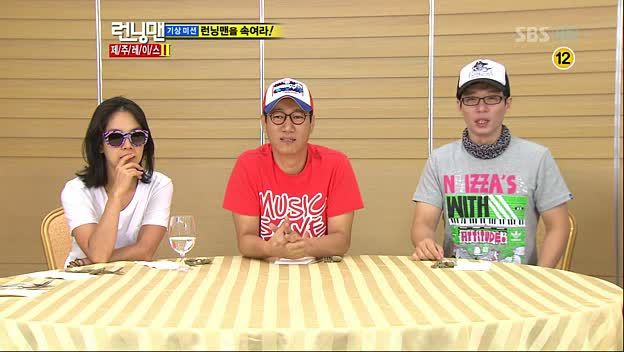 Each member arrives to breakfast and Jae-suk asks why Mung Ji-hyo is on time (she's notorious for sleeping in). She cheerily replies, "To eat!" Keke. Girl after my own heart.
The guests settle down at the table and they're already in mission mode. Tae-hyun warms up by asking Ji-hyo if she always wears sunglasses in the morning and suggests that they sing to her 'Happy Birthday' (to knock out both Ji-hyo and Jae-suk with one punch). Se-kyung enthusiastically joins in which arouses a bit of suspicion. But then, Jong-kook mentions that Tae-hyun's family sings altered versions of classic children's songs.
The Three Bears Song (original lyrics can be found here) – Cha Family style: "There are three bears in a house/ Daddy Bear, Momma Bear, Baby Bear/Daddy Bear drinks all day/Momma bear is a fatty/ Baby bear is so noisy/ Shrug, Shrug, You're doing awful." The translation loses some funny but we're let in on how to raise a mini Cha Tae-hyun Version 2.0.
Tae-hyun quizzes Jae-suk by singing a line of 'Happy Birthday…Not' and gets Jae-suk to sing along. Soon after, they also get Suk-jin to laugh heartily. Score!
Thank goodness Tae-hyun and Jong-kook are such good friends as he successfully slurps a bit of Jong-kook's noodles. And after the cast is clued into that they're in a mission, Tae-hyun joins in on teasing Gary and he blurts out his catchphrase, "Streess!" Woah! Tae-hyun's on a roll!
Meanwhile, Se-kyung tries to get Kwang-soo's attention by smudging her chin with her chopsticks and feeding him. Thus begins the merciless teasing from the other cast members, again questioning their friendship. With Tae-hyun's help, Kwang-soo cleans off Se-kyung's chin. There's two more to go!
Tae-hyun's expression darkens with less than 10 minutes left. The others ask him what's wrong and he mumbles: "I'm in a mission." Wait, no! He continues telling the truth and the cast bursts into laughter – of course they're in a mission, duh!
Tae-hyun goes on, "You'll all be surprised later…" Innocent Se-kyung pipes otherwise and it piques everyone's curiosity…and a glare from Ji-hyo.
There's one minute left on the timer now and the RM suspicion radar is on full alert. Tae-hyun practically spills the beans on the entire mission (only Haha remains) but twists the end so that Haha must declare his love for Se-kyung in order for the entire cast to win. To which everyone yells at confused Haha to say it already. And he does. Pure. Genius. Tae-hyun. Eun Ji-won would be proud.
The guests finally reveal the mission card to the rest of the cast and some take the reality harder than others. Case in point: Incriminating Kwangsoo, "You wily [girl]! You've been playing me? I don't want to look at you! Don't you ever confuse me again!"
Tae-hyun and Se-kyun earn 35 RMC each and the Capable One asks, "Is this a part of the mission too?" and Tae-hyun replies, "It's over." Hee.
The cast regroups after dividing yesterday's RMC and is told to individually enter a separate room. There Mr. PD informs them of the possible reward: bet on the victor of the final mission. If you choose correctly – you earn twice the amount of RMC you gamble. If you win – you win everyone else's loot.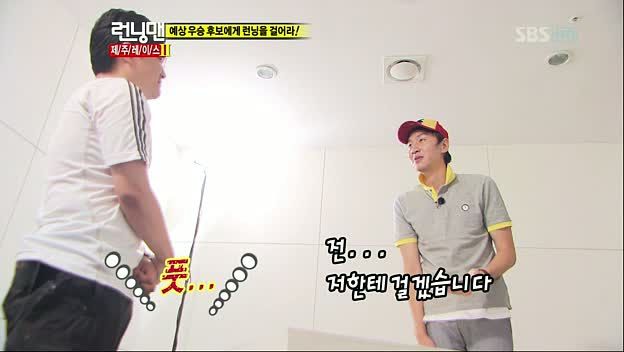 Now the question is: who to choose? Poor Kwang-soo suggests himself and a staff member laughs in response. Aw. To rub salt in the wound, Suk-jin asks if anyone chose Kwang-soo, and Se-kyung immediately says, "No." Double Aw.
Most of the members hint at choosing Spartakooks, but we'll just have to wait and see…
The mission is to create a sentence by collecting letter hints around Jeju. On an entirely different note, I like that the members are driving around in electric cars – yay for being green!
And so the battle of wits begins! Kwang-soo runs over to offer a flower as a token of peace to Jong-kook. He's cautious and asks if Kwang-soo really voted for him. Hm, who did he really choose? Tae-hyun?! LOL. Anyway, a successful alliance created!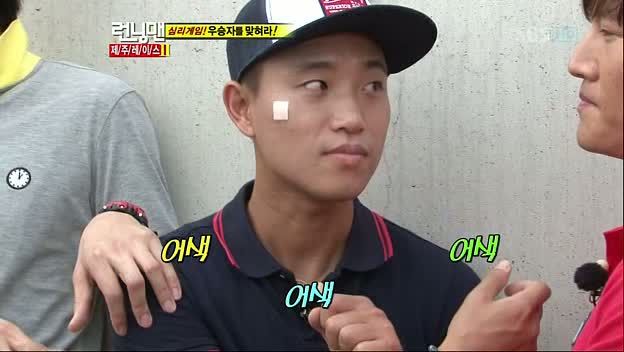 They meet up with Gary who says he voted for Jong-kook (but his real choice was Jae-suk). Jong-kook calls his bluff, adding that they've gotten to know each other pretty well over the past year, and that it's obvious when Gary lies. Gary protests that he's telling the truth but Kwang-soo rips off his name tag anyway and reveals an important clue: the letters are hidden beneath everyone's name tags! Oh yeah – Hide and Seek!!
Se-kyung hears of Gary's elimination through the speakers and her crestfallen expression says it all – with her voted victor out of the game, now she must win in order to earn her RMC back.
She runs into Haha and Jae-suk, the former of the two was trying to convince Jae-suk that he voted for him. She corners Haha and confronts him about where the clues are. He lies and she calls his bluff, telling him to go and bring them to her. Hehehe.
Meanwhile, Jae-suk meets up with Kwang-soo who slips that he knows where the clues are. Jae-suk presses him for more details and he stalls, giving a roundabout answer that he voted for Jae-suk. But Kwang-soo gets lost in his own explanation and spills that if he told someone, they would rip his name tag off. Which Jae-suk does and Kwang-soo is eliminated.
Oho, but there's someone else observing this scene from above: Tae-hyun with his eagle eyes. He immediately deduces that he must rip off name tags and goes to work.
Haha, Se-kyung, and Jae-suk all run to catch Suk-jin since they didn't vote for him, but before Haha can make a move, Jae-suk sneaks up behind him and eliminates him. Remember that face, Jae-suk. That's the face of disappointment from someone who trusted (and voted) for you. Like, for realz.
But Suk-jin doesn't stay in the game for long – he gets ambushed by both ladies and is eliminated. The girls both claim that they voted for Jong-kook and agree to become allies to keep him in the game.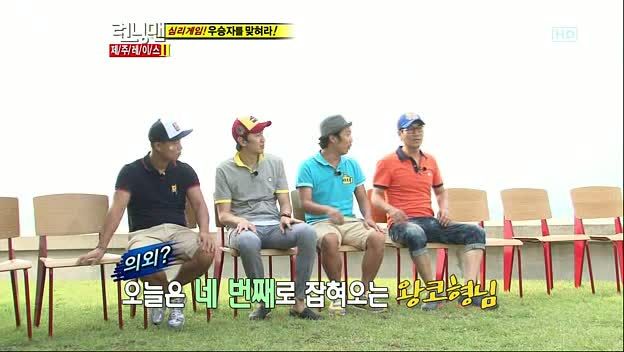 In jail, the three boys commend Big Nose Hyung for surviving for so long. They reveal their votes to each other and its equally split between Tae-hyun and Jae-suk. Kwang-soo notes that then none of them voted for Jong-kook, which is pretty sad. Haha responds that Kwang-soo should watch what he says in case his comment goes on air, and the others mention how much they love Kookie (a cute nickname for Jong-kook). Heh.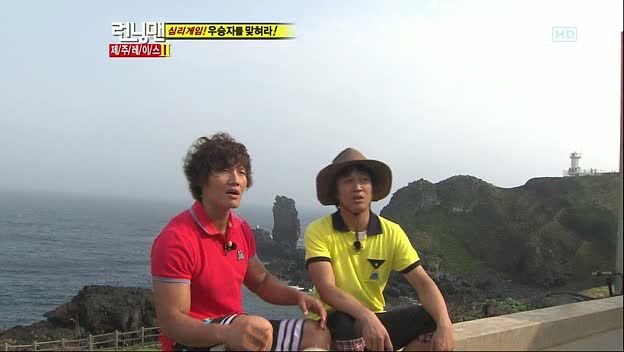 On the other side of the hill, Tae-hyun informs Jong-kook on what he knows so far and explains that he voted for his best friend. Jong-kook looks back at him …and tells Tae-hyun everything about the letter clues.
Concubine Cha (or Cha Hee-bin, a reference to the famous royal concubine, Jang Hee-bin, of the Joseon Dynasty. She is commonly depicted as a ruthless vixen in popular media) isn't through yet as he tries to lure Jong-kook to let him sneak a peek under Jong-kook's name tag. Jong-kook refuses, and they move on.
Yooruce Willis spots Jong-kook and follows him, grabbing at the only chance to catch him. It would be a miracle if he could, since Jae-suk is usually on the receiving end…and Jong-kook calls his name on the other side of the door. Your keen senses really do make you the Capable One!
The door opens to Jong-kook alleging that he chose Jae-suk, and we see that he's telling the truth, despite Jae-suk's suspicions. Mr. PD had asked if Jae-suk would believe Jong-kook if he told the truth, and he admitted, "Probably not." Sad, but it's true. You two are more likely to compete with each other versus settling on an alliance.
Jae-suk walks up to Ji-hyo, Se-kyung, and Tae-hyun who are busy trying to draw up a strategy. They trap Jae-suk and he proposes that he'll tell them where Jong-kook is. Tae-hyun takes the bait, and is nearly eliminated by Jae-suk, who in turn is almost taken out by Ace Ji-hyo on his own tail.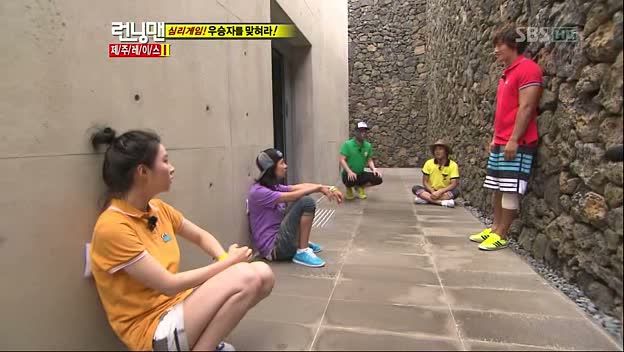 Everyone takes a breather and more details are unveiled: Ji-hyo and Tae-hyun both voted for themselves. Jae-suk still claims that he voted for himself, but we're still left in the dark. Hmm… So that's still zero votes for Jong-kook.
Jae-suk earns a head start and Ji-hyo races after him…and Jong-kook cleanly rips off her name tag. The remaining four end up in a messy tussle, all trying to eliminate each other. It's then Tae-hyun spots Ji-hyo's name tag on the ground and hands it off to Se-kyung who lies down on the ground to protect herself. Hehehe.
Jong-kook and Jae-suk manage to corner Tae-hyun and trick him into an elimination. They're not at all surprised to hear that everyone lied and Jae-suk tests Jong-kook's loyalty to him.
Both of them approach Se-kyung, wondering why she wants to win (they assume she voted for herself, but we know she previously voted for Gary) and she plays the dainty lady card – it's inappropriate to be caught by two grown men. Yea, I can't make that sound any better.
A sly smile slowly appears on Jae-suk's face and his hand reaches towards Jong-kook's back…and rips off his name tag. That's TWO people you betrayed today Jae-suk, just in case you were counting. But then he turns his back to Se-kyung? What the…
We flashback to Jae-suk's meeting with Mr. PD and it all becomes clear – he didn't vote for himself, but voted for Se-kyung! Sneaky, sneaky! So Se-kyung rips off his name-tag, which makes her the winner and able to complete the sentence with all the clues in her hands.
Hahaha. Jae-suk doesn't seem to fully comprehend the rules of the game as he claims that he's the winner with the most RMC (His 64 RMC doubles to 128 RMC). But Se-kyung claims everyone else's coins – which makes her the ultimate victor! Woot!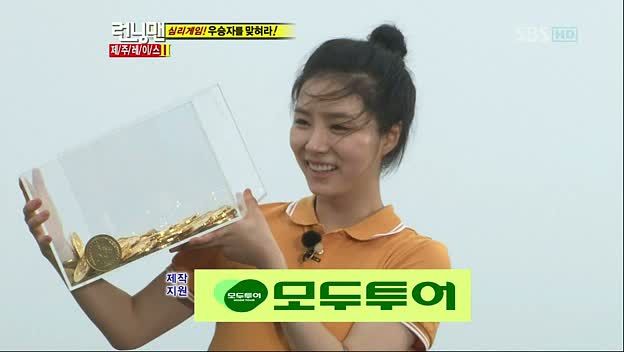 RELATED POSTS
Tags: Cha Tae-hyun, featured, Haha, Ji Suk-jin, Kang Gary, Kim Jong-kook, Lee Kwang-soo, Running Man, Shin Se-kyung, Song Ji-hyo, Yoo Jae-suk