The Musical: Episode 4
Jae Hee and Yoo Jin fight. Eun Bi and Yoo Jin fight. Eun Bi and Jae Hee fight with Yoo Jin.
But all ends well, because if you have Eun Bi and Jae Hee versus Yoo Jin, they're always going to win. Right!?
Song of the Day
*Not a new song, but a new interpretation certainly
Gu Hye Sun – Jae Hee's song for "Chungdamdong Gumiho" [download]
Audio clip: Adobe Flash Player (version 9 or above) is required to play this audio clip. Download the latest version here. You also need to have JavaScript enabled in your browser.
Jae Hee and Yoo Jin don't mince words. Yoo Jin wants Jae Hee on board, and apologizes for misjudging the quality of composers' works without having understood or heard them. Jae Hee isn't easily appeased. So Yoo Jin promises him he'll follow any conditions Jae Hee has. Jae Hee rejects that too.
Poor Gu Jak – he had even gathered the cast to hold a prayer session pleading to God that Jae Hee won't ruin this proposal for them.
Luckily Yoo Jin isn't an idiot, and after a conversation with Gu Jak, he understands that Jae Hee's condition would be to have Go Eun Bi as the lead, rather than Bae Kang Hee. Unfortunately that's not something he can do easily since he works with Kang Hee.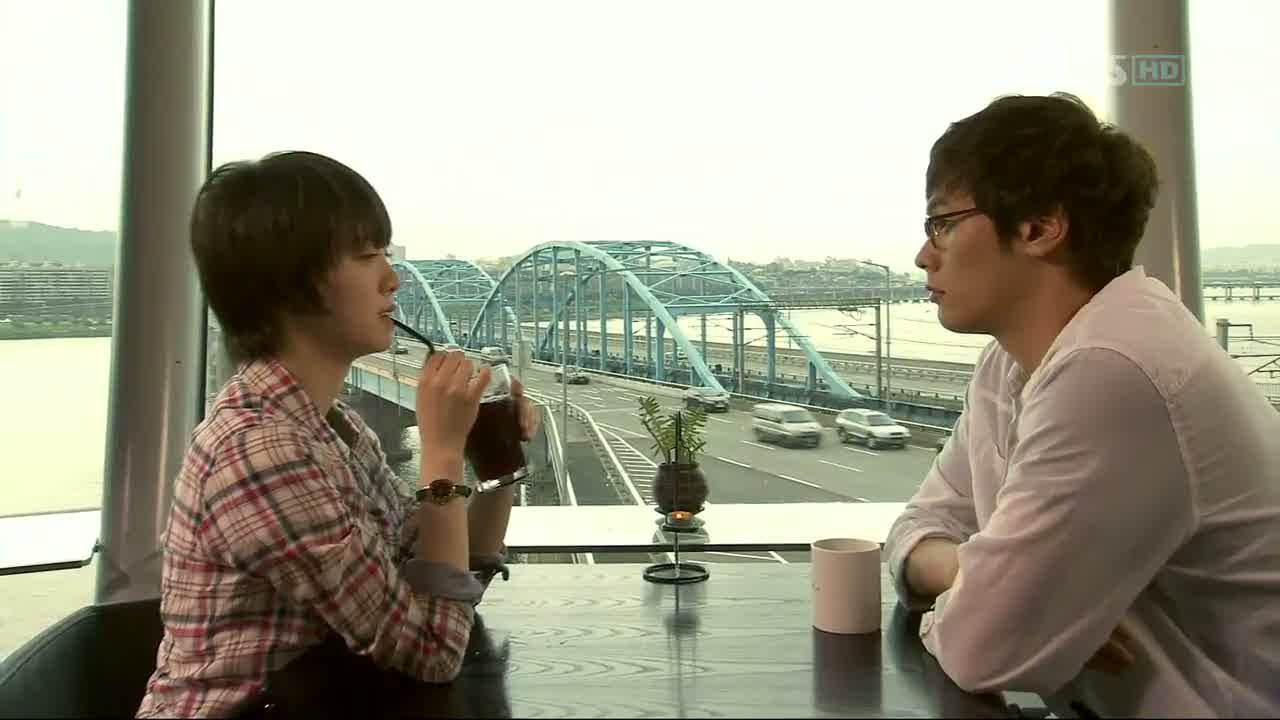 Jae Hee meets with Eun Bi afterwards, and she finds out that Jae Hee rejected the offer because he wants Eun Bi in it. Though flattered, she's also shocked that he gave up such an opportunity for an amateur like her.
They continue their lessons, this time with Bok Ja hanging around his house, ogling at all his fine housewares. She notices Jae Hee's obvious affection for Eun Bi and teases her about the composer falling in love with her. Outside Jae Hee's house, they bump into Yoo Jin. He congratulates Eun Bi on being able to accomplish everything and anything she wants for the sake of her dream: "You got what you wanted." His harsh words are easily interpreted as a dig towards how she has Jae Hee wrapped around her tiny finger, and how she managed to make sure the lead role is hers.
Eun Bi doesn't let him get away with it. "We didn't have a great first impression, but I don't think you know me well enough to make such statements," she fires back. Yoo Jin gives her an arrogant smile: she worked closely with the composer, and lost an opportunity for her production team by insisting to be the lead, didn't she? Jae Hee comes out of his home in time, preventing Eun Bi from literally jumping on Yoo Jin and clawing his face.
Inside Jae Hee's home, Yoo Jin assures him that he can convince Kang Hee about the lead role switcheroo. That warms Jae Hee up considerably more towards Yoo Jin. Yoo Jin's idea is to double cast the lead role with Kang Hee and Eun Bi. When Sang Won hears of the plan, he finds it incredulous: how would Kang Hee the Superstar ever agree to star alongside Eun Bi the Amateur?
Yoo Jin knows it's all in the marketing: everyone knows about Kang Hee and Jae Hee's relationship, and are interested in news of a possible reunion. If Kang Hee doesn't accept this double casting role, people will think it's because of Jae Hee, and not because of Eun Bi. She has to accept, or else the scandal surrounding their relationship will resurface and Sang Won would be affected.
A look into the past: Sang Won loved Kang Hee dearly, but she was still in love with Jae Hee back then. Even though she had accepted his proposal, after some thinking she returned the ring back to him. But Sang Won didn't care – he knew he'd always have to share her with every male lead that she works with because she's that passionate of an actress. He will still love her, no matter whom she loves more, and this marriage would also be advantageous for her.
So they got married.
Eun Bi goes on her milk deliveries again, and it turns out that the last house she visits, and always bows to, is Kang Hee and Sang Won's house. Inside, Kang Hee accepts Yoo Jin's idea of double casting: "I'll show her what it's really like to work with me. If she can withstand it and stand on the stage, who wouldn't love her?"
Yoo Jin calls up Eun Bi to his office. On her way there, Jae Hee also calls her to see if they can meet for tea, but she says she's going to need an hour so she can give "asshole" a piece of her mind. Jae Hee goes bug-eyed and races over.
In Yoo Jin's office, she finds out about the double casting idea. It stuns her completely – to be standing onstage with her idol?! For Kang Hee to accept working with her?! Yoo Jin presumes that perhaps there's a very personal reason for Jae Hee to want Eun Bi, and she denies any of that. However, she still has a problem with this whole idea of double casting – she finds it fishy.
Eun Bi wonders if Yoo Jin's endgame is to have her reject this proposal so that someone else can take her place, or Kang Hee stars alone. Thankfully Jae Hee charges in on time. He wants to talk to Eun Bi first but she has her answer ready: she wants to be onstage too, but not like this. Not being offered point-blank like this.
She storms out of the building. Jae Hee drives up alongside her to see if she wants a ride, and she accepts… to go to an arcade. There she beats a punching bag game and gets all the bonus rounds. She then goes to a batting cage and hits every single baseball, much to Jae Hee's amazement. During a coffee break, Jae Hee finds that Eun Bi isn't like other girls, who would just punch lightly, or stand behind the fence and watch their boyfriends hit the ball. He praises her, and then sides with her on how much of an ass Yoo Jin is. So about the role…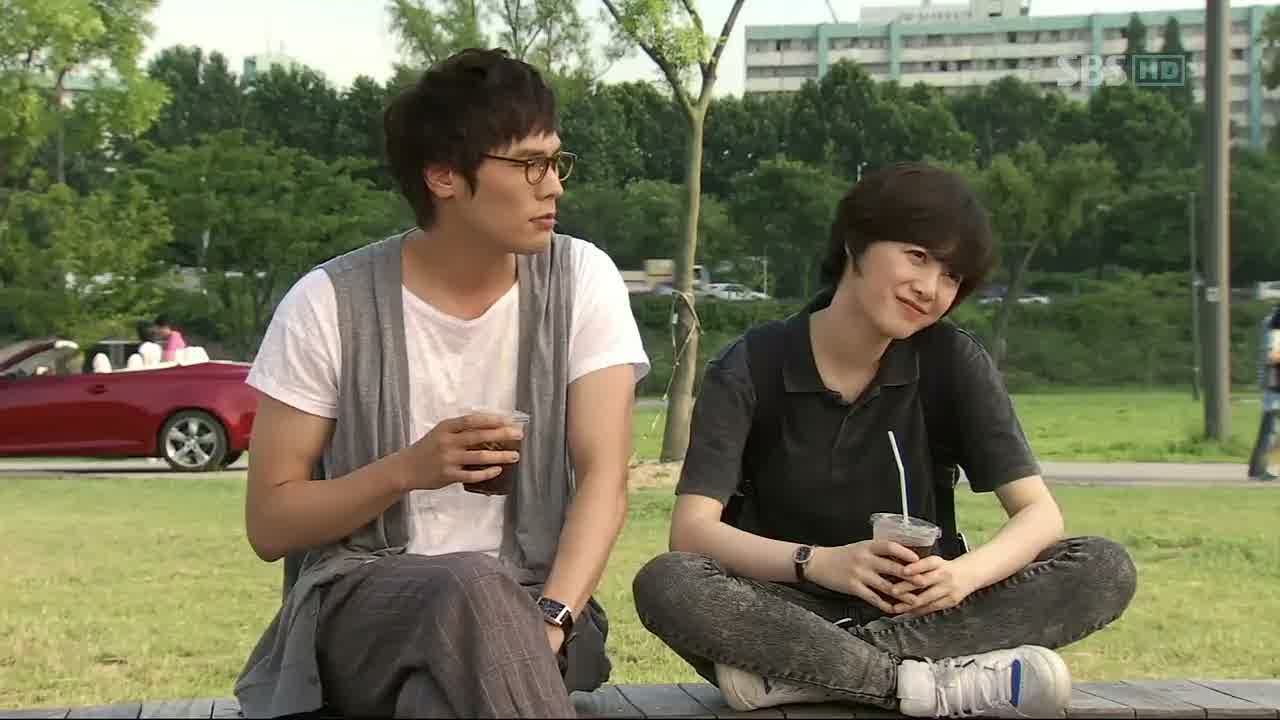 Eun Bi smiles. She's objective enough to know that she isn't the best for the role if she's to be alongside Kang Hee, and she thinks taking the role might hurt her future. Jae Hee wants it simple: Eun Bi sings his songs, and he watches her. She wonders if he's interested in her as an actress or something more… but Jae Hee refuses to separate all that. He just wants to watch HER on the STAGE singing HIS songs.
Yoo Jin and Ra Kyung visit Gu Jak at his restaurant/bar for some dinner and chit-chat. Ra Kyung visibly enjoys herself there, listening to the group of A-cappella boys that bust out harmonies on random things while cooking. Afterwards, Ra Kyung drags Yoo Jin to a small karaoke place where they can just sing their hearts out and get recorded by the videos. Yoo Jin smiles this whole time, but he's so stiff. He's so sadly stiff…
Later on, Ra Kyung shares a meal with her oft-traveling father. He wonders when she's going to marry Yoo Jin, and offers to visit the in-laws with her mother. But Ra Kyung wants to go pay her respects first. She drives over with a fruit basket alone, and finds Yoo Jin's parents coming home from a walk.
The father recognizes her, but the mother freaks out. She hides behind the father and eyes Ra Kyung suspiciously. She starts screaming when Father invites Ra Kyung into the home, and scares Ra Kyung. Eun Bi's grandmother comes rushing to help, and leads Ra Kyung to her home first so that Father can calm his wife down.
Ra Kyung had not realized that Yoo Jin's mother had deteriorated to such a state; in fact, even Yoo Jin doesn't know. Eun Bi's grandmother tells her that it's due to dementia or Alzheimer's, but her sickness hasn't been so obvious until today. Once Father has calmed the mother down, he explains that once she had been diagnosed, they moved away so that Yoo Jin would never have to see his mother like this, and the family wouldn't force the parents apart.
He makes her swear not to tell Yoo Jin just yet.
Eun Bi meets with Yoo Jin the following day at the same breakfast cafe where she went with Jae Hee. It takes her a while to speak up, but finally she has an answer for Yoo Jin. She wants to audition for the role, and if she's good enough, she is willing to be double casted for "Chungdamdong Gumiho."
Yoo Jin takes it a step further – he will make it an open audition for anyone, and will film the process.
By the time Eun Bi visits Jae Hee, he's already heard about her answer. She smiles widely: "When you've caused trouble, you have to smile even wider so that you get in less trouble!" Ha! So true… Eun Bi doesn't want to go inside Jae Hee's home anymore. From this moment until the audition, she will no longer see him or speak to him, especially because he's a judge for the auditions. It's her way of making sure she will never be given preferential treatment.
Jae Hee promises that he'll be fair in judging – fair to his heart that is. And his heart belongs to Eun Bi. (Oh my God I can't believe I just wrote that sentence in episode 4!) She gets all frustrated, but it only endears her to Jae Hee even more. He argues that it's not about who's technically better, but whose voice suits best to the song. Hence, he prefers Eun Bi. And he kisses her on the head.
Yoo Jin works with Ra Kyung on the marketing plan for the audition process, and she mentions calling his parents. He immediately clams up and tries to redirect the conversation to the audition. He doesn't want to hear anything about visiting his parents, and for once, he's actually quite scary when he shoots Ra Kyung down.
Sang Mi interrupts Gu Jak while he's working on his script, and she gets incredibly close to him. As in, seductively close. As in – she is willing to sleep with him so that he'll help her get the part alongside Bae Kang Hee. Though it's a very tempting prospect for the disheveled Gu Jak, he thwacks her head – is she being an idiot? Does she really think she's worthy of the role? She should be helping Eun Bi instead of trying to compete with her.
Eun Bi happens upon this conversation when she visits his restaurant and she despondently walks away – see, this is what happens when you open a role you could have had to an audition. As she walks out, the A-cappella group asks her to sing Jae Hee's song to them one more time. They loved it, and they know what it's like to fail in auditions. Maybe they could help her out?
Eun Bi starts out singing, and her mind falls back into one of her past training sessions with Jae Hee. He had told her to make her voice stronger – she needs to attack the judges with a strong note to leave a good impression. Be confident, be clear, and be loud. With that in mind, she starts over again.
This time, her voice slowly finds her strength. The boys join in and support her voice… and Sang Mi and Gu Jak watch her from the balcony above. Gu Jak: "Do you still want to do the audition?" Sang Mi: "…I was more interested in the supporting role anyways."
It's time for the audition, and many girls show up, wanting the role for various reasons: to work with Jae Hee, to make it big, to go to New York. The audition consists of everyone dancing a choreographed piece and then singing another song solo. The judges then cull down the list to the top 4 participants, including Eun Bi and a more well-known actress Choo Jung Won. The judges are surprised to see her there, because if Jung Won is participating, how could Eun Bi possibly beat her?
Jae Hee swoops in with his easy confidence and says they should audition the final round in reverse order. If Eun Bi goes first and is too good, then everyone else won't be able to do well. Sheesh – way to show your favoritism.
One by one, each girl goes onstage and Jae Hee rejects them; one of the reasons is because one girl sings "too prettily." Yoo Jin even raises his eyebrows at Jae Hee's judgments. Jung Won takes the stage, and she's like Kang Hee-Lite, with her strong voice and light trills at the end of each note. Kang Hee triumphantly smiles when she sees Jae Hee lean forward in interest.
Jae Hee claps at the end of her performance, which Sang Won frowns upon. Judges shouldn't show favoritism like that. Jae Hee: "But she's good! It's not easy being good. She deserves it. *Claps*"
Eun Bi takes the stage, and Jae Hee settles into his seat, this time bringing his knees up like a child and holding his score sheet even closer to his chest.
Eun Bi starts, and the judges all raise their eyebrows in some way; Sang Won notes aloud that she has gotten better. Jae Hee just watches her lovingly, and Kang Hee is unsettled at the sight of that. It's not the same song that Eun Bi had sung in the last episode – this time, she hits the higher notes a little more cleanly, a little more strongly.
And then… right at the top of the song, right when the character Do Hwa is about to profess her love… Eun Bi pauses. And pauses. And pauses.
And she has every single person in the room's damn attention. Even the pianist.
Eun Bi restarts. Instead of continuing that high note for a strong finish, she goes back to an almost whisper-like tone. And she finishes her song simply, without theatrics, without airs. Jae Hee's grinning like MAD, like a little schoolboy. She bows at the end of her song and turns to leave, but Kang Hee stops her.
"Why did you pause?" she asks.
Eun Bi: It didn't have any music symbols. I just did what I wanted.

Kang Hee: So I'm asking why did you want that?

Eun Bi: The gumiho that endured and didn't fall in love for 999 years had only one year to go, and fell in love in this scene. I don't think she could have made her confession so easily. 999 years – it's a very long time to live alone. Though she loves him, I don't think it will be easy for her to tell him. I didn't think that I could sing it with one breath.
Good answer Eun Bi – it's softened everyone's hearts, shut Kang Hee up, and got Jae Hee to giggle behind his score sheet. Yoo Jin wonders if that interpretation is hers, or Jae Hee's, but Eun Bi assures she never spoke to Jae Hee about it. True right she didn't – she hadn't seen him or spoken to him ever since the audition was announced!
Time for deliberations, and everyone counts up the scores. Jung Won and Eun Bi are tied (of course), and all that's left is to tabulate Kang Hee's scores (of course). She moodily stares out a window, thinking as she sips her coffee.
She finally turns to the judges, her score sheet in hand – and she rips it in half. !!!!!!!!!!!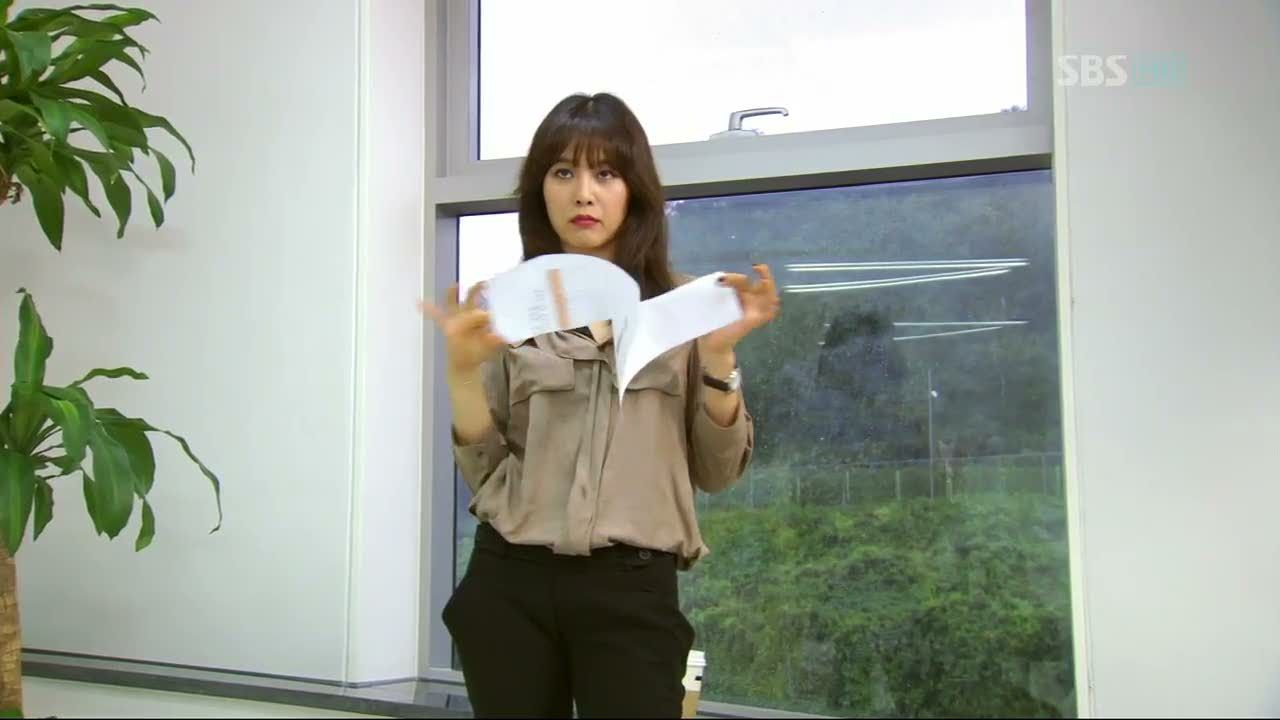 "If they're tied," she muses. "My choice is…"
END SCENE.
Comments:
OMFG. GAHHHH! WHAT THE FRAK!?!?!
I hate you episode 4! I  hate you so much I love you! I hate you! I love you! I hate you!! I love you!!!!
I did NOT watch the preview for episode 5, so if anyone DARES spill ANY DETAIL, I will personally maim you. Just assume that I have not watched an episode until a recap goes up – are we all clear?!?
Now with my anger and passion out of the way… wow. I thought I was actually going to be bored in this episode. I mean, episode 3 didn't have a cliffhanger like THIS ONE, so I didn't really know what to expect of episode 4. What I enjoy is that there's a bit of a formula going on here for the drama – the beginning is all character and plot development, and then you end with an audition or performance. I'm OK with that setup – in fact, I hope it continues being that setup in some way so that I can continue to enjoy the wonderful singing and music. This episode had no new songs, but I love that they gave it a spin with Eun Bi's new interpretation of the song. Once again, Eun Bi's singing has improved, and I love that Gu Hye Sun is showing increasing increments in Eun Bi's talents, because it shows more realistic growth than say, all of a sudden being spectacular.
I'm also glad that Eun Bi grew a spine and really let Yoo Jin have it. At least she's living up to her spunky appearance and speaking her mind, rather than being awkward like in episode 3. As for Yoo Jin, while he is an ass, I can no longer wrap my head around him being a cold manipulative jerk. I think seeing him be so affected by Eun Bi's simple performance makes me think twice about his character, even though he consistently says harsh things with little emotion. I already enjoy every single time he smiles at Ra Kyung – but please man, not every conversation must be a business transaction. I hope he cracks in this series, and becomes more of a softie – especially when he finds out about his mother in the future.

RELATED POSTS
Tags: Daniel Choi, featured, Gu Hye-sun, Ok Joo-hyun, Park Ki-woong, The Musical