Chae Shi-ra to headline cable drama Queen Insoo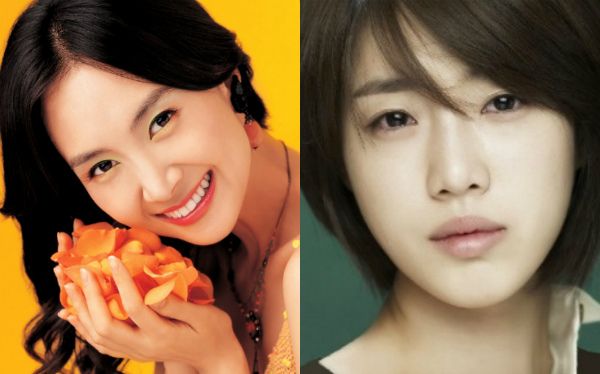 Wow, cable's not messing around. Talk about going after the heavy-hitters. This time cable network jTBC has scored A-lister Chae Shi-ra to star in their upcoming sageuk drama Queen Insoo. Chae Shi-ra (Empress Cheon-chu, Emperor of the Sea) has pretty much reached the level of stardom where you only play queens, so it's no surprise that she'll be taking on another royal figure. Idol-turned-actress Ham Eun-jung has also been added to the cast to play her younger counterpart, after a successful run on her first sageuk, King Geunchogo. I'm glad she's stretching her acting wings, because I've seen a marked improvement from Coffee House to Dream High, and learning from veterans like Chae Shi-ra will only make her better.
The pair of them will be playing Queen Insoo, mother of King Seong-jong, who ruled Joseon from 1469 to 1494. (He was the subject of the 2007 drama The King and I, where Yoo Seung-ho portrayed the young king.) He was crowned at the age of 13, and so he was essentially a figurehead ruler until he came of age. During that time, his mother Queen Insoo, along with his grandmother Queen Jeong-hee, ruled from behind the throne.
Now THAT's a mother-in-law dynamic fit for high drama. Basically Queen Insoo was the daughter-in-law whose husband had never been king, who suddenly rose to a position of power when her young son succeeded his uncle's throne. If they've got Chae Shi-ra playing the daughter-in-law, they're going to need an even more imposing actress to play her mother-in-law, that's for sure.
Queen Insoo will be helmed by PD Lee Tae-gon (Last Scandal of My Life) and writer Jung Ha-yeon, who penned the high-drama mother-daughter makjang hit Flames of Ambition. Yeah, I'd say you've got this story in the right hands. The drama premieres in December on jTBC.
Via Hankook Ilbo, E Daily
RELATED POSTS
Tags: Chae Shi-ra, Ham Eun-jung