Elle photo spread features ajusshi stars
Aw, how cute are they? November's issue of Elle is going with a fun novel concept, featuring some of the big and small screen's most charismatic actors, in a downright adorable set of photos. Who would've thought "ajusshi" and "cute" would go together so well? Choi Min-soo, who's just come off yet another standout performance on fusion sageuk Warrior Baek Dong-soo, looks positively giddy on his bike. I just love that on the outside, Choi Min-soo is the tattooed rocker/biker and serious actor, but then he'll show up on variety programs and be the goofy ajusshi with great comic timing. This guy needs a comic reversal for his next role. Like his very own Best Love? How awesome would that be?
Ryu Seung-ryong (Bow The Ultimate Weapon, Personal Taste) is so frickin' cute with his lolli. After his recent box office smash hit Bow The Ultimate Weapon, he'll be sticking to the big screen for his next project, joining Lee Seon-kyun and Im Soo-jung in All About My Wife .
Below him are Yoon Jae-moon (Tree With Deep Roots, Midas) and Ma Dong-seok (Dr. Champ, Swallow the Sun). With these three guys, I'd say the concept of the shoot is something like Dr. Watson and his array of tweed jackets, but Choi Min-soo's badassery puts a big hole in that theory. Hm, Choi Min-soo in a tweed jacket. Now THAT's something I've never seen. I guess some ajusshis will just always be boys.
The full shoot with interviews hits stands in November.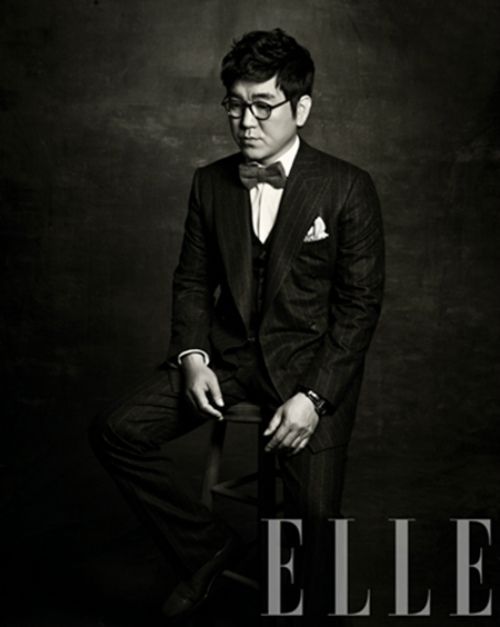 Via BNT News
RELATED POSTS
Tags: Choi Min-soo, photo shoots, Ryu Seung-ryong