Kim Sun-ah, from cancer patient to Fighting Spirit
Are you having Kim Sun-ah withdrawals yet?  Because I seem to be, so I thought I could share my fix with the rest of you, until we can get the real goods when she decides to do another drama (hopefully soon!). 
In her new interview with Movieweek, Kim shares her newfound wisdom on marriage and secrets to living a fulfilling life with her fans. Kim always searches for what message each of the role she takes on leaves behind. From the movie Fighting Spirit, she has learned what it is like to be living a married life, and from her most recent drama Scent of a Woman she realized how she should be living her life. Let's read on to see what other words of wisdom this dynamic actress has to share with us.
While watching Scent of a Woman, we were once again reminded that Kim Sun-ah is the reigning queen of romantic comedies. You seem to have a knack for playing the role of someone who experiences a sweet and dreamlike love affair while remaining realistic and tangible at the same time.

This is it for me. If I can't see myself in the role, going through the same experiences as the characters myself, then I don't think I'll be able to get the words out.  Whether the stories are written for the present or the year 2300, the words need to touch my heart when I read the script, and my heart must start to race.  I need to be touched in order for the viewers to think, "That can really happen" through my acting.  I've never been good at lying.  Although I have been known for little white lies.  He he.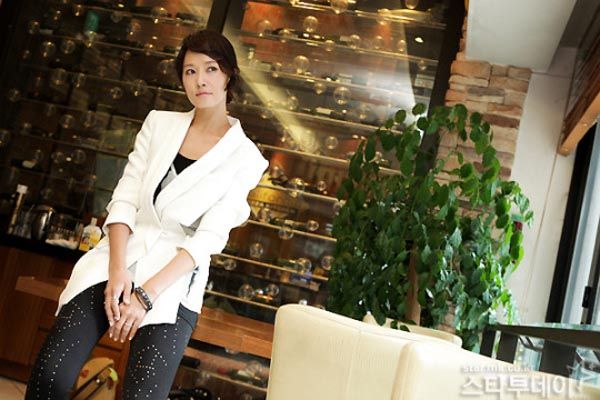 It really does seem obvious. So much so that if I had to pick only one scene where I thought, "Kim Sun-ah seems really enthusiastic in this role," I don't think I'd be able to.

Truthfully, if I'm not in a good mood, I'm not really able to do anything.  That's why I give a lot of effort to nurture my heart.  Whether someone calls me crazy or not, I will even go to a corner of a shooting scene to act goofy to pep myself up.  He he.  [I can't be the only one here who can literally picture her doing this, can I? –sassychef] 

All the projects I've worked on so far with the exception of one or two, I have done with enthusiasm.  I wonder if I'm being too blatant right now?  And I don't like to look at the script too often.  When I read a script for the first time, the feel and the flow of the whole project goes through my head and I don't want to lose that by re-reading the script too many times.  I want to hold onto the initial feeling I get from the project.  But because of that, I tend to not memorize my lines too well.  Ha ha.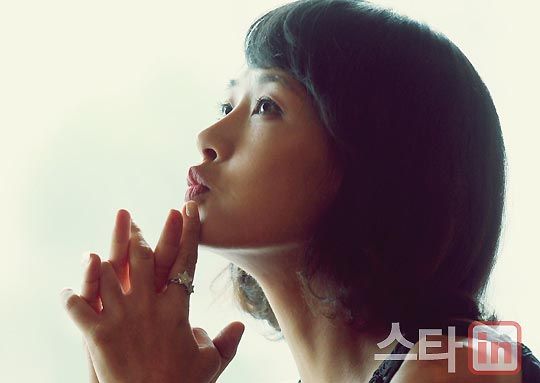 You spent your middle school and high school years in Japan. Also, your college years in America.  That makes your Korean speech a bit different, no?  At first, it was thought to be a disadvantage, but now it seems to be an advantage to you instead.

This is a bit embarrassing to admit, but even to this day, I have trouble with difficult words.  When I made my debut, I constantly heard people say, "You can't say the words right.  You can't act," so in 1997 or 1998, I started to take acting lessons.  But that doesn't mean I learned to speak with an accent.  I still take lessons from the teacher I met in 2002, and the first thing I learned to do was to yell. 

Around that time, I was doing a project where there was a shouting scene, and my best was sounding like a tiny ant. People seem to think I like to yell like Sam-soon, but until 2002, I never had reason to yell or raise my voice much. My personality has always been to watch those around me and even when I got upset, to bottle it in.  [You've come a looong way there, Sam-soon.] If I hadn't learned the art of yelling at that time, I probably wouldn't even had been able to dream of doing projects like My Name is Kim Sam-soon. [Thank goodness for that acting coach.  Otherwise, what other name would samsooki have chosen?]

Because of that experience, I was able to understand Scent of a woman's Yeon-jae better.  Yeon-jae also lived the first 30 years of her life keeping everything to herself, and after finding out about her condition, then she was able to start saying the things she needed to say. 

Fighting Spirit is about a major league baseball player Do-hoon and his wife Yoo-rhan.  When you get a glimpse of the character, it almost seems like a comedy, but once you look at the scenario, it really isn't.

Fighting Spirit is the story of one man's growth.  I play his wife who supports him.  That's why I thought I should support Kim Joo-hyuk even away from the movie.  I thought playing such a supporting character, I could really learn something from it. I also learned a lot from the role I played in Great Expectations  with Park Joong-hoon.  After City Hall wrapped, the project I was supposed to work on next kept getting delayed.  That's when I really wanted to play a supporting role.  I really thought I could learn something from playing those roles and characters.  I don't think that you need to play the lead role or one of the main characters to learn from the experience and walk away with something. 
Your character Yoo-rhan becomes exhausted with having to support Do-han, and throughout the movie, Yoo-rhan goes through her motions expressionless.  Kim Sun-ah expressionless?  Truthfully, I can't even imagine that.

My Name is Kim Sam-soon's Sam-soon, City Hall's Mirae, Scent of a woman's Yeon-jae, Fighting Spirit's Yoon-ran.  They are all of a similar age.  However, Yoo-ran's quality of life is different. Marrying Do-hoon as a wide-eyed, innocent 20-something, everything must have looked rosy for her. But as she started to have kids and raise them, things started to get more and more hectic and the time just passed by her without her even noticing.  One day she just noticed that the smile she used to carry just vanished. She became transparent and lost herself through the years of taking care of her family. 

I myself have never been married or had any kids.  So I'm not familiar with those feelings… ㅣuckily, my director was my source of help where I needed it most when it came to dealing with those emotions. We never had a full discussion about it. If I approached him to talk about the movie, he'd reply, "What's there to talk about? Let's just go get a drink!" And he'd say that's what men are like. He'd scream out, "I'm Yoon Do-hoon! I don't know or care about a woman's heart!" 

I even became really mad at the director once. But when I started to think about it, I realized that's how Yoo-rhan must have felt towards her husband. I don't know if this movie is the director's way of telling his own story through Do-hoon's character. I wonder if you can say this movie is like throwing the last pitch of the game when you're already in the bottom of the 9th inning with 2 outs?  He he.
Fighting Spirit premieres on September 29.
Via Movieweek
RELATED POSTS
Tags: interviews, Kim Sun-ah