Man of Honor's production press conference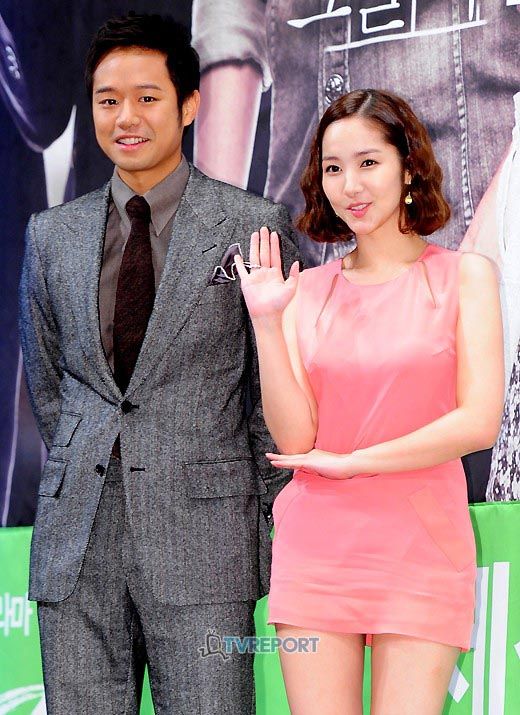 A week from its premiere, KBS's new Wednesday-Thursday drama Man of Honor held its production press conference, with its main cast in attendance: Chun Jung-myung, Park Min-young, and Lee Jang-woo take the main three roles. Already I can see the Baker King-esque dynamic in the stills; nothing like a rich-boy-poor-boy rivalry in childhood to up the ante in adulthood, is there?
(Side note: Nice of them to keep the same hairstyles for their childhood counterparts, for ease of identification — but I'd hate to be the kid who stuck with the same haircut for over twenty years.)

Chun Jung-myung plays the Young-kwang of the drama's title (it means honor), a former baseball star — the kind who delivers a home run with bases loaded in the bottom of the 9th inning and two outs — who has been pushed back to second string. Given the sports milieu, the role calls for some action. Chun unfortunately suffered a fall from a horse while shooting his recent drama The Duo, damaging his spine, knee, and leg, giving him difficulty walking. It was a pretty bad accident and at the time, he'd undergone both medical and naturopathic treatments to get in shape to resume filming.
He said, "I was a bit worried because I'm not entirely recovered yet. I like physical exercise, but for a few months after the accident I wasn't able to do much. Young-kwang is a pro baseball player so I would need to get my body comfortable with his movements, so I worried that my physical condition wouldn't be up to it."
Yikes. Although he says all is well now, I'm not sure I believe that's possible, considering he needed constant treatments and physical therapy. He said, "After suffering a severe injury, I'm more mindful of needing to take care of myself. And I have to do that in order to get fully into the acting."
Park Min-young plays Jae-in, a nurse's aide with a bubbly, energetic character. She only had two months off after City Hunter ended before taking on the new role, and admitted she was a little nervous about the time squeeze. "But I enjoyed the script so much, and really trust the director and writer."
She also cut her long hair off for the first time in 14 years, in order to play up Jae-in's bright personality. She'd been enthusiastic about the change, and found the thrill of chopping off her hair so exciting that she'd asked for a shorter cut.
Lee Jang-woo plays the other leg of the love triangle as Young-kwang's rival In-woo, "with lots of fighting scenes with Chun Jung-myung and Park Min-young." He added, "In most of my scenes, the scripts indicate, 'Dismissively, not listening.' Aside from his father, he treats everyone rudely, and acts like he's king." You may as well just call him Ma-jun v.2.0, while Young-kwang gets to be Tak-gu the Second.
Lee Jin plays a cool, confident design manager in an outdoor apparel company. Her character went to school with Young-kwang and has feelings for him, making her a romantic rival with Jae-in. Naturally, where Jae-in is plucky and poor, Lee Jin's character is chic and fashionable. Because it would just be too much to have two nice women vie for the same guy, right? One has to be bitchy so we know who to root for, yunno, just in case promotional billing hadn't made that clear.
Meanwhile, the supporting cast includes Choi Myung-gil, Kim Sung-oh, Lee Moon-shik, Sohn Chang-min, and Kim Yeon-joo
Man of Honor replaces Princess's Man and premieres October 12.
Via NTN Seoul
RELATED POSTS
Tags: Choi Myung-gil, Chun Jung-myung, Lee Jang-woo, Lee Jin, Man of Honor, Park Min-young, press conferences