Me Too, Flower gets a last-minute postponement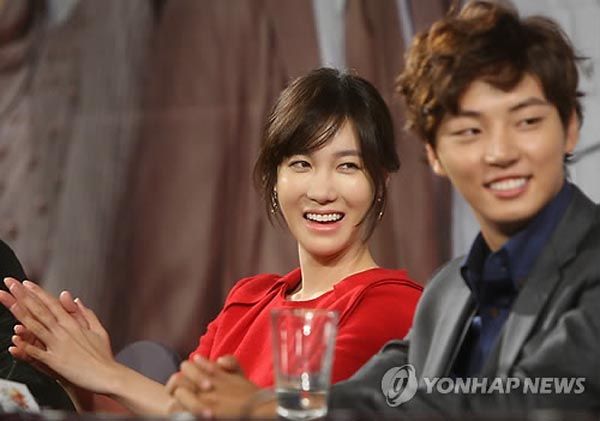 Phew! MBC's new drama Me Too, Flower! can sigh in relief at their temporary reprieve, which somehow feels a lot like a stay of execution. The miniseries was all set to air in two days, but announced at its Monday press conference that its airdate has been pushed back one week and will instead premiere next Wednesday.
To which I say: Thank goodness, because if ever a drama needed more time to get ready, it's Me Too, Flower. And also: What is your deal, MBC? You make this decision TWO DAYS before showtime? I know I sound like a broken record, but this is a move I've felt MBC shouuld've made weeks ago, and it's amazing that it took them that long to make the decision. They had already bought a week of filler time by re-airing some old one-acts, so clearly they knew this was always a possibility.
It also makes me wonder: Did MBC think they could actually pull it off, only to realize at this late date that they couldn't? That does not bode well in any circumstance. Note that this added postponement means that the drama would have been delayed even if Can't Lose, the preceding drama, had gotten its full extension.
I can't help feeling like this drama is a trainwreck in the making, which I recognize is an excessively dark outlook to have before it even begins. I'm hoping it surprises me, and maybe it'll manage to pull out some magic fairy dust and make the most of its extra time. I'm just not holding my breath waiting for that to happen.
I do hope the show exceeds my (admittedly low) expectations. I'm ambivalent on the cast, but when we're talking about the writer of My Name Is Kim Sam-soon and What's Up Fox, who's coming back to drama writing after a five-year break, I can't help but wish for all things awesome. (The PD has Stormy Lovers, Queen of Reversals, Merry Vs. Daegu Battle, and Sweet Spy on his resumé.)
All things considered, It's hard to dismiss this drama's troubled history, starting even before production began. There were rumors wondering at the lack of advance filming time before Kim Jae-won had to drop out due to injury, which then led to the last-minute scramble to find a new hero in Yoon Shi-yoon, the Can't Lose extension, the re-runs padding the schedule, and now this.
Me Too, Flower! will now premiere on Wednesday, November 9.
Below are the cast members of the drama at the October 31 press conference, Lee Jia, Yoon Shi-yoon, Seo Hyo-rim, Han Go-eun, Lee Ki-kwang, and Jo Min-ki:
Via Hankyung
RELATED POSTS
Tags: Han Go-eun, Jo Min-ki, Lee Jia, Lee Ki-kwang, Me Too Flower, press conferences, Seo Hyo-rim, Yoon Shi-yoon