Running Man: Episode 62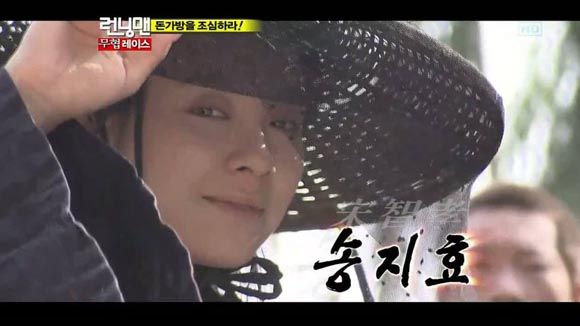 Sssshhhheeeee's baaaccck! Ace Ji-hyo's back to bring the heat in Beijing Race Part 2! This time, Ji-hyo's got someone on the inside working for her. Last week's loot is safe, isn't it? Stolen you say?! Oh no, not this wild ride of "Did you take it? I didn't take it! What about you?" again…
EPISODE 62. Broadcast September 25, 2011.
The morning mission starts bright and early at 8 AM and the first person to arrive is… Haha? We're just as confused as he is. He's soon followed by Jong-kook who pulls rank that he's in first place, as always.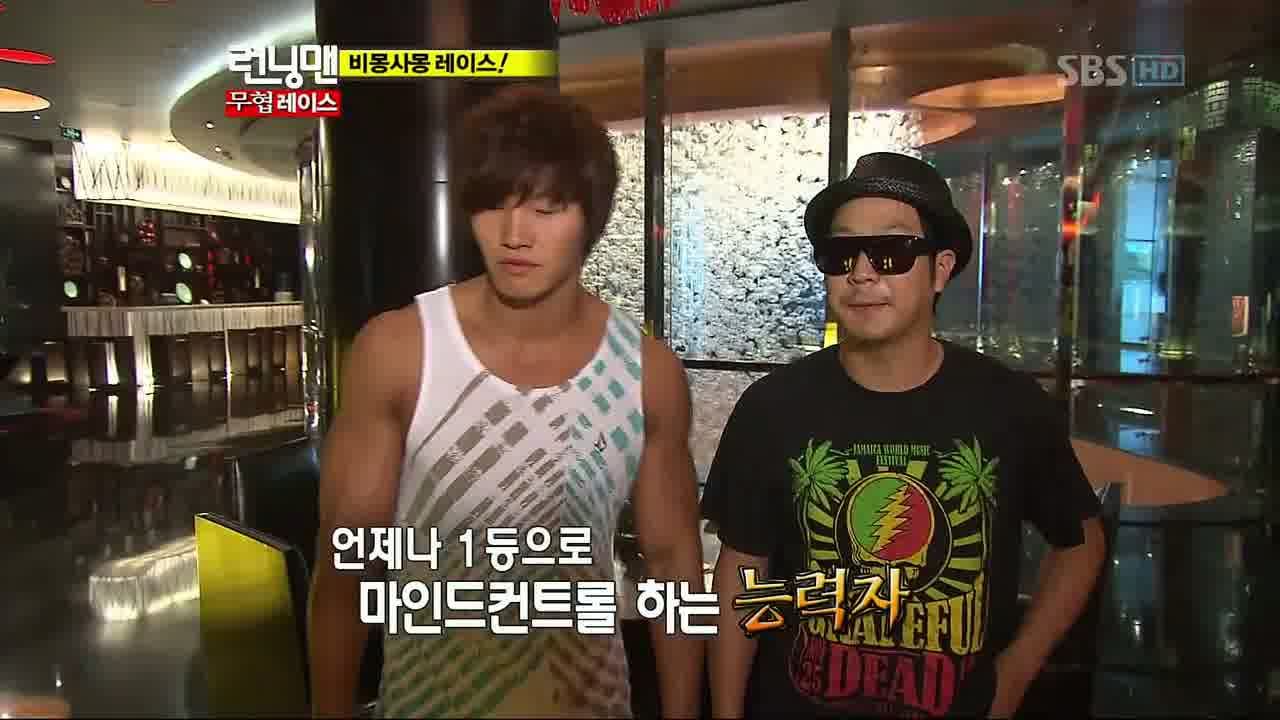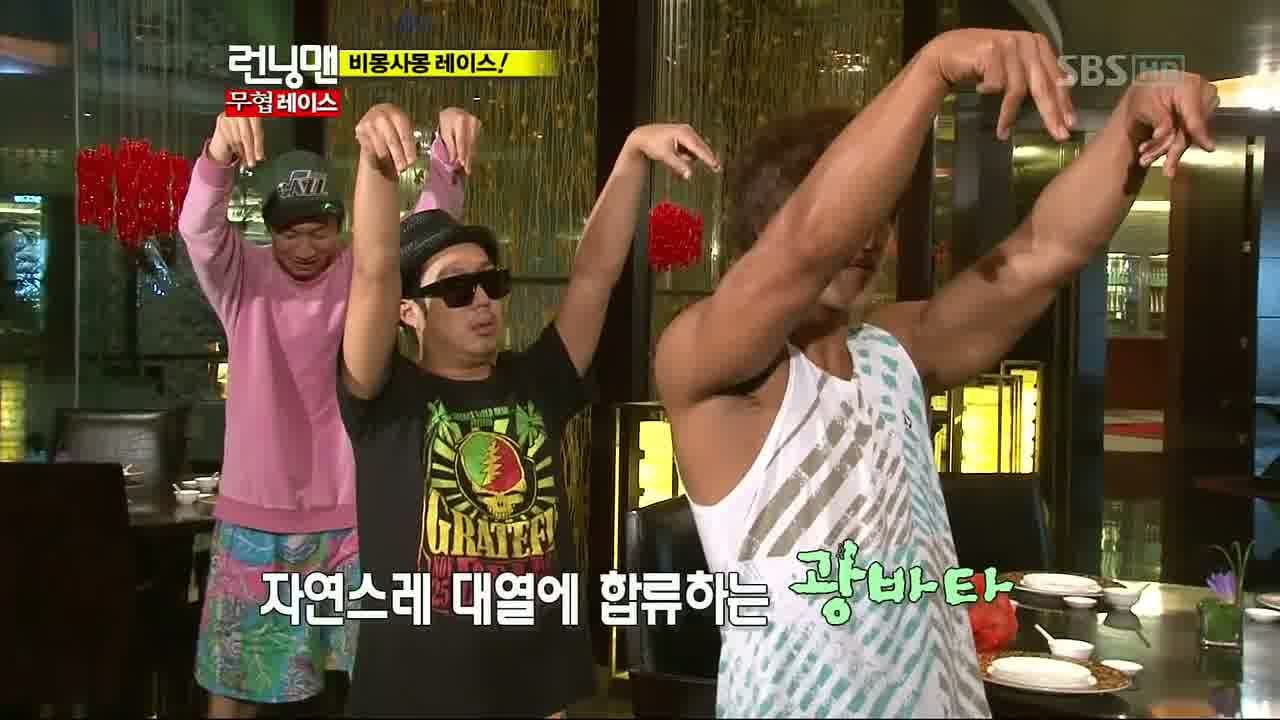 Variety-hungry Haha suggests to Jong-kook they should have a bit of fun and Kwang-soo is greeted by this ridiculous pose. Maybe it's too early in the morning for him to process the absurdity of the situation, but he follows suit anyway. Poor, innocent Kwang-soo.
The mat-hyungs (oldest) aren't fooled for a second and they sit down for breakfast. And Gary comes in wearing the same tee from yesterday. He tries to explain that he hit the sack right after filming but the others don't believe him one bit.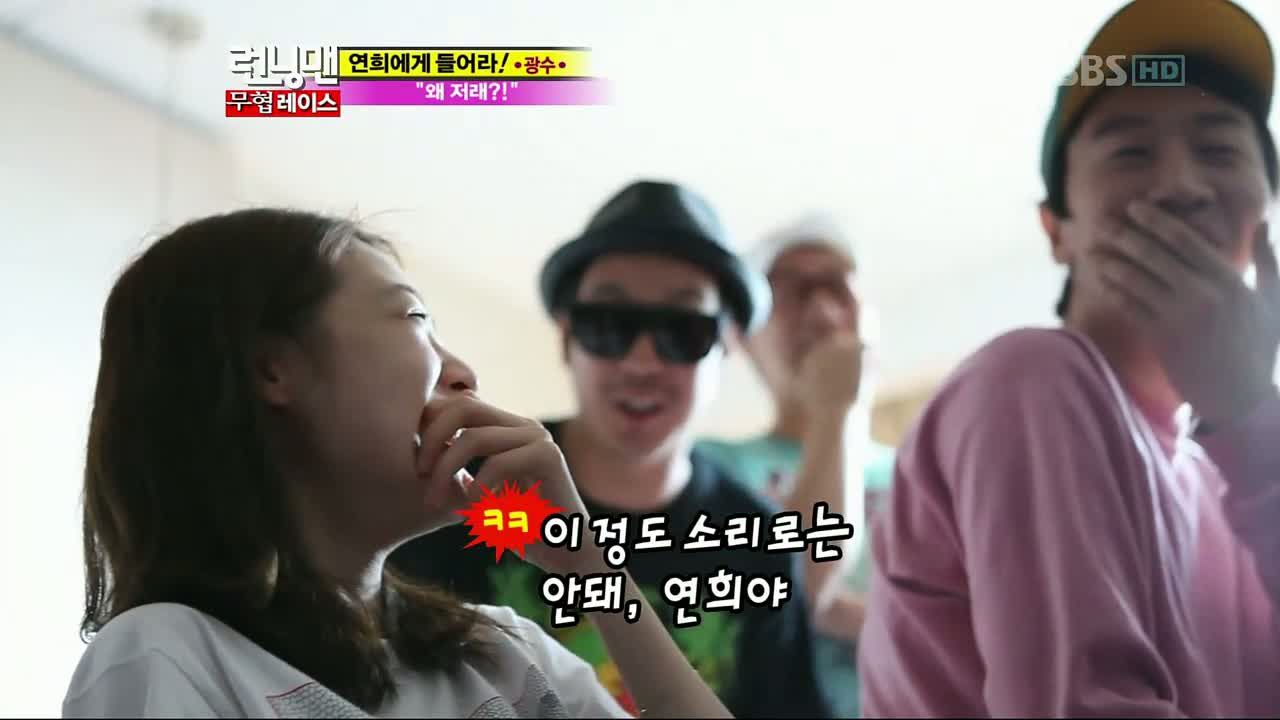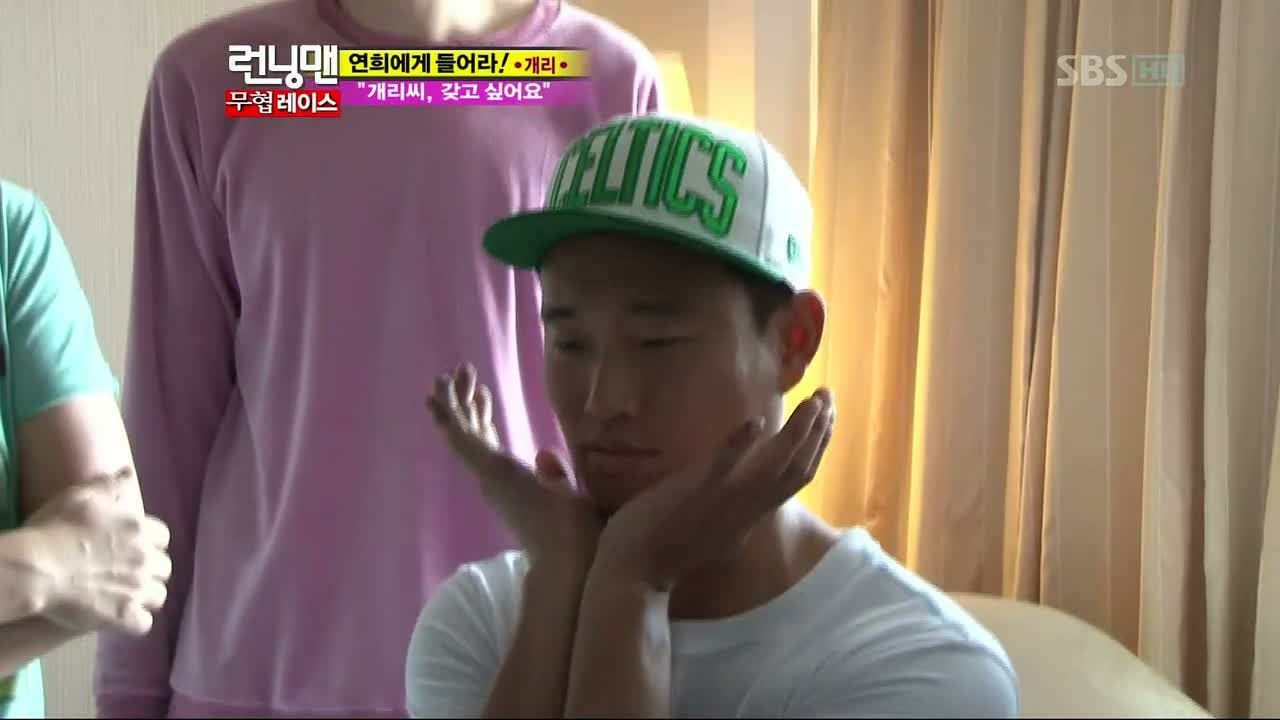 Morning mission time! We've seen this before: get the guest to say a phrase or perform an action within a time limit. If they succeed, everyone gets breakfast with an incentive for the cast member who succeeds first. They vary in difficulty from telling Jae-suk he talks too much to calling Kookie cute. The mother of them all? Kwang-soo's phrase: "What's wrong with him?"
The timer's ticking, so on with it then! It takes some time for Yeon-hee to catch on, but once she repeats Ji-young's aegyo, she knocks the others out with ease. Kwang-soo's mission seems to be the least obvious so Haha gives her a hint – she has to slap him. So she does and immediately they say it needs to be harder. So she hits him again. Harder.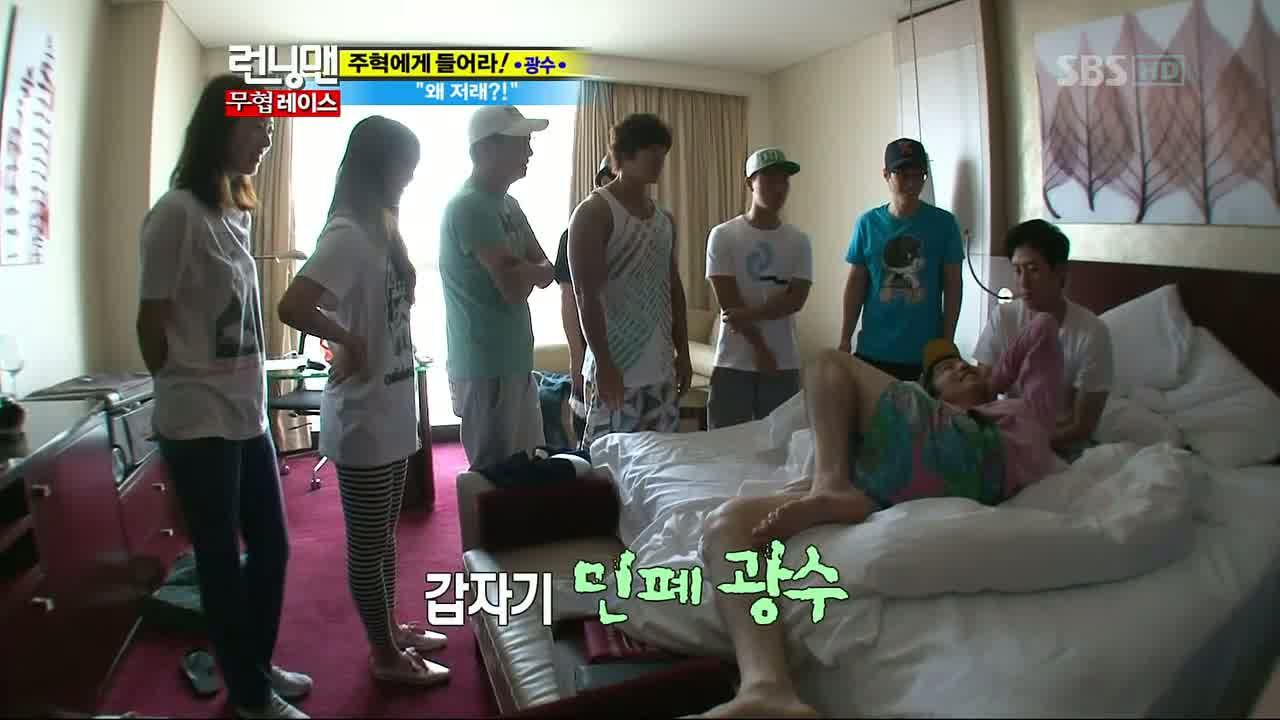 They clear Yeon-hee's room with 10 minutes left and head to Joo-hyuk's room. To wake him up, Haha instructs him to dance and he does so adorably that I forget he's actually a big-time serious actor. He gets snagged in a few of the phrases too and I love how Kwang-soo sneaks into bed with him and Joo-hyuk responds, "This kid is so inexperienced…"
To make it worse, he tries the same tactic he used with Yeon-hee (munching on an apple while sitting next to her) and she waves it off, saying that definitely doesn't work. Joo-hyuk shoots the rest of the phrases out like a speed demon – breakfast for everyone!
They're all too distracted at breakfast to notice that the waiters and chefs repeat the phrase in Mandarin, "Be careful of your money." Hmm…
On the bus, Jae-suk comments that Yeon-hee used to be a trainee for SNSD and convinces her to show them a simple wave dance move. Boys will be boys and they set up a fictional scenario for their two actors: for Yeon-hee to perform that dramatic head turn the drama heroines do whenever their lover calls their name. So Joo-hyuk calls on her in a squeaky voice. Ha! Who knew you could be so funny, Joo-hyuk?
Mr. PD surprises the cast by taking a break for the Running Men to buy some souvenirs. They leave the money behind, completely unaware that bandits soon swarm the bus and swipe the cash in their absence.
Who's the ringleader behind this heist? You guessed it – Ace Ji-hyo, who literally flew into Beijing right after filming wrapped up for Gye Baek in Korea. She looks absolutely exhausted here, with dark circles under her eyes. It also saddens me that I know that filming a drama and a variety has taken a physical toll on her body while watching this episode.
Her mission is simple: keep the money safe and tag out the Running Men. The twist – she gets to choose an accomplice and we see her on the phone, "I'll see you soon."
The Running Men arrive on the movie set and are alerted that a cast member has stolen the money. Haha is in complete shock– he's got the suitcase in his hands, and is dumbfounded to find that the moolah is replaced with blank stacks of paper.
Naturally, the cast starts pointing fingers at each other – who's done it this time? Yeon-hee thinks that being suspicious of each other is great fun and Jae-suk reminds her that this is what it's like – trying to figure out which member betrayed them each week.
Jong-kook is sure that the place is too large for just one thief and the others shoot it down: given the number of people, it's too easy if there are two thieves. But we know he's right – so who's the other person?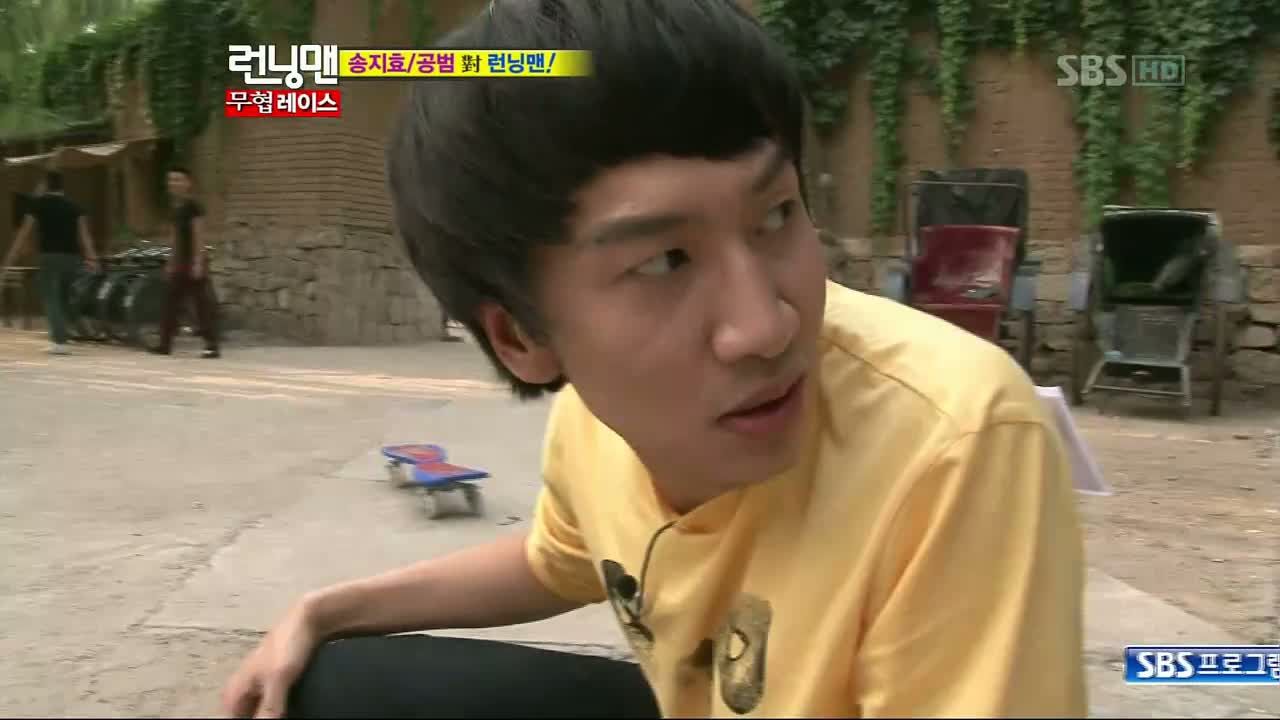 Just then, they see Kwang-soo whiz past them, chasing after some extras Ji-hyo sent to distract him. They conclude that it doesn't really matter if they eliminate him anyway. They corner him, citing that he's been acting pretty strange today. Big Nose Hyung grabs the corner of Kwang-soo's name tag and rips it off of his back.
Kwang-soo isn't the culprit so they apologize right away, turning on Suk-jin for betraying one of their own, but Incriminating Kwang-soo explodes, "You're always sorry after you eliminate me!"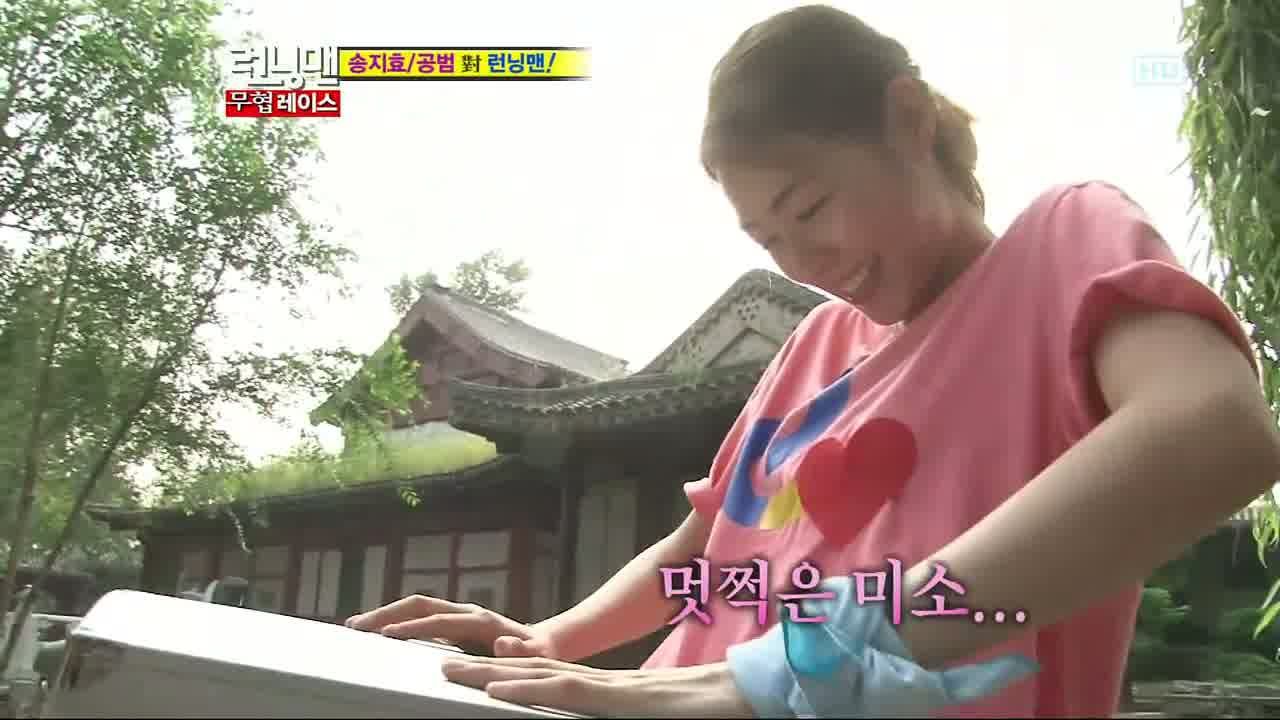 Yeon-hee is absolutely adorable. As soon as the cast begin to suspect her, she comes skipping that she's found the money, fake suitcase in hand. She finds out the truth quick enough, but she's so enthralled by the mission that it doesn't dampen her spirits. When Jae-suk finds her in a corner, she says, "I don't want to roam around anymore. It's time to start the battle of wits!"
Gary wanders the streets, asking the vendors if the props are real, and spots a mysterious figure hunched over on the side of the street. Curious, he peeks and immediately recognizes Ji-hyo. Too bad she takes him out in 5 seconds flat.
The suspicion falls back onto Haha (shouting that it's NOT him this time) and Jong-kook has an insight: Ji-hyo must be here because Mr. PD told them that the thief is amongst them, but that's something they've always known. He's so on point that Jae-suk wonders if Jong-kook plants a bug to listen in on the RM staff meetings.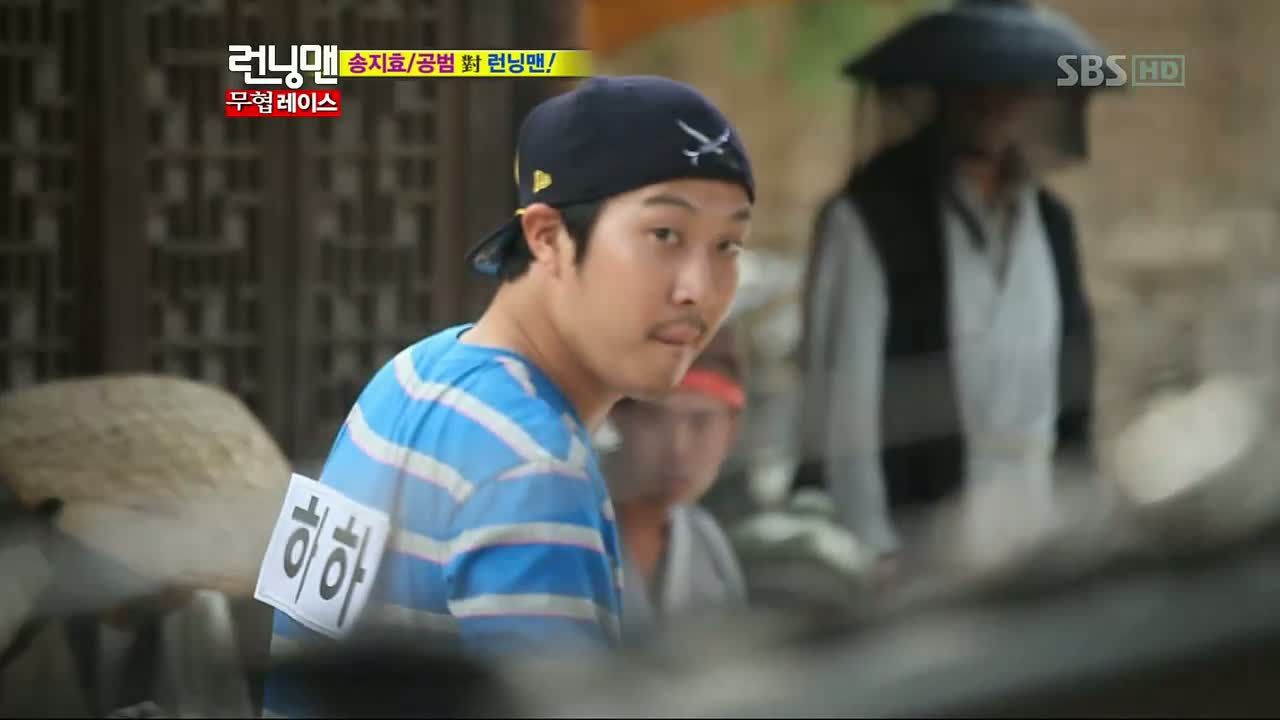 Next on Ji-hyo's target list is Haha and she chooses her opportune moment and takes him out with ease, along with Jae-suk just over a minute later.
The double elimination puts the remaining five Running Men on high alert. Suk-jin offers himself up as bait and he enters the street, waiting for the culprit to appear. Then, Joo-hyuk suddenly appears on the side streets claiming he suspects Suk-jin. He takes Suk-jin out to reveal a clean tag. It's not Suk-jin, but why did you tag him out Joo-hyuk?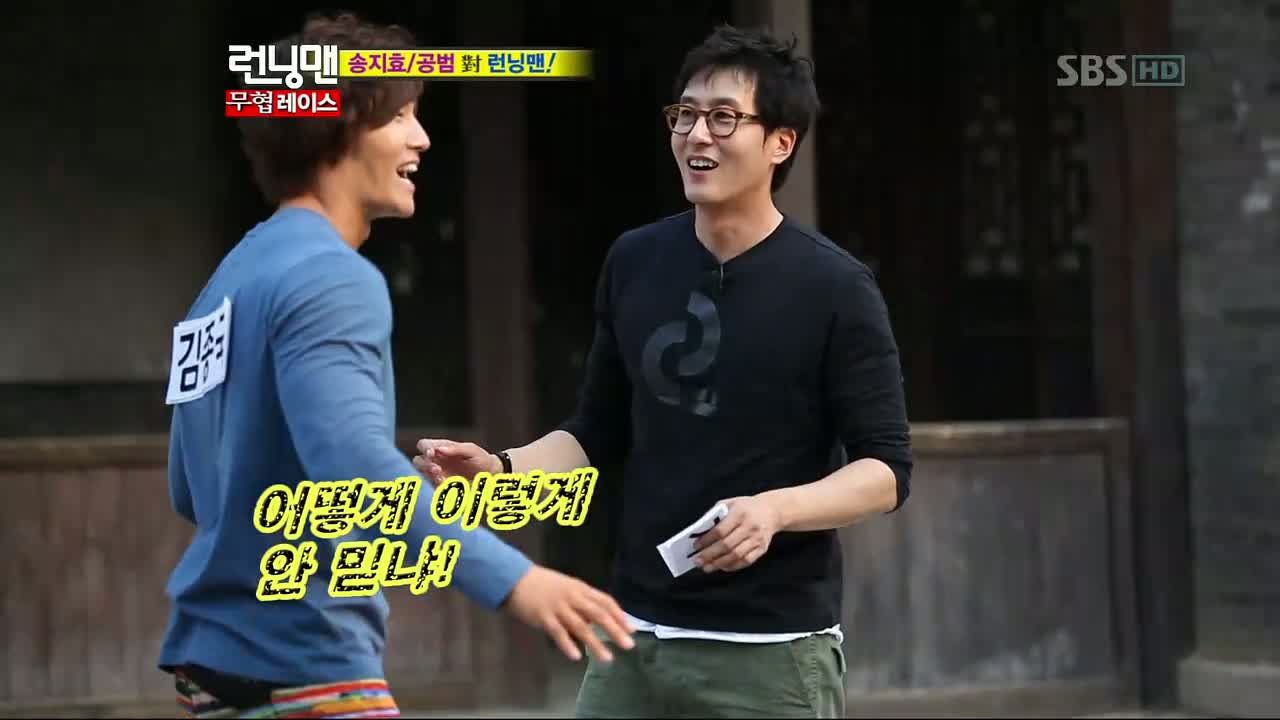 Jong-kook attempts to gather everyone together, but given Jong-kook's past track record, Ji-young doesn't believe him for a second. To which Jong-kook exasperates, "Believe me! I'm the most truthful person here!" Ji-young, however, takes matters into her own hands and rips off Joo-hyuk's name tag. Nope. Hmm…so who is Ji-hyo's henchman?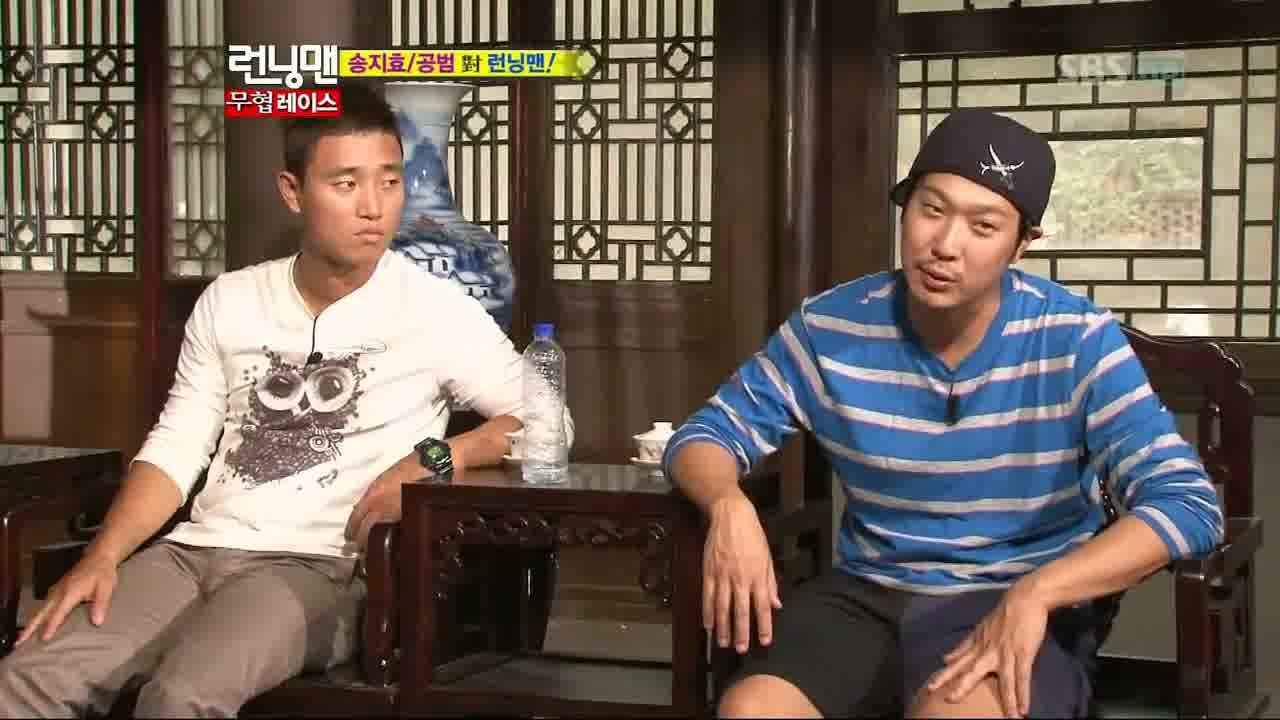 In jail, the eliminated members try to answer this very question – even if Ji-hyo's an Ace, this mission is too hard for her to complete on her own. They tug at some possible leads and Joo-hyuk draws his own conclusion: it's the Ji ladies, Ji-young and Ji-hyo working together.
The two remaining ladies, Ji-young and Yeon-hee, are convinced that Jong-kook is the robber they're looking for and plan to eliminate him. So Mr. PD asks if that means they don't suspect each other. They pause to look at each other but dismiss the possibility.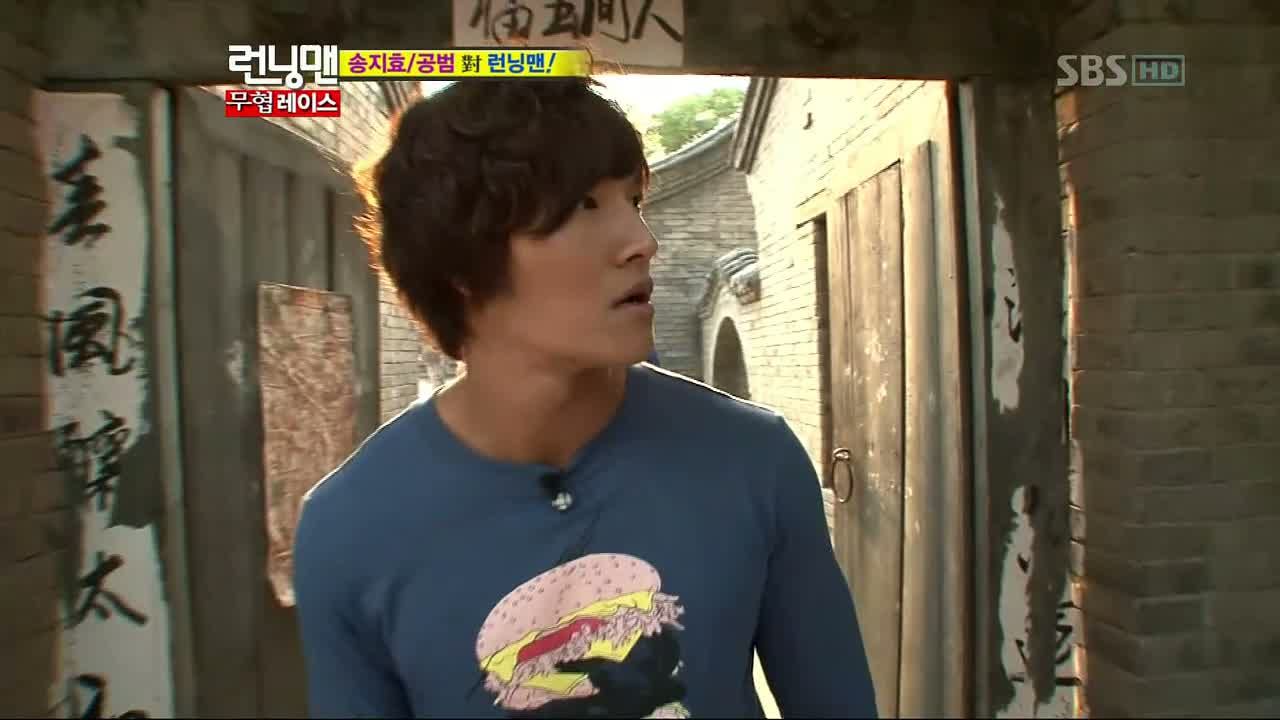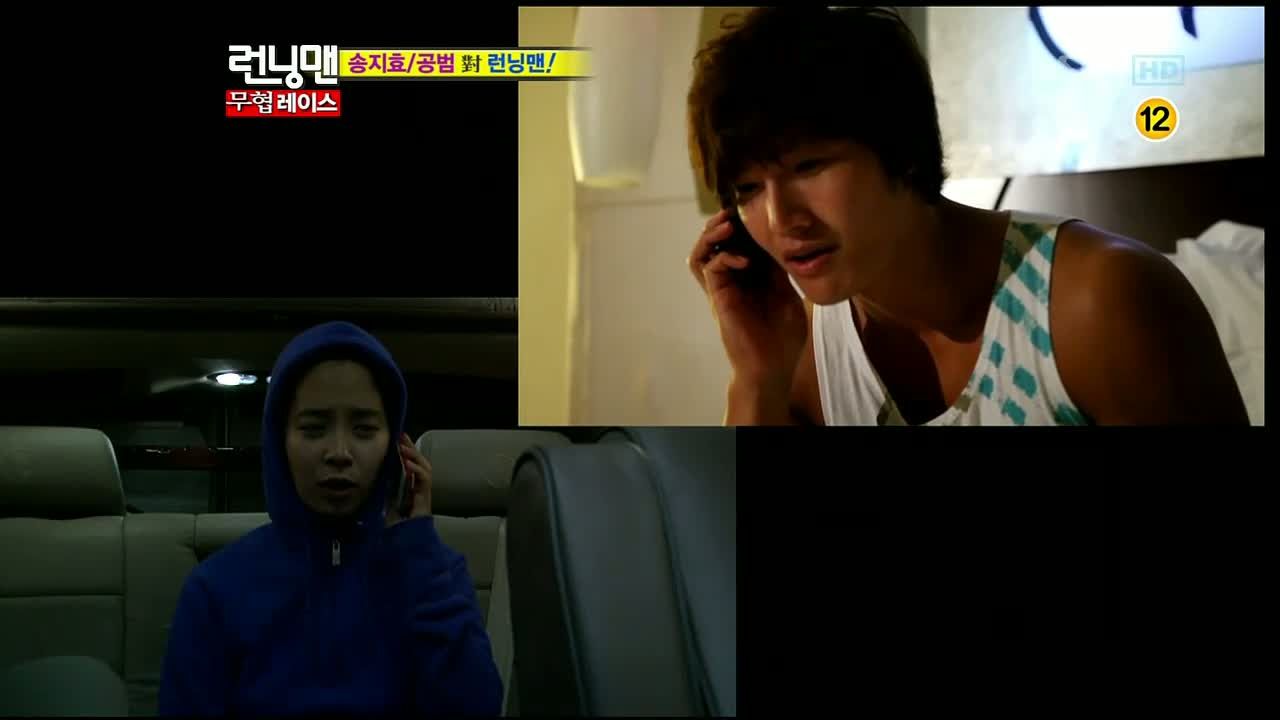 Meanwhile, Jong-kook is roaming the streets by himself and spots Ji-hyo hiding inside. Wait, why aren't you running away from her??
That's right… the recipient of Ji-hyo's phone call and therefore her accomplice is Spartakooks himself. He's not exactly thrilled to be the thief again – after all, he was the criminal once before in Thailand. But Ji-hyo offers that she'll split the money with him and he's in.
But there are two rules he needs to keep: (1) he's not allowed to eliminate anyone (2) he can't lie. Which means every word out of his mouth about Ji-hyo and about the entire mission was the truth. He meets up with Ji-hyo in secret and says they're almost there and he can't eliminate the ladies (because he's known to abandon his Spartakooks image when it comes to women).
Back in jail, Jae-suk recites some traditional proverbs that sum up today's episode: Ji-hyo is killing two birds with one stone by letting the members fight amongst themselves. These sayings go over Gary's head who mentions another proverb (which refer to when a crow falls onto a boat that something unrelated will happen) to fit his own understanding: that you're freaked out when the crow falls. Heh.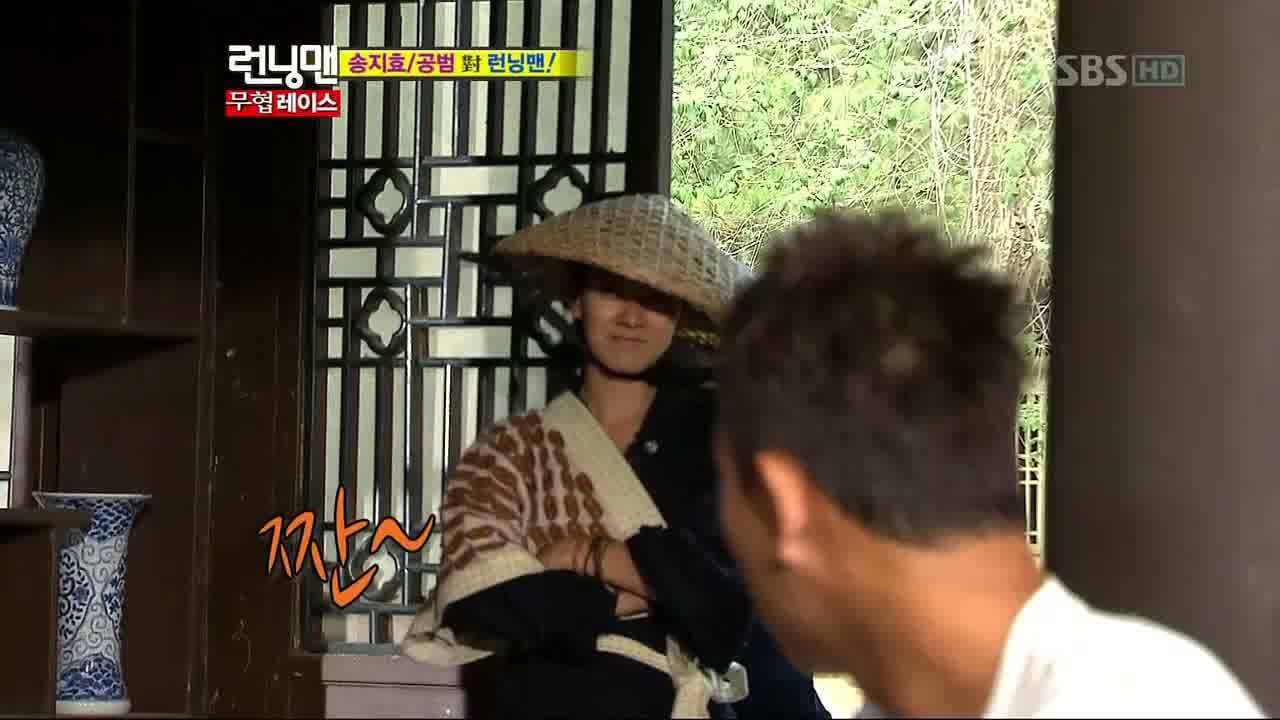 Ji-hyo pays a visit to the jail and they're surprised she came straight after filming. She replies that it's Monday but tells Gary, "I didn't come here for you." Aww.
Jong-kook returns from his secret meeting to see Ji-young alone. She thinks Jong-kook has gone rogue, completing his own mission while pretending he's not. He vehemently declares that he's being truthful and wanders the streets looking for Yeon-hee. When they're in the clear, Ji-hyo pounces in for the kill and Ji-young is eliminated.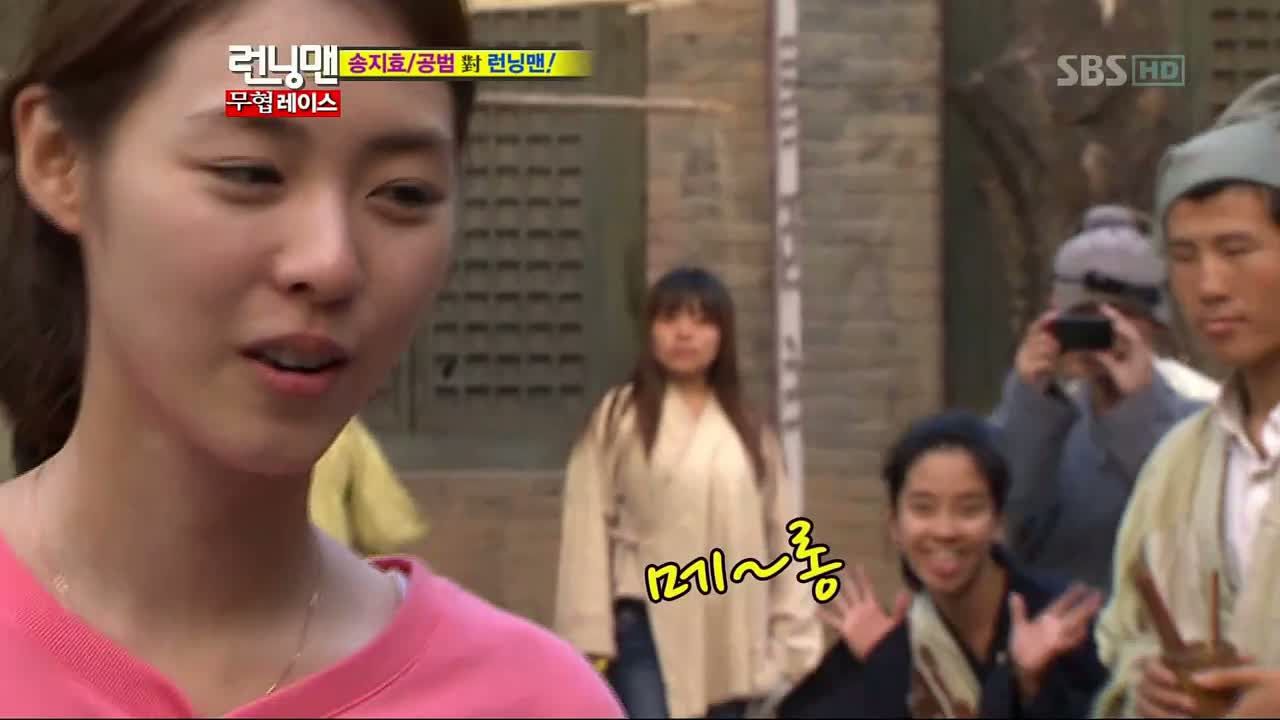 What a tiring day for Jong-kook as he continues to repeat the same words over again to a disbelieving Yeon-hee. She resolves to just turn herself in, thinking he's the one who's stashed the cash. He buys some time for lurking Ji-hyo to slowly move into position…
…and scares the living daylights out of Yeon-hee. She coolly accepts her elimination (which makes Mung Ji-hyo and Spartakooks winners of the Beijing Race) and comments with a smile that Running Man is really quite enjoyable. You're absolutely right – Running Man is fun for us to watch too.
RELATED POSTS
Tags: featured, Haha, Ji Suk-jin, Kang Gary, Kim Jong-kook, Kim Joo-hyuk, Lee Kwang-soo, Lee Yeon-hee, Running Man, Song Ji-hyo, Yoo Jae-suk