Running Man: Episode 63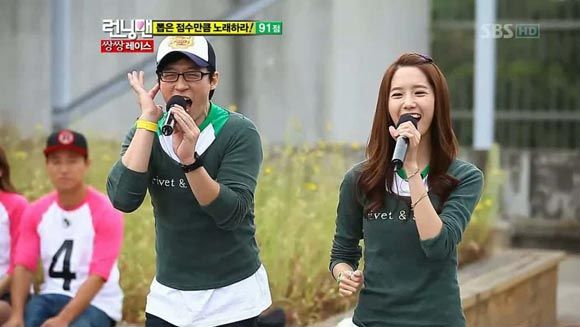 It's the highly anticipated Girls Generation Special in this episode. With one lady out, why not bring in six to replace her absence this week? I've never seen the cast this excited, nervous, and happy bundled into an hour and a half.
EPISODE 63. Broadcast October 2, 2011.
The 6 boys open up the episode without Ji-hyo and note her absence, which has kept her from filming this week. We won't be seeing the Monday Couple today I suppose. My heart breaks a little.
Mr. PD has something else up his sleeve and lifts their spirits – today there are six guests for today's episode, all from idol group Girls Generation (SNSD): Tae-yeon, Yu-ri, Jessica, Seo-hyun, Hyo-yeon, and Yoon-ah. Needless to say that the boys are absolutely elated. You can't wipe the huge smiles off their faces as each of them appears one by one.
There's a slight drizzle and the boys are chivalrous enough to provide the ladies with makeshift umbrellas using their sweaters and shirts, chasing each other around to do so. With each ladies' entrance, off goes another layer of clothing.
I wouldn't have thought that strongman like Jong-kook would be embarrassed about baring his guns arms but they're ginormous. And Jae-suk tucks his shirt in his pants? Are we back in fourth grade? Yu-ri jokes that she wonders how the cast will manage giving all nine of their members dry cover, and Jae-suk replies, "No worries – we'll just start from Jong-kook again." Heh.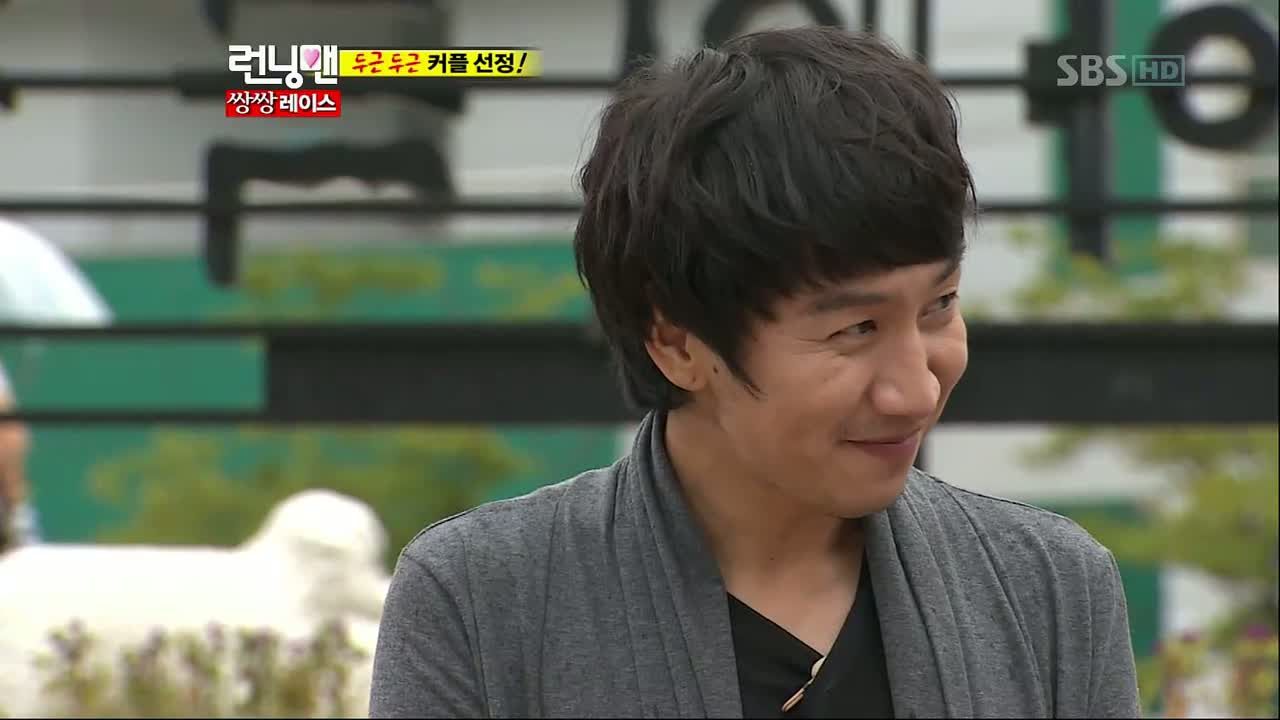 It's a Couples Race today which means more old-school variety introductions and dances. The ladies formally introduce themselves, some admitting to having someone in mind today. How cute is red-faced Kwang-soo all bashful and timid in front of Yu-ri? (They were in a 'loveline' together when she was a guest in a previous episode.) But Jae-suk stomps on his dreams that the couples formed here are fake, not real. Aww.
The boys take their turns to impress the ladies and what the? Gary's 'dancing' has left me awestruck in laughter and embarrassment. I mean, I know the man can dance but this er, thrusting action is in a class by itself.
Time for the guys and girls to make their choices and it's easier for some than others. Haha and Jong-kook are successfully paired off with Tae-yeon and Seo-hyun respectively, (creating the Blue Team) but it's the confusing love triangles between the rest that's harder to keep track of.
Kwang-soo's face falls when Yu-ri chooses Jae-suk, but he gives up on her for Yoon-ah (after much yelling from the others). Kwang-soo grabs at the chance to be coupled with Yu-ri, and the four form the Green Team. Gary gets pulled back and forth by Jessica and Hyo-yeon, but the latter loses out to be paired with Suk-jin, cementing the Pink Team together.
Thank you Hyo-yeon for being a girl with enough sense to be properly turned off by Gary's fickleness. I'm sure Ji-hyo will have a word with him later, hon.
The RM staff are such smart-alecks as each couple is introduced and the captions read, "We're the Monday Couple today!" for Gary and "I'll do my best Seo-yun, I mean Seo-hyun!" for Jong-kook. Kee.
Finally, we head out to our first mini mission and the atmosphere in each car vastly differs from one another. The Blue Team is filled with a cutesy aura that dissipates when Jong-kook mentions that Haha always talks about Yoon-ah, not Tae-yeon. Haha gets so flustered that he ends up taking the wrong road. Oops!
Hyo-yeon doesn't quite let Gary off the hook in their car either, noting that he looks better on TV (heh). When Suk-jin offers to buy Jessica a snack, she adds, "You shouldn't get it for her. She's coupled with Gary." Oof, it's gonna be a rough day for you Gary.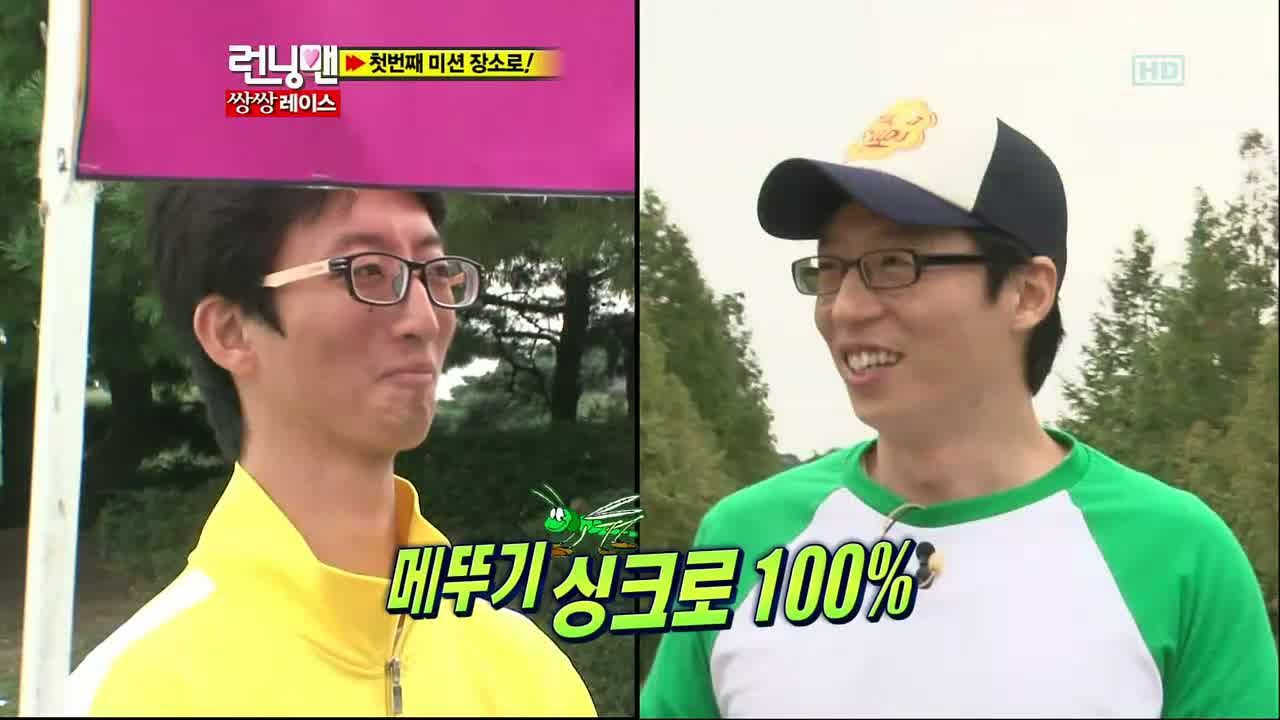 The Green Team arrive at the park first and the girls burst into laughter. That staff member really does resemble Jae-suk and I love it how both parties take a moment to process whether that's a compliment or not. The task for each team is to ride their bikes to a picnic spot, feed each other their snacks, and arrive back in THREE minutes. Can you say impossible, Running Man?
Even though their time is limited, Kwang-soo and Jae-suk try to make most of their picnic with the girls anyway. I'm sure there are thousands of fanboys who would love to be in your shoes right now.
In any case, the clock ticks down and I'm worried they're going to run out of time and Yu-ri does too as she hurriedly packs everything up with an impatient tone. Jae-suk tells her that the Running Men have learned a fact after filming with so many ladies – the pretty ones always have a short fuse. Heh.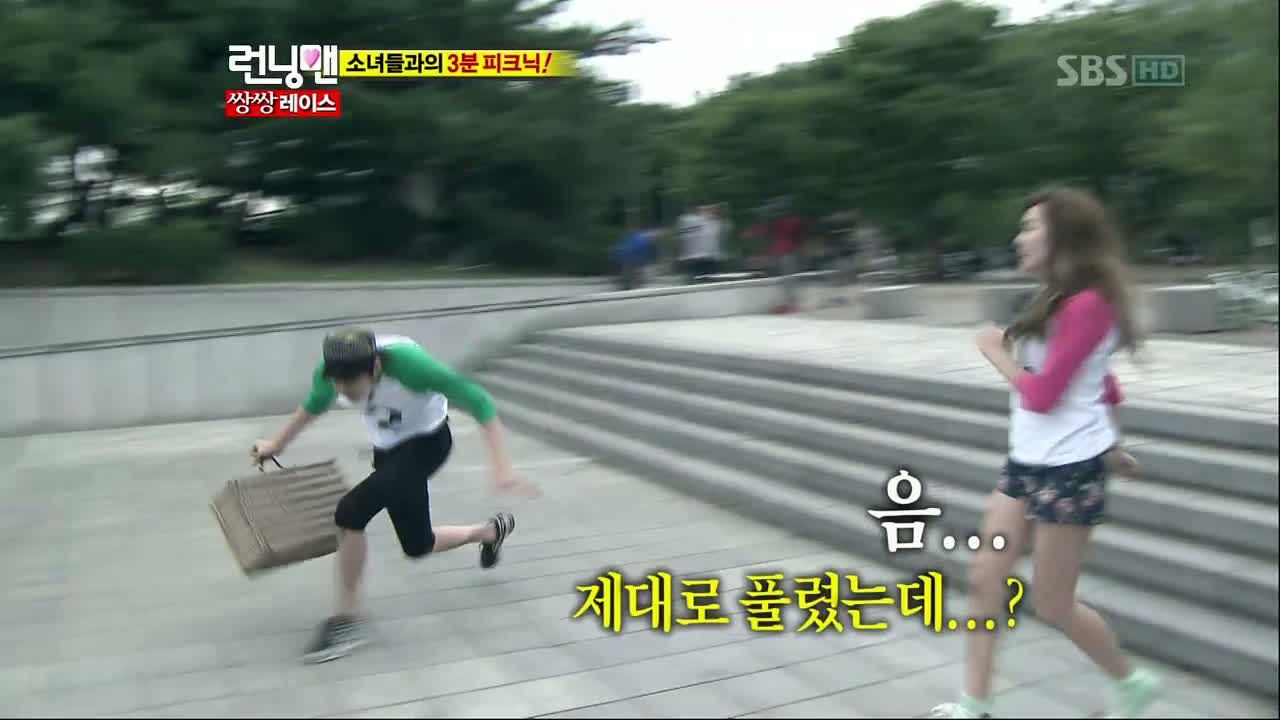 If love gives you strength, then Kwang-soo's turned into Hercules, peddling faster and working even harder in their second pass. They're mere feet to the finish line when Kwang-soo's legs crumple under him, missing the the cut-off by a few seconds. He's so embarrassed by the incident that his voice drops, telling Jae-suk not to draw any attention to it. For what it's worth, the Pink Team failed too!
The more times the teams are forced to repeat this mission, the more they learn. Who needs silly things like utensils and napkins when you can use your hands to eat the salad and dip your bread in jam? They're in such a rush that the contents of the Pink Team's box spill onto the ground, and they scramble to stuff it all back in.
The Green Team finally passes, exhausted and relieved but there isn't any time to dawdle: the Blue Team who passed on their first try are hot on their tail. Off to the shopping mall!
For their second mission, each couple must buy five items to create a couple look with their given allowance. The Green Team boasts the most with 150,000 Won (equivalent to $150) and they're still pretty frugal despite a fat wallet.
Kwang-soo's in pure heaven as he and Yu-ri wander around, picking out socks and cellphone cases, his cheeks flushed red. He's like the boyfriend who's strapped for cash who wants to buy his girl everything, but doesn't want to worry his ladyfriend by saying, "Pick what you like. I'm sorry I can't buy [insert expensive item] for you!"
He even evades the other pricey items by complimenting her: the shoes she's already wearing is pretty and that muffler isn't the one he had in mind for her. Too cute.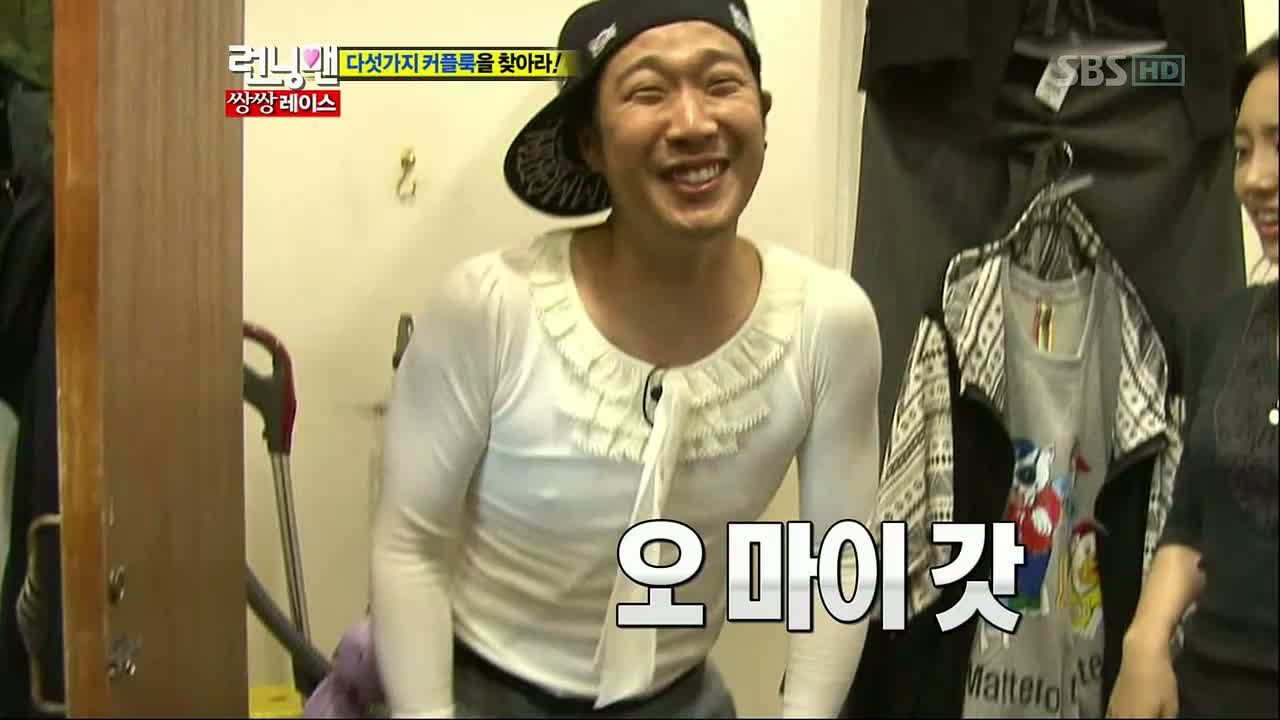 Haroro and Tae-yeon opt to buy all the cute items in sight, but that cute sweater comes at a hefty price. Tae-yeon spots some cheap duds and Haha picks out a set of lacey shirts for them. Oh no it's gonna be — no it IS a bad idea, Haha. He comes out of the dressing room, "I'm done for!" To rub salt in the wound, they find a cheaper store selling tees nearby. Oof.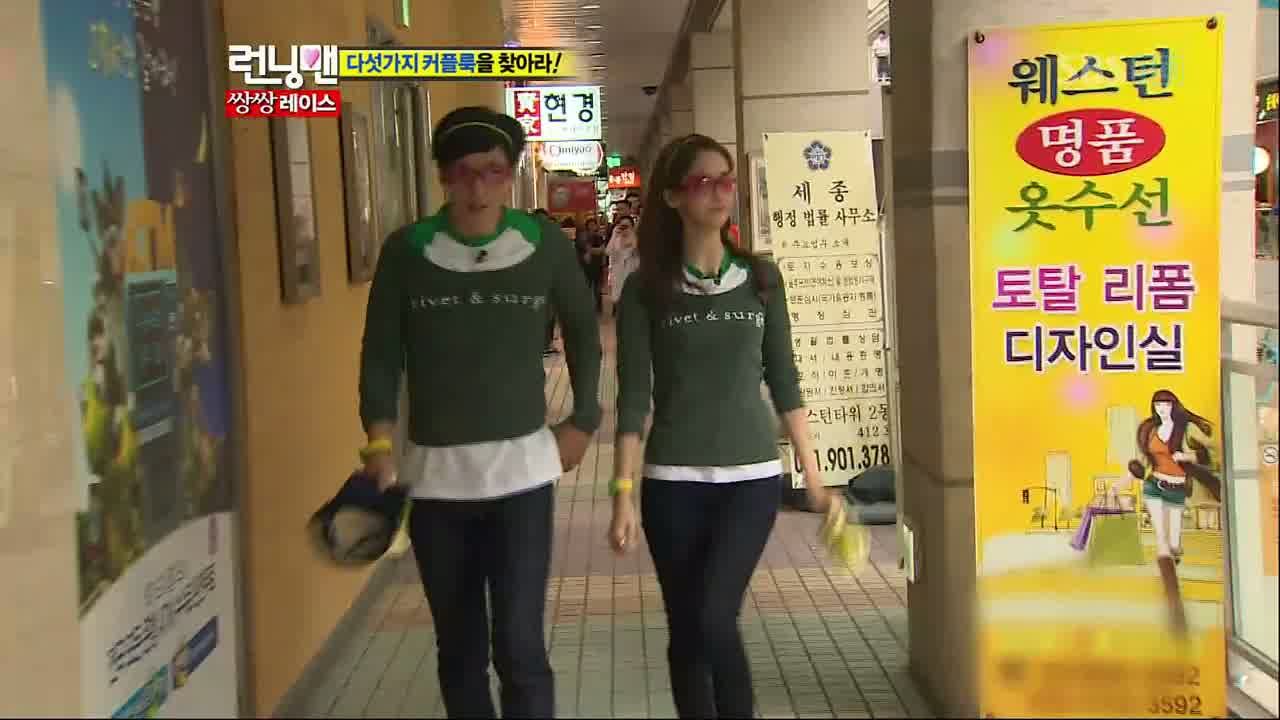 Ha! It's Jae-suk and Yoon-ah fully clad in green from head to toe with a green headband, watch, tees, and socks. The running joke is that Jae-suk is famous for wearing green on Running Man (even Haha bought him a custom-made green blazer for his birthday) but this just about puts it over the top. But they're first to succeed and it's time to head to their next destination!
Jae-suk gloats in the car that spending the day with them feels like a dream and the terrifying thought hits him – what if they change overnight like last time? So the boys advise the girls not to drink anything the RM staff gives them that night. Kee.
The third mission is to sing karaoke and achieve a specific arbitrary score, like 73. Today is filled with ridiculous missions, huh? Jae-suk comments that it's a bit embarrassing for a man to sing a cute, fluffy song from SNSD and Yoon-ah agrees – it's too hard for her too. Heh.
Everyone fails their first time around, no surprise there, but karaoke can lift any mood and liven up any party. Haha is so serious that when it's the Blue Team's turn to sing 'Wrongful Meeting', he counts down the beats, readying himself for the opening dance sequence…and is restrained by Jae-suk.
But the distractions are no use, the Blue team reaches their goal anyway and they laze around to watch the next team fail before heading out.
I've got to admit – Kwang-soo's got a decent singing voice. I can't decide what's funnier – Kwang-soo's exaggerated actions or the cameraman who swings in beat, shooting the scene like a '90s ballad MV. They pass and head out in the car.
Yoon-ah says that Yu-ri and Kwang-soo resemble a real couple, and when Jae-suk refutes it, Kwang-soo adds, "We'll figure it out on our own." Yu-ri: "We?"
Jae-suk goes on, saying that she's going to give away the items they bought and Kwang-soo is slightly offended. She asks if he'll really wear them and enter Jae-suk, the Woman Language Translator: "She means, 'I really wish you wouldn't.'"
Kwang-soo then asks after the headband and Yu-ri is genuinely surprised. Enter Woman Language Translator 2.0. Yoon-ah: "Wow = I never imagined he'd mention that." Hahaha!
The Green and Pink Teams drive to their final destination defeated – there's no way they could catch up to the Blue Team.. or could they? It's the Green Team who arrive first and Yu-ri grabs the flag, winning couple rings for Kwang-soo and herself.
Although the Blue Team did leave first, we see that they were too busy admiring the sunset that they took a wrong turn. Spartakooks is not happy.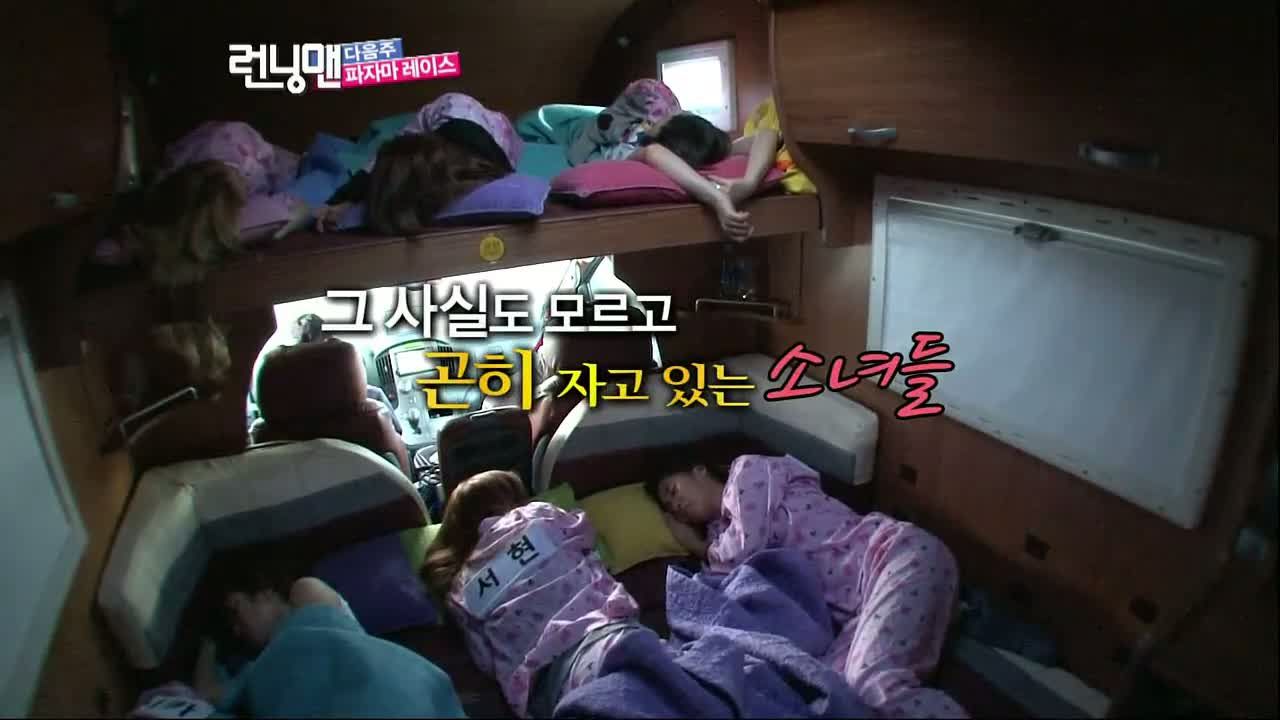 Everyone heads off to bed but in the morning, the girls' van goes missing…where are you taking them!?!
RELATED POSTS
Tags: featured, Haha, Ji Suk-jin, Kang Gary, Kim Jong-kook, Lee Kwang-soo, Running Man, Song Ji-hyo, Yoo Jae-suk