Sung Yuri and Kang Ji-hwan reunite for zany action-romance comedy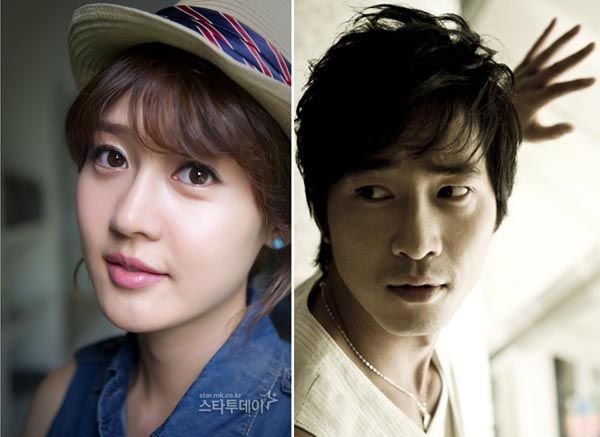 Woo, this movie sounds hysterical, plus Hong Gil Dong fans may be excited to hear that Kang Ji-hwan and Sung Yuri are reteaming in a new movie called Detective Cha, directed by Shin Tae-ra of Kang's action-comedy movie Level 7 Civil Servant.
The movie is another action comedy that unfolds around Detective Cha Chul-soo…who, in order to solve a case, has to transform his macho self into a supermodel to walk the runway. Pffffffffffft. It's like Miss Congeniality meets Zoolander, and there is no part of that sentence I don't like. This is great. I can see the crazy happening already.
Sung Yuri plays the designer brought onboard to make Detective Cha's ugly-duckling transformation happen; she's bright and quirky with a killer fashion sense. Oh man, let that mean lots of avant-garde embarrassment for Kang Ji-hwan. Please?
I'm way onboard with this romantic match-up, which is probably my favorite pairing for both Kang Ji-hwan and Sung Yuri. I love that Kang had a bit of a crush on her before shooting Hong Gil Dong (in fact, the director asked if he had preferences for female leads, and he suggested Sung Yuri because he figured he might as well pick someone he likes), and I find that they work very well doing wacky, even slapstick comedy. Sung has always been very hit or miss for me, but she's so much more likable playing plucky than she is playing the cold sophisticate, in my opinion.
And, of course, the premise is just a hoot. Can't wait for this one!
Detective Cha begins filming this month, which means it won't be out till next year. *Checks watch. Taps foot. Waits impatiently.*
I mean, just look at them in Hong Gil Dong. They're adorable:
Via No Cut News
RELATED POSTS
Tags: Kang Ji-hwan, Sung Yuri