Tree With Deep Roots: Episode 3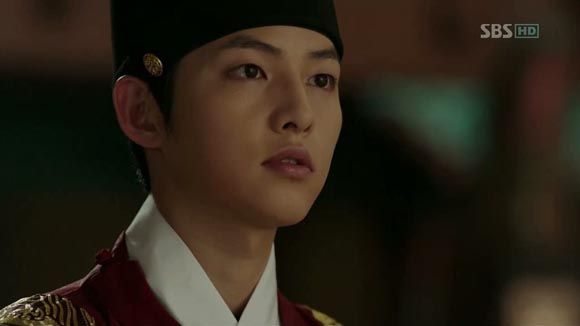 It's really fun to watch a conversation between two people that makes you feel like you're in a verbal boxing match with giants. Every time Lee Do landed a nicely-veiled hit to his father I practically cheered… Wait, I actually did cheer. We've got secret orders, political maneuvering, and shadowy groups of idealists bent on subverting the power of the King – all the ingredients you need to make a tasty sageuk cake. Mmm.
EPISODE 3 RECAP
Arrows rain down around him, but Lee Do doesn't even flinch. He's owning his slow motion walk, and whether his assuredness comes from some deeper knowledge that his father won't actually kill him or just his newfound purpose we're not really sure.
When he approaches Former King Taejong, he speaks as if nothing happened, even asking how his father's morning went. His father's reaction is not the same, as he's more in the 'how do you think I feel?' department. Lee Do, however, stuns everyone by falling into a deep and very formal bow before his father and asks to be spared. Something rings strange about this, since we know the steps Lee Do has taken as a character to stand up to his father… surely he hasn't taken one step forward just to take ten back.
Taejong is a master of poker faces, and seems nonplussed at first when Lee Do goes into detail, saying that he wasn't in his right mind and that he can cleanse his sin through death. The Former King can take his life at any time he'd like, just pick a time and date – but… it's also a sin to die before your parents, so he begs to be kept alive. We're starting to see the double objective Lee Do is playing and our faith is restored – he's doing exactly what he said to Mu-hyul last episode, in taking a step back to find a better way to strike.
He questions his son's sincerity, and Lee Do reassures him by saying he will never go against his will again. In fact, he promises to deal with politics only at his father's guidance and to learn his ways. Testing him, Taejong asks about what Lee Do plans to do with the command of the army. Lee Do's reply is simple: how could he even dare to dream of mimicking his father in army command? Of course father knows best.
It's only when Taejong approaches his son and calls him out for being insincere that we see a brilliant change in Lee Do's facial expression. Here's the King we've seen growing since episode one, no longer quivering in fear of his father's shadow.
This father and son conversation is a trade of underhanded blows, but each line has undeniable impact. Their relationship remains one of the most ambiguous and intriguing in recent drama memory, as Taejong brings up the lunchbox and Lee Do easily deflects by saying he never received such a box, only the answer to his Joseon. It only gets more intense, as Lee Do leans in to tell his father that this should work out best – after all, he'll live longer. Taejong has no other choice.
This answer seems to placate Taejong (or does it?), and the formalities return with the distance. His father asks what his son will do now that everything will be done by his will, and with a smile on his face Lee Do innocently says he just wants to build a study hall and spend quality time with scholars. Lee Do's genius is coming to the fore, and he dutifully asks his father to name the library – and Taejong offers 'Jip Hyun'. This will become the Jip Hyun Jun, or Hall of Worthies.
Father and son later discuss if Jip Hyun Jun will make Joseon any different. Lee Do wants to make a Joseon that can be ruled by rhetoric and not swords – by assemblies that can hear the people out. This is outlandish to Taejong, who believes all assemblies are made to make puppet kings… coming from a man who tried to make a puppet king out of his son.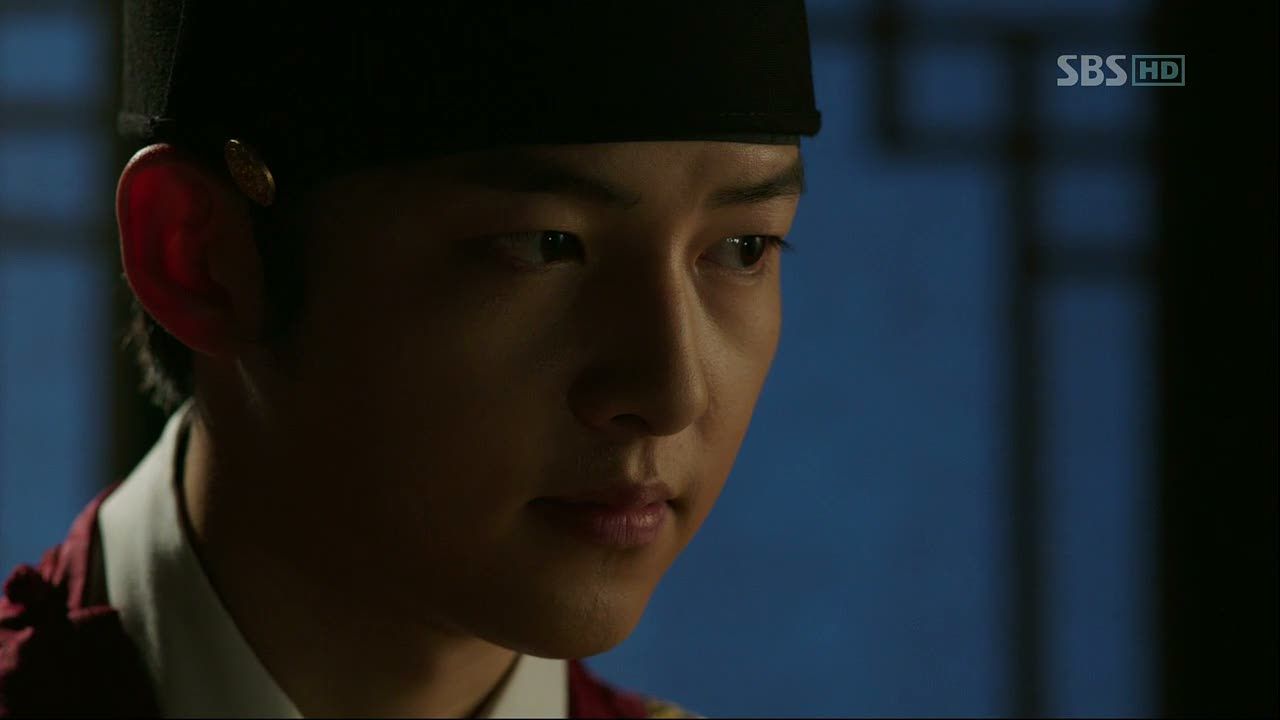 Lee Do is stopped on his way out by two words: "Hidden Root". He tells his father it's just a rumor, but Taejong stands by his belief that Jung Do-jun made a secret group by that very name. Jung Do-jun was a hugely influential member of Korean politics and his clash with Taejong was over political ideologies, resulting in Jung Do-jun's death by Taejong. Lee Do doesn't know who's left alive to run the group, and Taejong reminds him that Jung Ki-joon, the nephew of deceased Jung Do-jun, is still alive.
Lee Do feigns ignorance, that he doesn't know who Jung Ki-joon is – but something in his expression seems to tell us that he does.
Back in the slave village of Ban Chon, the woman who burned the very journal of Jung Do-jun and who ordered two slaves to commit suicide stares at the journal's sash. She'd saved it from the fire, and as she looks at it, we hear in voiceover that she has finally found the Hidden Root Scroll. Our first news about Ddol-bok this episode comes from a reporting slave, who says that Ddol-bok is like a madman. The leader suggests starving him for three days to see if that calms him down.
Lee Do walks with his royal entourage and flashes back – again – to a young Jung Ki-joon saying he can't do anything.
We go through Lee Do's eyes to a flashback that takes us back nine years, to an examination presided over by King Taejong and his three sons. Our third incarnation of Sejong, pint-size Lee Do, becomes curious over a strange boy who passes him by with a contemptuous look. Lee Do looks over the paper the boy submitted, finding that he's written various inflammatory remarks about the state of Joseon – namely that the King is a puppet while the treasurer holds the power, and that Jung Do-jun built this country. The author is none other than Jung Ki-joon.
In a dynasty with a monarchy that commanded absolute loyalty from all its subjects, Jung Ki-joon's written remarks are no laughing matter. Lee Do follows him into a Confucian Temple before his father gets hold of the paper, enraged at its contents. He orders Jung Ki-joon to be brought to him immediately.
The boys talk it out, intellectually an even match but ideologically different. Jung Ki-joon has a major bone to pick with the King who killed his uncle, but gives Lee Do the time of day because he proves different from his father. Ki-joon launches into attacks on King Taejong, speaking his mind on how Taejong doesn't even scare people – he just kills them, like his brothers and comrades. But that's not even what he's most mad about – it's because his uncle, Jung Do-jun, built an assembly system to restrict the King's power that the King only holds twice a year.
In fact, it was not because Taejong killed Ki-joon's uncle and destroyed everything he'd built that he came to take the test. It's because Taejong killed Ki-joon's uncle and still kept the laws he'd implemented – making all the things Jung Do-jun had worked for, like the assemblies and supreme chancellor positions, a puppet show to try and convince the scholars and bureaucrats that Joseon is based on those laws. It's because Taejong stole his uncle's Joseon. Ki-joon calling his father a thief and a murderer, however, is Lee Do's last straw – and he finally punches Ki-joon right in the mouth.
Despite the physical turn of the debate, Lee Do's curiosity gets the best of him and he tails Ki-joon, who knows he's being followed and seems to allow it. There must be some strange form of mutual respect going on, especially since Lee Do grabs Ki-joon to hide him in the bushes when they see that royal troops have surrounded the scholars' compound in search of Ki-joon. It's an eye-opener for Lee Do, who at first doesn't want to believe that his father could order troops to mercilessly beat and kill people over one child's criticism. When a man is killed, Ki-joon calls Lee Do out – would he be holding Ki-joon back if he thought his father was merciful?
Regardless, the boy gives himself up to prevent further bloodshed and is beaten. The man leading the troops, Jo Mal-saeng, raises his sword to kill Ki-joon – but fails when Ki-joon is swept away on horseback by his father, a scholar named Jung Do-gwang. This is the flashback Lee Do sees over and over, and from that point we're out of the past and back in the present.
We're only in the present long enough to establish that we're going back into the past (I know, bear with me), this time through Taejong's eyes. In the hunt for Jung Do-jun's brother and son, Jung Do-gwang and Jung Ki-joon, King Taejong and his loyal shadow Jo Mal-saeng find a secret door leading into a Secret Cave. Carved into the wall is a message from Jung Do-jun.
Basically, it reads that if the King is the flower, the world is the roots. If the flower withers, the tree doesn't die. If the roots wither, the tree dies. Withered flowers can be chopped off – the King is that flower, just a fancy decoration of the tree called "Joseon". The roots are the scholars. He, Jung Do-jun, made the root of all roots – hidden roots.
The message rings of foreboding, and in the middle of a dark and dank cave, Taejong mysteriously hears the sound of owls.
Back in the present (again), Lee Do is apprised of the actions of Jo Mal-saeng, who was unable to report to Former King Taejong moments ago as he's hot on the trail of Jung Ki-joon and his father. Lee Do knows Jo Mal-saeng is getting secret orders from his father, and wants to know where he is – like yesterday. Mu-hyul tells him that protecting Jung Ki-joon means war with his father. But in Lee Do's Joseon, Jung Ki-joon must be there. War it is.
Two men on horseback, one being Jung Ki-joon's father Jung Do-gwang, are on the run from the royal troops that Mal-saeng has used without the King's command. They manage to sneak out by ditching their horses – and Mal-saeng knows the only place that they could have gone to hide is Ban Chon.
I don't know if the following scene was meant for some laughs (considering the serious context, probably not) but it was funny nonetheless. An official tells Taejong that if soldiers enter the Ban Chon village, students and scholars won't just stand down – especially since it's Jung Do-jun's brother, and we all know how the scholars feel about Jung Do-jun's death…
Taejong says that he knows all that, that's why he's trying to kill Jung Do-gwang and Jung Ki-joon quietly. You literally see the official facepalm.
Ddol-bok's hands are bound by rope to a weight bigger than he is. The leader's tactic of calming him down by starving him in a shed doesn't seem to have worked. He does, however, get a bright idea. If he can somehow maneuver that torch off the wall and onto a bed of flammable straw in a shack made of dead wood…
The female leader of Ban Chon, meanwhile, goes to the Confucian Temple in the dead of night. It's a secret meeting, as the two men we saw earlier on horseback have taken sanctuary from the royal army inside.
They're in the safest place in Joseon – or so they believe, without knowing that Jo Mal-saeng has the royal army surrounding Ban Chon as they speak. Jung Do-gwang is performing a hidden ceremony for his brother, the deceased Jung Do-jun. He says that he will avenge his brother, and the woman tells him that that day is not far away. He doesn't believe it, but she hands him the sash she saved from Jung Do-jun's journal.
Cleverly tucked away inside the sash is the last message of Jung Do-jun, in what they refer to as the Hidden Root Scroll. His brother is overcome with emotion as he admits that they couldn't rebuild Hidden Root without the scroll, but now they can. The woman tells him that he can now become the second leader of the secret group and that all scholars will follow him.
Jo Mal-saeng has been waiting with a good number of royal troops outside of Ban Chon for Taejong's secret command. The Former King has given it, just as Jo Mal-saeng finds out where the two men they're hunting have hidden. He calls the rest of the troops in and tells them that they're going to raid the Confucian Temple.
In order to get around that pesky technicality that the royal army can't enter without the King's command, Jo Mal-saeng's idea is to dress everyone in black. If anyone falls behind, however, they will die as a traitor. The royal army can't claim them.
Lee Do is nearly floored that his father would order troops to enter Ban Chon, it's that unthinkable. There's not a way to prove that his father did do the literal ordering, but it's clear enough to the sharp King. He tells Mu-hyul that he must bring Jung Do-gwang and Jung Ki-joon back alive.
Mu-hyul, who was earlier told by Lee Do that it was time for him to "stand up" (presumably in the war against his father), doesn't waver anymore and takes the order.
By standing on his head and using his feet to knock the torch off the wall, Ddol-bok has succeeded in both freeing himself and starting a pretty big fire in Ban Chon. He even deals another head blow (he did this sneak-attack to a royal guard last episode) to the man who opens the doors to help him and makes his escape.
The villagers seem less concerned about the fire and more concerned with catching Ddol-bok. Soon he has all the Ban Chon men chasing him with torches and makeshift weapons as he runs headlong toward the temple.
The royal army, led by Jo Mal-saeng, begins to converge on the temple where Jung Do-gwang has taken temporary sanctuary. I've been wondering about Jung Ki-joon the whole episode, and at least we know he's somewhere and safe. His father can breathe easier, especially now that he has the scroll he's spent years searching for.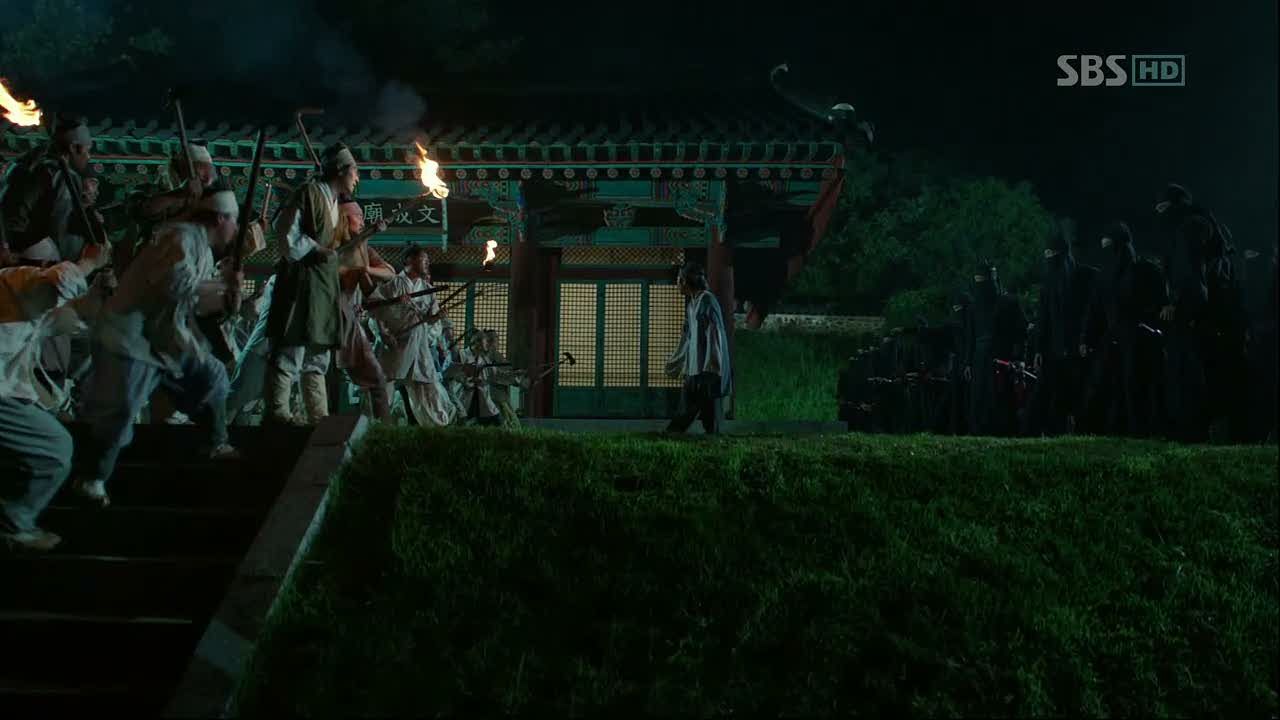 As the disguised royal army is about to swarm the temple, they're stopped when the doors fling open to reveal a little Ddol-bok running for his little life toward the temple. The look on Jo Mal-saeng's face (we can only see his eyes, which makes it even better) is priceless. Ddol-bok runs all the way up the steps and stops, immediately shocked to see a small army of men all dressed in black – just standing there. I don't know if this is fate, providence, or just plain bad luck and timing on Ddol-bok's part – but he's brought the entire village on his heels and thus saved himself from getting killed by Jo Mal-saeng's men.
The arrival of pretty much the entire village of Ban Chon throws a wrench into Jo Mal-saeng's plans. Ddol-bok has unknowingly bought Jung Do-gwang time to escape through a trap door in the temple as the royal army is forced to stay outside to battle the villagers. Even in all this turmoil, as Ddol-bok is trying to escape again, some villagers leave the fray to chase him.
Ddol-bok only has survival on the mind, and as Jung Do-gwang and his follower emerge into the forest from the trap door/tunnel system of the temple to get on horses for an escape… Ddol-bok runs up, throws Jung Do-gwang off his horse, and steals it so he can run away.
It's only when the horse is galloping at full-speed through the forest does Ddol-bok realize that the bag Dam made him is gone. As he was hijacking the horse, the man with Jung Do-gwang tried to grab him but only ended up tearing Ddol-bok's bag away. Meanwhile, as the two men try to make their escape on foot, they realize that the Hidden Root Scroll is on the horse Ddol-bok stole. Escaping isn't as important now as finding that scroll again.
A mad chase begins, with Ddol-bok at the front of the line. His mission: find his father's will. Jung Do-gwang's mission: find the scroll. Jo Mal-saeng's mission: kill Jung Do-gwang no matter what. Mu-hyul's mission: save Jung Do-gwang.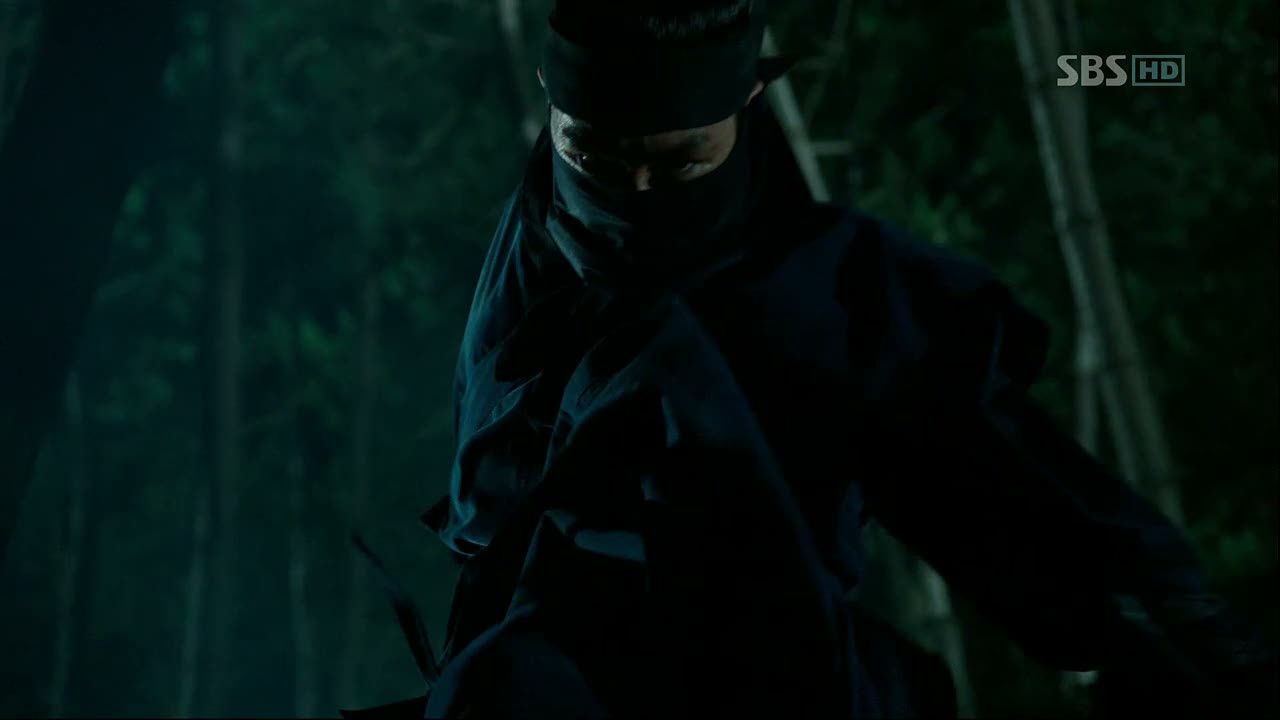 COMMENTS
Our four main story lines are beginning to converge, though I can't help but feel that Ddol-bok is the odd man out. His original tie to Lee Do, with the King having saved his life, becomes almost irrelevant to how he gets roped back into the main events. Fate is dealing Ddol-bok a heavy hand, though, and we can't help but be swept along wherever he goes.
Ddol-bok has a habit of lacking in care towards others (excluding his father and Dam), so it wasn't out of character for him to throw Jung Do-gwang from his horse and steal it. It doesn't do wonders for trying to like his character, though, which is something I found myself having a bit of a hard time doing. He's still a kid though, so he has a lot of room to grow – into Jang Hyuk, I mean. And when is that a bad thing?
Something I've been meaning to mention is how much I like the score. The music isn't beating us over the head or trying to manipulate us into feeling. It's doing what a good score should do, by supplementing what's happening on the screen rather than blasting us with the same lyrics over and over again. It's nice to sometimes have no lyrics and just instruments when the dialogue is already so good. Every conversation Lee Do has with Taejong is just too good to be overshadowed.
Song Joong Ki being amazing is just a given, and his performance this episode only increased my respect and admiration. He's just so good, especially with his transformation into a more self-assured King. The only thing that could make me sad in regards to Song Joong Ki is that he played most of the episode from a throne. He just kept looking like he really wanted to jump out of it… but then if he did, we wouldn't have gotten this face: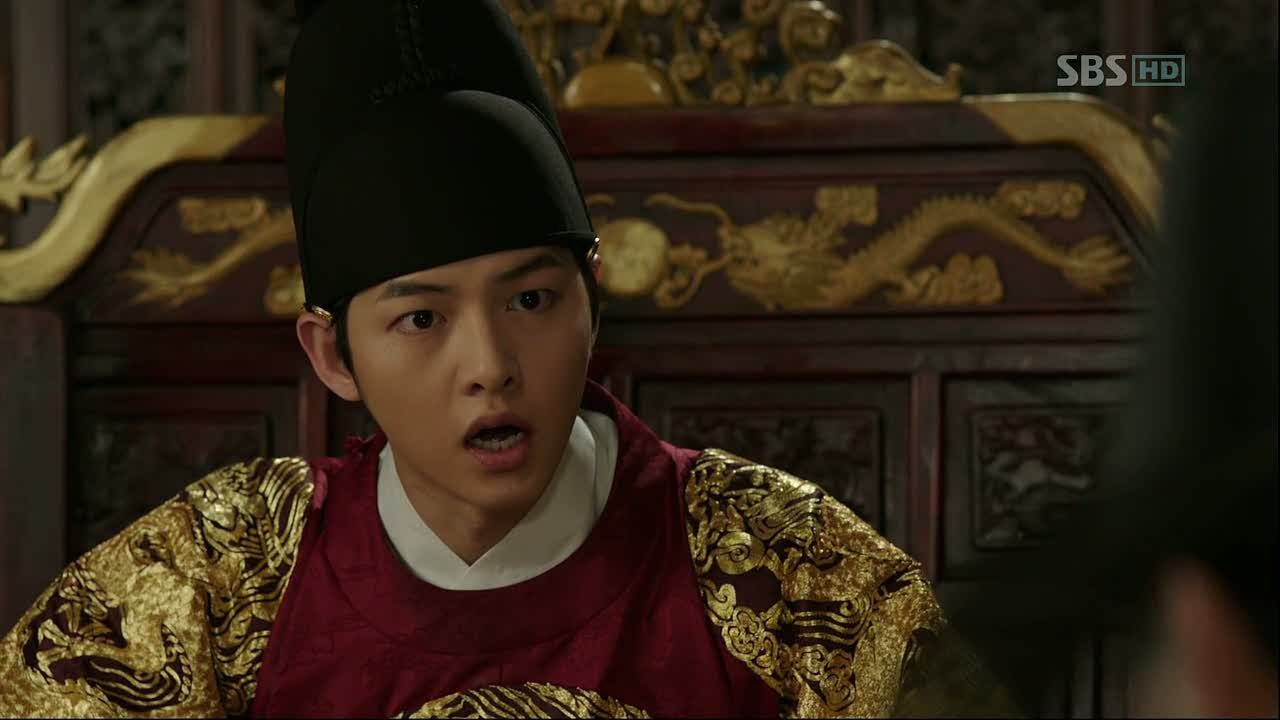 How can a King be so adorable when he's so shocked over his father's political subversion methods? How?
RELATED POSTS
Tags: featured, Han Seok-kyu, Jang Hyuk, Shin Se-kyung, Song Joong-ki, Tree With Deep Roots