Tree With Deep Roots: Episode 4
There's blood, guts, and glory as our young actors grow into their older counterparts and the murder mystery begins to unfold. The bodies are starting to pile up, and it's scholars against officials and Chae-yoon against his multiple personalities in this tightly-edited episode that shows us it's still cool to be King… just not when there are dead people in your library. The next time I hear an owl, I'm going into hiding.

EPISODE 4 RECAP
Everyone is either running, riding, or limping toward their various different yet intersecting goals. Mu-hyul, meanwhile, comes to a stop in the forest after he's sensed something strange. He turns around with his sworn drawn just as Ddol-bok tries to stab him, and the force of his sword breaks Ddol-bok's in half and sends him flying three trees away. He's also left with a nasty arm cut, though all considering (going against Joseon's best swordsman) – he didn't do too bad.
He recognizes Ddol-bok, and only advises the boy to flee or die before he's off again on his mission to save Jung Do-gwang.
Jung Do-gwang is fatally shot with an arrow by the advancing royal troops, and gives the bag they managed to tear off Ddol-bok to the man with him. He charges him that he must – even if it means his life – deliver it to his son Ki-joon and tell him about the Hidden Root Scroll. That bag is their only tie to Ddol-bok, who unknowingly has the scroll in his possession. He doesn't make it far before he too is shot – but that doesn't stop him from making it all the way home to deliver the message he promised he would.
Jung Ki-joon, at last! And wearing the same outfit we saw him in as a child – all the better to identify him with.The last man who spoke to his father alive has come here to die in the arms of his young son, and is barely able to eke out that Jung Do-gwang is dead to Ki-joon before he can hand Ddol-bok's bag over. He tells him that the child who owns this bag has the Hidden Root Scroll, and dies. Hmm. I had a feeling about young Ki-joon probably growing up to be our antagonist, and it seems like that might be the case. Hooray for super secret group leaders!
Ddol-bok, meanwhile, has mercifully calmed down this episode. He also displays a kind of worldliness kids that age shouldn't have – but considering that he's grown up a slave, perhaps all the death and dying isn't new to him. He's able to look from afar at the royal army carting Jung Do-gwang's arrow-pierced body away with a sort of detached curiosity, thinking to himself that it wasn't that dead man who has his father's will. It's just another dead man also shot full with arrows not too far off.
The show makes sure we get enough shots of Ddol-bok hanging out with the horse he stole for us to know that Ddol-bok probably isn't going to lose the Hidden Root Scroll. As he tries to mount the horse Jung Do-gwang's bag falls, and Ddol-bok gets to see the Scroll for himself. It means nothing to him, though, as he can't read.
Ddol-bok has found the mass grave for his deceased master's slaves. The fact that he would have been rotting in this horror movie pile had he not escaped doesn't seem to occur to him, as he goes body-by-body, searching every face. He's trying to (not) find Dam, and soldiers on until he sees the broken container of rouge he'd given her as a gift lying inside a skeleton. He breaks down into heartwrenching cries as he clutches the rouge in his hand, thinking that Dam is now dead – and it's the King's fault.
It's a harrowing scene, and not just because this drama has the budget to put a lot of bodies – living or dead – on screen at once. His heartbreak seems real, and we're reminded that he's so young to now be so terribly alone.
Ddol-bok stands alone on a cliff overlooking the city, holding the rouge container close. He says that he will definitely return, and with all the soft-lighting and two-shots of him and his horse it suddenly seems like the show could go two very different directions. It could go toward a royal murder mystery, or it could be a slave-and-his-horse story, a heartwarming coming-of-age tale. Aww. I probably wouldn't watch that.
Regardless, with Ddol-bok riding away into the sunrise we know two things: that he at least has that horse, and that horse has a very hidden secret document with it.
Some years have passed, and we come upon a northern military border outpost. The men inside are talking about none other than Ddol-bok, who they think has probably run off due to the hard life. They're forced to eat their words when a severed head rolls in – and it's been brought by a slightly-grown version of Ddol-bok. They said that he could become a member of the army if he brought them a head. So can he stay now?
In the palace, meanwhile, Former King Taejong is dying. An older Lee Do (in sageuk facial hair, no less!) has come to be with him in his last moments, and Taejong asks his son if he still plans to continue with his idea of Joseon. Not killing people, using words instead of swords, having patience – all the things Taejong still finds foolish. One day Lee Do will go kneel at his tomb, Taejong says, and cry out that he was foolish. Looking for an 'I-told-you-so' even beyond the grave, are we, Taejong?
Lee Do leans in to tell his father that this won't be so. The King of Joseon doesn't have that kind of idle time. Ohhh, good one! Taejong tells him that he better accomplish these big goals of his – so that way, putting Lee Do on the throne will have been his greatest achievement. It's a very powerful moment, but then every moment with these two actors tends to be amazing.
Taejong smiles, and at last, the Great King dies. The palace erupts in mourning cries while Lee Do can only numbly walk away. I'm only sad for the loss of dialogue this death means.
Both of our male leads are thinking about their fathers – and both in very different circumstances. Tears wells up in Lee Do's eyes as he's now able to look at a world free from his father's shadow. Ddol-bok, meanwhile, is about to enter a bloody battle – and in voiceover we hear him thinking to his father, and to Dam, that he will make the King pay.
The time has come. Let's all take one last look.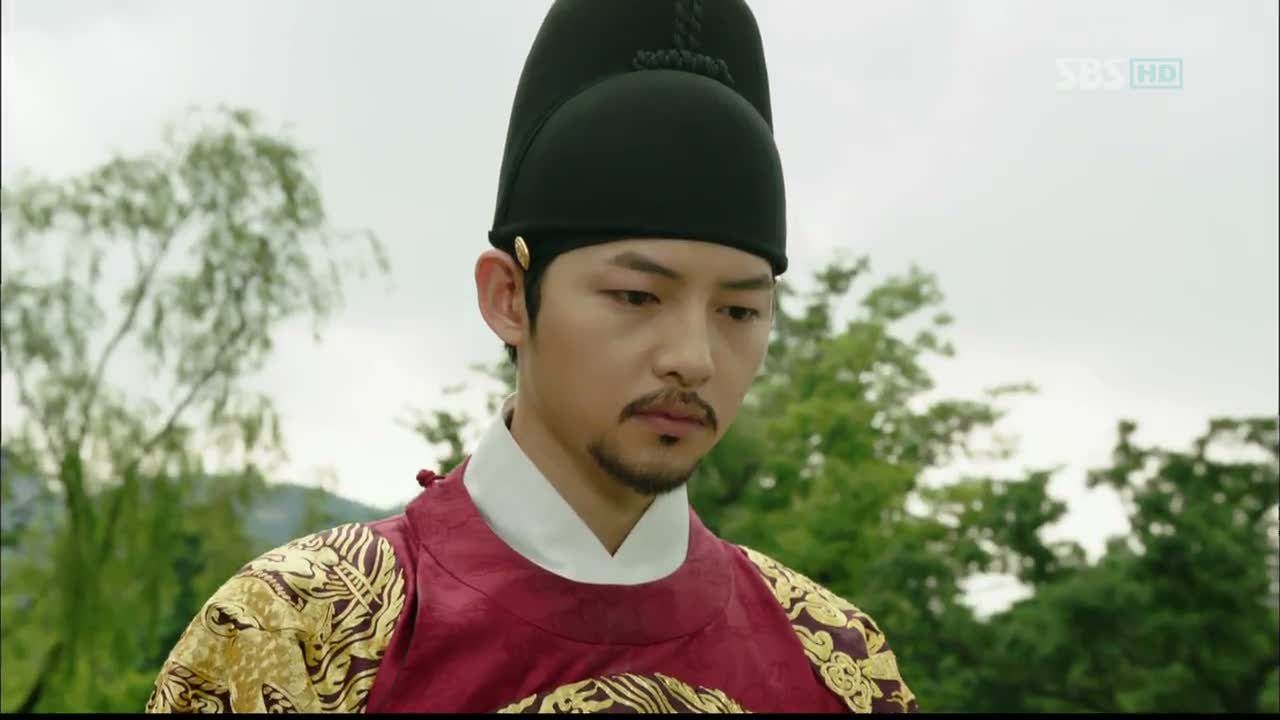 As Lee Do stares at the pond, hearing nothing but the quiet sound of water, a small butterfly begins its ascension from hovering near his reflection. It travels up, growing into a large butterfly (oh, the symbolism) to reveal…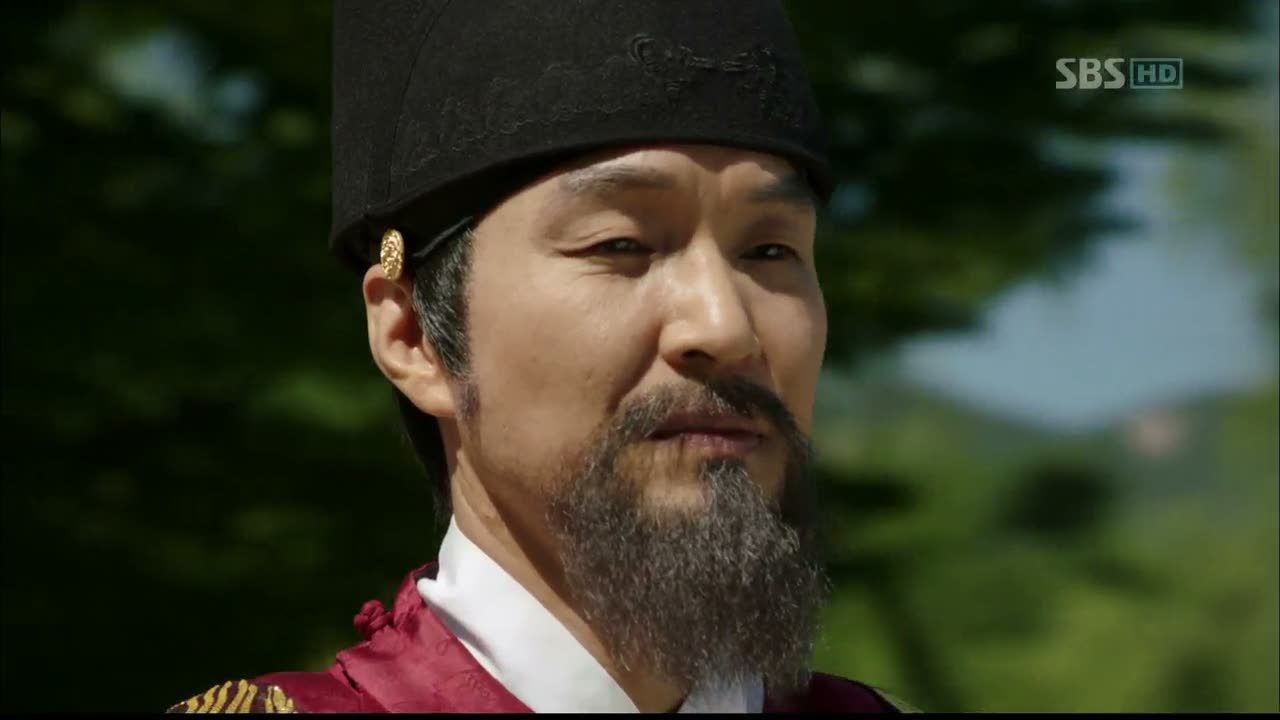 I've introduced him in episode one, but since this is his first official step into the role it's worth repeating – it's KING SEJONG (Han Suk Kyu), the all-grown-up version of Lee Do. Now that he is officially grown up, from here on out I'll go ahead refer to him as King Sejong, or just Sejong. Though this name was given him posthumously, it's how history knows him now.
He's told by his royal entourage that there's a ceremony he has to attend, and he curses at the fact. Why does the King have to attend so many damn ceremonies? It's kind of adorable how mad he is, but more adorable that he's told to tone down his language and he says he is toning it down already.
The assembly that King Sejong refused to cancel or move forward is being prepared for by royal officials, and Jo Mal-saeng is among them. He laments that they've already had 1,800 of these lessons, and for that matter, why isn't Sejong just reading books like he said he would? It's a little hilarious that the officials are revving themselves up for a battle with the scholars, and we get the distinct impression that this happens often. The scholars' logic normally supersedes theirs, so it's like the officials are prepping their top fighter for a battle royale. My inner nerd is so happy right now.
Mu-hyul, meanwhile, just got a little white hair in his beard but otherwise hasn't seem to have aged a day. Sejong needs to find out what this guy is eating, because it's doing pretty well for him so far. He asks if there's any news from a general in the north, only to find out that someone already came to deliver a letter.
Today's agenda: a bill that banned the ability of citizens to report officers for misconduct that Taejong passed during his reign. Sejong is not his father, however, and is not your typical stuffy King either – he even sits in front of Jo Mal-saeng while they debate, like they're having a low-key discussion instead. Mal-saeng believes that law and order are upheld when citizens don't complain about their officials even if the officials did do something wrong. It's how it was always done before, up until now.
Mal-saeng seems to have a point about law and order degrading, and Sejong gives him that. But he needs two questions answered. One of the young scholars, SUNG SAM-MOON (Kim Hyun Woo), is itching in his seat to correct the King that it should be three questions… The two Sejong lists are: who is going to control the local governors if complaints are banned, and how will the officials hear the voice of the people that way? Unlike what Sung Sam-moon believes, the King never forgot the third question. He waits until Sung Sam-moon pipes up about it, and for the room to try and hush him, before saying that this is the point. If officials try to ban people from expressing their opinions, how is he, as King, supposed to hear the people's voice? Aww. Sejong is living up to his young self in his devotion to the people.
Sejong meets with Mu-hyul, who updates him on events that he's been learning of while Sejong was in the assembly. Namely, that General Kim Jong-suh from the North sent a letter about a military official, Goh In-sul, who's dead. The King knows that it was a murder, and it was all due to "that" object – the Scroll of Biba. It's safe, but this is bad news regardless as someone seems onto the King's plan.
The person who brought the letter, however, is none other than our grown-up version of Ddol-bok, aka KANG CHAE-YOON (Jang Hyuk). Since that's the name he's going by now, I'm officially switching over from calling him Ddol-bok to Chae-yoon. He's currently trying to avoid being beaten on the thighs by a wooden rod, probably because he tried to offer a bribe the moment he came into the palace. Our first (technically, second) introduction to Chae-yoon is an interesting one, as he seems very hyper-active and just a little unhinged. Since we've seen him before, we can assume this is an elaborate (albeit really convincing) act.
Chae-yoon is brought before Mu-hyul, and he can't contain his excitement at getting to meet the best swordsman in all of Joseon. Mu-hyul isn't falling for it. Every time Chae-yoon's words aren't well received, he's deftly able to change tactics during the course of the conversation as he reads and adapts to Mu-hyul's reactions.
Mu-hyul is just on the cusp of being able to see right through Chae-yoon, and orders him beaten just for good measure. Chae-yoon has to walk away holding his rear end in pain, but as soon as he's out of sight we see the other side of Chae-yoon – the cold, calculating side. He now knows Mu-hyul's face, and can map out the interior of the palace he just saw for future use.
It's worth noting that we've heard/seen suspicious movement twice this episode, once with two night guards and now with Chae-yoon. But whoever/whatever it is passes so fast that no one even thinks they've seen a thing.
Ever since the opening with Chae-yoon in episode one, we've basically been in one giant flashback. Now, we're officially in the same time and place as everyone else, and we see all the events that spurred Chae-yoon's flashback (counting the steps to the assembly, bowing to Sejong as they cross paths) happen again. Only this time it's different, as he tells the King his actual name, and Sejong passes without further ado.
Sejong is on his way to Jiphyunjun, only to find that the scholar inside is dead. Hearing the sound of owls afterwards gives the impression that it wasn't an accident, either.
The same group of young scholars we saw during the King's assembly is denied access to Jiphyunjun the following morning. The official story is that there's construction inside. One of the scholars, Sung Sam-moon, tries to get out of studying by saying he'll do it at home – and his fellow scholar, PARK PAENG-NYEON (Kim Kibum) thinks that's a great idea – and wheedles Sam-moon adorably. Seeing all these young scholars reminds me of Sungkyunkwan Scandal in the best way possible.
Meanwhile, Sejong is trying to get the facts straight about the murder. He's more than dismayed to hear that the Scroll of Biba has disappeared as well, meaning that someone targeted that book and is also targeting his people and killing them.
Chae-yoon is put on guard duty outside Jiphyunjun and gets the real story from a fellow guard: a scholar died inside. Since Jiphyunjun is now empty, Chae-yoon sees a golden opportunity and feigns intestinal trouble so he can slip into the building unnoticed.
Only, he is noticed, and is pulled from the room by Mu-hyul. Chae-yoon has already mapped out the room in his little black book by this point, finding that the crime scene has been curiously maintained for a death. Also, this will be the best place to try killing the King in the future.
The future seems a little more far off than Chae-yoon would like, though, as he finds himself arrested and under harsh questioning by Mu-hyul. If Chae-yoon doesn't come clean he'll be suspected of the murder of the scholar, and Chae-yoon has a flashback that reveals he delivered a cloth-covered package to the dead man not days before.
The very man who transferred Chae-yoon to the palace from the north, General Kim Jong-suh, arrives as Sejong is talking strategy. They can't have the prosector's department handle this, because his plan might be revealed – and there's also news of Chae-yoon being held under suspicion. Just in time for General Kim Jong-suh to pipe in that that can't be possible – when Goh In-sul died in the north, it was Chae-yoon who found out that it was a murder.
Chae-yoon, with his fast-moving conversation skills, seems to be shaking Mu-hyul's doubt when he gives the master swordsman his investigation report of Goh In-sul's death and by sharing his belief that it was the same person that killed both Goh In-sul and the scholar.
King Sejong arrives, acting on the General's word, and glances over the investigation report. Chae-yoon is instructed to tell him how the cases are similar, and he says that both the men had a cloth-wrapped package, which must have been the goal of the killer, and that the murder methods were different but both were disguised as accidental deaths. Also – on that night, and this last one, owls could be heard.
The fact that Chae-yoon has deduced all this is enough to convince King Sejong, who appoints Chae-yoon as investigator of Heo Dahm's murder case. He can pick whoever he needs among the royal force to help him. But – and this is a big but – if he can't solve the case, he'll be under suspicion. This case means his life.
Chae-yoon, thinking fast, sees an opportunity. He asks the King if he could have one wish – provided he solves the case, that is. If he can get a drink personally poured by the King, his deceased father would be so happy…
Sejong needs this case solved, and acquiesces to Chae-yoon's request to serve him a drink. That means we are going to have one dead king, if Chae-yoon has anything to do with it.

COMMENTS
Dun dun dun. So this is how it all begins.
I'm putting my mourning clothes away for the loss of Song Joong-ki by next episode, I promise. I was left wondering if I was spoiled as far as the character of King Sejong went after Song Joong-ki's portrayal (at least during this show). That being said, Han Suk-kyu turned me over to his side a lot quicker than I expected. He's not his younger counterpart, sure, but he still displays the same kind of characteristics – and he's a likable character in the process. How can you not like such an awesome king, anyway? He's so unlike his father in all the best ways. King Sejong is already regarded as one of Korea's greatest kings, and the writing (along with Han Suk-kyu's portrayal) seems to be filling their very big shoes quite nicely.
I've always thought Jang Hyuk was a talented actor, but Chuno really sealed the deal for me. He seems best at playing characters that aren't inherently likable and riddled with flaws but still manage to be engaging. Even if you don't like him, you believe him. That's a hard talent to come across.
Here's the thing: I think Jang Hyuk might be too good of an actor sometimes. I say that because I feel like he lacks a certain kind of vanity that a lot of other actors have, and that you can see holding them back sometimes. You know they think to themselves, "Well, I can't make this face or contort this way because it'll make me look bad!" But I don't think that occurs to Jang Hyuk, who strikes me as the kind of actor who isn't vain about his appearance and will do whatever he needs to do to get the character across. This provides a thrilling performance but also more bad angles than you can shake a stick at: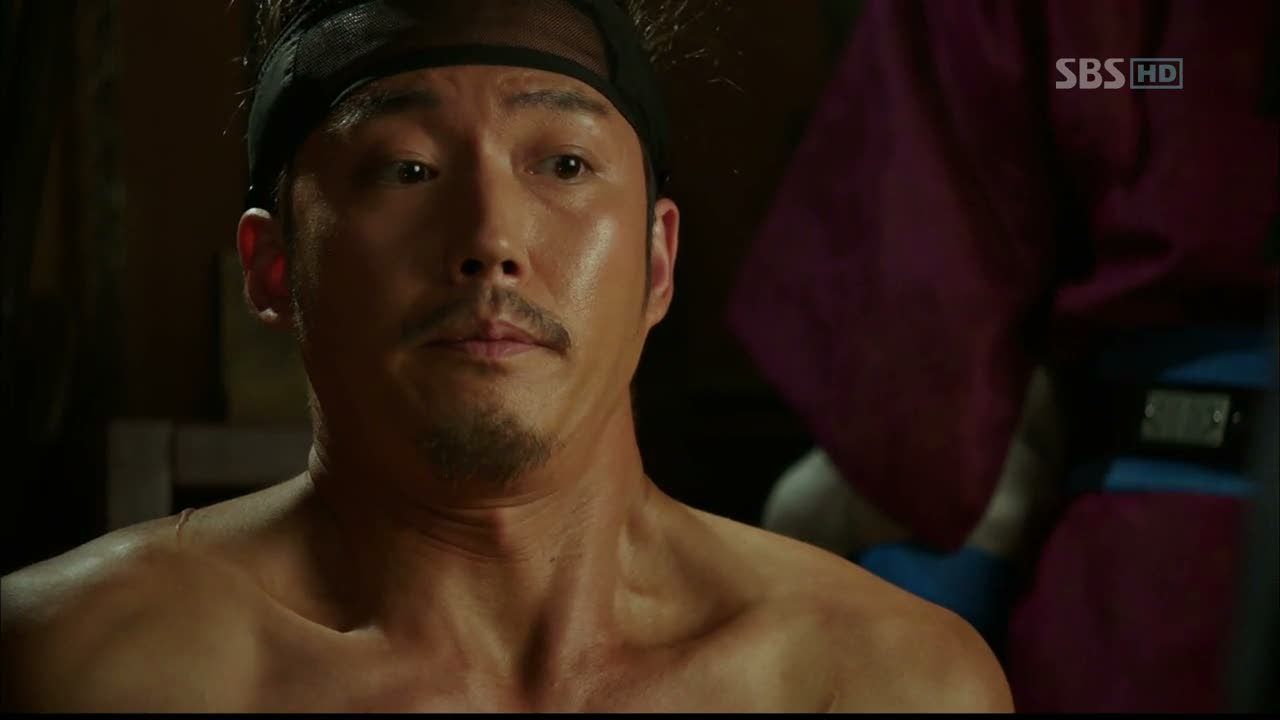 I still probably wouldn't want him to hold back if that means we get less of the multi-dimensional character I know he can deliver… but it was still off-putting to see him in his first scene since the grand opening, jumping all over the place and switching between a high-pitched voice into a really low, gravelly one. This kind of dichotomy is part of Chae-yoon's personality, and one that I think he employs to get others off his scent – but he's almost too effective at it. The moments he has where he drops the simple act are shaping up nicely, however, and I'm way more ready to avidly watch the super smart Chae-yoon as opposed to the bumbling idiot Chae-yoon.
Judging by the fact that he's now an investigator for the King and has to do a good job in order to get the revenge for his father and his childhood love that he's been preparing his whole life for… My guess is that we'll be getting more of the super smart Chae-yoon. I can't wait.
RELATED POSTS
Tags: featured, Han Seok-kyu, Jang Hyuk, Shin Se-kyung, Song Joong-ki, Tree With Deep Roots