2011 Blue Dragon Film Awards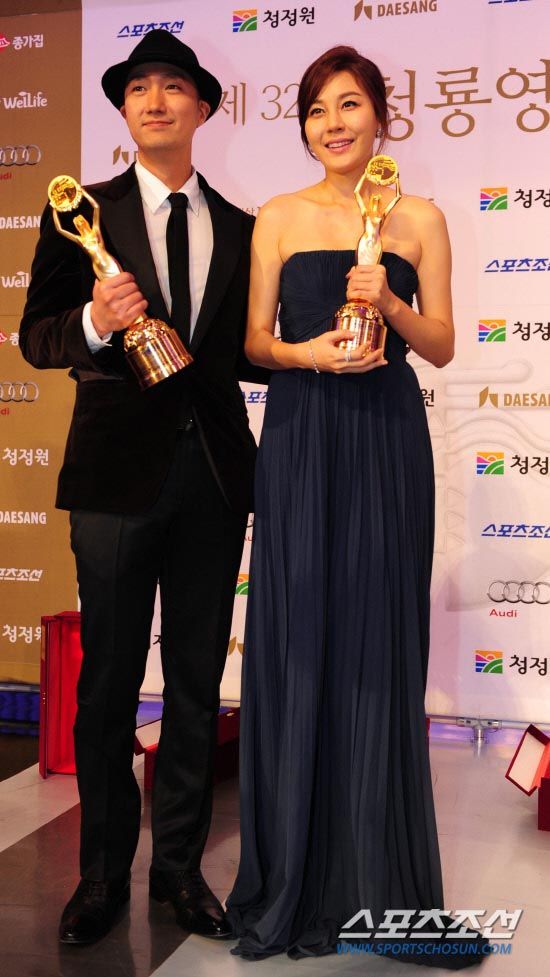 Awards, awards, awards! Friday, November 25, was the night of the 2011 Blue Dragon Film Awards, and — no surprise — the winners list was dominated by one of the biggest films of the year, sageuk-action-thriller Bow: The Ultimate Weapon. The film is a David and Goliath story of one man (Park Hae-il) taking down the enemy with his exceptional prowess with the bow and won awards for most of its leading stars.
A few other films also nabbed multiple awards, with best picture going to the thriller Bad Deal. (which also won for director and screenplay).

WINNERS LIST
Best Picture: The Unjust
Best Director: Ryu Seung-wan (The Unjust)
Best Actor: Park Hae-il (Bow: The Ultimate Weapon)
Best Actress: Kim Haneul (Blind)
Supporting Actor: Ryu Seung-ryong (Bow: The Ultimate Weapon)
Supporting Actress: Kim Sumi (I Love You)
New Actor: Lee Je-hoon (Bleak Night)
New Actress: Moon Chae-won (Bow: The Ultimate Weapon)
New Director: Yoon Sung-hyun (Bleak Night)
Screenplay: Park Hoon-jung (The Unjust)
Lighting: Hwang Soon-wook (Yellow Sea)
Technical fects: Oh Se-young (Bow: The Ultimate Weapon)
Cinematography: Kim Woo-hyung (The Front Line)
Music: Mowg (The Crucible)
Art Direction: Ryu Sung-hee (The Front Line)
Box Office Audience Award: Bow: The Ultimate Weapon
Popularity Award: Go Soo (The Front Line), Gong Yoo (The Crucible), Choi Kang-hee (Petty Romance), Kim Hye-soo (Villain and Widow)
Short Film Award: Yang Hyo-joo (Ruined Room)
Park Hae-il came sporting a newly shaved head to pick up his acting award. I think he should've ditched the hat altogether, but he looks so comfortable and happy. This movie, Bow: The Ultimate Weapon, has been on my must-watch list since I first heard about it; those underdog hero stories always get to me.
Big night for Kim Haneul, who won her Best Actress award for Blind. She always knows just how to hit the right balance between simple and elegant. The color's great on her, too; I much prefer the vibrant blue to the muted rose she was wearing at last month's Grand Bell Awards (where she also won).

Ryu Seung-ryong won a supporting actor award for playing a villain in Bow: The Ultimate Weapon. Sexy ajusshi is sexy.

What a big year for Moon Chae-won, who had a hit drama (The Princess's Man) and a box office smash with Bow: The Ulimate Weapon, which scored her a newcomer award here. Red carpet-wise, I wish she popped a bit more — it's either the white gown or the super-subtle makeup that's washing her out — because she looks a little tired, but she's gorgeous anyway and I do really love her. She may not be a great actress yet, but she's working her way up and improving with every role. And the camera loves her.

Lee Je-hoon had two notable roles this year, for Bleak Night (for which he won the newcomer award here) and The Front Line. I'd keep an eye on this guy, because I have a good feeling about him.

Go Soo! Aka Govid, a nickname that makes me giggle (Go Soo + David). He picked up a popularity award for The Front Line.
Aww, how adorable. Gong Yoo brought his Crucible co-stars with him, and don't they look like one happy family. It's always something of a relief to see the actors of a depressing or harrowing movie (as in the case of The Crucible's child abuse storyline) outside the film, looking like normal, cheery kids. And Gong Yoo looks the part of proud papa.

Lee Jung-jin (Wonderful Radio), mmmm. Sharp and dapper works for him — even though I'll confess to preferring his scruffy hotness of Runaway Plan B. Something about that ruggedness just melted my brain, every time. He presented an award with his Wonderful Radio co-star…

…aka Lee Min-jung, whose red dress I LOVE. It's super-flattering and chic, and I think she must have discovered the world's most amazing push-up bra ever. Love her, love the look, want to be her.

Lee Min-ho, who proves that you can be amazingly hot and totally dorky at the same time. I think I'm just going to have to get used to the idea that Lee Min-ho likes funky pants. Not that these are terribly odd — I dig the matching vest — but they're certainly a step outside the usual awards attire. And who can forget City Hunter's endless parade of pink trousers?
But even cuter? Apparently during the ceremony while presenting an award, Lee Min-ho commented to his former co-star and friend, Park Bo-young (Speed Scandal), "It's been so long since I've seen you — you're a woman now." That prompted her to say bashfully, "Oppa! Oops, I mean, Lee Min-ho-sshi!"
She is adorable. Love her. Can't wait for her to (finally!) be back onscreen.
Kang So-ra (Sunny) has been rocking the red carpet lately. Fantastic color, styled perfectly. Possibly my favorite look of the night.

Oh, Choi Kang-hee (Petty Romance). Will you ever not slouch and pout on the red carpet? I do like her dress with the raw frayed edges, although it seems to be a popular style of design these days, with a number of ladies in similar textured gowns.

Tang Wei looks elegant in her light seafoam green. I'm pretty sure it's part of the design to look a bit loose in the bodice, but I can't help thinking the gown doesn't fit quite right. Hair and makeup is spot-on, though.

Min Hyo-rin has a tendency to wear gowns I'd normally hate, then look great in them, so that in the end I don't hate the gown even though I'd probably hate it on anyone else. I'm not sure what to make of the sheer paneling, which makes up the entire back of the gown, because it looks like it's half supposed to be there, and half "Oh, don't mind me, just pretend I'm not here."

Han Chae-young is statuesque in her strapless gown, but mostly I'm wondering if she and Nam Gyuri (below) were trying to avoid each other all night.

It's not that the dresses look identical, and they certainly don't give off the same effect when Han is so tall and Nam Gyuri so petite. But still. It's almost the same dress, with almost the same clutch, right?

Yoon Kye-sang! I love him even more now that his High Kick character has moved past the perfect nice guy into oddball nerd territory. Not that you could tell from looking here, since he's got his movie star pose on.

I know the gold wand isn't actually part of her outfit — it looks like all red carpet-goers got one — but Jang Young-nam (Hello Ghost) totally gives me Glinda the Good Witch vibes.

Kim Hye-soo arrived with Lee Bum-soo and is pictured here with award recipient Gong Yoo. This woman knows glam. She practically invented it.

Kim Sumi won an acting award for I Love You, and rocks the kind of gown you don't see a lot of older ladies wearing. It's youthful and fresh and she's totally got it goin' on.

Jung Ryeo-won (Pain) wears a gown that I think is more of a fashion-editorial look. I dig it up close, but from far away I think she rather fades into it.

Su Ae presents an award with Song Kang-ho, wearing a perfectly fitted gown and looking amazing.

This guy is adorable. Kim Soo-hyun just looks so happy; his smile is infectious. It's weird how some actors, I have to keep reminding myself are actually quite young (as I'm sure the ladies of the Inappropriate Crushes on Much Younger Men brigade can understand), but with Kim Soo-hyun I have to keep reminding myself that he's actually older than I think. It's just that his aura is so adorable-little-boy.

Apparently Lee Shi-young made a flub by mispronouncing the title of the movie she was announcing, The Front Line. Oops. I cringe for her, but she seems to be confident and sassy enough to handle it.

I have to admit, I'm sorta missing the wild and bold fashion choices TOP usually makes, even though he looks cute here. But that's just it, right? TOP, being cute? Hot, dark, rebellious, scary — I get that. Cute… does not compute.

I love the flirty pink on Baek Jin-hee (High Kick 3), who looks fresh and youthful. I wish she'd worn sparkly shoes, though — every bubble-gum pink gown should come with some sparkle.

Must…resist…urge…to adjust Jin Gu's tie and smooth out his pant legs. It's the OCD in me.

Ryu Hyun-kyung is currently starring in the cable drama Late Night Hospital, and came wearing a well-fitted off-the-shoulder white dress. The sparkly headband is a nice touch.

I became a fan of Jo Sung-ha (The Yellow Sea, Bleak Night) after his stint on 1N2D, but I've gotta be honest; that jacket sorta makes the normally dignified Jo look a little like nightclub papa on the prowl.

Byun Jung-soo presents with Lee Kwang-soo (City Hunter), who, yes, sort of looks like he just spilled hot coffee in his lap but is actually just climing the staircase. Wearing a funny expression.

Chun Woo-hee (Sunny) has learned the Barbie arm pose and she's not letting go of it. (Seriously, it's in every single shot. It's kind of hilarious when you see all the dozens of shots together and she just won't change position.)

Teddy-bear ajusshi Go Chang-seok is here with David Lee, who was apparently in two of the big winners of the night: Bow: The Ultimate Weapon and The Front Line. I wonder who you root for in that case. Flip a coin? Magic 8 Ball?

Yoo Da-in (The Client) dresses rather simply in a black gown. But proving that not all black gowns are created equal(ly simple) is fellow red carpet-goer…
…Yoo Sun! (Take Care of Us, Captain) God bless her.
This? Is amazing. She livened up the red carpet parade of mostly pretty, safe gowns by coming decked out as a combination of Elizabethan brothel madam, gothic mistress, and the queen from Snow White. But it's the attitude that pulls the ensemble together. 'Sup.
Via Yonhap News
RELATED POSTS
Tags: awards, Byun Jung-soo, Go Soo, Gong Yoo, Han Chae-young, Jo Sung-ha, Jung Ryeo-won, Kim Haneul, Kim Hye-soo, Kim Soo-hyun, Lee Je-hoon, Lee Jung-jin, Lee Min-ho, Lee Min-jung, Lee Shi-young, Moon Chae-won, Nam Gyuri, Park Bo-young, Park Hae-il, Ryu Hyun-kyung, Ryu Seung-ryong, Su Ae, Yoo Sun, Yoon Kye-sang