Flower Boy Ramyun Shop: Episode 10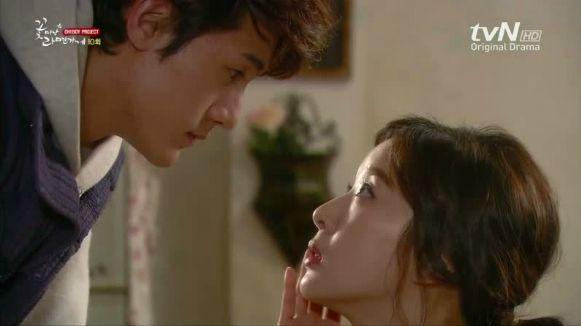 The theme for today is Desire. Someone's got his pants on fire, and it's not from lying, that's for sure.

EPISODE 10: "A Streetcar Named Desire"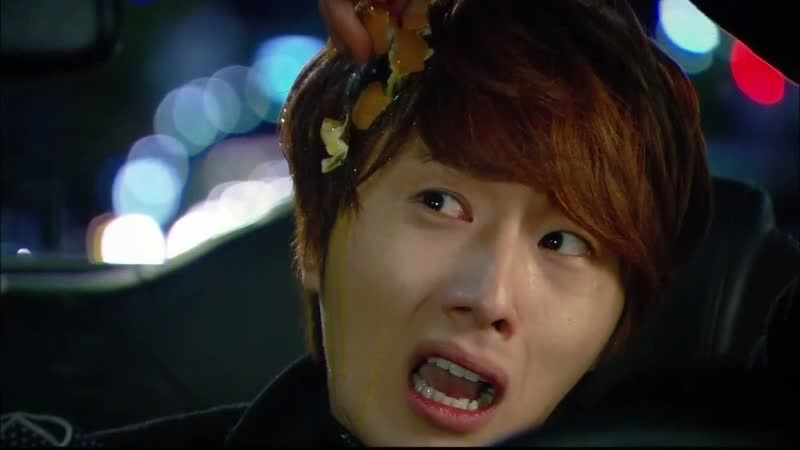 We wind back a little to see Chi-soo gingerly cleaning off the egg from his face (best prank ever), growling at the eggshells, "With this I'm sure. My feelings towards you are contempt!" Okay seriously, his dainty highness screeching over being dirty just never gets unfunny.
He drives over to the ramyun shop, ready to exact his revenge (it'd be funnier if he had a carton of eggs in the passenger seat), but finds Kang-hyuk and Eun-bi hanging in mid-kiss. The look of heartbreak on his face is crushing.
Kang-hyuk leans in close, eyes closed, and Eun-bi stares in shock, and then closes her eyes for a second… until she sneezes, right in his face. Ha. Oh honey, couldn't you have held it in a few seconds more? Damn.
She's mortified, but Kang-hyuk laughs at her adorably, and lets the moment go, suggesting that she go inside before she catches cold. And then he picks her up again (gah, swoon) and sets her back down from the railing.
Chi-soo slumps down in his seat, hiding from view, near tears.
Eun-bi goes inside and starts rummaging for medicine, the kind you take when you're in shock that's supposed to calm you down. I always think of that medicine as pre-smelling-salts, like what you take to prevent the fainting. But smellier. Way smellier.
Ba-wool helps her find it, and then wonders what's up with her. Still swooning, she sighs that it's in preparation because she thinks a tsunami is coming. At the same time, Hyun-woo finds Kang-hyuk doing push-ups in his room. (To work off the sexual tension? Rawr.)
He asks why the push-ups this late at night, and Kang-hyuk says that a tsunami is about to hit. I love that the tsunami they refer to is love, not realizing that the real tsunami headed their way is one very pissed off Cha Chi-soo.
He's still stewing in the exact same position, until a parking attendant comes by to warn him that he can't park there. Chi-soo ends up having a one-way conversation with him by picking up on his phrases, and speaking mostly to an imaginary Kang-hyuk.
Parking Guy: "You can't park here." Chi-soo: "You're right. I shouldn't have parked here." Parking Guy: "Ajusshi, back out your car." Chi-soo: "So you won't back out, will you?" Parking Guy: "Do you want to get a ticket?" He finally turns to parking guy: "Not here. Give them a ticket over there!"
Inside, Eun-bi is giving herself tickets, by writing clues about Kang-hyuk's feelings and sticking them on her face. Right cheek: "Special." She flashes back to the moment on the beach, when he told her she was special. Left cheek: "Jealousy." Flashback to him grumbling about being jealous of Chi-soo.
Forehead: "Hot." Bathroom brawl, declaration that wifey is hot. She wonders if it could mean that Kang-hyuk… really… And then the final ticket: "Bingo," which she sticks on her lips. Heh. She puts on her coat and decides that she will never get sick again.
Kang-hyuk whines that he can't wait, can't resist any longer… as he does the pee-pee dance in a line for the bathroom, behind Ba-wool and Hyun-woo. It's morning, and Eun-bi takes her sweet time, not realizing the havoc she's caused outside.
Embarrassed, she tries to run off, but Kang-hyuk stops to tell her that she's unbelievably pretty, even in the morning. She scratches her chin and heads to the store, swooning to herself about how he didn't have to say she was unbelievably pretty, not realizing that Chi-soo is standing right in front of her. He backs her up into a planter, saying he's here to work on their recipe project.
At the Cha estate, Daddy's secretary reports that after much research, data gathering, and complex algorithms, they have discovered that the commonality to all of Chi-soo's ailments as of late is: "That Woman." Cue whiteboard with flowchart. Pffft.
They don't know exactly what to make of it, (What? You don't have an algorithm for that?) but hearing that Chi-soo goes to his ramyun shop job every day even when he doesn't go to school, Daddy says to let him keep going, both for the good PR, and the connection it'll give him to Eun-bi when they're ready to buy out the place.
Chi-soo and Eun-bi work on their ramyun recipe, or she tries to, while he takes jabs at her. Displeased, he wonders why she looks so tired. "What were you doing all night?" She says she was studying, which he takes as a euphemism for hanky panky, and growls, "You must've studied really hard."
Eun-bi ignores him and says that she's thinking of using cheese as a base for his ramyun dish. Chi-soo: "Cheese is good. You like stuff like that. Stuff that's greasy." Hahahaha. It's extra hilarious because he's way greasier than Kang-hyuk is, but he's not the one who pulled moves on her last night.
She ignores him again, saying that to cut the greasiness, she'll have to add green onions and chilis, which Chi-soo pointedly calls "Hot," and then says she'll finish it off with black pepper. Chi-soo: "No, no pepper won't do. You might… SNEEZE." Hahahaha.
That totally goads her, but she doesn't know that he's doing it on purpose, and wonders what's got him so twisted around today. She calls him a twisty donut, and he does this really lame dance that consists of turning in a circle, as if trying to mock her. Mostly it makes him look ridiculous, and the whole thing leaves her confused.
Kang-hyuk pulls him aside to ask if he fought with Eun-bi again, calling him Jja Chi-soo, or Salty Chi-soo today. He says that it'd be nice if he stopped being mean to wifey. Chi-soo asks why it's any concern of his, "Do you really like her or something?"
Kang-hyuk stares blankly, murmuring that if he asks such direct questions in the morning… And Chi-soo smirks, thinking he's got him rattled… But then Kang-hyuk sighs and puts his hands on his face: "…then I'll be embarrassed! Is my face red? Can you tell my face is red?" Hahaha!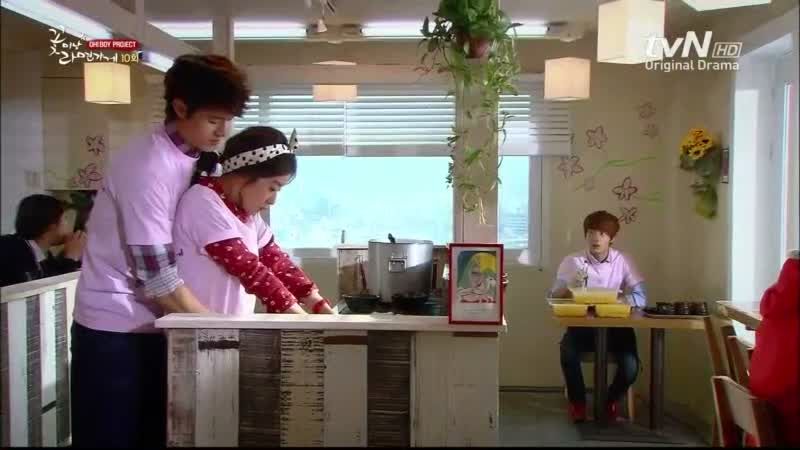 It totally backfires on Chi-soo, as he has to stand there and watch Kang-hyuk go googly-eyed, not even trying to hide how much he likes Eun-bi. He wraps his sweater over his head and lies down, all giddy and embarrassed, and Chi-soo stalks off more annoyed than ever.
It gets even worse when he sits in his radish corner at work, and witnesses Kang-hyuk putting his hands all over Eun-bi to "fix" her apron, which was in no need of fixing. Swoooon. Eun-bi melts, while Chi-soo has a meltdown.
He storms up to her angrily, and picks up on her chin-scratching nervous tick, wondering if she didn't wash her chin today, and why she's scratching it and being dirty. He says he's going to wash his hands and gets in his car and races down the street, blowing past Ba-wool and Hyun-woo who get flour in their faces, and note symbolically, "Did something just pass by?" "It was something… hot…"
Cut to Chi-soo on fire, trying to get a grip. He gets a text from Eun-bi: "Did you go to the Han River to wash your hands?" He buries his head in his hands, and then asks Hyun-woo what it means when someone and someone else are always stuck together, and then when you see them, your eyes get all fiery.
Hyun-woo asks if someone threw pepper in his eye. Heh. He says no, it's a feeling, like when you see those two people together, and your eyes go 'round the back of your head, and your head gets all hot, and it's like a train is running right through you. What's that?
Hyun-woo thinks for a moment… "It's jealousy!" Two points for the slightly more aware Hyun-woo. Chi-soo: "Jealousy?"
At the shop, Eun-bi is busy working on her Chi-soo ramyun, by making… a flowchart? Ha. This one has "Dog Chi-soo" at the center, and isn't that different from Daddy's chart, in that it lists different places and events where they had big fights. She wonders to herself what the commonality is. She knows there is one, but can't see it…
So-yi comes by the shop, and Eun-bi sits down with her, asking who she's here to see – Chi-soo or Ba-wool? So-yi answers in her typical way, "Whoever comes first." Oy. Between that and her idea of eating as munching on the chives off the top of her ramyun (and nothing else), Eun-bi and I have the same reaction to her: eyeroll.
Eun-bi asks how long she's known Chi-soo, and when she says about ten years, Eun-bi asks if she's cried in front of him before. So-yi gasps, saying that you can't cry in front of Chi-soo. If you do, from that day on, you're poop.
Eun-bi asks what it means to be poop, and So-yi clarifies that it means you are on the outs with Chi-soo from that day on. Eun-bi's reaction is telling, as her heart suddenly sinks, and she scratches out the section on her flowchart that reads: "Don't cry > Hot."
Ba-wool waits outside So-yi's house with the giantest teddy bear ever, adorably excited to see her. But she walks up with yet another guy. Ba-wool comes up to confront him, declaring that he's her boyfriend/husband/jagi/yeobo.
The other guy, "an oppa she knows," calls him poop and leaves, and Ba-wool screams at So-yi, wondering how she'd like it if he went around meeting other girls. She says it wouldn't make her very mad, she thinks, and beams at the teddy bear, "Is it for me?"
Ba-wool: "NO! It's mine! Starting today, THIS is my girlfriend!" HAHAHA. Oh Chicken, you are so cute. So-yi just laughs and waves after him, totally unfazed.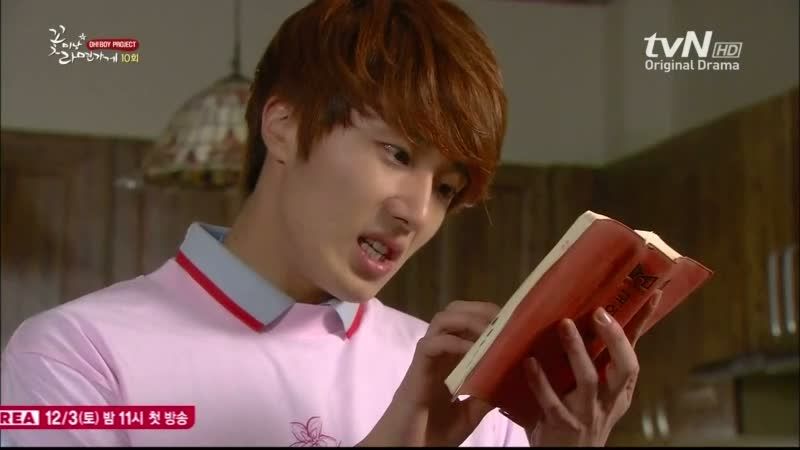 Chi-soo waits for Eun-bi in the house, and jumps at the chance to sneak a peek at the dictionary lying on the table. Omg, he's taken to looking up emotion-words now? He searches for "Jealousy," reading that it means being angry at someone for being better than you.
Chi-soo yells at the dictionary, like it's clearly mistaken, that there's no possible way that Kang-hyuk is BETTER than him. Hmph. And then he continues to read, and finds a definition that says "Between husband or wife, or people who love…"
He gets interrupted by Eun-bi, asking what he's doing. He drops the dictionary like he got caught looking at porn or something, and she suggests they go eat before working. He starts to follow her out, and then runs back in to reopen the dictionary… and rip out the page with "jealousy" on it. Pfffffft. You don't have dictionaries at home, billionaire boy?
They sit down to eat, and Chi-soo stares and stares. Flashback to the rest of the conversation with Hyun-woo, where he had described his ailment: So, you see her everywhere, hate seeing her with someone else, and seeing her laugh with another person makes you angry with jealousy?
Chi-soo agrees that that's exactly it: "So then… what you're saying is, I hate Intern SO MUCH that I'm feeling this way?" Hahaha. Okay, this is veering on gag concert ridiculousness. I might be concerned that you're actually just dumb, save for your rare moments of insight.
Hyun-woo laughs, "No, it's the opposite." He starts to wonder what it all means as he stares, and then he's jolted back to reality at the sight of what she's ordered: chicken feet. He involuntarily gathers his hands in the form of claws, asking how a girl could eat such things.
He sighs that this is why she breeds such contempt in him. He asks point-blank (such a refreshing trait, I have to say) what her relationship is to Kang-hyuk. She ponders it a moment, and replies, "Um… an oppa I know?"
Chi-soo: "O-o-oppa?" HEE. Hee hee hee hee hee hee hee.
Chi-soo scowls, asking how long she could have possibly known Kang-hyuk, for him to be an oppa to her. He scoffs that at this rate, she'll be saying, "Let's date, Oppa." She agrees, sure why not.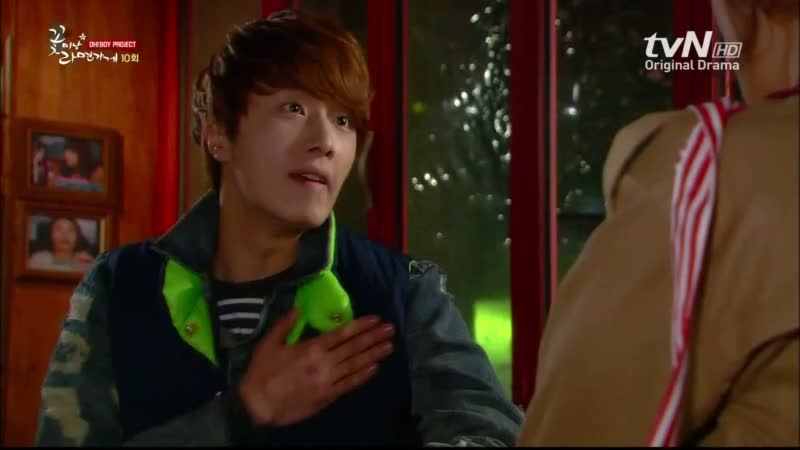 He scoffs that she sure is cool and casual all of a sudden, reminding her of her words, that you can change phones, but you don't change love. He puts his hand over his heart, "You said that love is something you do here, here!" AW.
She points at her heart (with the hand not currently holding a chicken foot, heh) and says that she WILL love, and with her heart too. Just differently this time. She's not going to let her love boil alone anymore, and instead approach something that makes her heart bubble over.
Eun-bi: "I don't want to eat cup ramyun at the convenience store anymore. Ramyun is supposed to be cooked together and shared with someone else for it to taste good."
He grumbles that Kang-hyuk is the one she's going to share her ramyun with. (This metaphor of ramyun as Eun-bi's heart is so cute, but then it's coupled with the hotter interpretation of sharing her ramyun as having The Sex.) She counters that Kang-hyuk is a real man who knows the heart, "not a fake who decides his emotions from a machine." Oh, snap.
He stands up, declaring that she can share her ramyun with Kang-hyuk as much as she wants. He suddenly sticks out two fingers in the shape of an A. "I don't know how much there'll be to eat… A-cup." Pwahahaha. Dying… need… to breathe…
Besides the insult to her cup-size, it's freaking hilarious the way he twists the ramyun metaphor from her meaning (the heart place) to his desire and one-track mind (the other place).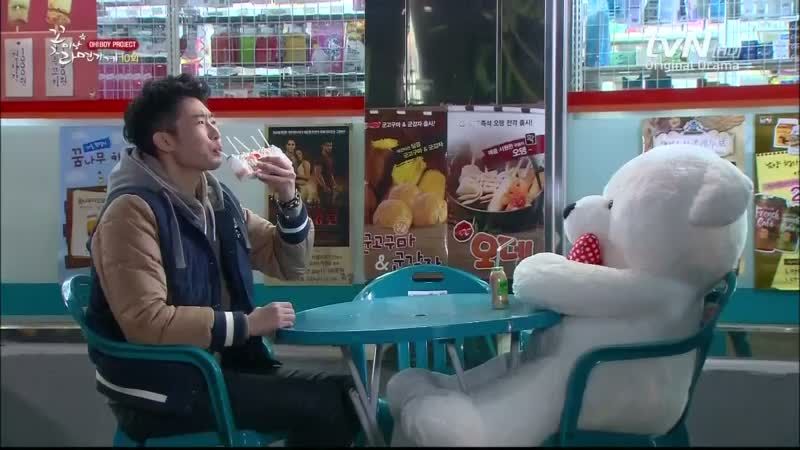 Ba-wool sits outside the convenience store, sipping yogurt across from his new girlfriend the teddy bear, who has her own yogurt. So cute. He screams, "An oppa I know?! Raaaaaaaaaugh. You once only called me oppa! OPPA?!"
And then behind him appears Chi-soo, in the same frame, "What? An oppa I know?!" He pounds his heart. "You once called me oppa! OPPA?!" Love it. God, I love when the A and B stories converge like this.
Ba-wool sees Chi-soo pounding his chest, wondering what's up with him. He muses that he looks familiar like that… who does he remind him of… "That's me!" He crawls into the ramyun shop, complaining of chest pain, and goes looking for the medicine that he gave to Eun-bi earlier that day, causing him to crouch behind the counter.
Chi-soo comes in behind him, still pounding his chest. Kang-hyuk comes out from the back and asks what he's doing here. Chi-soo offers him a warning: "Your wife. If you're just taking at stab at her, give it up. She doesn't know the difference between real and not, between poop and soybean paste, and just gives her heart first."
Aw, that first part is so sweet. But then he twists it, of course, to say that he's saying this for Kang-hyuk's benefit, because he ought to know what poop he's stepping in. And Kang-hyuk, the nice guy that he is, wonders if Chi-soo is worrying for him.
"Don't worry. From now on, I'm going to become Wifey's real pillar now." Aw. Yay for silly nicknames becoming meaningful declarations. Chi-soo shouts in surprise, I guess not having anticipated that Kang-hyuk's feelings could be real.
Kang-hyuk in turn asks Chi-soo to play nice with wifey from now on, "because I like you, as much as I like wifey." I love it. The more Kang-hyuk loves Chi-soo, the more Chi-soo's hatred and jealousy becomes infuriating and impotent. This is exactly the kind of relationship I wanted for them.
Kang-hyuk smiles after Chi-soo, totally moved at his concern (ha) while Ba-wool comes out of his hiding place scratching his head. He writes it out in his room, wondering what on earth is going on, to make Cha Chi-soo act… so unlike Cha Chi-soo. He suddenly turns to Hyun-woo: "Does Cha Chi-soo LIKE Eun-bi noona?!" Well I'm glad somebody's faster on the uptake around here. Hyun-woo denies it, of course.
Dad stops Chi-soo on his way in to ask if he likes Yang-yang, his nickname for Eun-bi that means "that Yang girl." Chi-soo denies it, wondering why everyone's asking him that lately. Dad sighs in relief, which makes Chi-soo stop to ask why he's relieved. "Can't I like her?"
Dad says no, because she smells of home-cooked rice. Chi-soo doesn't understand what's wrong with that (which speaks to the progress he's made). Dad says that Chi-soo is caviar. "Do you know what happens when you mix caviar in rice? You become laughable, like me."
Dad says heartbreakingly, "Women who smell of home-cooked rice do not like men who smell of money." Aw, what starts out as a statement that you think comes from a snobby place is actually the opposite – he was clearly rejected by the love of his life for being caviar. Chi-soo says, "Don't worry. I have no intention of eating caviar with chicken feet. I don't like that kind of fusion."
Eun-bi heads home mumbling to herself about this being Dog Chi-soo's revenge on her, shouting out loud, "Do you know infuriating it is for an A-cup to be called an A-cup?!" Kang-hyuk: "Are you an A-cup?" Ha.
They sit at the kitchen table, and Eun-bi brings up the question of age. He evades at first, and she tries to breeze that sure, in this day and age, who cares… but then insists that she's just that old-fashioned and has to know. Otherwise, how will she know what to call him?
He says that he's the year of the chicken. Flashback to her first traumatic mistake with that dreaded astrological sign. She's gotta be sure this time: "'81 Chicken, or '93 Chicken?" Kang-hyuk: "'93 Chicken…" Eun-bi deflates.
"…do you think I look like one? Me? They say love is blind, but if you're already like this, then what's going to happen later?" Hahaha. She rattles off how you don't know when people confuse you and say they're one chicken when they're another, and you don't know hen from rooster…
Kang-hyuk gets up and leans in, hovering above her face, "Don't worry. I'm a very healthy rooster." LOL. How is "I'm a rooster" hot?? But it is, and she blinks nervously. He adds, "So I'm gonna go to bed now. Otherwise… I think it'll be dangerous. Good night." Goddamn, that's hot. Auuuuuuggh.
Dong-joo squees at the news, and tells Eun-bi to seduce him at the movies later that night. Coach sticks his head in, having joined the girls for a hair treatment (heh) and asks Eun-bi if she knows who Dong-joo's first love is. Eun-bi shakes her head nervously.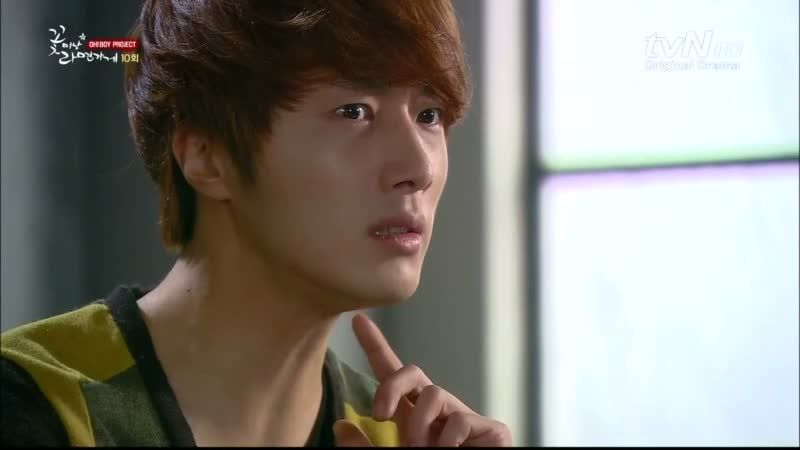 Chi-soo sits at home, rereading the dictionary entry for "Jealousy." He slams it down, dissatisfied at its bald-faced answer that he likes someone who likes someone else. I don't know what's funnier about this scene – his reaction, "Who wrote this stupid dictionary?" or the row of cologne bottles stacked to high heaven on his desk.
He points to himself in disbelief. "I? Me? I'm jealous?" He scratches his chin. Aw, I love how he adopts all her gestures one by one.
He storms into the ramyun shop on a Sunday, demanding to see Intern. Ba-wool eyes him suspiciously, asking why. He gives the excuse that it's for the recipe project, but Ba-wool presses it, asking what he wants with Eun-bi noona.
Hyun-woo arrives to see them arguing, and Chi-soo asks if he knows. Hyun-woo says she went to the movies with Kang-hyuk. Chi-soo screams, "the two of them?" What he means is, "ALONE?"
He runs to his car, but Ba-wool blocks his way, refusing to give him an inch where his precious noona is concerned. I'm really torn right now, because I love Ba-wool's love for noona, and want Eun-bi to have a nice date, but damn if I don't desperately want Chi-soo to run to her and make some kind of declaration.
He screams at Ba-wool to get out of his way because his "eyes are on fire," which is his physical symptom to describe his jealousy. One of Chi-soo's friends arrives on his motorcycle, and Chi-soo drives off with it. So-yi arrives just as he takes off. And then in a moment to top the earlier adorableness, Ba-wool gets on his ten-speed, and chases Chi-soo down on his bike.
Meanwhile Eun-bi and Kang-hyuk have an adorable date. He gets up in the middle of the movie to go to the bathroom, and then stops in the aisle. He takes her hand, "Now that I've grabbed your hand, I've grabbed your heart too." Aw, it's so cute, but Eun-bi's reaction is telling. She's not smiling.
It looks like she's waiting for that feeling… that never comes. But she swoons when she thinks about it, and buries her face in her hands.
Kang-hyuk stops to buy the hairpin that he saw Eun-bi picking out before the movie. When the clerk asks who it's for, he says shyly, "My girlfriend." Aw. Chi-soo arrives, passing right behind him.
He runs into the theater with his helmet still on, and then stops when he finds her. She stares curiously at first, not realizing that it's him, but he takes off the helmet and tells her they're leaving. He grabs her wrist and drags her all the way back outside.
Ba-wool arrives and sees them leaving through the lobby, but then So-yi appears out of nowhere, having followed him there. Nice interference.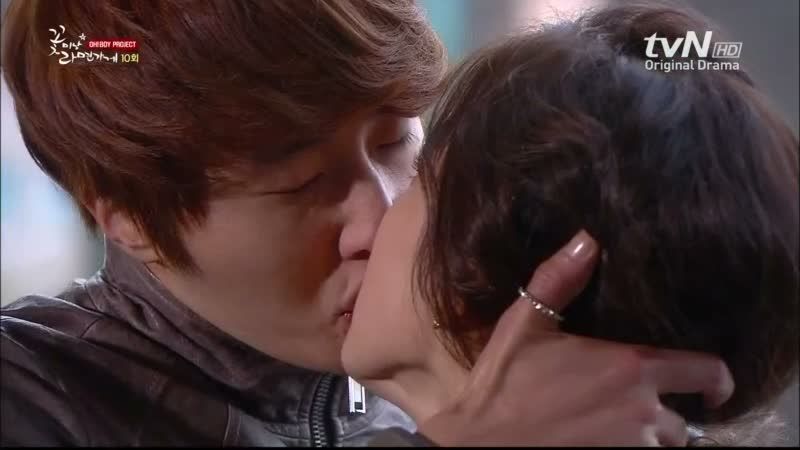 Eun-bi screams up and down, asking what he's trying to do, if he thinks her so laughable. Without a word, he pulls her in for a kiss, as the bell chimes in the distance.
*SPLAT*

COMMENTS
Am I supposed to say something coherent now? Because Cha Chi-soo's lips pretty much made that an impossibility. *Takes cold shower, resumes recap.*
Today's episode title, based on the Tennessee Williams play A Streetcar Named Desire is (of course) a pun on the original title. The Korean word for streetcar is jun-cha, but they've replaced cha with Chi-soo's particular exaggerated pronunciation of his name, as chwa. So it's more like a streetcar named Cha Chi-soo, who learns just how hot desire can burn.
I like where they've taken the idea of hotness, this time to become Chi-soo's burning eyeballs of jealousy, and of course his desire for Eun-bi. It fits nicely with the whole ramyun boiling over metaphor, which is love for Eun-bi and sex for Chi-soo. I'd say it's probably sex for Kang-hyuk as well, given his cheeky inclinations, but he seems to be the healthier well-rounded one, who can maybe see and feel both.
I love that everything boils a little hotter for Chi-soo, everything from love to hate to jealousy. It feels right for his age, where everything burns a little hotter and a little brighter, and scars a little deeper. The intensity of all these emotions, coupled with their newness (oh so entertaining) makes him such a great character. Jung Il-woo is really playing him to the hilt, as someone who feels more intensely because it's his first time at everything, at life, and it comes through viscerally. It's adorable how Chi-soo and Ba-wool run around with chest pain like it's more physical for them than emotional, which I distinctly remember as a real thing. I love that Chi-soo is so readable to everyone but himself, and how much that encapsulates the experience of being young.
And yes, Pillar is swoonworthy and hot and perfect… but the whole thing about A Streetcar Named Desire is the opening of the heroine's eyes to sexual desire. It's all-consuming and even destructive, but it's a force that cannot be contained. Sound like someone you know?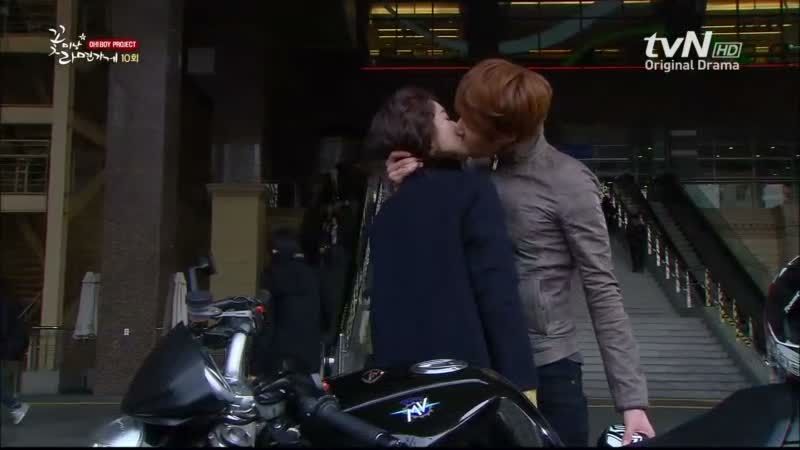 RELATED POSTS
Tags: featured, Flower Boy Ramyun Shop, Jung Il-woo, Lee Chung-ah, Lee Ki-woo