Flower Boy Ramyun Shop: Episode 3
That's it. I love this show. It's just so delightful.
It's been a long time since I've had a crack show digging its hooks into me and making me crave more-more-moar, but it looks like Flower Boy Ramyun Shop is gonna be it. Plus, today we get to see more depth to the story, with a more interesting side emerging from Jung Il-woo. Because as cute as his blasted charm is, it's also kind of a pain in the ass. I much prefer this flustered, embarrassed, defensive side to him, as much for his character growth as for my entertainment value.
And! Lee Ki-woo!
SONG OF THE DAY
Flower Boy Ramyun Shop OST – "Happy" [ Download ]
Audio clip: Adobe Flash Player (version 9 or above) is required to play this audio clip. Download the latest version here. You also need to have JavaScript enabled in your browser.

EPISODE 3: "Return of the Hot-tempered Woman"
After kissing her forehead, Chi-soo warns Eun-bi to leave him alone ("Or I'll really date you then"). He leaves the gym and runs into his friends, telling them he was "just getting rid of something." Agh, you really are asking for an ass-whooping, aren't you, pretty boy?
Dong-joo finds Eun-bi in the gym still reeling from the shock and urges her to the hospital. Eun-bi agrees: "Even you can see that there's something wrong with me, can't you?"
But no, the real reason is because her father has been taken to the emergency room. Once there, Eun-bi finds Crazy Chicken (Ba-wool) crying over a heavily bandaged man. One look at the patient and she slaps Ba-wool upside the head: "That's not my dad, punk!" Ha. Turns out her father has broken his arm, which is now in a cast.
In an airplane, a familiar scene unfolds, set with the same mood music and CF backlighting that marked our intro scene. It's the same woman, too, who flirted with Chi-soo, and now she eyes the passenger next to her with interest.
Pull back to reveal: It's our other leading man! HAHA. This show cracks me up.
His name is CHOI KANG-HYUK (Lee Ki-woo), and he says politely, "Ohayou." Conversing in Japanese, she sighs about traveling alone and finding life so lonely, while he notices she's got a smudge of food on her lip. He indicates her mouth, but she thinks she's heard this line before and asks, "Were you going to say my lips are pretty?" Deciding he's just a player like Chi-soo, she mutters to herself in Korean about the superficiality of men.
Kang-hyuk wipes the smear off from her lip and continues in Japanese, "I'd say your lips are warm, rather than pretty." Zing — her interest is back in full force. Then he licks the sauce from his finger, frowning at its subpar taste.
Outside a neighborhood convenience store, Eun-bi drinks beer with Dong-joo, who heads back inside to buy a second round. There she bumps into a customer, ready to chew him out for his rudeness, and is struck dumb at the sight of the tall, charming Kang-hyuk. He murmurs, "Sumimasen," and she barely ekes out an "Arigatou."
Eun-bi tries to figure out if Chi-soo was just playing her, or if he meant some of his flirty words. She overanalyzes the life out of the scenario: What did he mean with the forehead kiss? And the threat to date her? When he refused her taxi fare, was he paying her off?
Eun-bi decides to work out her frustration on a punching-bag game, beating out the previous high score with one solid punch. The neighborhood ajusshis are impressed — and so is Kang-hyuk, who has paused (while drinking a whole jar of milk — how adorably wholesome) to watch her show that machine who's boss. He smiles, we melt.
Kang-hyuk arrives at the hospital and asks to locate a patient. The nurse asks for his name and ID, and he starts to produce it…but then pauses…saying that he'll have to open his bag…to get it…which is such a pain… He sighs dramatically, huddling on the ground at the immense effort involved.
Turns out he's here to see his "Boss," Eun-bi's father, who knows Kang-hyuk well enough to scoff at all his exaggerations. Oh man, I love that Kang-hyuk is a lazy slacker who knows how to use his charm — no perfect prince charmings in this drama.
Dad tells Kang-hyuk to be sure to meet "that person" while he's here, and Kang-hyuk asks how his "wife" is doing — "Does she still have that sexy temper?" Aw, that's so cute. Also: Finally, a boy who appreciates Eun-bi's feistiness!
On her walk to school the next morning, Eun-bi recalls Dong-joo's advice about not taking the students' flirty comments seriously, and she decides to be cool about it all. For about two seconds. Spotting Chi-soo strutting in with his posse, she leaps for cover until he passes. Yeah, real cool.
Today marks the first day that the teacher trainees get to lead class, and Eun-bi changes into a pink tracksuit to lead gym class. (Her coach gripes, "Why are you dressed like a Hollywood paparazzi magnet?" Ha.)
Too bad only two students show up to class, the rest electing to use it for independent study. And one of them doesn't know how to play basketball.
Then Ba-wool struts in with his own posse…followed by Chi-soo and the boys. Dammit, and she was hoping he wouldn't show.
Ba-wool isn't pleased either and growls in Chi-soo's face, ready to take on F4 in a game. Eun-bi tries to start the game and quickly bow out to avoid further interaction, but Chi-soo manages to rope her into it.
When she's in possession of the ball, Eun-bi looks for a teammate to pass to, but Ba-wool's being guarded by Chi-soo. It's adorable how she and Ba-wool exchange a silent message via nose-scrunching and head jerks, and she passes to him, allowing him to score. They high-five, and Crazy Chicken taunts Chi-soo with a victory song and dance. Gah, he's so cute.
The game continues. One by one, the playboys make a pass at Eun-bi to distract her, flattering her with cheesy lines like "I must be a sadist, Teach. Wanna scratch my washboard?" Rawr.
She manages to resist their charm, but then Chi-soo sidles up to her, wraps an arm around her waist and says, "Your arms are sturdy, but your waist sure is womanly." Thunk. There goes the ball, and her sense of reason. I don't blame her — it's just as hot as it is infuriating, and that's a conflict of mind-versus-body if ever there was one.
Watching from the bleachers are Dong-joo and the Coach, who tsk-tsk over Eun-bi's state. Dong-joo urges Coach to ease up, since Eun-bi's just now "become a person." She refers to Coach encouraging Eun-bi's hot-tempered personality on the volleyball court; it's her fiery temperament that gave her a killer spike. Eun-bi's only just coming out of that mindset, Dong-joo argues.
Coach turns around those words on Dong-joo about becoming a person, with all the work she's had done to her face: "That's not plastic surgery, that's architecture." HAHA.
Eun-bi gets reprimanded by a teacher who takes her to task for, yunno, actually making kids exercise in gym class. She doesn't see what the problem is, but the teacher retorts, "What if one of them gets hurt?!"
Relegated to cleaning the gym, Eun-bi grumbles about the teacher being afraid of son-of-god Hwanung. She's underneath the overhang and therefore goes unseen when F4 strolls onto the upper floor. The boys wonder why Chi-soo insisted on going to gym class today, wondering if he's interested in the teacher, which naturally grabs Eun-bi's attention. Then…maybe her instincts were right?
One of the boys — Hongdae rocker Hee-gon — complains about being pestered by a girl who won't stop texting him, and Chi-soo offers him some advice: "Tell her she's pretty." Hee-gon doesn't find anything about her pretty enough to compliment, so Chi-soo suggests, "Then tell her that her mole is pretty." Then, to seal the deal, kiss her on the forehead, not the lips — that way, he looks sincere. Oh, you pretty pretty bastard.
Poor Eun-bi. Sure, she was entertaining ridiculous fantasies, but it's got to hurt hearing the guys laughing over it now. She follows him into the hallway and orders him to stop, brimming with anger, volleyball in hand. He smirks, smugly — It's great that you're so into teaching but I'm too tired to play, Teach. Eun-bi pulls off her teacher's badge and warns him that she's going to count to three and deliver one blow, so he'd best prepare himself.
Chi-soo thinks she's bluffing. Eun-bi's not, and serves the ball right into his face, sending him sprawling and all the students gasping. She warns him to steer clear of her from now on — "Don't you even dare step on my shadow."
Chi-soo can't have this, and he angrily lifts a hand — only to get it caught in someone else's grip. Kang-hyuk tells him he ought not treat women like this: "Least of all my wife."
Eeeeeeeeeee!
Eun-bi's just as startled as Chi-soo at the word "wife," but Kang-kyuk just shoots her a smile. Gahh, I can't think straight with all these hormones flying around. I need a minute.
The head teacher breaks up the scene and Kang-hyuk finds himself alone in the hallway — lying down, cuddling the volleyball, muttering listlessly, "Ah, this is all such a pain." Haha, he's such a lazyass.
Eun-bi is taken to the principal, who tells her to go home. He'll let her know what the school board decides.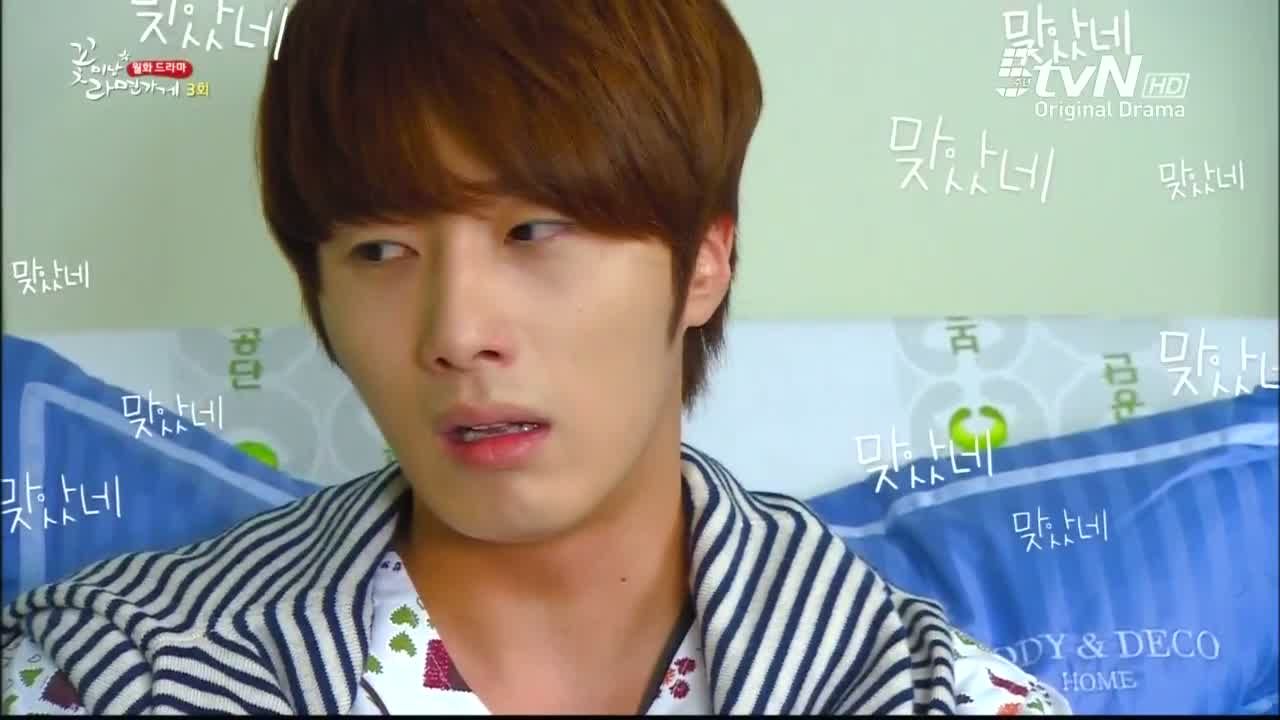 Chi-soo is examined at the hospital and deemed fine, although the doctor advises him to rest up. Chi-soo has a semantic objection to the doctor saying he "got himself hit" and requests that they call it "victim of an accident" instead. It's a pride thing, where getting hit makes him feel like Eun-bi got the better of him, since he'd prefer thinking he'd never let anyone knock him down.
So when his father and secretary discuss his condition ("It's a good thing she didn't play baseball"), Chi-soo stews to hear them using the words "got hit" over and over, which dance around him like literal gnats in the air, tauntingly.
Dad offers to get the teacher fired, but Chi-soo peevishly tells Dad not to. Dad confirms with his secretary that Chi-soo's angry, but the secretary clarifies, "It appears he's humiliated." Aw, poor baby. There there. Consider this a character-building exercise — which, face it, you could use.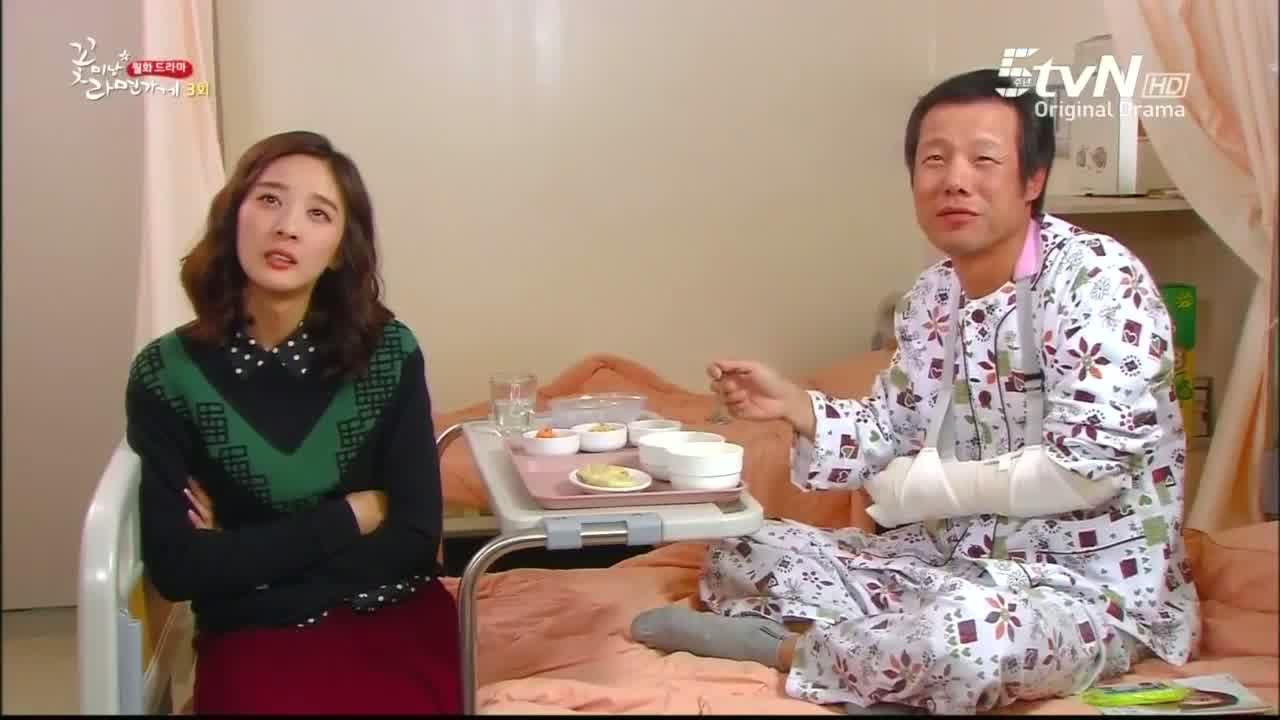 Eun-bi sits with Dad in his hospital, and bristles when he guesses she got fired. He hasn't heard the news, just deduced it when she told him she got off work early — that's what happens when his expectations for her were so low that he was pretty much predicting she'd never make it as a teacher. He suggests she's better off just playing volleyball.
Eun-bi points out that volleyball doesn't pay for food, and she's determined not to live eating ramyun; she'll eat rice. She means it in the sense of ramyun being cheaper than rice and therefore the choice of the poor, but there's also a nice echo in her relationship to Dad. She resents his love of his ramyun shop, which she thinks he's more devoted to than his own family.
Dad worries over the new wrinkles in Eun-bi's forehead, telling her to just live an easy life, not overtaxing her brain. I love his choice of words: If you can't afford the Botox, don't pursue such a stressful avenue. Ha. In direct contrast to Eun-bi, Dad grimaces at his rice dinner and wishes for some ramyun instead.
So-yi visits Chi-soo at the hospital and asks if he's going to fire that teacher. Through gritted teeth, he pretends he's soooo over it — firing her would be admitting she got to him.
Chi-soo's not in the mood to hang out with her today, so when Ba-wool walks by — here to visit Eun-bi's father — he foists So-yi off on her other boyfriend. She's happy to offer to have dinner together, but Ba-wool is still miffed at her for dumping him and storms off.
So-yi heads off, and curious Dad sidles over to Chi-soo to ask about his pretty girlfriend. Feeling up his chest, Dad tells Chi-soo that guys like him might look good on the outside, but they're all empty and desert-like on the inside. You wanna know why? Indicating Chi-soo's iced coffee: "It's because you drink all that cold stuff. You should fill up on hot things…" HAHA. Here I thought he was going to offer actual fatherly wisdom, but he's just working the opportunity to proselytize about ramyun.
Chi-soo throws Dad's arm off in annoyance, knocking him back. Dad clutches his chest and gasps that he's dying, and asks for something to revive him. Something energizing, warm, vital. One guess what that is.
He starts directing Chi-soo to his house, to the second cupboard, on the first shelf, in the silver pot… the hot ramyun Chi-soo sorely needs to warm his heart. "Eating it will turn you into a person."
Chi-soo tamps down his temper and walks off, exasperated — just missing seeing Dad fall over, for real this time.
Ba-wool gets over his hurt enough to take up So-yi's offer for dinner after all, where she suggests that they start dating again. That brings a huge smile to his face, until she clarifies that she wants to date him and Chi-soo both, using the metaphor about a river dividing into two streams, and how it's bad to block off one flow, and this is all for his benefit, blah blah blah. She says that Ba-wool's side will flow better if they open up Chi-soo's side, too, which totally makes no sense in my brain, but then, I'm not the one trying to argue that two-timing benefits all involved.
Eun-bi relents enough to bring Dad some ramyun after all, and runs into Chi-soo in the elevator on her way up. She steps inside silently and ignores him, while he perks up — not pissy for the first time today — and fakes neck pain. Smugly, he says he thought she'd be by earlier — to apologize, of course.
But the elevator doors open and she walks right out, leaving him midsentence. Startled, he darts out to block her path: "You didn't come to apologize?" She tells him he owes her one, not the other way around, and asks, "You don't even know why you got hit, do you?" He has no clue, and she tells him it doesn't matter, since his godly Hwanung self can live the rest of his life not knowing.
He rattles on about how her pride must be tripping her up and that he knows she came to apologize, but just then her father is wheeled by on a gurney, with an anxious-looking Kang-hyuk at his side. Eun-bi darts after him, only to have Chi-soo grab her arm, not done talking yet. She shakes him off and runs down the hall, leaving him holding the ramyun bag and gaping in confusion.
It's bad news. Eun-bi stands in shock while Dong-joo comforts her, and Ba-wool arrives with his boys in tow, all dressed in funeral black.
Chi-soo is incredulous that Eun-bi dared to ignore him, and perks up at the sight of Ba-wool — he launches into a self-satisfied speech about that annoying intern teacher, but the boys zoom right past him, not even acknowledging his presence. If the situation weren't sad, it would be mighty amusing seeing Chi-soo so annoyed at not getting the VIP treatment for once.
Chi-soo follows them to the funeral section of the hospital, and pauses in surprise to recognize Ba-wool's boys bowing their respects to Eun-bi, dressed in black. And when he takes a look at the funeral photo, he recognizes the ramyun man.
Awkwardly, Chi-soo offers the bag to Eun-bi, trying to act unconcerned but faltering over the words. She tells him to throw it out, since she won't be able to eat that ramyun anymore anyway.
A bit later, Eun-bi is shaken awake by an ajusshi friend, having fallen asleep at the funeral parlor. She returns the jacket that was draped over her, but it's not his.
When the funeral party exits together, looking after them is Kang-hyuk, dressed in a black suit, sans jacket.
Chi-soo takes the ramyun back to his room, unwrapping the package to reveal the silver bowl named after Eun-bi (Her nickname, Eun-nem-bi, also means silver pot).
Chi-soo tosses the ramyun bag into the trash, but when the cleaning lady enters his room to clear it out, he fishes the bag out. Reading the print reveals that it's from Eun-bi's Snack Shop, with address and map printed on the side.
That night, Eun-bi sits alone in the store, eating ramyun and soju in deference to Dad. It brings back the old memory of Dad teaching childhood Eun-bi how to down a shot properly, only her glass is filled with milk (and is clearly how she picked up the cola-shot habit with Ba-wool). Dad does the proper toss-back-and-kyahhhhh process, and she follows suit with her milk.
The memories continue, like the time Dad caught her carving graffiti into the table (the one that's still there, as we saw in the previous episode). And then there was the time Dad found her carrying cigarettes, and she'd accused him of not even thinking of her as his daughter anyway, and he'd slapped her.
Present-day Eun-bi imagines the specters of her younger self filing out of the store with a sad Dad watching mournfully. She thinks:
"Don't go. Don't leave Dad to be alone. Then Dad will be so lonely. When the door closed every night, did you stand there alone like that, Father? With Mom gone, and me, were you here alone every night? I thought I was the only one who felt Mom's absence. I thought I was the only one who was alone. You were alone too, but I didn't realize that."
Now Eun-bi sobs, and says, "I'm sorry, Dad."
A man steps in front of her, and she looks up to see Dad smiling down on her. Hopefully, she asks, "Dad, you're not gone? I'm sorry, I was wrong. I won't drink much anymore, or write graffiti anywhere. But those cigarettes really weren't mine. They were Dong-joo's. I just said that because I lost my temper back then. So don't leave me to be alone. I was wrong, don't leave me."
Dad tells her, "I won't go. I won't leave you." Eun-bi holds his arms and cries into him… only when the camera pans up, it's Kang-hyuk standing there.
When Eun-bi looks up at Kang-hyuk again, she's still stuck in her illusion and wonders how Dad got so young-looking. She asks, "Are you really my Dad?"
Kang-hyuk replies with a gentle smile, "No, I'm not your father. I'm your husband." Puzzled, Eun-bi squints up at him and wonders, "My…husband?"
And watching from the doorway is Chi-soo, looking on with an expression that's half-surprised, half-What-the-hell-am-I-doing?

COMMENTS
So much cuteness, but with an extra layer of character depth and development. We can start to see how the ramyun shop starts to come together, and although this drama really laid on the Coffee Prince associations, I wonder if that does its story a disservice. It's more than a Coffee Prince clone, and because of the vastly different reasoning behind operating the shop — and all the emotions driving that decision, which I presume will be out of respect for Dad — it gives us an entirely different facet of the pretty-boys-as-waiters angle.
I love seeing Chi-soo ignored and forgotten, because nobody in his life is willing to discipline the boy, not even his own father, who is as much in awe of his son as anybody else. And because Eun-bi's neglect is a result of having much bigger, more important worries to focus on, it really highlights how shallow Chi-soo's existence is — when push comes to shove, he just doesn't figure that high on her list of priorities. His sputtering incredulousness is so satisfying to witness.
Plus, Lee Ki-woo! I love that as the "genius" second lead (in chef-dom, apparently), he's not perfect. That's too easy. He's got a personality of his own, and quirks that make him adorable and endearing. We still have no idea what the basis of his relationship to Eun-bi is, but I'm certainly intrigued. In fact, I'm completely torn between the two boys, because I'm looking forward to seeing Chi-soo's haughty self humbled and changed, but I already love Kang-hyuk. A guy who sees a heroine's worth right off the bat, without requiring a magical makeover or personality transplant, is hard to beat. Plus, instead of being one of the multiple men who view Eun-bi's strength as a detractor, he calls it sexy. What's not to love about him?
And while I'm already feeling sad that he won't get the girl, I'm excited to get a love triangle where both legs are viable and compelling. When the main pairing is so completely rock-solid from the start, the downside is that the second leads inevitably get knocked down to "annoying plot contrivance" status. It's when both sides are strong and interesting that you really get the full impact out of the love triangle.
*waits impatiently for Episode 4*
RELATED POSTS
Tags: featured, Flower Boy Ramyun Shop, Jung Il-woo, Lee Chung-ah, Lee Ki-woo