Kim Soo-hyun and Han Chae-young for Marie Claire
Aw, don't they grow up so fast? One day he's playing a kid with a dream, and the next he's blue-steeling it in a photo shoot, soaking up the noona love. Perhaps he's honing his noona-killer skills for his upcoming role in MoonCloud Kissing SunBeam? Er, what am I saying? Since when does Kim Soo-hyun need practice when it comes to noona-slaying?
Here he is in a photo shoot for Marie Claire with actress Han Chae-young, in a concept that I don't really understand, but don't care to. I mean, let's be real, I'm not really looking for the story here. *ahem* Hey, don't pretend you don't know what I'm talkin' 'bout.
I'm excited to see Kim Soo-hyun back in the spotlight, gearing up for his big return to dramaland in what'll have been a year break. I'm curious to see what kind of chemistry he'll have with costar Han Ga-in, though I'm quite sure Kim Soo-hyun could sell being in love with an inanimate object, if he wanted to.
This issue of Marie Claire hits newsstands in December, and Moon That Embraces the Sun premieres in January. Gah, new year, new dramas? But I haven't even finished THIS year's ones! Need. Time. Stoppy. Thing.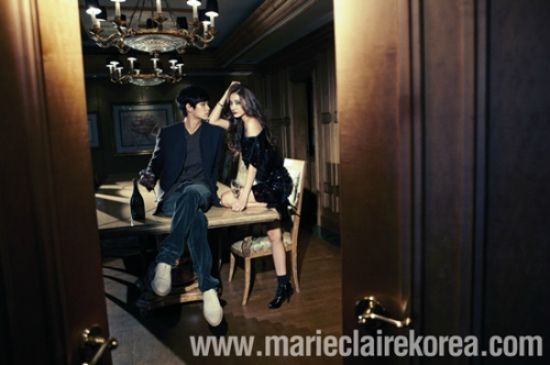 Via Chosun Ilbo
RELATED POSTS
Tags: Han Chae-young, Kim Soo-hyun, photo shoots