Lee Sang-woo and Joo Sang-wook in new drama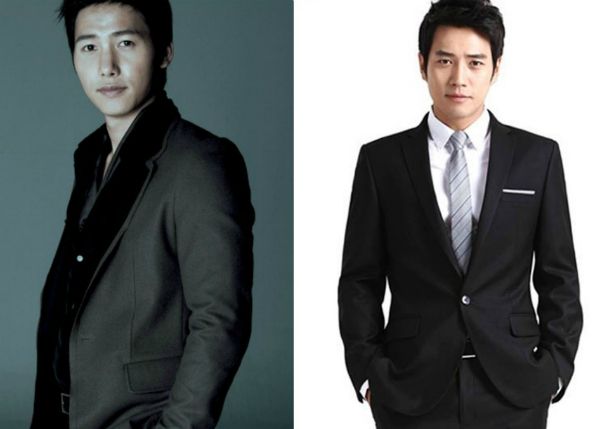 Oppaaaaaaaa! Okay, sorry, I just had to get that out. But can you blame me for the outburst? Lee Sang-woo is currently rocking my socks off as the bestest oppa ever in Thousand Day Promise, so I'm excited that he's already got another project lined up. It's a cooking drama called Feast of the Gods, set for weekend broadcast in January. He'll be joining Joo Sang-wook (Giant), who's currently starring in cable network OCN's detective series TEN. Well that's a lot of pretty to share a screen.
They're also joined by Seo Hyun-jin from The Duo and Gu Hye-sun's Magic, while the main role, that of leading lady and chef, is yet to be cast. The name in contention for the lead is Sung Yuri, but there have been rumors and denials left and right, so we'll have to wait and see on that.
The drama is about two female chefs who battle in the kitchen and at love. Lee Sang-woo plays the heir to a large food corporation (of course), but the company is run by his mother, and their relationship is strained. In order to win the girl of his dreams, he takes odd jobs in the kitchen as the low man on the food chain, and eventually becomes a successful businessman.
The theme of the drama is East vs. West cuisine, which sounds like great fun. Mostly these dramas are all about the flashy mouth-watering food porn, so I'm sure they'll do a good job with that. There's very little information on Joo Sang-wook's character, which is strange, given that I would normally assume that he's the higher-billed star. If the women are the chefs, maybe he's another member of the kitchen staff, or perhaps the restauranteur.
Behind the scenes are PD Lee Dong-yoon of Best Love and writer Jo Eun-jung (Goldfish, White Lies). Feast of the Gods premieres in January on MBC.
Via Mk.co.kr
RELATED POSTS
Tags: Joo Sang-wook, Lee Sang-woo, Seo Hyun-jin