Me Too Flower: Episode 5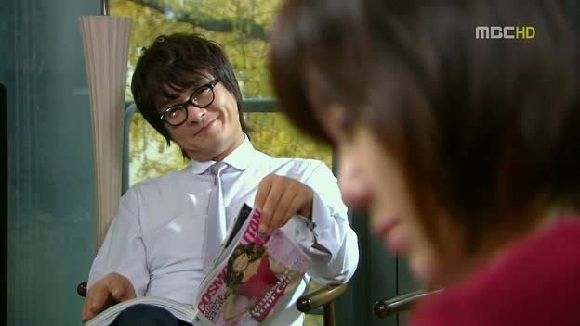 There's a little less funny which makes me sad but we finally get to look a little deeper into Jae Hee's past. His careless, lighthearted façade ends up trapping him and Bong Sun's belief in Jae Hee is shaken. We also see Hwa Young inch closer to becoming an icy-bitch queen that even Bong Sun's blazing temper can't touch. This is gonna be good.
Episode 5
The forced kiss results in a punch to Jae Hee's face and Bong Sun reminds him that one lip-lock doesn't change their relationship. They're still strangers to each other. Oh, and that "kiss"? 'Twas juvenile. Even elementary students kiss better than the awkward lip press she just experienced. (Kids these days. They grow up so fast).
Bong Sun threatens to file a police report on Jae Hee for his forced physical contact if he doesn't get out of her car and he swiftly obliges. Maru, who had been watching this intimate exchange, calls out to Jae Hee in anger.
Maru and Jae Hee face off in the park and Maru begins to strip to show off how livid he is. Unfortunately, he doesn't remove the tank top to reveal his washboard abs. Jae Hee wonders why men always feel the need to take off their clothes during a fight but compliments Maru on his terminator body (that's still covered up!).
Maru tells him to shut it and make the first move. Jae Hee sighs and asks if Maru still likes Bong Sun. He calls him slow on the romancing and challenges that he would have kids with Bong Sun by now if he was in Maru's position.
This riles Maru up and he launches a punch towards Jae Hee, who stops Maru by throwing sand into his eyes. Okay, that was dirty. Maru tears up and demands to know why Jae Hee won't help him obtain Bong Sun's affections. Jae Hee leaves him a small nugget of advice: The first step to a woman's heart is being good to her no matter what. Clap when she smiles, pull her up when she's down, and make her laugh.
Bong Sun replays the kiss in her mind when Maru barges in dressed in full SWAT gear. He calls her dirty-tempered, hasty, and abusive, which are the characteristics that made him fall for her. He's her biggest fan and that she's the light of his life. Cue Lee Seung Ki's "Nuna, You're My Woman." He turns around to see that she left the room. Aw.
Bong Sun tells Dal to pack up her stuff and move back inside. Dal flashes a smile and shoots her a big heart. Can you braid each other's hair and eat ice cream together already?
At Dr. Park's office, Bong Sun complains about his tendency to wrangle private information out of her. He needs to stop messing with her head. Dr. Park replies that she was the one who said everything. He asks her what makes her so bad-tempered. Does she have to blame her father for her all problems?
She snaps that her dad deserves some blame. He's a bad father and a bad cop who arrested innocent people for his own benefit. Her father constantly took bribes and when he was caught, he was forced to retire. A role model he wasn't.
Dr. Park catches on to her bitterness and asks her if she thinks everyone should be moral. Does she want the world to be fair? She stares at him and he continues that she needs to realize that life sucks and it's not going to change. What her father did isn't out of the ordinary; he's human after all. She can hate him all she wants but he's still her father.
She bristles at his brutal (but true) words and stands up to leave. She stops in her tracks after Dr. Park tells her that she's not the only one with family problems. People weren't born to make world peace; they're here to fight with each other and to learn how to sort out familial problems. She doesn't have to feel ashamed when talking about her family to him.
She moves to walk out again which causes Dr. Park to mutter that her lack of progress in therapy will result in another failed promotion next year. Her blood temperature shoots up and she swings her bag at Dr. Park. The momentum propels her straight into his lap and he tells her this kind of physical violence is always welcome. Rawr. Unfortunately this earns him a head bashing and a bruised cheek.
A parade of sleek SUVs show up in front of Jae Hee's company. A group of men carry a packaged box into the store and Hwa Young tells her assistant to make sure nothing gets out about the new product until the launching show. Later, Jae Hee sees the financial consultant from episode 4 having a secret meeting with another man. The man gives the employee a cake and they shake hands.
Jae Hee confronts the employee as he leaves the building. Jae Hee pins him to the floor and the cake drops out of its box along with a chunk of cash. The employee yells who the hell Jae Hee thinks he is. Jae Hee tosses the question back at the man; who is he to make salary cuts and swap company products for imported ones? He can't find words to respond and Jae Hee calls him an idiot through gritted teeth.
<a
Bong Sun sits in Dr. Park's office with the MBTI personality test. She complains about the number of questions and reads off a question. How does she interact with people? Is she a realistic person or an imaginative person? She scoffs and rolls her eyes, which causes Dr. Park to nudge her on the head like a schoolteacher. He tries to take the test away but Bong Sun hastily grabs the paper. It's stupid but she'll do it.
Dr. Park observes Bong Sun taking the test after skimming through his Cosmopolitan magazine. Anyone want to guess what section he was reading? Bong Sun tries her best to answer the questions truthfully and her answers roll around in her head even after she leaves the office. As she walks home, she sees Jae Hee slurping down ramyun at a local restaurant.
She recalls a question on the test about how she reacts during an unsettling conversation. Does she change the topic, joke around, or stay mute and think about what she should've said in the situation a few days later? She decides the last answer fits her best and she marches up to Jae Hee.
She launches into a tirade of interrogations. Why did he pretend to be her boyfriend? Was he jealous? Does he like her? Does he want to date her? Answer truthfully and quickly or else. He stares at her in bewilderment.
Alas, her verbal attack turns out to be another dream sequence. She shakes her head and sits at another table as Jae Hee calls out a hello. She mentions that Jae Hee has on expensive clothing again and wonders how a beggar like himself can afford to spend such large sums of money. He must be obsessed with brands and luxuries.
He plops down next to her and informs her that there are small, quaint villages in the Swiss Alps and in Great Britain. The villages are surrounded by breathtaking scenery and fruit trees. If you're tired and upset, you can pick a fruit and sit down in the fields to breathe in fresh air. That feeling of relaxation and euphoria is something that nobody can buy. He concludes that money and luxury goods will never be enough to replace happiness.
His lecture annoys Bong Sun and she snaps that she's not a child. Suddenly, Jae Hee reaches under the table for a dime. She shoots him a WTF face which prompts him to exclaim that a dime is a lot of money. He waves good-bye and Bong Sun stews at his patronizing crap. Just then, a waitress places a bill in front of Bong Sun. The customer she was with said that she would pay for his food.
At the station, she grumbles about her crappy life and continually rebuffs Maru's attempts at conversation. She threatens to render him speechless unless he leaves her alone. He looks at her with sad puppy eyes and slinks away.
Dal sneaks into the country club and watches Jae Hee play tennis until she gets hit in the eye with a ball. Kek. At the same time, a break-in is reported at Jae Hee's company. The diamond-encrusted bag has been stolen. Jae Hee rushes off, but not before making Dr. Park follow Dal to the emergency room.
The police team tries to figure out how the break-in happened when Hwa Young arrives. She pulls the chief aside to ask him to keep the robbery a secret. Bong Sun looks out the window to see Jae Hee waiting in front of the building. He later goes into Hwa Young's room and informs her to release the news of the burglary to media outlets. It's a great chance for marketing. Turns out he's a businessman after all.
Bong Sun and Maru guard the crime scene and Maru mentions how cool the woman president seems. Bong Sun agrees, but slips in that she's not too shabby herself. She declares, "I'm cool and really really cute too." You are super cute, Bong Sun. Maru's eyes flashes a smile in agreement but he loses his chance to reply when another team of officers flood in.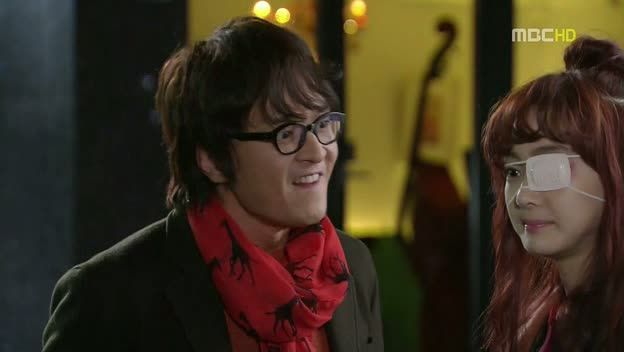 At the hospital, Dal tries to wring some information about Jae Hee out of Dr. Park. He tells her that he can't say anything if Jae Hee didn't tell her personally. Her lips puff out and she leaves in a hurry, but ends up walking into a cone. Hehe.
The two get out of a taxi near Bong Sun's house and Dal postures that she can't stop by her apartment in Kang Nam because she has to buy something. She bluntly asks how old Dr. Park is in banmal and he replies that she needs to learn some manners. They continue to bicker until Dal tells him to shove off and sticks a tongue out at him. Their immaturity is outstanding.
Bong Sun comes home to find Dal sleeping in her bed. She kicks the mattress and Dal wakes up to reveal her black eye, which causes Bong Sun to fall to the ground laughing. However, she stops mid-hiccup when Dal makes fun of the poster of Pink Chicken. Isn't she too old for that kind of stuff? Bong Sun tells her to shut up and wash all the sheets she was sleeping on.
As Jae Hee works on shoe designs in his apartment, he recalls the memory of Bong Sun kicking his leg in the café. This sparks his imagination and he quickly draws two pairs of shoes. One is a mid-calf boot (perhaps with a shin guard attached underneath the leather) and the other is a white shoe that resembles the black ones police officers wear.
Bong Sun and Maru interview the store workers to weed out a suspect. Store girl presses for details but Bong Sun waves her off. As they converse, Jae Hee walks into the store. Store girl smacks Bong Sun's arm to get her attention and points out that Jae Hee could be the thief. He's always lurking around the store even though he can't afford to buy anything. Bong Sun tells her that he's not the kind of person who would do that.
She interviews the parking garage boss and he also points out Jae Hee's actions as strange. He's always asking probing questions the company and disappears for hours at a time. Yet the boss has no power to fire him. He wonders at the connections Jae Hee might have and Bong Sun ponders this new information.
She gets called into the security room and camera tapes of Jae Hee wandering around the company building play on multiple screens. Maru exclaims that Jae Hee must have been planning the robbery from the beginning and Bong Sun tells him not to jump to conclusions so quickly.
Bong Sun's sunbae approaches Jae Hee and asks him to come down to the main police station. Bong Sun tries to stop the other officer by saying that there is no concrete evidence that points to Jae Hee, but her sunbae shakes her off. Jae Hee turns to Bong Sun and asks if he's a suspect. When she fails to refute the question, he turns away and his eyes betray hurt.
At the police station, Jae Hee refuses to answer the sunbae's questions about why he hangs around the store so much. The officer accuses him of stealing the bag and Jae Hee responds that he just has an interest in fashion. His answer is unconvincing so the officer asks for Jae Hee's social security number. Bong Sun watches the exchange and finds herself conflicted over who to trust.
Maru calls Bong Sun to inform her that Jae Hee has a shady record. Apparently he's killed someone. In addition, he's had other instances of theft and spent some time in jail. She leaves the room and thinks about Jae Hee's odd behavior in the past. The expensive clothes, his playful response to being handcuffed, his tainted shadow…
The sunbae asks for an alibi for the night of the robbery and Jae Hee spits out that he was with a girl. The officer tells him to bring the girl and Jae Hee calls Dal who rushes over to the station. The sunbae reports to Bong Sun that Jae Hee has a girl coming to confirm his alibi and Bong Sun's heart sinks. Her disappointment in him grows larger and she leans against the wall for support.
Hwa Young comes to the police station and Bong Sun corners her. She tries to get Hwa Young to admit that she's there because of Jae Hee, but Hwa Young plays dumb. Bong Sun accuses her of having a relationship with Jae Hee. Hwa Young icily replies that she has no reason to answer her questions and that she was unaware of Jae Hee's involvement in the robbery. I'm not even there and I feel super uncomfortable.
Dal shows up at the police station, but she's no longer needed because Hwa Young took care of everything. He hastily apologizes about the black eye and asks her to try and understand him. He stuffs her into a company car and says sorry again. I'm sure she'll forgive you a thousand times if you make her your trophy wife, even if she doesn't fully understand his situation.
Hwa Young tells Jae Hee to forget about today's incident. It was just bad luck. Jae Hee half-heartedly remarks that his record is full now; manslaughter and robbery are very powerful additions. Hwa Young tells him that anyone who is rich has some kind of record; it's nothing to worry about. He replies that many of them don't kill people though, which causes her to slam on her brakes in frustration.
A flashback brings us to the earlier days of Hwa Young and Jae Hee's friendship. Jae Hee had been backing out the company truck and hit a car behind him. A pregnant Hwa Young urges him to see what happened. He gets out and makes his way to the crowd behind his car, realizing belatedly that a person was also behind the car.
What he sees is so horrifying that he drops to his knees in shock. Hwa Young steps out and runs to the man, covered in blood, sobbing over his body. Jae Hee calls out "hyung," unable to tear his eyes from the victim's face.
In the present, Jae Hee sarcastically asks Hwa Young how he should word his crime in a way that won't offend her. He calls himself a murderer who killed a husband (Hwa Young's) and a father. Hwa Young shouts at him to stop talking. It was an accident. She's fine now and she's accepted the past. It's time for him to do the same. He needs to let go.
He responds that he remembers every time he tries to forget. This is something that will haunt him forever and that it kills him inside daily. In return, Hwa Young tells him that his self-deprecating guilt kills her. At that the conversation drops and both become lost in their own thoughts.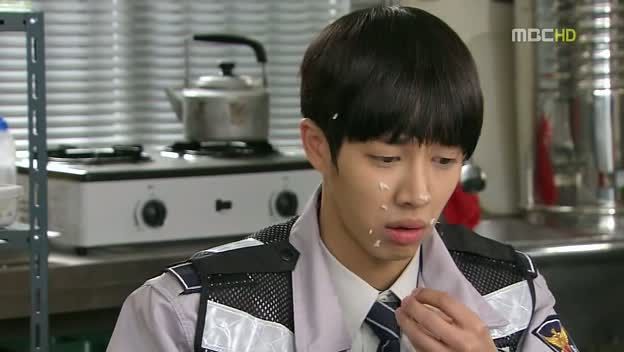 The next day, Bong Sun rams Maru's face into his lunch tray in retaliation for his quick condemnation of Jae Hee.  Didn't she warn him about jumping to conclusions? His "why me" face never gets old. I've lost count of how many times she's abused him so far. Turn into Pink! Then she'll love you.
Bong Sun calls her sunbae, who tells her that Jae Hee left with a company representative (aka Hwa Young) last night. She mulls over this information and finds herself strangely angry at him. She proceeds to call him a player and a dummy until Jae Hee's voice cuts through the air. He parks his butt next to her and takes a swig of her coffee while remarking how tired he is from all the questions he was bombarded with yesterday.
She replies that at least everything worked out in the end. He gives her a hard look and asks her if she really thought he stole the bag. She blurts out that she didn't but her guilty expression suggests the opposite. She barrels on to say that she's a police officer who can tell the difference between a criminal and a civilian. He scoffs and tells her to stop being arrogant; she's not as knowledgeable as she thinks she is.
He gets up to leave but stops when she reveals her impression of him. He might be uneducated and ill-mannered, but he seems like a good guy. Also, he's not as honest as he thinks he is either. She has yet to see what's beneath his playful, jokester persona. His interior thoughts and emotions are unreadable.
Jae Hee asks if she's annoyed by a confusing, polluted guy like himself.  Does she enjoy judging him at face value without knowing the full truth? She stays silent and he calls her no different from everyone else.
Comments:
What a roller coaster of emotions. Jae Hee sinks a little lower into his black hole of negativity and the people around him can't seem to pull him up, mostly because he refuses to let anyone in. He and Hwa Young can be so cold that they scare me more than Bong Sun and her fiery temper. Hwa Young in the police station was chilling. It's amazing how well she conveys a sense of detachment and indifference to Jae Hee's situation in front of Bong Sun.
We know that she's probably freaking out inside, which makes her cool act that much more unbelievable. She only loses her control with Jae Hee because he is one of two people (the other being her son) that leaves her vulnerable. She still has the upper hand over Bong Sun because Bong Sun looks up to her but the scales are tipping back and forth precariously.
Bong Sun's lack of faith stings Jae Hee more than anything else. He already believes that he's a horrible person for killing a friend, and experiencing the ego-crushing interrogation at the station probably tore him up inside even more. He doesn't want to admit that he's the owner of the company, which makes him so suspicious that Bong Sun starts to re-evaluate her impression of him. His look of anger and betrayal at the police station kinda breaks my heart.
I'm still a little confused as to all the details of the car accident. I couldn't tell if something that fell off the truck crushed Hwa Young's husband or if he was driving in another car. The accident scene was a bit clumsy but I can't tell if that was on purpose. Hopefully we'll get a clearer understanding in upcoming episodes.
Also, are we going to see Dr. Park complicate the main love triangle? It's kind of creepy because he's Bong Sun's therapist and I prefer his relationship with Dal so much more. I really wish we had a strong second male lead because Maru is so ineffective that sometimes I feel like he's just there to look pretty. His dedication to this mean-spirited woman is sweet but he's just so weak at challenging Jae Hee. Can we just replace him with Pink please?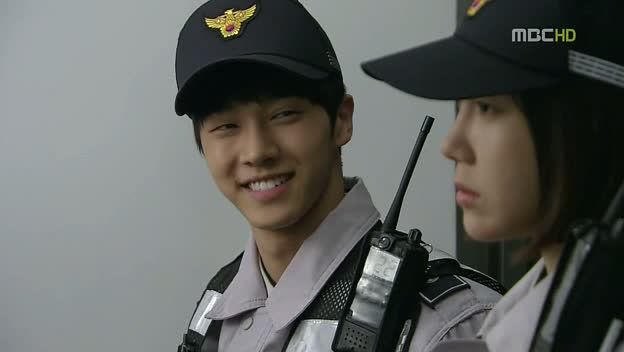 RELATED POSTS
Tags: featured, Han Go-eun, Lee Jia, Me Too Flower, Seo Hyo-rim, Yoon Shi-yoon