Meet the Bachelors of the Veggie Store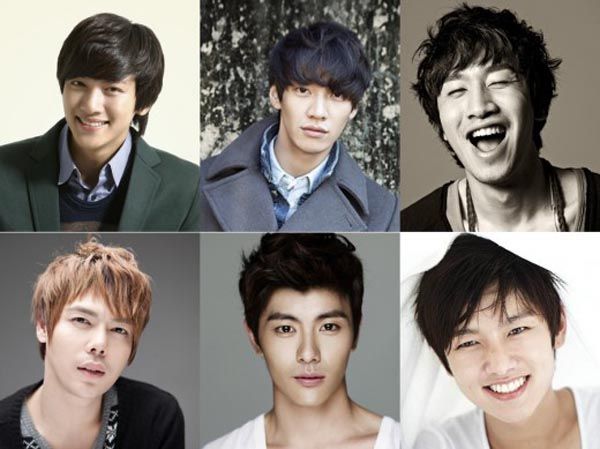 I thought we'd only have one bachelor in upcoming drama Bachelor's Vegetable Store — played by Ji Chang-wook — but we get SIX? The more, the merrier. Bring on the pretty!
They are, in order of the photo below:
Ji Chang-wook, our hero (Warrior Baek Dong-soo);
Kim Young-kwang (White Christmas);
Lee Kwang-soo (City Hunter);
pop singer Ji-hyuk from six-member boy band Supernova;
new face and model Sung Ha;
and musical actor Shin Won-ho, who I swear could be a dead ringer for Ji Chang-wook himself.
Of those other five supporting bachelors, budding actor Kim Young-kwang has the biggest role, with actor/variety performer Lee Kwang-soo close behind. Both have a slightly offbeat charm; 24-year-old Kim Young-kwang (who had bit parts in My Fair Lady, Triple and The World They Live In) reminds me a bit of Lee Min-ki with his brand of gangly hotness. Kim will play the son of a wealthy family who teams up with Ji Chang-wook and comes to work at the shop, and enjoys a particularly close relationship with his single mother.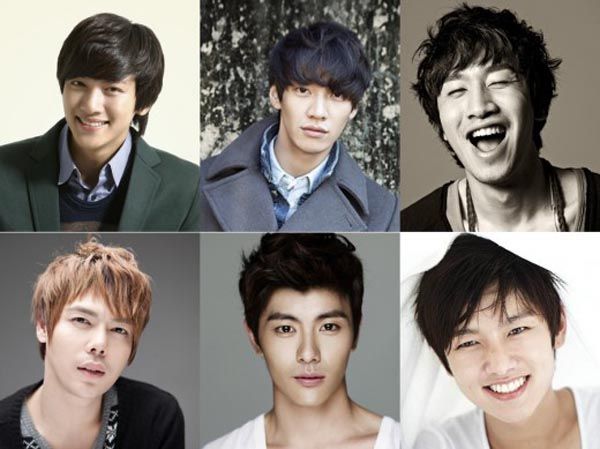 Lee Kwang-soo, you may recall, had a comic relief role in City Hunter as the geeky tech guy, although he may be better known these days for his participation in variety show Running Man.
Of the newbies, Sung Ha recently attracted quite a lot of attention after starring with Shin Mina in a CF-slash-music-video for HERA cosmetics, in which he alternately helps and stalks her, only to have her return the favor. After the video released, he shot to No. 1 in search engine queries.
And those of you watching Flower Boy Ramyun Shop may recognize Shin Won-ho — not from the show itself, but from that Skin Food Black Sugar CF that usually plays in the beginning commercial break. (Yet another reason not to skip 'em.)
The producers are pushing the moniker VF 6 DoLL as the nickname for the sextet, which… I think is lame given that it doesn't roll off the tongue. Or, you know, make immediate sense. I'm sure the netizens can come up with a better name, and one that's organic to the show. But nomenclature aside, the drama will follow the six young healthy men with strong personalities who work hard and fall in love.
But we need some ladies up in this hizzy, which brings us to Wang Ji-hye (Protect the Boss) and Park Su-jin (My Girlfriend Is A Gumiho).
Wang Ji-hye will play the main love interest for Ji Chang-wook, and I'm glad for that since I like her a LOT better than former pop singer Park Su-jin, who is a limited actress at best. It doesn't help that she's played hateable characters, like Kim Bum's blah ex-girlfriend in Boys Before Flowers and Lee Seung-gi's scheming noona-crush in My Girlfriend Is A Gumiho.
Park Su-jin is being paired off with Kim Young-kwang, and like his character, she has also grown up privileged and unchallenged by difficulty. She'll have some complications with the main hero, though, just as I suspect that Wang Ji-hye will probably have some love rivals as well. You just can't cast that many hot young things, put them all to work in the same small store, and not tangle everybody up in youthful romance and angst.
The drama is based on the true story of a young man who built up a large franchise from a single tiny vegetable shop in 1998, who is now 40 years old and the CEO of a company with 33 stores throughout South Korea.
Bachelor's Vegetable Store will be a cable drama broadcasting on Channel A. It'll air on Wednesdays and Thursdays, beginning on December 21.
Via TV Report
RELATED POSTS
Tags: Bachelor's Vegetable Store, Ji Chang-wook, Kim Young-kwang, Lee Kwang-soo, Park Su-jin, Wang Ji-hye