Pilot-photographer Ji Jin-hee for Take Care of Us, Captain
It's Ji Jin-hee's turn for stills for SBS's upcoming Take Care of Us, Captain, in which he plays said captain. More specifically, he's the talented pilot of a passenger airline who gets saddled with a new co-pilot (also love interest), played by Gu Hye-sun (The Musical).
Rounding out that love triangle is Lee Chun-hee (Gloria), who works in the air traffic control tower. That love triangle gets rounded out again (oy, mixed metaphors — can a triangle get rounded? what if there are two of 'em?) — should I call it Star of David-ed? — with Yoo Sun (Sons of Sol Pharmacy) playing a member of the flight crew who challenges Gu for the pilot man's affections. And ostensibly loses, since she ain't got top billing.
If we're judging by the graduation stills below, Gu's character is fresh outta flight school (the "redbaron airline academy of sanfrancisco," if we're to go by her diploma and not, say, an understanding of the English language). That gives her part of the love triangle a generational gap, with Yoo Sun closer to her mother's generation. Or at least big unni.
(When Yoo Sun was a rookie, she was partly responsible for a woman's in-flight death and her infant contracting blood poisoning. She then helps the daughter, Gu Hye-sun, become a pilot. Previous descriptions made it seem Gu was that infant, but later news revealed that Gu has a younger sister, so Yoo Sun is not in fact playing a dozen years older than her age.)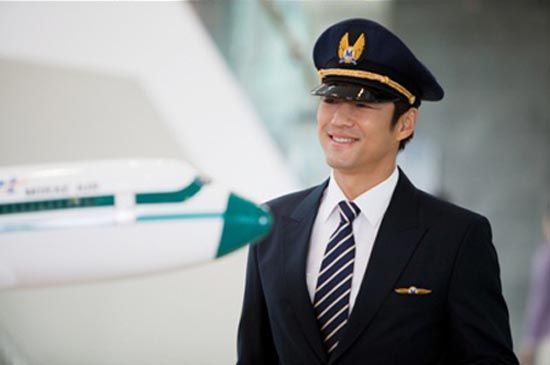 Ji Jin-hee last showed a lighter side playing the king in sageuk drama Dong Yi, but his character here will be more in the mold of the uptight, cold professional; he's got a poker face that belies a warmer underbelly, but it'll take a while for someone to see his softer side. I hope we see it sooner than later, since he can be pretty adorable playing the eccentric (The Man Who Can't Marry), which I much prefer to the same ol' cold dude that we see in every drama ever.
The drama began filming with location shoots in Australia, which is where the photo-shoot stills come from. Ji briefly plays the role of photographer as he snaps wedding photos for a couple at the Harbor Bridge. (They're employees at the flight academy, so ostensibly his character is doing this as a favor for colleagues.)
The drama began its shoots on October 31 and plans for a January 4 premiere.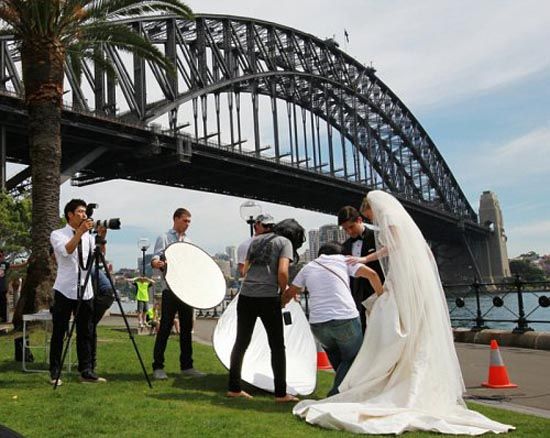 Note: I'd post more puppies, but they died in the line of fire in the last fanwar and I'm loath to send more cuteness to their ignominious demises. Keep the commentary civil, please. A return of the crazy basically means I'll stop covering this show, 'cause I like my drama to remain IN my dramas.
Via Osen
RELATED POSTS
Tags: Gu Hye-sun, Ji Jin-hee