Tree With Deep Roots: Episode 10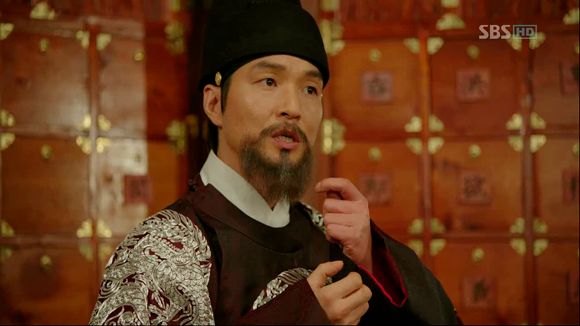 Mind = Blown.
Every time this show chooses to reveal a part of its many mysteries, I'm consistently left floored and wondering why I don't just watch mysteries. It's easy to forget how great a brilliant mystery can be when they don't set themselves up as well as this… because then we forget just how good a well-timed, pitch-perfect reveal can be. There really aren't enough good things to say about this episode, but maybe I should pick my jaw up off the floor before I try to say them.

EPISODE 10 RECAP
News spreads fast, and it's not long before Sejong hears that Ga Ri-on has been arrested by the Royal Investigation Bureau. He's being charged with threatening Scholar Nam Sa-chul, but at one hour to midnight (when the crime was purported to have happened), Ga Ri-on has an alibi with our favorite court lady, So-yi. She was meeting with him at that very hour, which effectively clears him of the charges. The only (major) hiccup is that they can't reveal this fact to the Bureau, because then they would have to explain why So-yi, as a court lady, was out past her mandated curfew time.
Not one for beating around the bush, Chae-yoon confronts Mu-hyul directly about his orders for Ga Ri-on to search his room. Mu-hyul pretty much shrugs this off, saying that if it's Chae-yoon's job to investigate, then it's his job to investigate Chae-yoon. Simple as that. And as for the matter of Ga Ri-on's innocence, Mu-hyul doesn't seem to disagree – and says that if he's so innocent, then it will be revealed.
Chae-yoon doesn't react well to that kind of sentiment, even though he agrees. Sure, maybe the truth will be revealed – but at what cost? What kind of shape will Ga Ri-on be in by the time the truth is revealed? Will he even be alive?
Jo Mal-saeng constantly surprises me with how cool a customer he really is, this time by having a low-key, no-torture interrogation with Ga Ri-on. Like everyone else, he doesn't believe that the butcher/coroner/surgeon can be a criminal. Ga Ri-on is quick to agree that he would be a madman to receive special favor from the King, only to turn around and commit a crime.
The official has done his digging, and is curious as to why Ga Ri-on is in Ban Chon when he wasn't born there. The butcher then tells his sorrowful story about how his father was shot full of arrows and killed, while he as his son was unable to even collect the corpse. When he was twelve, his father left him in Ban Chon. Jo Mal-saeng listens to the whole story, nodding at all the appropriate moments, and then we find out what he's really after – if Ga Ri-on was running errands last night, who asked him to do them?
Official Lee Shin-juk, who had been keenly watching Ga Ri-on's interrogation, is in utter shock when he re-enters his room to find that someone has been inside, even though the guards outside say they've seen no one. What the invisible person came to deliver, though, was an order from Hidden Root. It's a little funny that Lee Shin-juk stays in this same state of complete shock all the way to his home, where he retains the same expression even after he's moved places and changed outfits. How did he change his clothes when he looks absolutely paralyzed by fear?
Meanwhile, Shim Jong-soo confronts the Leader about secrets she's been keeping from him. She explains that it was for all the best reasons, because they're preparing for a visit to Sungkyunkwan by Master Hae Gang. And that's the time that the First Root, Jung Ki-joon, has chosen to reveal himself.
Chae-yoon's sheer tenacity is a marvel in and of himself, and time and time again he's proven just how well he can read others. This skill comes in handy when he asks Ga Ri-on a series of questions in the hopes of helping the man clear his name, but is like a dog with a bone when he senses the slightest of hesitations. He won't take no for an answer, and his intensity is telling me that he's way beyond just taking this case a little too personally.
Maybe Ga Ri-on sees the genuineness in Chae-yoon, and so he tells him that during that night, at the time that crime happened, he was receiving the King's Command from So-yi. Chae-yoon is taken aback. What kind of royal command?
We can all but hear the ticking clock that prompts Chae-yoon to go directly to So-yi about the order that Ga Ri-on received. She wants him to save Ga Ri-on, which Chae-yoon says is a tall order – because without her confession to prove his innocence, she's condemning him to die.
He's clearly been upset since he talked to Ga Ri-on, and rushes to judge both her and Sejong when she tells him that the order was for a great cause that can't be revealed. Chae-yoon knows a lot about sacrificing for "greater causes", and accuses her of just trying to ease her own conscience. She knows Ga Ri-on can't be saved without her testimony, but she still asks Chae-yoon to save him? His words are tinged with some menace as he asks her if Ga Ri-on should just be grateful that they didn't kill him outright, he should be happy enough with the knowledge that it was all for a great cause. Isn't that right?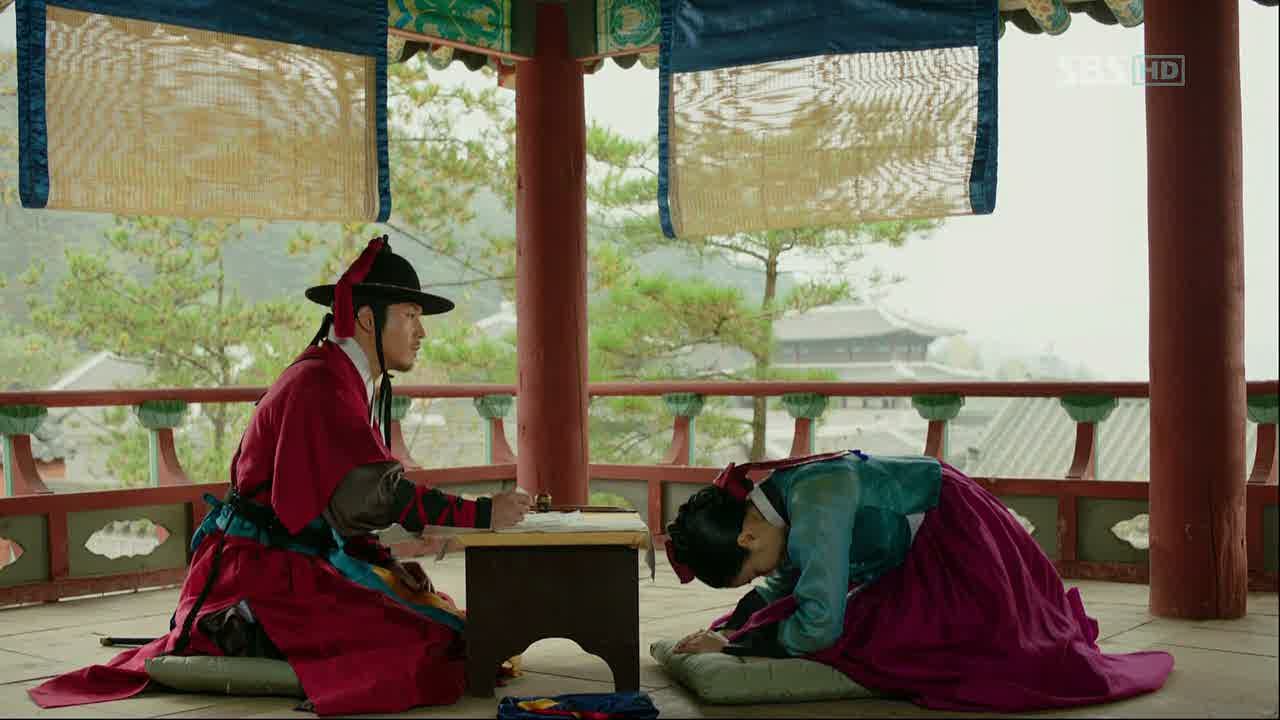 His words are biting, and So-yi responds with a long letter and a deep bow. She doesn't get upset at his words, maybe because she understands exactly how he feels.
So-yi[in writing]: "You asked me why I eat a mixture of Chinese date and snowbell, right? When I was little, on account of my childish behavior, my father and the people I loved died. His Majesty's great cause is not only His Majesty's. It is linked to me as well. I also want to sleep. I want to break away from it. I want to live. Mine and Ga Ri-on's life, and the great cause, hang on you. Please save him."
Even I'm moved, so it doesn't surprise me that Chae-yoon has to reluctantly acquiesce.
I love and admire that he wastes no time, and heads straight to Ban Chon to literally ask the entire village if anyone saw someone take Ga Ri-on's knife from the butchery/morgue/doctor's office. He seems to grow more desperate as no one seems to have seen or heard anything, but the Leader's right-hand man (the same that once held a knife to young Ddol-bok's neck) pipes up that he heard cows crying that night.
He's quicker on the uptake than I am, and goes straight to the Man Who Can Make Any Sound In The World. He's the one frequently called to Sejong's court, and since Chae-yoon knows there was no cow in the butchery that could have cried, he pinpoints that the village man heard what he thought was a cow, when it was really this strangely talented person.
Through some poking, prodding, and excellent sleuthing (Cho-tak is so the Watson to his Sherlock Holmes!), Chae-yoon is able to find out that the Sound Man saw two people coming from the butcher's shop last night. Chae-yoon is off running, and my heart is already in my throat. Go, Chae-yoon, go!
Sejong literally comes alive as he's explaining his creation process to his two new allies/critics. It's beautiful to see how passionate he is about his great achievement, and his happiness is infectious. Just as we saw how Sejong adores So-yi in the last episode, it becomes clear that she too adores him, and may even go so far as to idolize him. She also firmly believes that one day, Chae-yoon will place the same kind of trust in Sejong that she does.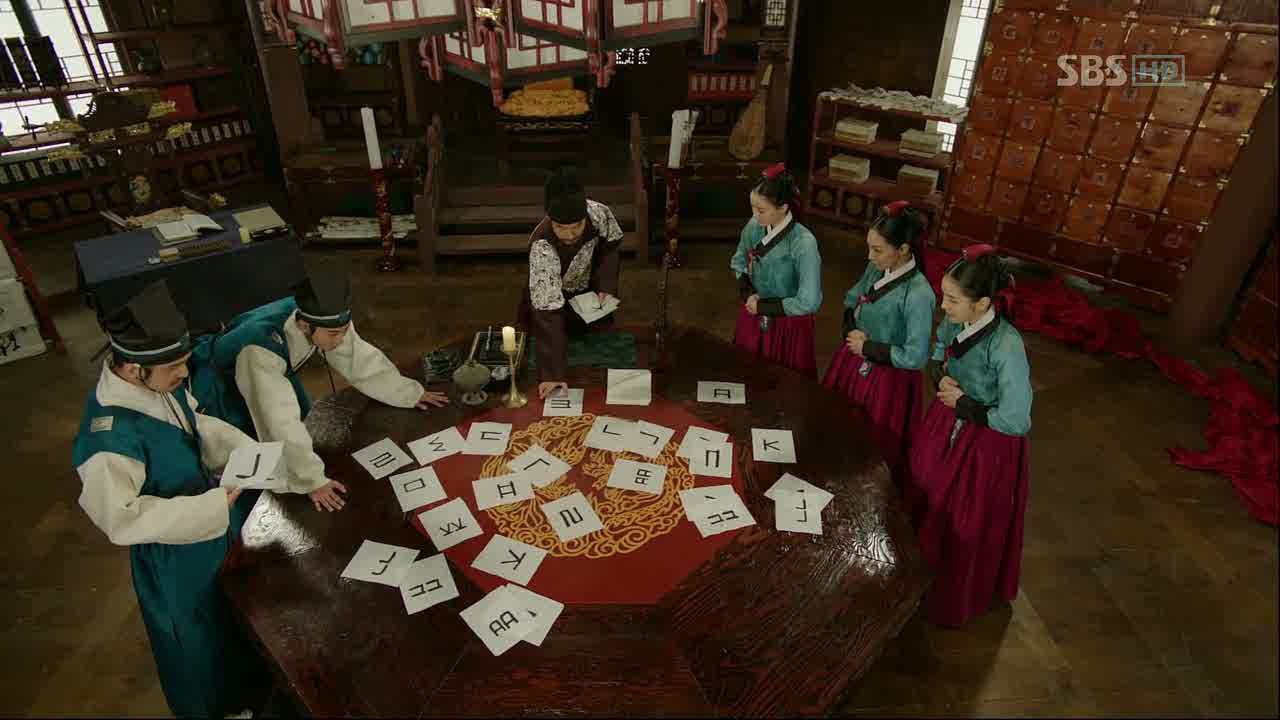 Not only do we get to see the magical unveiling of the Hangul project, but by bringing in both scholars on the refining process, we too are effectively drawn into that world. The two scholars are adorably blunt, and even though Sejong asked for critical judgement, a little positive feedback wouldn't hurt. That's not what he gets, though, as the two scholars point out problems with the alphabet – namely that it's a bit incomplete. It's hilarious to see Sejong's puffed chest deflate a little at the criticism, but also curious when he tells them that he planned to solve the incomplete part with Ga Ri-on.
Sejong and Chae-yoon prove to be on some equal mental footing when both of them come to respective realizations at once. Chae-yoon's has come about through some joint work with Jo Mal-saeng (effectively crossing him off the suspect list), while Sejong's came from a conversation with the two scholars. He immediately arranges a meeting with Chae-yoon, who is no closer to finding the culprit because every noble family stands to gain from the census study not going through. If Chae-yoon can't save Ga Ri-on, then no one can.
In yet another example of how their two minds complete each other (and how Sejong has to depend on this fact for Chae-yoon to solve crimes), Sejong gives him some cryptic words about how humans act irrationally in times of danger, leaving him with a question: Can Chae-yoon read terror?
Sejong needlessly worries later about his words being too cryptic (Mu-hyul doesn't seem to have any idea what the conversation was about) because Chae-yoon is lightning-quick to get to what the King was implying. This leads him to the very scene of the crime, Scholar Nam Sa-chul's house. The scholar claims that it was the masked assassin terrorizing the palace lately, but Chae-yoon is able to easily see through this lie when no evidence of the leaping martial arts method is left behind. But the most damning evidence? Nam Sa-chul looks terrified. Seems like Chae-yoon can read terror after all.
Chae-yoon devises a cleverly hilarious way to find the truth. He's given instructions to his two cohorts, Cho-tak and Park-po, so that they both come running into Nam Sa-chul's yard while the scholar is two feet away. The two palace guards speak like they've just memorized their lines (which they have, in a Kang Chae-yoon Production), and say loudly that they've found an eyewitness who saw the person that stole Ga Ri-on's knife. And, what luck, he's a painter! He's painting so fast he needs both hands, and is literally preparing for them a montage of exactly who the culprit is. They've got him now!
It's a good thing Nam Sa-chul is gullible, because Chae-yoon is an adorably hammy actor. The desired effect of the makeshift stage play is achieved – Nam Sa-chul is now worried that the artist is going to depict one of his men stealing the knife. His solution? Find an assassin. Wait, what?
Meanwhile, in Ban Chon, the man Chae-yoon had previously utilized for his big mouth proves to be a member of Hidden Root. He's frantic as he says that "they" are already in the capital, and that "it's" already happening. We don't get many details other than, oh, a planned revolt in two days, but Pyung is decidedly calm as he relates that their people will be leaving secret codes all over the capital tonight just for the occasion.
I don't know whether I should be glad that the Ming Embassy is involved now or not, but I have to warm up to them a little when it seems like they're working against Hidden Root. And by 'working against', I mean the Ming "translator" that the ambassador set on the spying case, Gyun Jeok-hee, happens upon a Hidden Root member writing a secret code in the ground and swiftly captures him for some intense questioning.
Nam Sa-chul has played right into Chae-yoon's hands, and comes upon the palace guard in a dark alley. He thinks he has the upper hand on an outwardly dim-acting Chae-yoon, and uses his hired muscle to take the 'portrait' from him. But he's been had, and a friendly-looking dog stares out at him from the paper instead of a portrait of his right-hand man.
The relationship between Jo Mal-saeng and Chae-yoon is never explicitly explained, but I'm pleased as punch that they seem to be working together this episode. Chae-yoon has at least been coordinating with him, so when Nam Sa-chul decides to run, Jo Mal-saeng and his army are there to catch him.
It's back to the comedy hour with Sejong and Mu-hyul, as the King is made aware that Nam Sa-chul confessed. About everything. The scholar fabricated everything about that fateful night – so there never was a man in his house, and there never was a threat. Sejong wonders the same thing I do… namely, how did that guy ever become a scholar?
But he's definitely pleased with Chae-yoon, and doesn't miss the opportunity to rib Mu-hyul about being a little slower on the uptake. Mu-hyul's role is one that has a chance to go flat fast, but in the hands of such a skilled actor he's both charismatic and funny as he gets adorably flustered. They've been around each other long enough for Sejong to read him like a book, and at last he drops the joke to mention a more serious matter: trusting Ga Ri-on with all his affairs. Clearly, if the butcher/coroner/surgeon didn't buckle under pressure and spill the beans, then he's a man to be trusted.
Chae-yoon and Ga Ri-on have a heartwarming and well-deserved moment outside of the Bureau. The butcher couldn't be more thankful that Chae-yoon went to such lengths to save his life, and I'm happy right with him and cheering for both of them. Ga Ri-on muses that he's probably the only slave to ever make it out of the station alive, and he's probably very right about that.
But what's extra nice? Jo Mal-saeng has even packaged a bottle of wine to give to Ga Ri-on. Awwww. It's so nice when people care about other people.
Cho-tak notes that Chae-yoon seems pretty pleased with himself, and he definitely deserves every minute. We knew that Chae-yoon was taking this case personally due to his past, but an added detail comes with Cho-tak asking if Chae-yoon tried so hard to save Ga Ri-on because he reminded him of his father. Another round of 'awwwww'.
Chae-yoon has still kept the rouge he'd once given to So-yi, and takes a trip down memory lane when his friend jokes around with it. He clearly misses his childhood, and tries to play the same word game he'd play with So-yi with Cho-tak instead. This scene is played so simply, but it makes me sad for the childhood that Chae-yoon can never return to.
Ga Ri-on is barely limping his way home, and doesn't realize that he's being followed. Noooo! That poor guy just got out of prison! Can't we cut him a break? Apparently not, as uniformed men converge upon the poor butcher alone in an alley. What poor luck.
Meanwhile, Shim Jong-soo has worked himself into a mighty fit that he decides to take out on Pyung. For reasons unknown he happened to visit the Ming translator spying on him, and ended up saving the Hidden Root member that she'd captured earlier. It was only through him that Shim Jong-soo finds out that both the Leader and Pyung have been keeping secrets (mostly regarding the Super Secret Revolt) from him, and he is pissed enough to get into an awesome (at least, awesome for us) fight with Pyung.
The man responsible for recapturing Ga Ri-on is none other than Official Lee Shin-juk, who starts off friendly and warm to the poor man before dropping the Big Question… is he a member of Hidden Root? Ga Ri-on can only sputter out that he just got out of prison (I know!) and gets beaten again.
But Lee Shin-juk unfolds a piece of paper in front of him – it's the order he received earlier from Hidden Root, that reads: Save Ga Ri-on! He can't understand why Hidden Root would order him to save Ga Ri-on if he's not one of their minions. So, holding a knife to his throat, Lee Shin-juk asks again. Is he a member of Hidden Root?
Ga Ri-on breaks under the pressure, and claims he'll tell Lee Shin-juk everything if he sends all of his minions away. The official then sets to scolding him from one class to another, saying that he can do one-hundred things right – but if he does one thing wrong, as a slave, it'll be the end of the line. Doesn't he know that? Ga Ri-on's face grows more serious as he says, well, what happens if one or two things were done well, but something else wasn't? For example, if someone like Lee Shin-juk received an order to become a government official that he carried out, but the second order he received in twenty-four years was ignor-…OH MY GOD.
AHHHH! GA RI-ON IS JUNG KI-JOON. He's Jung Ki-joon! HE'S JUNG KI-JOON?! Ahhh!! He's Jung Ki-joon! Who, what, where, when, why, HOW? I knew he said he wanted to hide in the crowd, but I never dreamed that he'd hide himself as the lowest caste of society… but then, that's probably why he picked it – no one would think to look there. And no one did. Genius!
The bomb gets dropped on Shim Jong-soo directly by the Leader, and all the pieces start falling into place. When Ga Ri-on was first being chased by Jo Mal-saeng, Pyung appeared to save him, but Ga Ri-on sent him away only moments before Chae-yoon appeared. So the whole prison act was an elaborate farce, then? It caused understandable chaos at Hidden Root with their master being arrested, so the Leader is the one who gave the order to their inside man in the government – Lee Shin-juk – to save Ga Ri-on.
I think it's safe to say the butcher/coroner/surgeon/Ga Ri-on/Jung Ki-joon is holding a grudge since Lee Shin-juk left him to rot in prison. Didn't he see all the signs (prints burning, blood in the court) indicating that he was supposed to reactivate? He ominously tells the former(?) Hidden Root member to await his next orders…
As Sejong rounds the corner, in disguise, happily looking forward to visiting the friendly butcher, Ga Ri-on.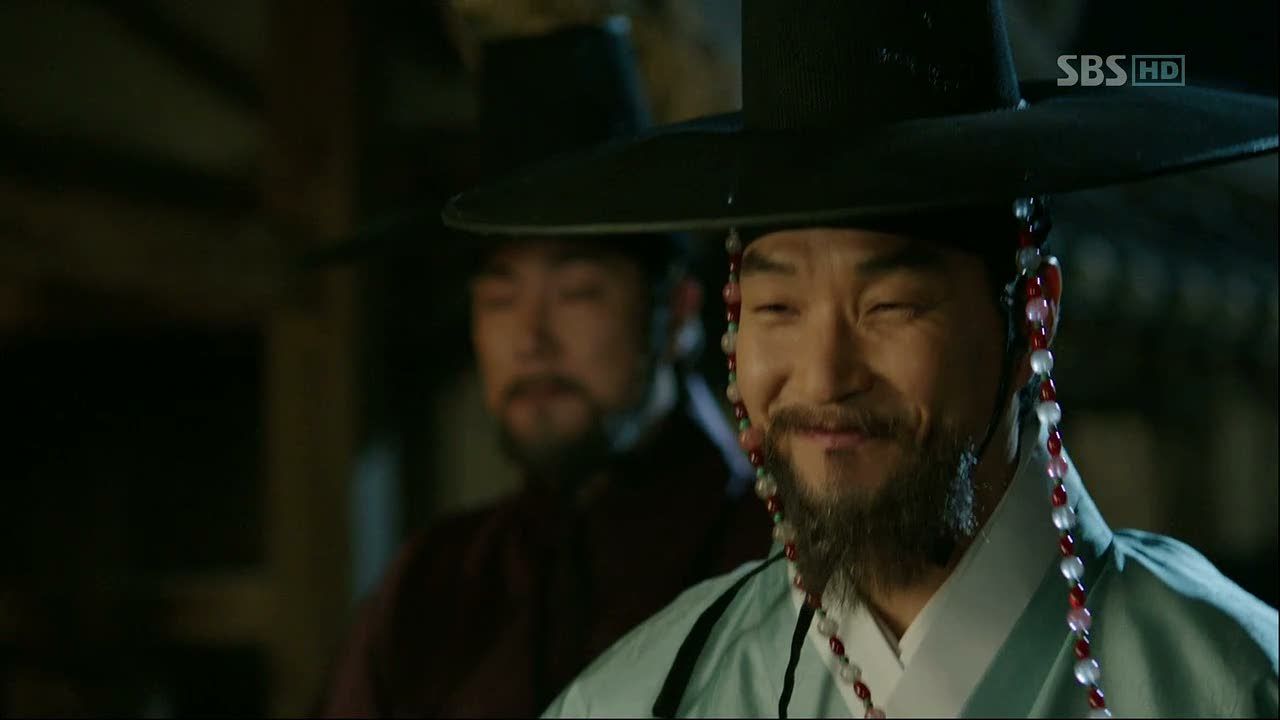 COMMENTS
Oh no!! Turn around now, Sejong!! Doesn't your Hangul project need you?! Oh, I think I hear So-yi writing you frantically, clearly you should be home at the palace… I'm out of excuses, just don't go there!
I realized that I should be calm, cool, and collected about the whole Big Reveal… but that's kind of impossible when the reveal BLEW MY MIND. My jaw dropped, and stayed there, through the end of the episode. And then dropped again when I saw our lovable, friendly King is on the way to his number one worst enemy… who I still really, really like.
Tree With Deep Roots brilliantly led me on a merry chase with all its red herrings, enough so that while I suspected Ga Ri-on for his shady past about having his dad shot through with arrows (that happened to two kids at the same time), I didn't really think he was the Jung Ki-joon. And even if I did, the fact that he was in prison and helpless with only the dedicated Chae-yoon to save him surely wiped away any doubt in my mind that he was anything but a good and pitiable person. He has a great kind of charm, and it's clear that I'm not the only one who's fallen for him – but Jo Mal-saeng would probably die of shock if he found out he gifted wine to the enemy that he's been chasing for decades. Now I can't wait for everyone to find out.
I can only applaud the writing team (and the original novel writer) for basically tricking us. It's easy to dislike Hidden Root because it stands against our affable King (and that small thing about assassinating scholars), and so far I haven't liked any of the Hidden Root members as autonomous characters. But I really started to like Ga Ri-on for his street smarts and demeanor… and now he's our bad guy?! I can't un-invest myself from this character, so that means I'm going to have to give a damn for what happens to him here on out, even if he's doing bad things… Like killing good people. Ahh! I'm getting tricked again, aren't I? This show is giving me a moral crisis, and I literally couldn't ask for a show to give me any more.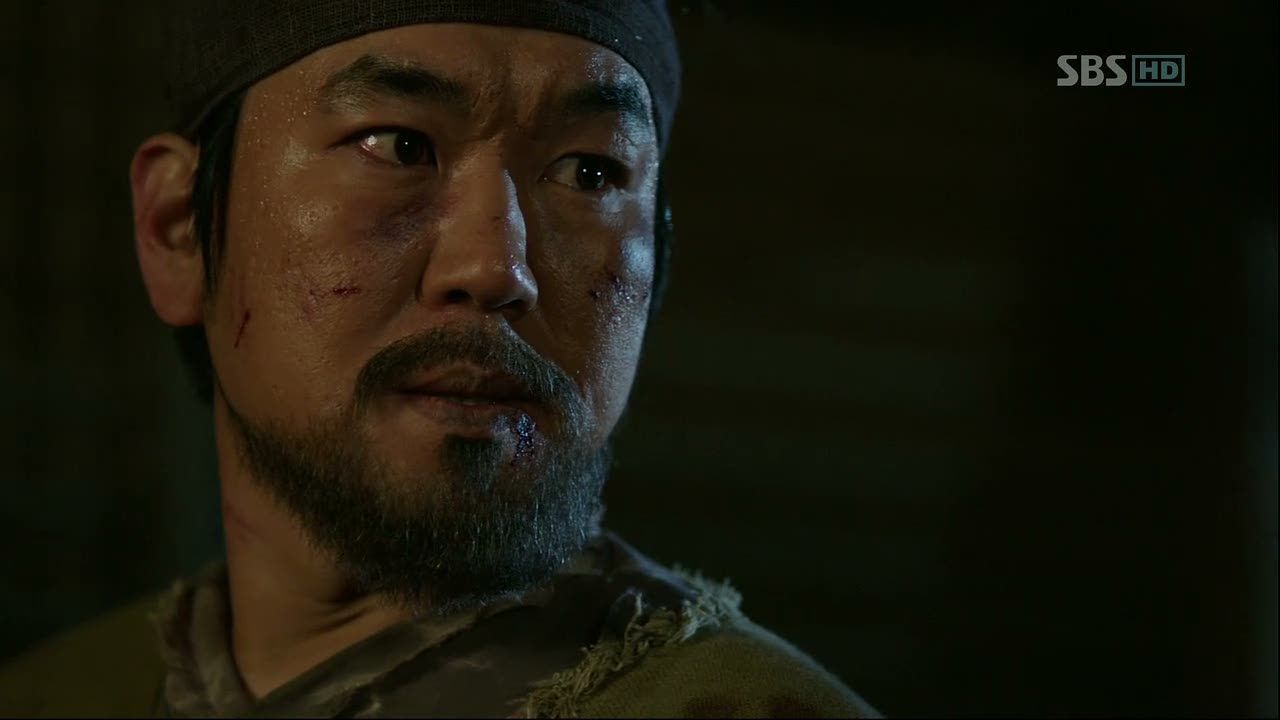 RELATED POSTS
Tags: featured, Han Seok-kyu, Jang Hyuk, Shin Se-kyung, Tree With Deep Roots