Tree With Deep Roots: Episode 12
In life, sometimes we have to try and forget things in order to cope. But what if you couldn't? What if you remembered every single detail from every moment that ever happened in your life? That's a curse, and it's one that So-yi deals with like the champion she is. She's not afraid to get drenched or dirty. Her makeup isn't always perfect.
This episode just plain belonged to So-yi. She owned it. And I love her for it.

EPISODE 12 RECAP
So-yi is visibly shaken from seeing the drawing of the bag she made for Ddol-bok so many years ago. She's spent all these years assuming he's dead, so the thought that he might actually be alive consumes all her waking moments. Once she reaches the palace, she can't help but lose her balance as it all sets in.
The word she wrote on the bag, 'blessing', only Ddol-bok would know it, right? It must be him, because the word was written incorrectly due to her running out of thread (that she had to pilfer from her mistress). That must mean he's alive. And after all these years that she thought herself responsible for his death, this must come as an amazing relief.
Sejong is proudly showing off his newest achievement to all of his allies: the "ㅇ" letter that finally represents that guttural sound that he'd been missing. We can assume that he came up with this from the autopsy, because the throat is a round shape and he made the letter to correspond with that shape and sound. He seems less concerned with pleasing everyone else as he is with pleasing So-yi, whose mind is completely elsewhere. All she can think about is Ddol-bok and that pouch.
His smile falters a little, and my heart breaks. But then he becomes ecstatic that he can make So-yi's name in his new alphabet, and giddily shows them to her for her approval. Awwwwww!! He's so happy that it kills me when So-yi doesn't react, causing his smile to fade.
He sends everyone out except for So-yi, wanting to know what's on her mind. I was half-expecting her to reveal what she'd found, but So-yi completely surprised me by lying to the King. She writes that she'd like permission to go see Ga Ri-on tonight to learn about sound, and to practice making sounds more.
Sejong's worries are eased, and he's pleased as punch that she wants to learn to speak again. He happily gives her permission, and my heart breaks a little more. We know she's not going to meet Ga Ri-on tonight.
Cho-tak finds Chae-yoon dozing off on duty, and wonders how his friend can sleep without worrying about the meeting tonight. Chae-yoon shrugs it off, saying he was never planning to go tonight anyway. Why would he walk into a trap, when he knows that Hidden Root would spread assassins all over the mountain? He's adorably confident, and with Chae-yoon I never believe it's bravado. He knows what he's doing.
Sure enough, Pyung is sent with a small army to scour the site before the meeting. He finds a taunting note left by Chae-yoon (who Pyung thinks is simply Ddol-bok – Hidden Root is unaware that the very same young slave grew into Chae-yoon), saying that if they want to see that Scroll he'll have to meet him at a later time with three hundred nyang.
Oh, and if he's not alone next time, Chae-yoon will burn the Hidden Root Scroll.
The other court ladies are aghast to hear that So-yi lied to the King, and refuse to offer their help in providing her with cover for her so she can sneak out tonight. Even if Ddol-bok is alive, it's expressly forbidden for ladies of the court to meet a man – it's a crime deserving of death. Add that with the crime of lying to the King, and it doesn't look good. They tell her to just forget about him and live.
So-yi [in writing]: "I don't have the ability to forget. I… don't have the ability to forget anything. The day with oppa, the word-game sequence we played. The shape of the spider web at the corner inside the royal prison. The color of the ribbon worn by the young court girl who delivered the letter. Even the pattern of the roof tile on the stone wall where my father and I were separated. Everything! I can draw everything that happened. Forget it? There is no way to forget it. Do you know how much I want to kill myself?"
Bomb. Dropped. The moment is both powerful and profoundly sad to imagine the torture of never being able to forget. Ever. The court ladies can't help but agree to help her.
Nothing is bringing Sejong down today, not even the news from the court physician that his diabetes is only getting worse (spoiler alert: historically, this is the disease that later blinded and killed him). He takes it all lightly, saying that he needs at least five years to see his project to fruition. So the pressure is on for the court physician, who looks like he'd rather be dead than saddled with that responsibility.
After the doctor leaves, Mu-hyul takes his seat near Sejong. Before he can even open his mouth Sejong warns him that if he's just there to nag, he might as well leave. They're just like an old married couple, and Sejong's constant teasing of his friend is adorable. Mu-hyul asks: "Your Highness, why do you treat me like a jealous woman?" Hahahaha! I have so much love for Mu-hyul right now.
Sejong laughs and apologizes, but can't help being happy because So-yi said she wants to learn how to speak again. He's practically giddy at the thought, and my heart just keeps sinking every time I see him happy over this lie. It means the reveal is only going to hurt that much worse.
So-yi goes to the mountain after midnight, exactly where the message said to go. The hours wane on, and she remains alone. She cries, wondering if it was all a joke. She waits all night, returning to the palace only once dawn has broken – but on her way she sees a new message that Chae-yoon has posted during the night. It's the same drawing of the bag, and it calls for another meeting at one in the morning.
She has no plans to go this time, however. She is going to try to forget. Good luck with that, So-yi.
While Hidden Root meets to strategize about the upcoming meeting, Chae-yoon is leisurely preparing by writing notes. Hidden Root thought it was imperative to find a man, KUK-SE, who they want to send to meet Ddol-bok at the Song Jook Arbor tonight. Pyung is to go with a group of his top men to kill Ddol-bok and retrieve the Scroll.
Chae-yoon is as worthy an adversary for Hidden Root as there could be, since he knows everything they're going to plan as they're planning it. He knows they'll try to kill him, and that they'll bring extra men, so he plans to send them on a merry chase to different meeting spots and thin out their numbers in the process.
So-yi fights a losing battle with her curiosity over Ddol-bok. She tries to convince herself that he's dead, thinking only of him even as she goes through the motions of trying to produce sound while Sejong tries to teach her. He sees her cry and, thinking it's because she feels pressure from him to speak, tells her all will be well. Aww. She passes him a note that she'd like to meet Ga Ri-on again. We know that means she's decided to try and meet Ddol-bok again.
Sejong acquiesces, but later in the night decides that he'd like to meet Ga Ri-on again. Oh no!! He's going to know that she lied!
Both he and Mu-hyul find the butchery empty, and when he confronts the other court ladies about So-yi's whereabouts they break and tell him that she went to meet someone she knew from a posting she saw, a "Ddol-bok". He takes it better than I expected (compared to his outrage at the thought of them meeting episodes ago), and orders Mu-hyul to bring both Chae-yoon and So-yi to him – he's going to tell them everything.
Everyone has shown up to the meeting place – Chae-yoon, Mu-hyul and his palace guards, and Pyung with his men. Only an old man waits at the meeting spot, until So-yi arrives… and she looks at the man strangely, before recognizing him as one of her fellow slaves from her childhood! So this is the 'Kuk-se' Hidden Root wanted to send, because they knew Ddol-bok would recognize him from when they were both slaves under Chancellor Shim. Only, no one was counting on So-yi's arrival.
The number of surprised people includes Chae-yoon, who readies to send the arrow bearing his message to meet at a different place. But he hesitates when he sees So-yi's back, though he can't see her face.
Chaos breaks out as everyone discovers everyone else. Chae-yoon is discovered by one of Mu-hyul's men, but is not recognized and incapacitates the man. Pyung becomes aware, a little too late, that Mu-hyul and his men have come from behind and a battle breaks out. A masterful fight takes place between Pyung and Mu-hyul, but when it seems like Mu-hyul gains the upper hand, Pyung escapes, leaving him to fight more secret soldiers for Hidden Root.
At the first sign of trouble, the old man makes a run for it. So-yi desperately runs after him, able to catch up only because he trips and falls. She's trying to get him to recognize her, thinking: "It's me. Dam. It's Dam!" Unfortunately, he can't read her thoughts. She tries to write it, but he doesn't know how to read.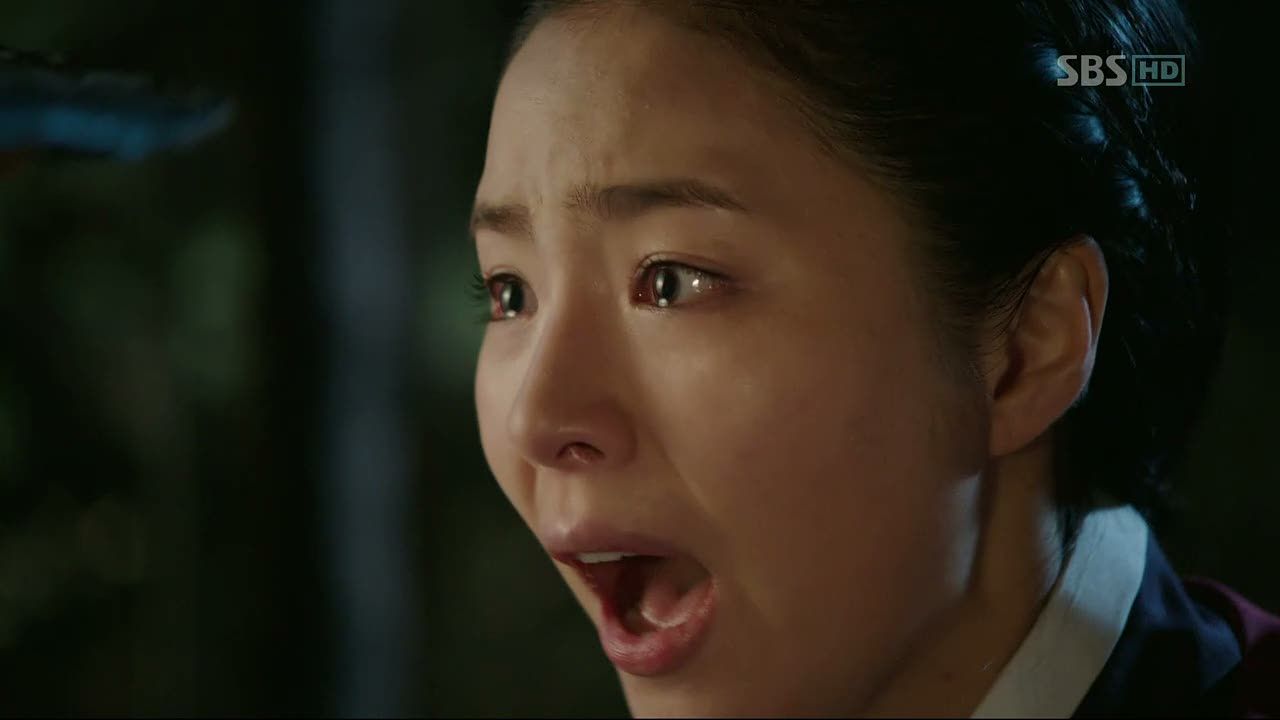 She keeps trying to sound out her name, but can't. She thinks back to how Sejong tried to explain sound to her, and makes the same motion of her tongue to create the "da" sound, until, with all her might, she manages to whisper out "da" and "mi". Oh my goodness, she talked?! She can actually talk?! She did it!
The old man recognizes her, and she sobs with relief and exhaustion. Pyung watches from a distance, and doesn't attempt to make himself known.
In what will probably go down as a bad decision, So-yi takes the old man to Jung Ki-joon (who she only knows as Ga Ri-on). She says the butcher is the only person she can trust, and asks him to read what she writes to the old man so that they can communicate. I have a bad feeling about this.
She wants to know if the old man knows the "blessing" character from the poster, because that's what she wrote on the pouch she made for Ddol-bok. Oh crap! Oh crap. Crap. Now Jung Ki-joon knows that So-yi knows Ddol-bok. The old man says he was only there because someone came to him before, saying that a letter by his deceased father got switched with Ddol-bok's pouch, so that if he ever saw Ddol-bok again, he should report to him. He saw the posting and went to the meeting place, thinking it might be Ddol-bok. Hmm, I'm not buying his story. Especially not when Hidden Root searched him out by name to meet Ddol-bok.
Now that people seem to be after Ddol-bok, the chances of him ever showing his face again are slim. But So-yi says that there is a way to call Ddol-bok… which I just wish she wouldn't have said in front of Jung Ki-joon.
So-yi leaves a posting for Ddol-bok to see the next morning. She smiles, genuinely happy and excited – and totally unaware that Pyung is only two steps behind her. He reads the posting after she's gone before abducting her with a hand over her mouth. Uh oh.
We find So-yi bound and blindfolded (I guess a gag was unnecessary – ha), and completely aware of her surroundings as she's being carried in a palanquin. She's calm as she memorizes what direction the sun is coming from, able to deduce what direction they're going. She's also counting every step so that, ideally, she'll be able to find her way back once she knows where she's going. Her and Chae-yoon seem to think quite alike.
Everyone finds out about the posting at the same time, including Mu-hyul, who's been tasked with finding So-yi and Chae-yoon at all costs. Chae-yoon and Cho-tak come across it, and it calls for another one a.m. meeting, but this time at Mt. Gye Eon. Curiously, the posting also includes the words "ma-ui", which translate to "horse doctor". Chae-yoon seems to find it curious, but can't quite put his finger on how those words are significant.
Before our two guards are off again, Chae-yoon tasks Park-po to find out why there were royal guards at the mountain last night. They run off with a purpose, and Chae-yoon sends Cho-tak to go scout the mountain… only, Cho-tak doesn't know where that mountain is. Come to think of it, neither does Chae-yoon. This scene is played dead straight, but that's what makes it funny.
So-yi finds herself in a storeroom after having trekked up a mountain, blindfolded, behind Pyung. She's kept track of her steps, and guesses which mountain (I know, people love their mountains in this show) she's on… give or take four-hundred steps. Still, all things considered, she's pretty sharp.
Most of Hidden Root is there (excluding Jung Ki-joon), and they're operating under the belief that the message on the wall was another one written by Ddol-bok. They only have four days to retrieve the Hidden Root Scroll from Ddol-bok, or they lose Hae Gang and all his scholars – so time is ticking. They think So-yi must have the answer to the riddle of the message, and task Pyung with getting answers out of her.
She asks him if he's part of Hidden Root, but he just replies that if she doesn't tell him what the message means, she'll die. She quips back, in writing, that if she dies he won't have his answer – so it's not a loss for her. He suggests torture. She's not afraid – he has no idea what inner pain she's going through.
The palace is aflutter with activity as everyone attempts to solve the meaning behind the message So-yi left. They're also on a ticking clock with Sejong's most beloved court lady missing, and the meeting at whatever place that message describes at one a.m. tonight might be their only chance to find her and Hidden Root. Sejong's already had his passing suspicions about Chae-yoon or So-yi possibly being involved in Hidden Root (due to Hidden Root crashing their reunion the night before) but my suspicions are now with his right-hand scholar, Jung In-ji, who's been acting funny ever since his heated meeting with some disgruntled officials earlier.
No one knows what it means or where the message is saying to go, and even Sejong is trying his hand at helping to solve the puzzle. He quips that Jung In-ji should get to work – if even the King is working, what's his excuse? Sejong's fuse is getting shorter with each passing hour.
Jung Ki-joon has now joined the other Hidden Root members, presumably in the same building that So-yi is being held prisoner in. Pyung reports that she's said nothing – and when Shim Jong-soo suggests that they torture her, Pyung seems surprisingly reticent to hurt her. Maybe this explains why he didn't kill her in the printing office – he always wears his mask when he's with her, but it seems like she doesn't know him at all. He might just have a soft spot for women.
In lieu of torture, Hidden Root decides to send in their secret weapon: the slave she once knew, Kuk-se. He goes in to appeal to her – Hidden Root saved his life when he should have been killed, and has kept him alive until now. He reminds her that, due to the King's order, everyone she ever knew was killed, with their corpses being left outside to feed the crows. Hidden Root doesn't care about her or Ddol-bok, they just want what's theirs. If she tells them, she can see Ddol-bok again.
She relents (though I'm sure it's all a ploy) and is brought outside and blindfolded so she can lead Pyung to Mt. Gye-eon. Pyung's soft spot seems to be showing, as he assures her that the blindfold will be taken off once they're at the bottom of the mountain.
Time is running out on Sejong's end, as it's close to midnight and no one is any closer to finding out what the message really means. When one of the court ladies ends up giving him a lot of papers in lieu of an answer, he loses his temper. His words are cold and biting as he blames the poor girl, and her frightened tears certainly don't move him to an apology. He's clearly worried for So-yi, and is faced with the thing he hates the most: not being able to do anything.
But, through her perfect memory, So-yi is able to act like a Joseon GPS and triangulate her position in reference to maps she's memorized. She knows that there's a river nearby that feeds into the Han River – but it can range from five to ninety feet deep. If she jumps into the water when it's at the shallow depth, she'll die – and if she's miscalculated the amount of steps it takes to get there, she'll die.
She makes a run for it anyway, with Pyung in hot pursuit. She was exactly right about being twelve steps from the cliff – and without hesitation, she jumps off for a looooong fall into the river below.
Like everyone else, Chae-yoon is left clueless at the message. He's so close, at least enough to change the way he considers it. The message can either be one of two things – either it wasn't written for him, or it wasn't written by Hidden Root. C'mon, Chae-yoon… you're almost there!
So-yi calculated her fall correctly (or just got lucky), and she makes her way towards the shore. Her hands are unbound, and it's a nice detail from earlier – where Pyung noted that she'd only get her bonds off if she doused them in water, as opposed to the tiny amount she had tried to pour on them while she was in captivity. She sees where the moon is in the sky and knows she's not out of time yet to meet Ddol-bok, and begins a mad run toward the spot. I have to admire her tenacity, So-yi has proven herself to be hardcore. We can hear her thoughts as she runs, begging Ddol-bok to solve her message. He has to remember. He must remember!
Park-po is in a panic when he finds Chae-yoon and Cho-tak, since the palace guards have been looking everywhere for him. The reason the royal guard was at the mountain the night before was because So-yi had gone missing, and Chae-yoon connects that dots to identify So-yi as the woman he saw there. He's… so… close…
Park-po says that a nickname for a 'horse doctor' (the phantom phrase in the message) is 'ni ma', which Cho-tak happily presents to Chae-yoon. 'Ni' was always how Chae-yoon would win his word games, because if he used a word that ended in 'ni' no one could come up with a word that started in 'ni'. But with the word 'ni ma', that means that there is, in fact, a word that starts with 'ni'… which is how So-yi lost their word game so many years ago.
With the word game, everything comes flooding back to Chae-yoon. The fictional mountain made of the characters 'gye' and 'eon' translate to the words for 'linking' and 'word', so Chae-yoon knows that the message is calling for him to meet her at the hill they would play their word games on as children.
It all finally hits him. It's Dam! So-yi is Dam! That means she's alive! This isn't a new revelation for us, but it's a pretty life-shattering revelation for him.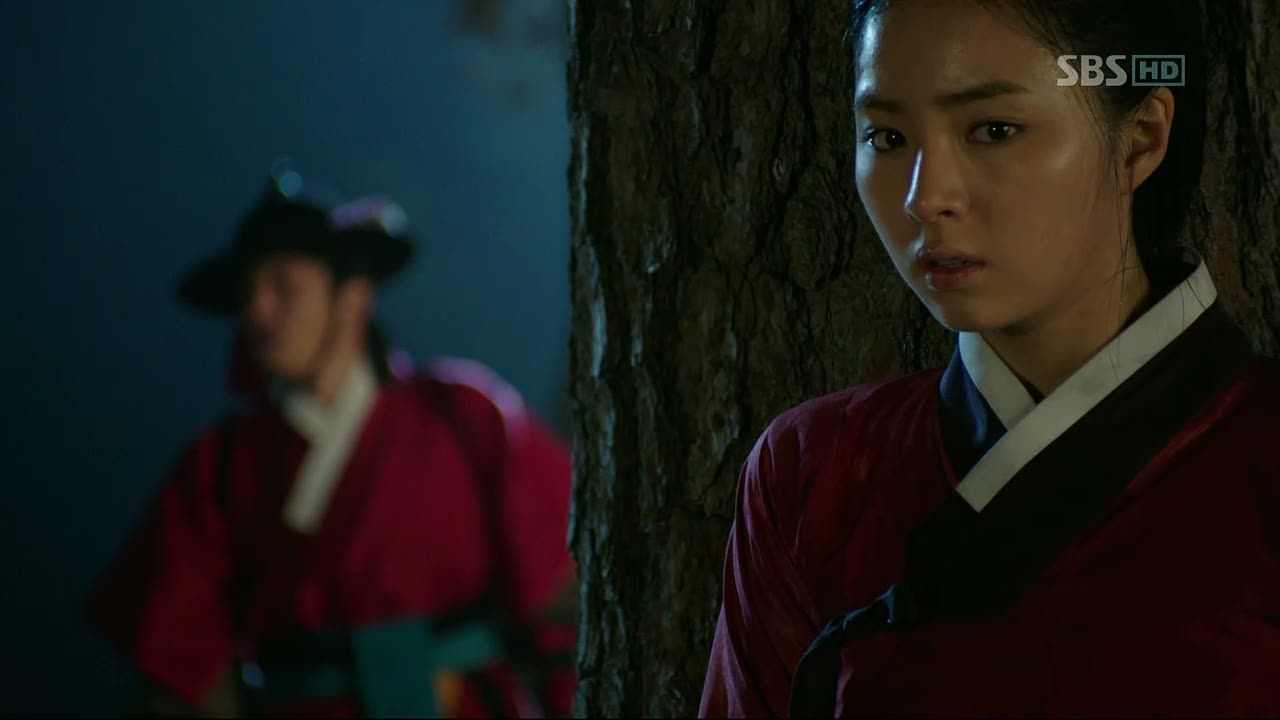 Both So-yi and Chae-yoon are racing toward the hill where they used to play word games as children. The suspense is killing me, because every second they get closer is one second for an outside party to come and stop their happy reunion. When Chae-yoon arrives, she hides – wondering what he's doing there. Oh, So-yi, you can't put two and two together on this one?
Chae-yoon is heartbroken when he sees no one there, and he desperately calls out her name, over and over: "Dam! Dam! Dam!"
She turns around…

COMMENTS
Welcome to the comments section! If you're wondering how you got here, it might be due to some lingering shock over the fact that the writers just denied us a reunion. Let that sink in a little.
I know I screamed some expletives when we cut to the credits, because that was the first time I could breathe ever since our two childhood lovebirds began their epic run toward one another. And, for the sake of a really good cliffhanger, we didn't get a reunion?! That's cold, Tree. It's a really great move, but so so cold.
I tried to convince myself that I was fine with there being no romance in this show, but now that it's here (or ALMOST here), I'm kind of digging it. Maybe it's because these characters are now rooted in my heart and I just want everyone to be happy. That includes Sejong, who was extra adorable this episode. Let the shit hit the fan next episode – I can't wait to see the fallout.

RELATED POSTS
Tags: featured, Han Seok-kyu, Jang Hyuk, Shin Se-kyung, Tree With Deep Roots