Tree With Deep Roots: Episode 13
What a ride! I literally feel exhausted from all the caring, worrying, and happy sighing I did this episode. So many secrets, so many emotions. And these secrets aren't just out, they're stripped and laid bare for all the world to see. How can this show just keep getting better? It seems to defy the very laws of the universe, but I'm going to try not to look this gift drama in the mouth and just enjoy.

EPISODE 13 RECAP
With Chae-yoon calling out the name So-yi once went by, she rounds the tree and they come face to face. Both of them are emotional as he remembers how he once told her how his father had died and how frightening the world seemed to be once he was alone. "Dam! Are you really my Dam?" he asks.
She cries and nods, and for a moment he seems frozen and unsure of what to do…
…And then he pulls her into a desperate embrace, holding her like his life depends on it. She's trying to say something but can't… Please excuse me while I wipe my tears away like the little girl that I am. Reunion scenes just get me right in the heart, and this one is a reunion lover's paradise.
The two share another tender moment by a river as Chae-yoon wraps the ankle she hurt while running to him. She can't help but wonder if he's really Ddol-bok, and reaches out to touch his hair. He takes her hand and asks her about her muteness. His voice and his mannerisms are so much more tender, it kills me. Also, so much touching already? I'm in heaven. This is not your mom's Joseon.
He realizes, just as she's thinking it, that her muteness is not just from the horrible trauma of the prison break and her father's death, but from the words he spoke to her while they were young. He blamed her for everyone's death. Goodness, what a heavy burden for both of them to bear. He knows it too, and grips his heart as he cries for her. She doesn't blame him, and wraps her arms around his shoulders to hold him while they both have a good cry.
Chae-yoon is at the water's edge when So-yi finds herself able to say the "oh" in "orabeoni". She gets up, excited to show him that she can talk, when Pyung comes in to crash the party by holding a sword to her neck. As his lackey binds her, Pyung bargains for the Hidden Root Scroll. Chae-yoon wants him to set So-yi free first, and holds the Hidden Root Scroll over the fire as leverage.
Pyung isn't without his own bargaining tool (as if holding So-yi hostage wasn't enough), and produces the pouch So-yi made for him that houses his father's will. Chae-yoon is distracted when Pyung drops it, giving Pyung the perfect opportunity to take the Scroll and throw a blinding powder in Chae-yoon's eyes.
They begin a sword fight, but Chae-yoon is left unable to see. He tries relying on his sense of sound to predict Pyung's movements, but Pyung is having a good time and makes most of his sword movements unnecessary to distract his opponent. Chae-yoon is sustaining wounds, and just as it looks like he might get a killing blow…
…So-yi speaks, full on speaks, and says: "To the right!" Chae-yoon is able to deflect the blow, and the tide begins to turn in his favor with So-yi there to be his eyes, as she directs him to spare him from killing blows. So. Epic. So epic. Yes!
Just as it looks like Chae-yoon is about to win, even blinded, soldiers from Hidden Root seem to materialize from nowhere and surround them. Pyung instructs them to kill So-yi first, and Chae-yoon kills who he can before shielding her with his body. He can't kill them all.
At the last moment, Mu-hyul arrives with the royal army to save the day. The secret soldiers of Hidden Root are forced to flee, along with Pyung. Before anyone sees, Chae-yoon pockets the pouch he's been searching so long for.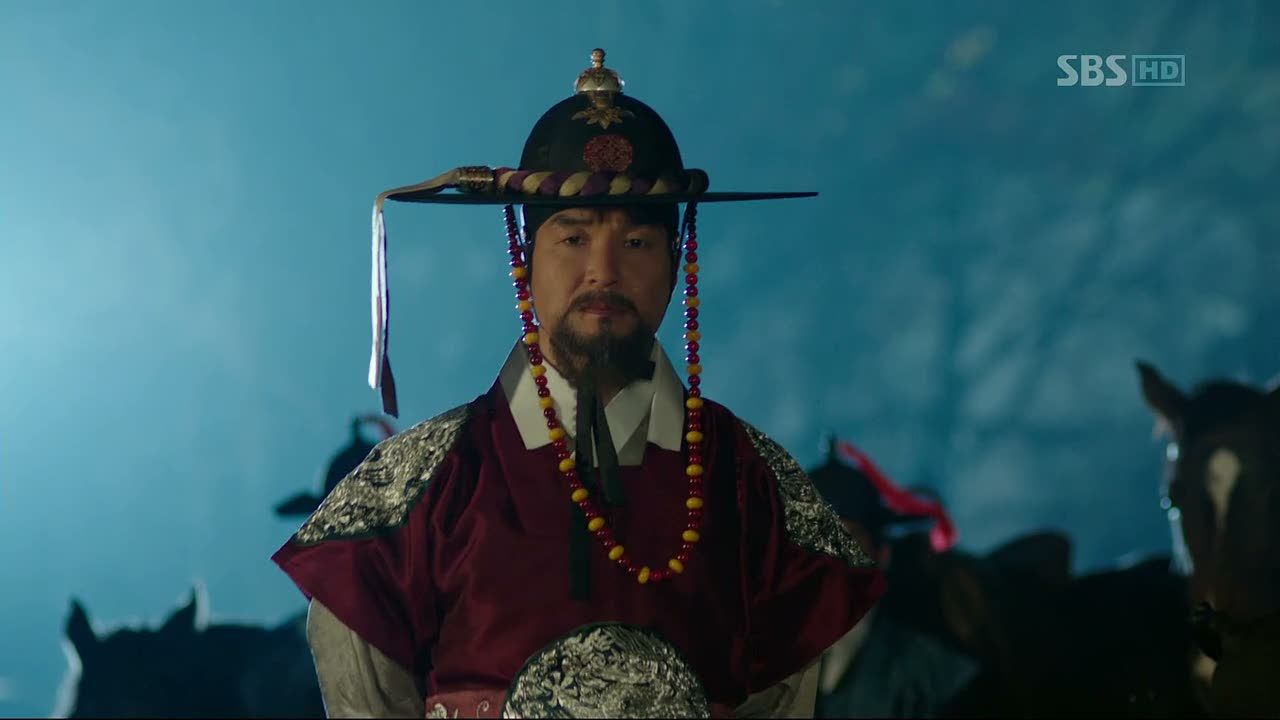 They have an unexpected visitor, however, in King Sejong. Both Chae-yoon and So-yi give formal bows as the King, stone-faced, approaches. Ohhhh man.
Jung Ki-joon has been relegated to doing what evil villains do best – sitting and plotting. I've been a little sad that the pickings have been slim each time we cut to a Hidden Root scene, since they're either waiting for that damn scroll or talking about something else that's not going right for them – like losing So-yi.
In this case, they're on a ticking clock for that meeting with Hae Gang and his scholars – where they're supposed to produce the Hidden Root Scroll. Pyung is desperately fighting off the royal army to deliver it to them in time. Will he make it or not? Is this scene as much fun to us as all the delicious drama going on elsewhere?
King Sejong should win a medal for being the Most Understanding Person Ever. After handling the shock/happiness that So-yi can now speak (she says "Your Highness", which is the first time Sejong has been able to hear her voice), he even looks over the fact that Chae-yoon reaches for a sword to kill him when Sejong calls him 'Ddol-bok'.
They have a surprisingly frank confrontation where Sejong apologizes about Chae-yoon's father. So-yi realizes that Sejong knew about their childhood identities the whole time and that he said nothing, but she doesn't seem to feel horribly betrayed over it.
Sejong tells Chae-yoon that a different path lies before him – one with So-yi. He gives both of them his blessing, telling Chae-yoon that he's gained Dam, but he (as the King) has lost So-yi. Aww. Good thing no one bothered to check with So-yi about how she feels, because that would just be terrible.
It's time for a flashback, and it's not a happy one. I always assumed Sejong was just a naturally enlightened King, but this flashback seems to prove otherwise. Basically, an epidemic is going around and Sejong knows the right herbs to cure it, but no one has followed his advice. Why? Because the common people couldn't read the notices for the prescription Sejong wrote, making his effort meaningless and causing an untold number of deaths.
He takes his anger out on one of the villagers, wondering why the man can't read. It's not like his King asked him to memorize Confucius, it's only a thousand characters. Sejong can't seem to understand the citizens' illiteracy, and his anger is anger at his own general helplessness to save all those lives.
Once he's in the palace, he throws a temper tantrum about his own inefficacy and scares everyone in the process… except So-yi. She remains completely unaffected and cold, so Sejong's only reaction is to grab her by the collar and spit his words into her face. He seems to equate her to the rest of the citizens by calling her a child, always badgering him for something.
Her response to his severely long-winded personal attack, where he also looked like he wanted to… well, do more than yell at her?
So-yi [in writing]: "If you say we're children, then you need to raise us."
Good gracious! Gauntlet thrown, and a good call on So-yi's part. It seems to snap Sejong out of his angry funk, as next we find them they're starting the basic process to creating his alphabet – one he wanted to create for its ease of use, and one that anyone could learn. So-yi, and her weirdly perfect memory, prove integral to the process of creating Hangul.
It's time for that secret meeting we've all been waiting for (okay, maybe just the secret meeting Hidden Root's been waiting for). Master Hae Gang is there as promised, and all those gathered insist upon seeing the Hidden Root Scroll. Just as it seems like Jung Ki-joon doesn't have it, he pulls out the sash containing what I thought was the Scroll… but the paper that Chae-yoon has been reading (and the one we've all been seeing) is just a cover for the real paper nestled inside, the one that damns every official present with their signatures pledging their allegiance to Hidden Root.
I should have expected something like that – I was beginning to wonder if a genie came with the Scroll, especially with the way it was being revered. Now it all makes sense, because without that Scroll the officials present could just bow out of Hidden Root if they wanted to, and no proof would exist that they were traitors. Only now with that paper, Jung Ki-joon calls upon the oath they once made to his uncle, Jung Do-jun.
Power can't leave the hands of the government even for a day, as Jung Ki-joon explains in his monologue (we know by now that when Sejong has a monologue, Jung Ki-joon gets one too). Directing his ire to Lee Shin-juk – whose lackey may or may not have just been killed by the long-haired butcher's assistant – Jung Ki-joon asks how the official will atone for the crime of allowing Sejong to run rampant like he has.
Chae-yoon and So-yi have found an abandoned house to spend the night in, and in the morning, Chae-yoon goes outside to scrounge around for cooking utensils. Awwww, he's cooking for her? Awwwww! It's only more meaningful because he's still wounded from the night before, so he's limping around as he tries so hard to make her a proper meal.
He takes it inside, and proudly shows her the food he's made. I'm dying of 'squee' right now. She jokingly asks if he stole it, and he says of course – psh, does she think he'd make this for her? Aww!
So-yi finds a large chestnut in her rice, a food that she had once fed to Ddol-bok when they were children. Tears spring to her eyes, both of them still overcome by the emotion of their reunion as they eat the Saddest Meal Ever (since the Saddest Meal Ever in Chuno).
As Chae-yoon and So-yi walk together in a beautiful forest, he daydreams about their future. The more he smiles, the more I worry… but that dream is adorable. In it, he's a simple farmer, smiling to see So-yi approach. She smiles back. They're living simple, adorable lives… oh dear. My drama senses are tingling – surely there's heartbreak ahead.
The happier he becomes, the more burdened So-yi looks. Unlike her daydream counterpart, the So-yi of the present keeps flashing back to her times with Sejong. Ah, so are these flashbacks to shore up that leg of the love triangle? Or just to show how near and dear the Hangul project is to her?
The heartbreak comes fast and swift. Just as Chae-yoon turns to tell So-yi about the future he envisioned (where they're together and in love), she stops him and says that they must return to the palace. She wants to go back to work on that great cause, which is not only His Majesty's great cause, but her own. She chose to do it to atone for the deaths of his father, her father, and all the other slaves they knew.
He tells her that the King is using her heart against her, and that they're just slaves – no matter what, they'll get used and thrown away like the garbage that they are by the higher class. Has she been with all those highly-ranked people so long that she thinks she's one of them? Ouuuch, Chae-yoon. You are digging your own grave on this one. So-yi doesn't give up or let his words sway her, and begins to explain that he misunderstood about that letter…
Chae-yoon: "Right! Let's say I misunderstood. His majesty saved you, and what happened wasn't his intention. Let's say that's true. So let's say I fully understand His Majesty. But… my father. What becomes of him? If I understand His Majesty fully, my father… my father is too pitiful. And what about me? Isn't my life too pitiable? And what about you? You should be thinking from me and my father and your father's side. What are you? You are one of those people too. Why do you keep on, for that great cause or bullshit, pretending you don't know about your father's death? Why do you not think from my side and why do you think from that King's side?!"
They're at an ideological stalemate, with both of them being too stubborn to give in. Chae-yoon can't give up his revenge, and So-yi can't give up her stake in the Hangul project. Both of these great causes they've staked their lives on are, unfortunately, only bound to clash.
But, she comes to a realization as she flashes back once more to Sejong – when the King once said that Chae-yoon is the one he fears the most, and trusts the most. She knows that the third judge of his alphabet, his life's work, was meant to be Chae-yoon. Whew. That is going to be one tough sell.
The moment finally comes. After all these years, Chae-yoon is finally able to read his father's will. He laughs and cries as he reads it, probably a little let down after all this time – we don't get to see what his father said, but we can assume it didn't carry any great revelations. He's spent all this time searching, and the message was very simple.
Now that Chae-yoon feels like he lacks purpose when he's lived his entire life for revenge, he takes out his knife… and holds it to his neck. Is he thinking of suicide?! He sure seems to be, but after a charged moment, he puts it down. He can't do it. Phew. Chae-yoon, you are going to give me a heart attack!
So-yi resumes her place in the palace by the King's side. Sejong doesn't seem pleased with this (though I'm sure he is secretly pleased), and tries to send her away again. She refuses to go because the alphabet is her work and she will see it to completion.
What does get his attention, though, is when she says that the final judge of his work is sure to come. She knows by now that Chae-yoon means to kill Sejong, and yet she is calling for them to have a direct confrontation. Gauntlet = thrown. Again.
Mu-hyul, always the worried wife, is there to warn Sejong that if Chae-yoon returns, it will be because of So-yi. Determination has taken over our King's features as he tells Mu-hyul that he is not to stop Chae-yoon. In fact, clear out all the palace guards and anyone else in Chae-yoon's path. Whoa, what?! Waitaminute, Sejong. Let's think about this…
King Sejong: "My second judge is coming. Didn't you hear? She said to endure and wait and be patient, then persuade. So I'm doing that. The one who is furthest from me… She's saying to persuade him myself, right? Telling me to have it out with him in person, isn't she? Though So-yi's action is audacious, it makes me aflutter. She made me aflutter."
Whoa, are those feelings? I can't tell when his face is so grim, but that sounded like some feelings, mixed in with determination to win Chae-yoon over. Chae-yoon is the last piece of his puzzle, the last person whose approval he needs to move forward… it's so poetically perfect.
Chae-yoon wastes no time, and before I can mentally prepare myself he's already at the palace gates. He's dressed in his assassin's finest, apparently unconcerned with the fact that every single guard has disappeared into thin air. There's not a soul in sight to stop him from stalking like a predator into the palace, though we can see hidden guards everywhere – they're on roofs, or in the shadows of the rooms that Chae-yoon passes by. Whether he hopes to actually get away with this assassination, or whether he's gone for a final hurrah before suicide, we're not sure. He can't expect to make it out alive, at least.
He walks carefully, step by step, holding his sword at the ready. Was he prepared to cut his way through to the King? The very King that cleared away all opposition so that Chae-yoon's assassination attempt would go unimpeded?
He approaches the throne room…
…Where Sejong, Mu-hyul, and So-yi are waiting. Just like in the drama's opening, Chae-yoon thinks: "Lee Do." But unlike the opening scene, Sejong has been expecting him.

COMMENTS
Well, this whole episode took the intensity meter up about fifty notches. Just when I think that this show can't get much more intense, it surprises me by going balls to the wall. I will say I wasn't expecting this confrontation between Chae-yoon and Sejong to happen so soon, since I was fully prepared for their conflict to go on over the entire series. With the misunderstandings and secrets out of the way, the emotional moments in this episode seemed to come at a breakneck pace. So-yi and Chae-yoon reunited, then clashed, then Chae-yoon finally found his father's will, thought about suicide, and now finds himself IN THE THRONE ROOM. Granted, he's only made it this far due to Sejong's good graces. But goodness gracious!
This episode advanced so many core story lines faster than I could imagine, even though it did so through long scenes and many monologues. Everyone had a chance to shine through a monologue this time around, but I never felt that this episode got too mired down in conversation. It might be because the acting is top-notch, or that everyone still had something to say even if they took a long time to say it. No monologue tired me, even though I felt tired by the end of the hour just because of the sheer range of emotions I ended up feeling all throughout. We really got to see the inner souls of our lead characters in the best way possible.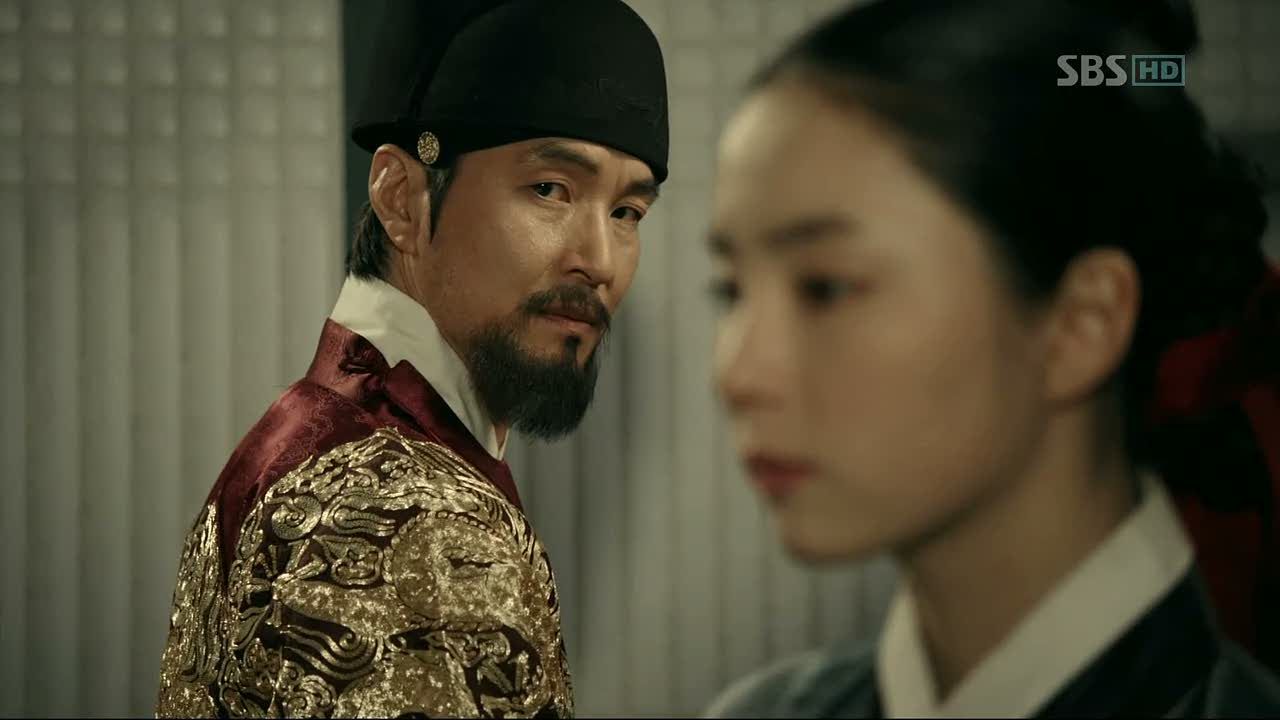 Sejong had some truly frightening moments this episode, and some moments that I didn't know what to make of. It's a true talent for an actor to be able to turn the tables from one scene to the next, and Han Suk-kyu does so with aplomb. I'm used to seeing flawed characters (and love them), but there are a million layers to this man. Especially in his scene with the diseased citizens, his anger was really palpable. We know his anger is misdirected, and that he's lamenting the injustice of their illiteracy when literacy could save lives, but the very point is that he doesn't know to whom he should direct his anger. When he changes the direction of his temper to So-yi, I found myself actually worrying for her safety. It's certainly not that Sejong is a bad man (far from it, actually), it's just that his temper does have a tendency to get out of control.
It's not a criticism, I'm actually very impressed at the incredibly human side of this revered historical character that we're getting to see. Likewise, even though Chae-yoon opened up about his feelings this episode, his motivations remain a little harder to read. He seemed to give up on the idea of revenge, at least momentarily, when he thought of a future with So-yi. But because she wanted to return to the palace, does he think his life is only worth the price of his revenge (again)? I can't wait to see what comes of his confrontation with Sejong – mostly because I have no idea how Chae-yoon is going to get out of this one.

RELATED POSTS
Tags: featured, Han Seok-kyu, Jang Hyuk, Shin Se-kyung, Tree With Deep Roots