Tree With Deep Roots: Episode 15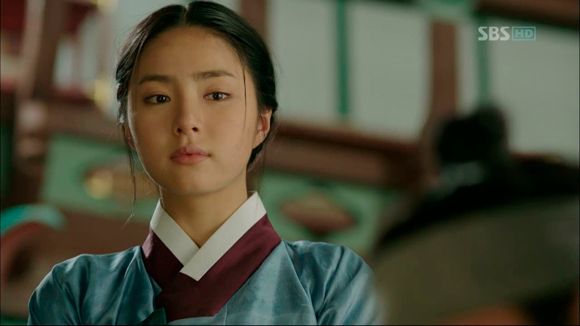 This show isn't going to invite you out for a tea party as much as it'll throw that hot tea in your face while ordering you to grit your teeth and take it like a man. You want less intensity? You don't get less intensity. There's no crying in sageuks!
Except for all that crying they do in sageuks. Tree With Deep Roots has a fantastic tears to action ratio, though.

EPISODE 15 RECAP
Hidden Root's secret soldiers are no match for Chae-yoon, who cuts them down in order to free So-yi and Prince Gwangpyeong from the wagon. So-yi seems no worse for the wear, but Gwangpyeong is nursing a bloody injury on his arm.
Chae-yoon completely ignores the presence of the royal family member, and takes So-yi by the hand (and not the wrist, can you believe it?) to lead her away. When she puts up some light resistance, he unceremoniously throws her over his shoulder.
Gwangpyeong, however, is having none of it, and defends her by holding a sword to Chae-yoon's neck. Chae-yoon seems mostly unaffected by this as he puts So-yi down, almost comically ignoring Gwangpyeong as he finally confronts her about what she wanted to say (he's referring to her letter where she asked him to meet her at the paper-making office). She's frank when she says she didn't have anything to say, she just wanted to keep him around. Aww.
Chae-yoon seems to be guarding his own heart when he tells her that he can live without seeing her, and only came when her letter called so he could cut their ties. He tells her to quit the work she's doing (that great cause and all that). She doesn't have to come with him, but he's not going to see her die either. So far he's saved her from death three times (the first time they met at the burning printing office, the time Pyung assassinated Scholar Jang Seong-soo, and now), and he can't see her be used and thrown away by the King any more.
Gwangpyeong may be the third wheel on this date, but he's not going down without a fight. It's time for an Ideological Battle, and Chae-yoon is outnumbered in his opinion that the King can sacrifice a person like his father for his great cause, but if Hidden Root would have succeeded in kidnapping Gwangpyeong and using him against Sejong, his father wouldn't allow him to die. Why? Because he's the King's son. People like Chae-yoon's father, of the lower class, should just consider it an honor if they're sacrificed for the greater good, right?
Wrong. Gwangpyeong stands firm in the belief that Chae-yoon, being of his status, can't possibly understand the King. His death wouldn't shake his father from his great path of creating the alphabet, since the King thinks other lives are more valuable than his own. He's not the sort of person to save his son but sacrifice others if they were in the same situation.
So, to test that theory, Chae-yoon wonders what would happen if the King were forced to choose between the alphabet or the Prince. He plans to use Prince Gwangpyeong as a hostage against his father, pitting the Prince's life against the Hangul Project. Wait, what? Chae-yoon! What are you doing?!
Gwangpyeong steps up to the plate – fine, but if he wins (so, if Sejong were to choose the alphabet over his life) what is Chae-yoon going to bet? Chae-yoon's response is that the King said that he needed him for his project. So, if Sejong is not willing to give up the alphabet when his son's life is threatened because of it, then Chae-yoon will follow Sejong without hesitation.
But… if Chae-yoon wins, and the King is willing to give up the alphabet to save his own son's life when he wouldn't do so for anyone else, then the King will know what it's like to live through the hell of losing a family member. Good God, this is the most hellish bet ever.
Everyone's in crisis mode. Hidden Root, operating under the assumption that they have safely captured Prince Gwangpyeong, So-yi, and all the data on Hangul, preemptively put out posters for the public to read that accuse Sejong of using his son to move the data the night before he was supposed to open the Hangul Room. Only, now that they're missing their crucial evidence, they wish they hadn't have acted so rashly.
Mu-hyul reports to Sejong that the paper-making office was raided yesterday and Gwangpyeong, So-yi, and the data were taken. They believe Hidden Root is behind it, while Hidden Root is sure that the jig is up because Gwangpyeong must have already returned to the palace.
Cho-tak and Park-po find the letters Chae-yoon left for them the night before. Cho-tak's letter mentions revenge, and Park-po wonders what Chae-yoon's revenge was about. Cho-tak merely responds that Chae-yoon came to the palace to take revenge on his father's enemy. Unfortunately, Jung Ki-joon (as Ga Ri-on) passes by at that same moment and overhears their conversation.
When he returns to Hidden Root Headquarters, he finds out that a fellow named 'Ddol-bok' is the one who defeated their soldiers and took their hostages. Crap. They know Ddol-bok is Chae-yoon, and after the conversation Jung Ki-joon overheard earlier… he puts the pieces together, coming to the conclusion Chae-yoon came to the palace to assassinate the King. Shock! He thinks that they've hit the jackpot – now all they need to do is find Chae-yoon. I wonder if he thinks Chae-yoon could be recruited to their side, if his goals seemingly look the same as theirs.
Because of his deadly bet with the Prince, Chae-yoon has taken both him and So-yi as prisoners. When So-yi asks about the information from the cart, Chae-yoon responds that he's hidden it (I hope he hid it at the root of that giant tree, because that's poetry). Per their agreement, Gwangpyeong writes a letter to Mu-hyul on a piece of his own clothing dictating the terms of the agreement – Sejong can give up the alphabet to save Gwangpyeong's life, or sacrifice Gwangpyeong's life for the alphabet.
Chae-yoon returns to the capital to presumably deliver the agreement, but finds it curious that everyone is gathered around a posting – one that claims that Prince Gwangpyeong has been captured by the traitors. He runs in to see Cho-tak, who probably didn't expect to see his friend again, to ask for information. Who put the poster up?
Cho-tak responds that it was somewhere between five and seven a.m., and Chae-yoon's brilliance shines through as he realizes that Hidden Root put those postings up before they physically had Gwangpyeong. But, that also means that they must know he now has the Prince.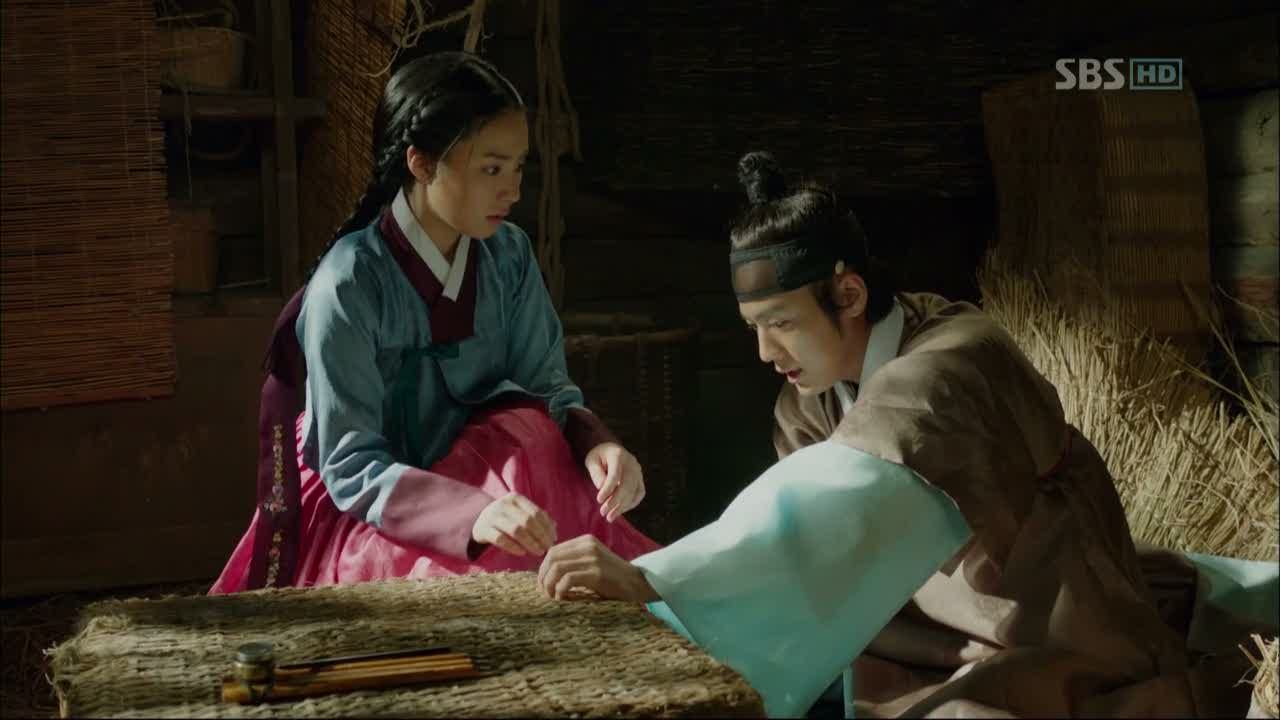 Meanwhile, the wound that Gwangpyeong acquired during the snafu at the paper-making office seems to either be more serious than we thought, or it's festering. All color has drained from his face and he's running a high fever.
When So-yi offers to escape in order to find him medicine, he physically stops her. He believes so much in what his father is doing that he's willing to sacrifice himself – if his father honestly believes he needs Chae-yoon for the alphabet, then he is going to make sure to deliver Chae-yoon to his father. So-yi counters, though, that it's not actually the alphabet Sejong needs Chae-yoon for. According to her, both Chae-yoon and Sejong are ill people – and only they can cure each other's illnesses.
It's time for Ideological Battle: Round Two, and neither man looks as though he's ready to back down. Gwangpyeong says his father will never give up on the alphabet because his father's blood, King Taejong's blood, runs through his veins. Gwangpyeong explains his own stubbornness because his grandfather's blood runs through his veins, too.
Our hero stands by the belief that the alphabet is useless to the common man, who has to work from sunrise to sunset. When can he have time to learn the letters? Chae-yoon claims that it took endless time and effort for him to learn the amount of Chinese characters that he does know, and he doesn't even know all of them. So how many letters has King Sejong made? Five thousand? Three thousand? One thousand?
To Chae-yoon's surprise, he was nowhere near the right number. Gwangpyeong tells him that his father's alphabet is only twenty-eight letters.
If Gwangpyeong is right, then Chae-yoon is without an argument. He's in disbelief that there can only be twenty-eight letters – there are more than twenty-eight objects in the shed they're in, for instance. How can those twenty-eight letters create all the words necessary just to describe the objects in the room? But the beauty and simplicity of the Hangul alphabet is that any amount of words, every word, can be made with only those letters. So-yi writes them down on a piece of her skirt to prove it.
So-yi: "With just these twenty-eight characters you can write our names that can't be written with Chinese characters, dialects you like to speak, accents, our hearts… the sound of the wind, the birds… we can make all these sounds using these characters."
Gwangpyeong is sure that Chae-yoon can learn it in a day, while So-yi knows he can learn it in an afternoon. This is a nice tie-in to the historically published notes that were written as commentary on the Hunminjeongeum, the document that promulgated Hangul. The historical text read (in regards to learning Hangul): "A wise man can acquaint himself with them before the morning is over; a stupid man can learn them in the space of ten days." Chae-yoon is challenged to try learning the alphabet in one afternoon and seeing for himself.
The royal army has been searching for Gwangpyeong and So-yi in vain, so Sejong decides to take matters into his own hands by visiting Pyung – who conveniently is still being held in prison after turning himself in. Sejong delivers a powerful tour de force that has Pyung shaking in his boots.
King Sejong: "If you touch the Prince or So-yi, every member of my military I will call to arms, and will sweep all of you around the village market in front of the people. We will display all of your dead bodies. Those dead bodies will be ripped to pieces and sent all over the country. After re-establishing the fundamentals of the nation, I will perish the three generations of those three generations. I will punish you miserably!"
Not even a second after his outburst, Sejong's entire demeanor changes. Suddenly he looks like a lost little boy as he immediately apologizes for what he said. Hmm, seems like someone is fighting with their inner Taejong. He breaks down in front of Pyung, his voice shaking as he says: "Please… save Gwangpyeong. I will give up everything… everything!" Pyung seems to have been frightened earlier, and perhaps about to give in and speak, but now with this turn of events a triumphant look comes over his features. He believes that he's won over the King.
However, Sejong's entire demeanor changes yet again…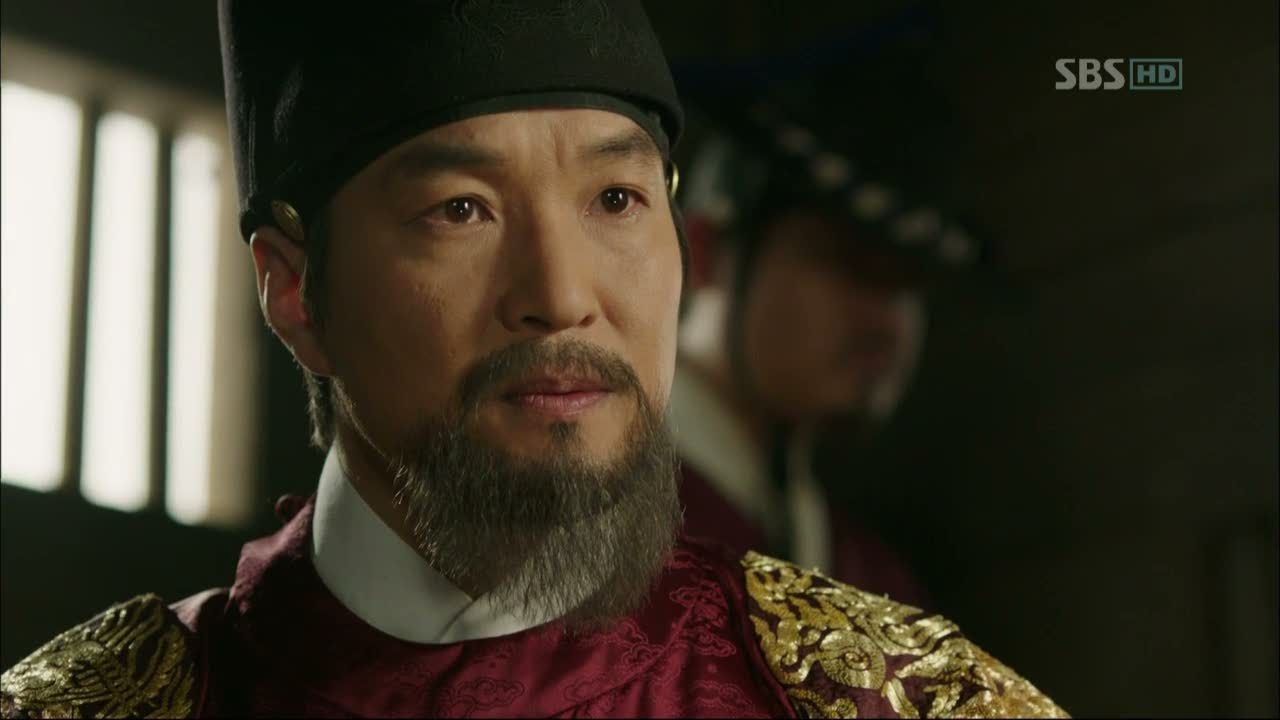 "Did you expect that I would do this?" he asks Pyung. Wow. That is a 'psych!' if I've ever seen one, and one that I completely believed. Sejong put on an elaborate but awesome act to prove his superiority, and tells Pyung that he doesn't care who he is, or what they want from him. Whatever it is that they want, they won't get it. He won't negotiate with people like them, nor will he pay back the offense in blood. He'll pay them back by showing them how they are bound to fail.
Again, wow. Team Sejong for the win!
We find Chae-yoon outside the Hostage Shed, in the dark, writing Hangul into the dirt with a blade. He wonders if it's really possible, that a world can exist where everyone is able to write letters. So-yi finds him outside, reading what he wrote. Things like: "I met Dam. I want to see Father." Aww. He's like a child when he asks her if he's written it correctly, and she praises him for learning the alphabet in half the afternoon. Gives you a whole new appreciation for Hangul, doesn't it?
They hear a sound inside, and find Gwangpyeong on the floor and writhing in pain from his wound. Chae-yoon was unaware, and is unhappy to find out that he's had this wound since the paper-making office. For some reason Gwangpyeong wants to play tough and continue to refuse treatment, but Chae-yoon rips off a piece of his own clothing to use as a bandage and instructs So-yi to keep pressure on the wound while he goes to find help.
Unfortunately for him (and probably for Prince Gwangpyeong), the help he goes to find is none other than our resident butcher/coroner/surgeon/liar Ga Ri-on, whose real identity as Jung Ki-joon is still unknown to Chae-yoon. Luck just seems to fall into this villain's lap in times like these, as he was just with his Hidden Root cohorts talking about how they have yet to find Chae-yoon… and now Chae-yoon is right there, pretty much dangling the Prince in front of his eyes.
Jung Ki-joon looks quite shifty as he gets some medicine from a shelf. Is it even medicine at all? Yikes.
The woman Leader of Ban Chon claimed that the only reason Chae-yoon had not been found yet was because they didn't have Pyung, so when a key mysteriously drops into the assassin's cell, we assume it's Hidden Root that's freeing him. He seems to believe the same, even as he runs out of the prison to find a horse just waiting for him. He makes his escape ahead of the royal army, unaware of the bag attached to the horse spilling white powder behind him.
The prison break was planned by Mu-hyul, who is not far behind and can follow Pyung to the Hidden Root hideout by using the white powder (Joseon's version of breadcrumbs) to track his movements. It's only later, when Shim Jong-soo reports the prison break to Lee Shin-juk, that the latter realizes it's a trap.
All the other concerned parties (Pyung and Hidden Root, Mu-hyul and Sejong) are afraid of the sunrise when Gwangpyeong is still missing. Acting as Ga Ri-on, Jung Ki-joon successfully treats Gwangpyeong's arm injury (phew!) but then claims he brought no medicine for fever in his hurry. There are herbs in the mountain, though – and I get the feeling he's telling Chae-yoon this just to get him out of the shed so his soldiers don't have to meet with resistance.
Chae-yoon is onto the plan – or more so onto the fact that they're being tailed – and gets the right idea to abscond with So-yi and Gwangpyeong before both the Royal Army and the Hidden Root Army descend upon their tiny shed.
Gwangpyeong is unable to walk, and so Chae-yoon carries him on his back as they try to escape through the forest. The two men have formed a grudging alliance now that Chae-yoon has seen the true nature of the alphabet, so when Gwangpyeong tries to play noble and sacrifice himself in order for Chae-yoon and So-yi to escape from the Hidden Root soldiers swarming the mountain, Chae-yoon is having none of it. He tells Gwangpyeong that because he is his hostage, he has to take responsibility for him. So there'll be no self-sacrificing on Gwangpyeong's end if Chae-yoon has anything to do with it.
It's an all-out battle between Pyung and Mu-hyul, who discover each other in the forest outside of the shed they both believed Gwangpyeong to be in. Mu-hyul and his small number of men seem sorely outnumbered by the army Pyung has brought – but Mu-hyul is the Best Swordsman In Joseon, and handles them with ease. When it comes down to just him and Pyung, it seems like curtains for our formerly-masked assassin…
Until the long-haired butcher's assistant comes, wearing a mask, to challenge Mu-hyul. It takes one clash of their swords for Mu-hyul's to be knocked out of his hands. Whoa. I knew that the butcher's assistant was strong (seeing as how he killed that one guy with a tiny tree branch), but this is a whole new level. Mu-hyul's fate is uncertain, but it seems as though both men have disappeared by the time he turns around. Hopefully.
Sejong needs some time to himself, and it's only when he's alone that he breaks down. He cries for his son, and it breaks my heart. We don't know if he's crying over the choice he has to make, or the fact that everything is crumbling around him – but one thing is certain, in that he does love Gwangpyeong.
Like he's done before, Sejong is all smiles once he gets to the much-dreaded forum with the officials and scholars. He reads the posting aloud like it's ludicrous, and then does exactly what Jung In-ji told him not to do: he admits everything. Yes, he created letters secretly and they're almost complete. Gwangpyeong wouldn't want him to stop his great project because of him, and he is not going to negotiate or cow-tow to Hidden Root just because they're threatening him.
He's in and out relatively quickly, leaving the officials befuddled at his attitude, but leaves them with one last thing. If there is a member of Hidden Root within the forum, he'd like to send a message to the head of Hidden Root. It's something that Jung Ki-joon had once asked him as a child, when a young Sejong had gotten so mad he'd punched the boy. The question is: "Only violence?"
Gauntlet thrown.
Sejong has come to peace with the fact that no matter what happens to Gwangpyeong, he will endure without shedding any tears. Hardcore, Sejong. Hardcore. But when he walks alone into the Hangul Room to see Chae-yoon, So-yi, and his beloved son standing there he collapses from shock. Their reunion is both tearful and beautiful.
Sejong is more amused than angry (his son is back, so his mood is light) at the fact that Gwangpyeong and Chae-yoon placed a bet on the heart of the King. So, what was the bet, anyway? Gwangpyeong explains that he won, and Chae-yoon says that he will now follow the King's orders without a word – on one condition. He hands the King a piece of paper where he's written, in the new alphabet he learned, his father's name – Suk-sam. His only wish is for the Sejong not to forget his father's name.
The King promises him that he will never forget.

COMMENTS
What a beautiful ending to a beautiful episode. It wasn't much in the way of cliffhangers, but it was perfect in its closure. Everything has a purpose, and nothing is done in vain – so the fact that Chae-yoon gave Sejong his father's name written in Hangul is not only symbolic of his wholehearted acceptance of the King's ways, but also justice for his father (at last). By learning the letters in half an afternoon, Chae-yoon has singlehandedly proved the usefulness and resourcefulness of the alphabet and everything Sejong has been trying to prove thus far that he didn't want to accept. Everything just fits together so well, so that moments like this seem organic. It just blows my mind.
It's also so important for an actor to be believable with big character changes, and Jang Hyuk delivers superbly. I thought it would be near impossible for Chae-yoon to move past his thoughts of vengeance – and even if he did, actual acceptance is a whole other matter entirely. Yet I find myself buying everything, with nothing being too out of bounds. We have superb actors to thank for that, as well as incredibly assured writing and directing. What can I say? This show has done no wrong.
In terms of the alphabet and everything surrounding it, the shit has really hit the fan, and it isn't just Hidden Root that's against Sejong's great cause. But even then, Jung Ki-joon has a line in this episode where he's sort of over this whole alphabet nonsense. If that's the case, what are they really after? Is it just the fact that the alphabet represents the King's power, and they just want none of it? It's been interesting to see the checks and balances system come into play these recent episodes, and even more interesting that for the first time in my life I can feel myself siding against a checks and balances system because it would have stopped the promulgation of Hangul. Either way, I'm excited to see what Hidden Root's next move will be now that they have every letter of the Hangul alphabet in their hands.

RELATED POSTS
Tags: featured, Han Seok-kyu, Jang Hyuk, Shin Se-kyung, Tree With Deep Roots