Tree With Deep Roots: Episode 16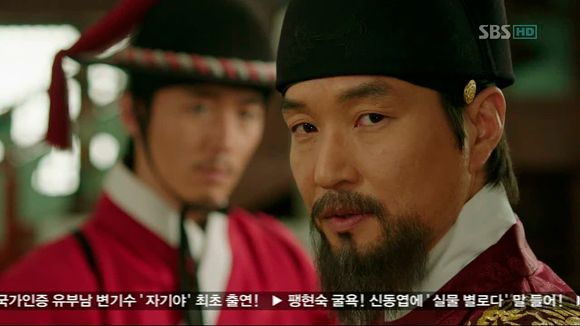 Imagine a world where everyone can read and write. Then imagine how our villains can't imagine that world. Then imagine how the King can't imagine how his opposition can't imagine that imaginary world. Confused yet? Don't be, because King Sejong breaks it all down for us as he fights his tireless fight for the good of the people. Go Team Sejong!

EPISODE 16 RECAP
Now that Chae-yoon has officially joined Team Sejong, he fills everyone in about his Hidden Root theories. He knows that there are suspicious people in Ban Chon, but they can't go in there without a plan because they risk sending Jung Ki-joon and the other core members into deeper hiding. Chae-yoon comes up with a brilliant plan – if no one reports that Prince Gwangpyeong is back in the palace, and if he returns to his normal job as a palace guard, Hidden Root will approach him out of curiosity. If he can get inside Hidden Root like a super-secret double agent…
But, he has one condition (doesn't he always?). Sejong jokingly asks him if he's going to ask for another personal drink from the King, because it's totally fun to joke with your new friends about how they dedicated their life to assassinating you.
Sejong tells him that, no matter what it is, he will promise to do it. Chae-yoon gives a deep and formal bow to the King, while Sejong nods like he heard Chae-yoon's wish… But we didn't, and I'm dying of curiosity to know what he asked for.
Chae-yoon and Mu-hyul have a long-overdue conversation about where they stand with each other. Joseon's Best Swordsman is pretty clear in the fact that he still doesn't like Chae-yoon, but he'll help in the investigation if he needs it. I hope this is a budding bromance between two awesome martial arts masters. He wonders if Chae-yoon knows that Hidden Root has another strong assassin (that isn't Pyung), and Chae-yoon's flashback to the Death By Tree Branch tells us that he does.
We know Team Sejong's plan is working when Shim Jong-soo seems utterly shocked to see Chae-yoon traipsing the palace in his official palace guard uniform. Chae-yoon greets them like nothing's wrong, although they're probably wondering how on earth he's back doing his old job when he's responsible for kidnapping the Prince. When Chae-yoon is gone, Shim Jong-soo hurries to find out if the Prince has been brought back to the palace or not.
The court ladies have run a tight ship, because no one outside of their group knows that Prince Gwangpyeong is safe and sound within the palace. When Shim Jong-soo reports that Gwangpyeong is still missing, that the royal troops are still on high alert in order to find him, and that Chae-yoon has returned to his position as a palace guard… Jung Ki-joon can only marvel at Chae-yoon's balls of steel, believing that Chae-yoon might have killed the Prince and returned to the palace to complete his revenge. Thus, Jung Ki-joon has fallen right into Chae-yoon's trap in believing that they both share a common goal. This is going to be good.
Sejong is as calm and collected as ever, despite all the setbacks he's now facing. Jung In-ji is not so calm, as he desperately asks why Sejong had to tell everything at the forum instead of denying all of it like he'd told him to. He doesn't know how they can fix this situation, because the original plan was to have a sudden promulgation of Hangul. Now that everyone knows about it, even if they don't know the letters, it's impossible. They've failed.
The King chides him for worrying too much, assured in the fact that what's past has past and now they just have to find a new strategy. Instead of using force, he will use words to show that they are scarier than swords (a doctrine he's believed in ever since he was young). He asks Mu-hyul how he would be evaluated if his words were actually considered as powerful as swords. Mu-hyul adorably answers that Sejong would be the best warrior in Joseon… no, the best warrior in the world. Aww. You two.
Sejong has prepared himself for the upcoming forum with both scholars and officials, only to walk in and see… only three officials. Ha! It's sad, but also a little funny, because even the voice of the man announcing the King's arrival seems more pitiful. He's mostly surprised to know that his Jiphyunjeon scholars didn't come, but the present officials are quick to tell him that it's because the Deputy Chief Scholar, Choi Man-ri, is firmly against the new alphabet and is currently drafting a severely long argument against it.
The King's anger shows through as he leaves the chamber, and Jo Mal-saeng says a cutting line when he's gone: "When he acts this way, he is exactly the same as the Former King." Yikes.
We cut immediately from Jo Mal-saeng's line to a scene where Sejong acts the exact opposite of his father and proves how open his mind is. He's gone to the gate of the palace where Master Hae Gang and his scholars are protesting, and he sits down amicably and asks for the scholars to explain to him how his letters are against Neo-Confucianism (which is what he's being accused of).
Hae Gang's main argument hinges on the fact that Chinese letters aren't just letters, they have the heart and soul of Confucianism within them. The character he uses as an example displays a contradiction within itself – that fighting will stop the fight. He asks Sejong if his coveted writing system can display a dichotomy like this, and Sejong simply replies that it can't.
However, while his alphabet can't display a complex contradiction in one character, it is in better keeping with the ideals of Jung Do-jun. I wonder if this takes Hae Gang for a ride, considering how he considers himself so loyal to Jung Do-jun that he joined Hidden Root. According to Confucianism, the King must listen to his people. But because Chinese characters were so difficult and only people who knew Chinese characters could become officials, the people were forced to voice their opinions through an official – but those same officials would twist and distort their words. Thus, in order for Sejong to be able to truly listen to his people, he created letters that all people could learn. He effectively uses Confucianism against the supposition that he's not using Confucianism. Stick a fork in Hae Gang, he's done.
It's not easy being King, and especially not one that wants to use rhetoric instead of force. This is exactly the path that Taejong said would be more wretched, and Sejong is putting hard work into it by going to all the different opposition groups to properly debate his case. The officials are worried that the characters will be too easy and that scholars will give up learning Chinese characters. Sejong basically says that it shouldn't be his fault if scholars are lazy. I love him.
The other arguments vary, but none of them seem to trump Sejong's. One argument even suggests that in order for commoners to read Sejong's book of agriculture, they can just increase the number of officials… to do what? Read it to them? Really, guys? Sejong scoffs at this idea, saying that the people are the ones who have to pay for it. Therefore, creating more officials will only impoverish his people.
Park Paeng-nyeon and Sung Sam-moon are back! This is a short scene without any real resolution (The Deputy Chief Scholar, Choi Man-ri, has brought them back so they can tell him about the King's alphabet and they flatly refuse), but it's just good to see them again.
Hidden Root, meanwhile, has another table discussion (I'm starting to miss the days when he could move around) about what Jung Ki-joon plans to do about the promulgation of the alphabet. Like before, he doesn't seem to think the letters are a big deal simply based on historical precedence – a brand-new alphabet can't compete against the thousands of years that the Chinese alphabet has behind it.
Therefore, if Sejong publishes the letters it's no loss to them. But if they act like it is going to be a loss, they can forge a deal with the King for their acceptance. What he wants, ultimately, is milestones put in place for the creation of ultimate bureaucracy – but what he wants immediately is the abolition of Jiphyunjeon.
The palace is completely empty, with most officials leaving their posts unmanned in protest of an alphabet they've never seen. Lee Shin-juk and the Prime Minister, Hwang-hee, take this opportunity to do Hidden Root's work as they bring their appeal to the King. If he dismantles Jiphyunjeon, then they will use their political muscle to persuade the high officials to accept the alphabet.
Sejong becomes enraged at the thought of dismantling his personal creation with his own hands. I get the feeling those scholars are like his children, even though they're rebelling against him. What the officials are offering seems to be a veiled threat (either you do this or we can't stop what's coming). We don't know Sejong's answer.
But Sejong, as it turns out, has once again used his keen wit and latent acting ability to pull another fake-out on the officials. We know that the Prime Minister has at least been aware of the alphabet, even if he doesn't agree, and it turns out that Sejong asked him to bring up the topic of Jiphyunjeon before the meeting. He knows that everyone thinks no one will learn the alphabet, which is why it's the perfect time for him to promulgate it (before the opposition realizes that everyone will learn the alphabet and that they've truly lost in the end). Jiphyunjeon was his way of rebelling against his father so he could gather people on his own side, and thus he's always thought of it as a temporary organization.
So, he plans to trade Jiphyunjeon for a separate department that will just handle the alphabet so that it can be widely adopted, and even used in the government official's exams. Will it work? Wait and see, he says. I'm still waiting to find out what Chae-yoon's wish was.
Shim Jong-soo takes the idea of giving in to the alphabet (on the grounds that no one will actually use it) to Choi Man-ri, who staunchly disagrees. When has Sejong ever done anything that hasn't worked? The new alphabet will prove a force to be reckoned with. By Shim Jong-soo's expression, I get the feeling that this idea never occurred to him before.
Pyung has staged an assault on Chae-yoon's humble abode that includes the Joseon version of a smoke bomb, only to find that Chae-yoon isn't inside. Instead, he's dressed in Killing Black (truly his best outfit in this show) in order to pay a hostile visit to the Leader instead.
He's officially begun his operation to fool Hidden Root, and he seems to do so without a single hitch. Acting under the guise of a man still out for the King's blood, he tells her that Hidden Root has ruined everything for him – namely, the revenge he's planned his whole life for. He claims he had to kill Prince Gwangpyeong because he was attacked again. That's a major claim, and she buys it. It doesn't take her long to drop the demure act, and she coldly responds that whatever has happened to him is nothing like what he's done to them. By keeping the Hidden Root Scroll, he kept their group disbanded for years. He also ruined their attempts to gain evidence of the project (by saving So-yi and Gwangpyeong that night).
He feigns disinterest, only asking for the whereabouts of Jung Ki-joon. If he delivers him to the King, he'll get a personal drink poured and then Sejong's head will roll. This scene is infinitely more fun to watch because all of this is exactly what Chae-yoon used to think, and now he's using all his past anger and resentment against Sejong to work for Sejong instead. That's poetry.
It's clear she's fallen right into his trap when she wonders if Chae-yoon ever thought that they don't have to do this to each other.
Pyung has taken his men straight from Chae-yoon's house to the Leader's, knowing that Chae-yoon is inside. Chae-yoon takes the Leader outside with him as a hostage to hold Pyung and his men at bay, and it works. The Leader tries to reason with Chae-yoon that his plan of just cutting off the head of the King isn't enough – if he were to do that, how would Sejong know what he is dying for?
Good gracious. This woman is basing her argument on how to make his theoretical revenge so cruel that it leaves Sejong as a powerless, sad little man crying for his mommy. That's real revenge, she says. This woman doesn't play around.
They have different methods but the same objective (or so she believes), and so she suggests that they work together. Oh, man, you were so easy. While she says that Chae-yoon wants the King's head, all they want is the King's Joseon and to steal everything Sejong has in order for him to die sad and alone. If what's also what Chae-yoon wants, then she'll prove her trust in him by sending Pyung and his men away. It's brilliant, because Chae-yoon only has to nudge her to do all the work in 'convincing' him to go along with this scheme. He seems to have naturally come to the following conclusion (all the better to fool her with) as he replies that he doesn't want to be a part of Hidden Root, but that they can help each other. Sold!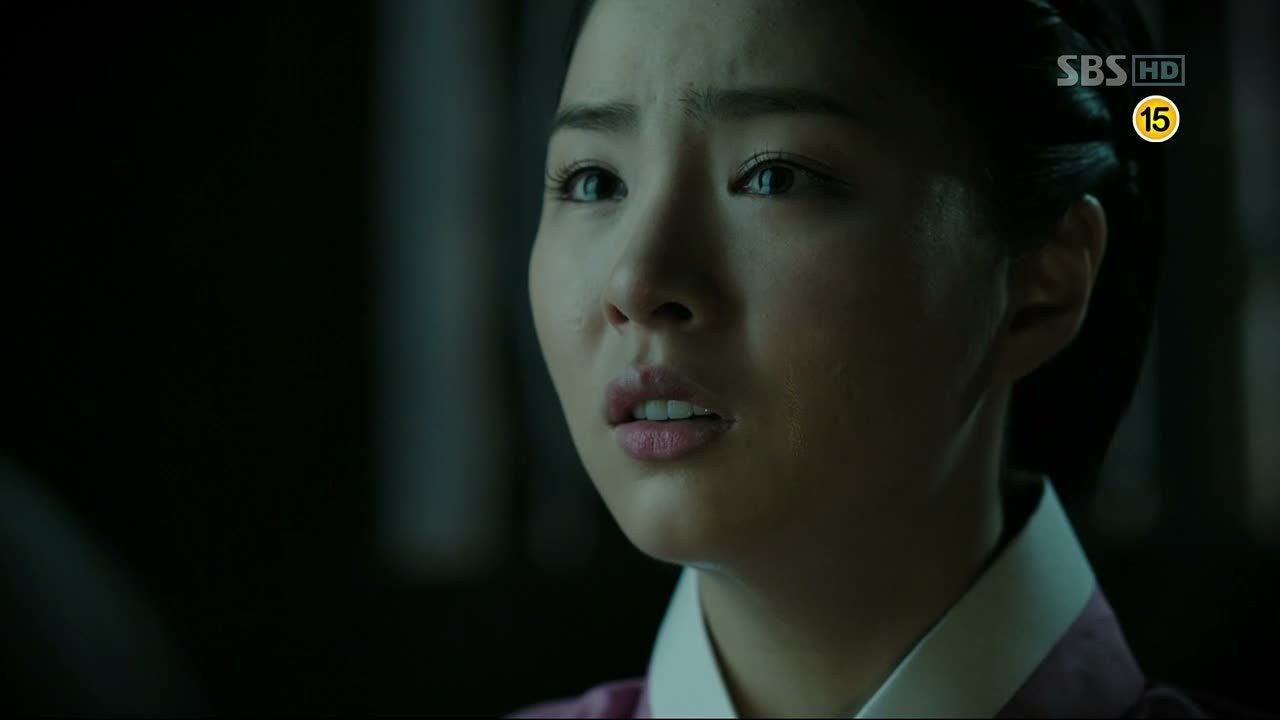 So-yi and Chae-yoon use teamwork for the ultimate win. The Leader reports to Jung Ki-joon about Chae-yoon turning over to their side, but this alone wouldn't have been enough to free Chae-yoon of Jung Ki-joon's suspicion. But, Chae-yoon planned for that, so when he was with the Leader earlier, So-yi found herself with Kuk-se – the fellow slave from her household that was saved by Hidden Root. Kuk-se has by now reported the contents of their conversation to Jung Ki-joon, which effectively corroborates Chae-yoon's story – So-yi said that Chae-yoon killed Prince Gwangpyeong, that he plans to kill the King, and that she can't say anything for fear that Chae-yoon will be killed. Hidden Root is caught hook, line, and sinker.
So-yi and Chae-yoon meet up later that night to discuss their plan. She relates that Kuk-se cried to hear that Chae-yoon planned to assassinate the King, and wonders whether she would be planning to kill the King too, if she had been saved by Hidden Root and not by Queen Soheon.
But then, she finally asks what his one wish was. His response is a little awkward and dodgy, as he's about to tell her (and us) what it was… and then he doesn't. The camera cuts to Hidden Root instead. Nooo! I'm pulling my hair out wondering what this wish is!
Chae-yoon meets with Sejong and asks him for a diagram of the letters, so that he has something with which to prove himself to Hidden Root. Sejong says that absolutely can't happen. Right now Hidden Root is willing to broker a deal with him without having seen the letters, because they think they have nothing to lose if the letters are going to amount to nothing. But, if they see the letters, Sejong is sure that they will realize that his letters are no trifling matter and will oppose it wholeheartedly. Chae-yoon must find another way.
He accepts this, and claims that his newfound drive is because Sejong said that the common people should enjoy all that life has to offer – and now he's seen that life had something to offer. Sejong asks if this is related to his wish, and even starts a voiceover: "Your wish is…"
…Before he gets cut off by Mu-hyul. Okay, Tree, this is too much. Now you're just being mean.
Ever since they found the written alphabet accidentally left by So-yi and Chae-yoon, one of the more visible members of Hidden Root, HAN GA-NOM (Jo Hee-bong), has become obsessed with it. No sooner has Sejong said how detrimental to the cause it would be for Hidden Root to see the letters that Han Ga-nom pulls Jung Ki-joon into his room of crazy to explain them. Using only So-yi's writing, he's gone through a lengthy process to decode the alphabet. All he had to do was change the way he thought about the characters. Once he stopped thinking that each character had to mean something, and started thinking in terms of individual consonants and vowels…
With this new knowledge (and Jung Ki-joon's growing horror), he's able to finally crack the code behind the printing blocks Scholar Yoon-pil swallowed before his death. If he puts them together, it should pronounce the words for 'Hidden Root'. Uh oh.
Lee Shin-juk has been in high spirits since the deal with the King, as he believes that with the abolition of Jiphyunjeon and Hidden Root implementing its own bureaucratic policies, he will overtake the Prime Minister position and have absolute power. Cue evil grin.
The King, on the other hand, is getting ready to fight the good fight. He's prepared to make this deal before Hidden Root knows what really hit them, and instructs Jung In-ji that they must publish the letters right after the deal is made.
The true magic of Hangul is seen not only through the eyes of those within the palace, but through the eyes of the commoners who can benefit from it the most. Han Ga-nom has already shown the letters to the long-haired butcher's assistant, GAE PA-YI, and the little girl the assassin has befriended. She's the same little girl who was in favor of the alphabet just so she could write her big friend's name, which could not be written with Chinese characters.
Now Jung Ki-joon can see that Gae Pa-yi can not only write his name, but the little girl can write down everything she hears. It can write exactly what they say, and they can read exactly what is written. It's only been two days since Han Ga-nom showed them the alphabet, and already both of these previously-illiterate people have learned how to read and write. That's what you call amazing.
Thinking of a world where everyone knows how to read and write has never occurred to men like Jung Ki-joon or Han Ga-nom before, and both are left in shock from what they've just seen. But Jung Ki-joon comes to the realization that words are weapons stronger than swords, and that bureaucrats aren't just bureaucrats because they're born into noble families. They get that privilege because they're literate.
Here's the problem (though Jung Ki-joon's eyes): if everyone can just read and write as they please, then that effectively takes away the power of the bureaucrats and upsets the whole class system, leading to complete and utter chaos. Jung Ki-joon refuses to let that happen.
Lee Shin-juk and Hwang-hee are already on their way to broker the deal of their unconditional acceptance of the King's alphabet…
…While Jung Ki-joon flips a lid at this information, declaring that they must be stopped from making that deal at all costs.

COMMENTS
Well, Jung Ki-joon, I take back everything I ever said about liking you when you made that initial switch from Ga Ri-on to your current version. You're the worst.
Hidden Root has played the antagonist role well so far, and even with some scholar murders on their plate I could understand where they're coming from. The idea of wanting to spread power out instead of consolidating all of it into only one fallible person that can easily abuse all that power isn't just good thinking. However, now that Jung Ki-joon has seen how beneficial Hangul can be with his own eyes, he's actively choosing to do everything he can to stop it so as not to upset the order of the world.
I find his stance interesting on a few counts, but I wonder how he can so easily think in such a way when he's lived in the lowest caste of society for so long. Even though the whole butcher persona was only a disguise, I'm sure he had to live the day-to-day hard life of being a slave (not to mention his brush with the afterlife when he was imprisoned and tortured). It's not like he is incapable of knowing what it's like to be of such a low class and to be powerless. It's almost worse that even with him knowing how terrible life can be, and even with knowing that the King's new alphabet can be learned in two days by people who never knew how to read or write before, he's choosing to completely disregard the common people's interests. That's lame, Jung Ki-joon.
Also, I'm sure the writers had a good time devising all the different scenes in which they could mention Chae-yoon's wish without actually telling us what that wish is. It's like the reunion cliffhanger all over again. The writers are just too good at this.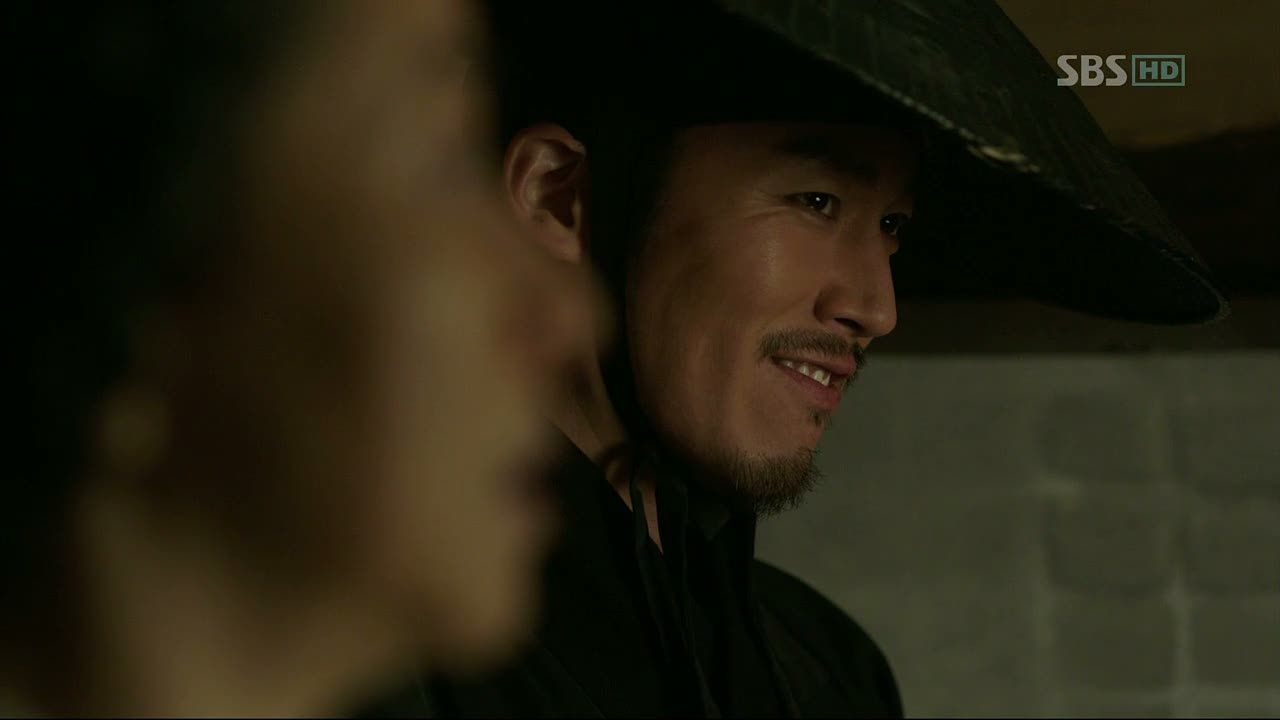 RELATED POSTS
Tags: featured, Han Seok-kyu, Jang Hyuk, Shin Se-kyung, Tree With Deep Roots