Bachelor's Vegetable Store: Episode 2
Finally! Ji Chang-wook! Boy, did you make me suffer through a whole lot of backstory to get to you. The second episode spends most of its time still stuck in the past, throughout which I'm continuously mumbling, yeah, we geddit. But the good news is, once we get out, things look brighter. Let's just hope they stay that way.

EPISODE 2 RECAP
Ga-on dies, and Mom breaks down, blaming Tae-yang, then herself, and eventually attempts to slit her wrists. But Jin-shim saves her and nurses her back, insisting that Ga-on never hated Mom, and that it was no one's fault.
Tae-yang struggles with his guilt, unable to look them in the eye, and watches over Ga-on's memorial at night because she might get scared all alone. Ugh, that's heartbreaking. He berates himself for not having gone a little sooner that night, and preventing what happened to her.
Mom sits in a daze, not eating or sleeping, and Jin-shim asks if she isn't going to call Ga-on's father to let him know what happened. Mom snaps out of it with a start, asking what day it is. It's Saturday, the day they were supposed to meet Dad.
He's waiting for them in a fancy restaurant with mounds of presents, and finally calls them at home, asking why they aren't there, if she's changed her mind. This time Dad puts down his foot down, saying that he'll do anything it takes for the three of them to be a family, and that now no one can stand in his way.
He gets scared that Mom's going to take Ga-on and run away again, and warns her that he'll stop at nothing to find them. Gee, what a happy family that sounds like. Yeesh. Mom panics, and just makes the excuse that Ga-on isn't feeling well, and they'll reschedule for another day.
Jin-shim looks on worriedly, as Mom breaks down in tears, panicking over what she'll do now. And then slowly she raises her eyes up to Jin-shim… "Do you want to be my daughter?"
Jin-shim can't deny that she's always wanted Ajumma to be her mom, and you can actually see how this girl who has no one could be swayed by her. Mom says right then and there that she could become Ga-on from now on, which is a legitimately crazy thing to say, but she's clearly a crazy person to begin with.
Jin-shim doesn't know what to do, and runs to Tae-yang wanting him to give her the right answer. But as she runs up to his house, she finds Granny being hauled off in an ambulance and the kids crying.
As Grandma gets treated in the hospital, Tae-yang and Jin-shim keep watch, taking turns piggybacking Tae-in. Thankfully Grandma recovers, though nothing can be done to slow the progress of her illness.
At school a few days later, Jin-shim finds Mom waiting for her to arrive. She asks if she told Tae-yang anything about their arrangement, and she says no, she didn't have a chance to. Mom insists that she can't tell anyone, otherwise people will split them up, and Mom will have to run away and leave her behind.
It's enough to scare Jin-shim of being left all alone again, so she pinky-swears not to tell anyone. Mom hugs her tight, "From now on, you're all I have." Jin-shim can't help but smile, having longed for this her whole life.
Granny wakes up in the hospital and tells Tae-yang that she's not worried about him, but his little sister is so young. Tae-yang promises her that he'll look after Tae-in and never leave her side.
The three kids pray together in church for Granny, and Mom finds them walking out together. She tries to hurry Jin-shim away, but Tae-yang bows and apologizes to her for his part in what happened to Ga-on. She looks at him with hate daggers coming out of her eyes, and then asks if he's sincere about feeling sorry.
He says he means it, so she asks him to make a promise, and it's the one thing she'll ever want from him: never see Jin-shim again. Jin-shim tries to protest but Mom doesn't relent, and takes his stunned silence as a promise, and hauls her away.
Jin-shim tries to tell Mom that Tae-yang is a good kid, but Mom argues that if she's going to be her daughter, doesn't she care that seeing Tae-yang rips her up inside? She spits out a venomous warning: stay away from Tae-yang, otherwise she'll soon start seeing Jin-shim in the same hateful light and get sick of her.
Tae-yang is double jeopardy as far as Mom's concerned, because he not only had a hand in Ga-on being left alone the night she died, but he also knows all the facts. Basically he's the one thorn in her otherwise perfect plan.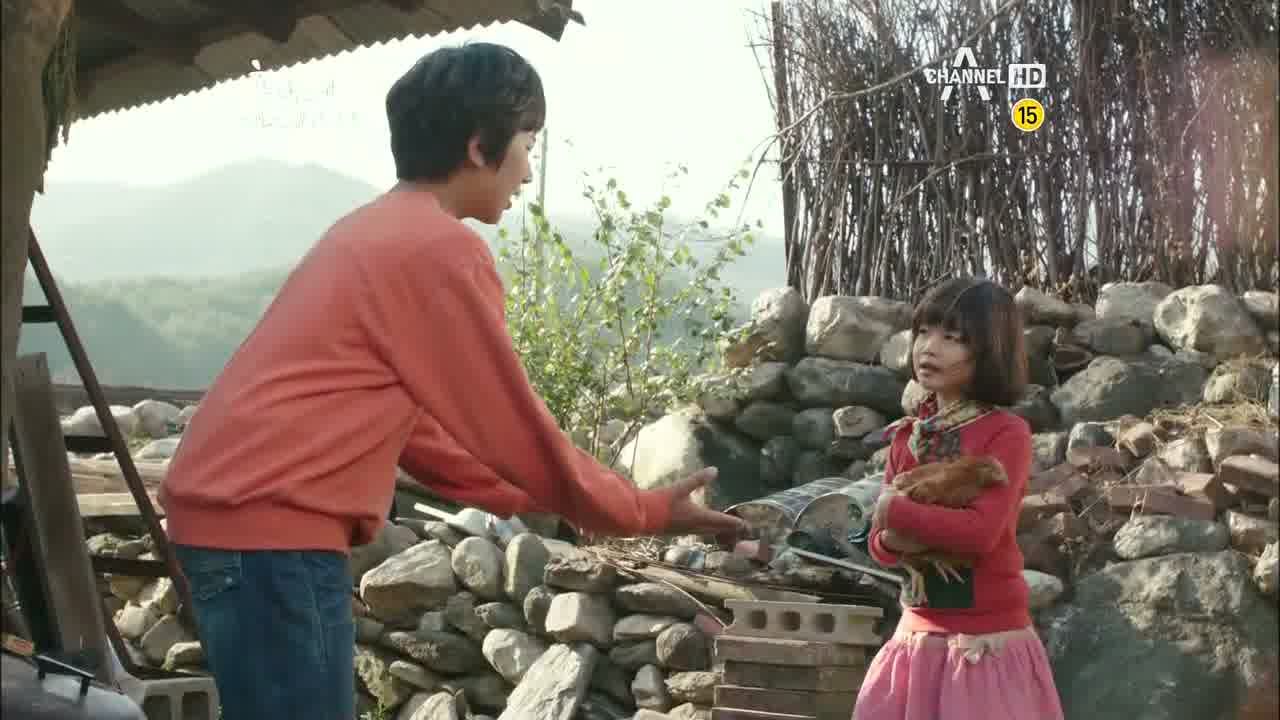 Tae-yang decides that if he shows Ajumma his sincerity, she'll stop being mad and let him see Jin-shim again. So he catches their favorite chicken for a soup, breaking his little sister's heart in the process. Aw, it's adorable how heartbroken she is, but this is why you shouldn't name your chickens, yeah?
He brings the soup to her door, but Mom rejects him flatly, and leaves the soup in the trash pile outside.
Sometime later Granny dresses up and goes to the photo studio to have her memorial picture taken, and overhears Mom calling Ga-on's name. Curious, she peeks in the room and finds Jin-shim dressed in a graduation gown and taking pictures with her, and answering to "Ga-on."
Mom shuts Granny out as soon as she finds out who she is, but Granny waits to have a word with her. She guesses what she's doing right away – taking a perfectly alive and well girl and replacing her with her dead daughter. She tries to deny it, but Grandma sees right through her, and warns her not to do that to a kind-hearted girl.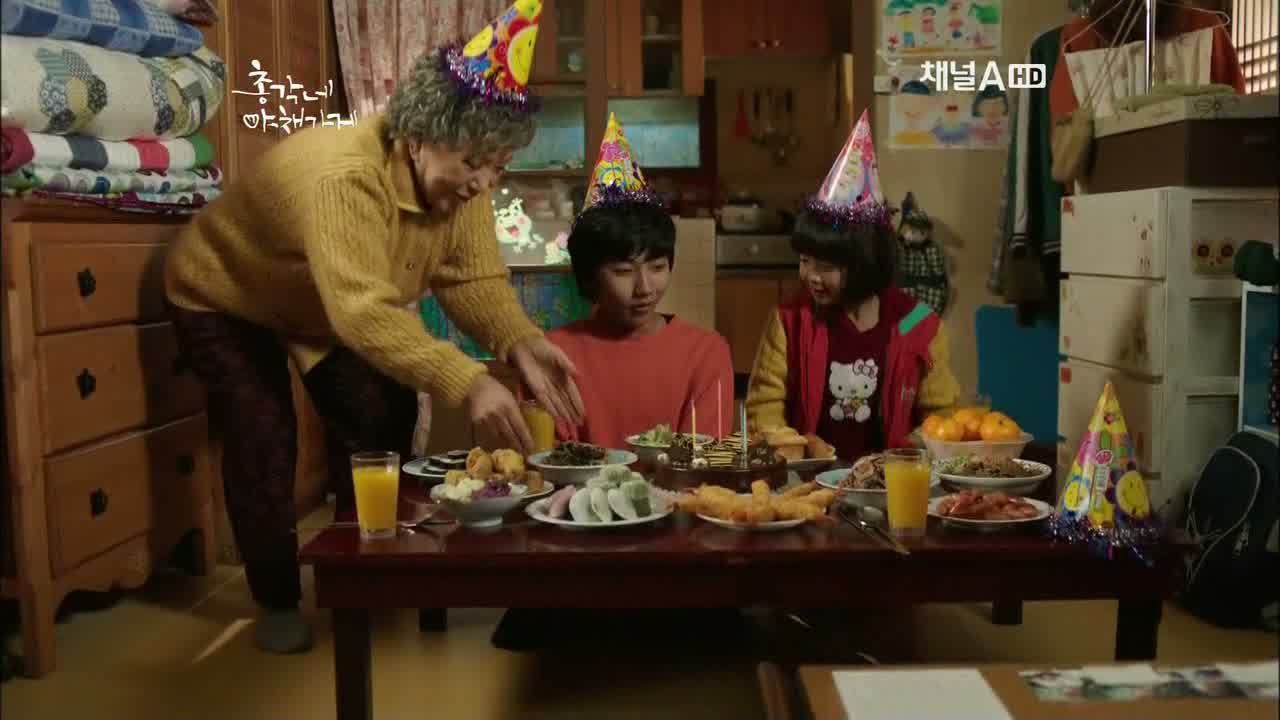 The next day is Tae-yang's birthday, and he excitedly invites Jin-shim over to his house for his birthday party, where Granny expressly him to bring her, so that she could speak to her. Grandma sets the table and they wait.
But Mom takes Jin-shim to the salon to have her hair cut, saying that it's the day she's going to be reborn as her daughter. Oh no, she's not going to make her get the exact same haircut as Ga-on, is she?
Oh she totally is. GAH. That is so creepy. She even puts the same pin in her hair that Jin-shim had her mom-fantasy about, bringing tears to her eyes. Ugh, it kills me the most that Jin-shim so desperately wants a mom enough to trade in her whole identity for one.
Jin-shim still calls her Ajumma, and asks for permission to see Tae-yang just once today, but she refuses, sighing that she still won't call her Mom. Tae-yang waits and waits, refusing to eat his birthday cake without Jin-shim, but she never shows.
Mom takes Jin-shim to their last stop, what she says is the final step in the transformation. She gives Jin-shim one last chance to take it all back and leave her behind, because from here on out, she won't be able to reverse this decision for the rest of her life.
She asks, "Who are you?" No answer. Again, "Who are you?" A tear rolls down Jin-shim's cheek. She finally says, "Ga-on. Choi Ga-on."
And with that, they head inside. It's a tattoo parlor, and the final step is to get Ga-on's star-shaped birthmark tattooed on her wrist. She closes her eyes and flashes back to all her happy memories with Tae-yang, and imagines holding hands with him on the bridge, and then losing hold. He disappears and she's all alone.
She wakes up calling out for him, and then sees Mom by her side, reaching for her hand. In tears, she calls out, "Mom," the tragic transformation now complete.
Tae-yang and Tae-in wait for her outside the church that night, but Mom leads her away before they can even speak. Later Tae-in tells Grandma what she saw, and how Jin-shim looks exactly like Ga-on now.
Tae-yang tosses and turns all night, and in his locker at school the next morning, he finds a present from Jin-shim waiting for him. In voiceover we hear her letter, that she's sorry she couldn't come to the party, but she's been making his present for a while now.
It's a handmade lunch sack, and she writes that she's always wanted to make his lunch for him, but even though she can't do that, if he carries his lunch in this, it'll always taste good. She calls him "The sun in my life," [tae-yang = sun] and sincerely wishes him a happy birthday [jin-shim = sincerity].
He runs around school looking for her, but her chair is empty, and she's not at church either. She's on her way to the bus station with Mom, begging for one more day so she can say goodbye to everyone. But Mom tells her that she has to leave the Jin-shim who lived here behind, that one day will make no difference, and drags her onto the bus.
Jin-shim follows her, and then at the last moment pulls away. She promises to be right back and runs off to find Tae-yang. She finds Granny at home and asks her to give Tae-yang a message – not to worry about her, and that she'll never forget him.
She cries, and Granny senses that she's about to go someplace far away, and asks her to tell her what's going on, and why she's got a tattoo on her wrist that she didn't have before. But Jin-shim tearfully tells her that she can't say anything, and just promises that she'll pray every day for Granny, Tae-yang, and Tae-in, and leaves.
Grandma clasps her heart and falls to the ground. Oh no.
Jin-shim goes to one last place, the amusement park where their van clubhouse used to be. Now it's just an empty space. She looks on with a smile as she sees a flash of her happy days there with Tae-yang and Tae-in, and Ga-on.
She watches with a bittersweet smile as Past Jin-shim runs by her, calling after her friends. That's heartbreaking.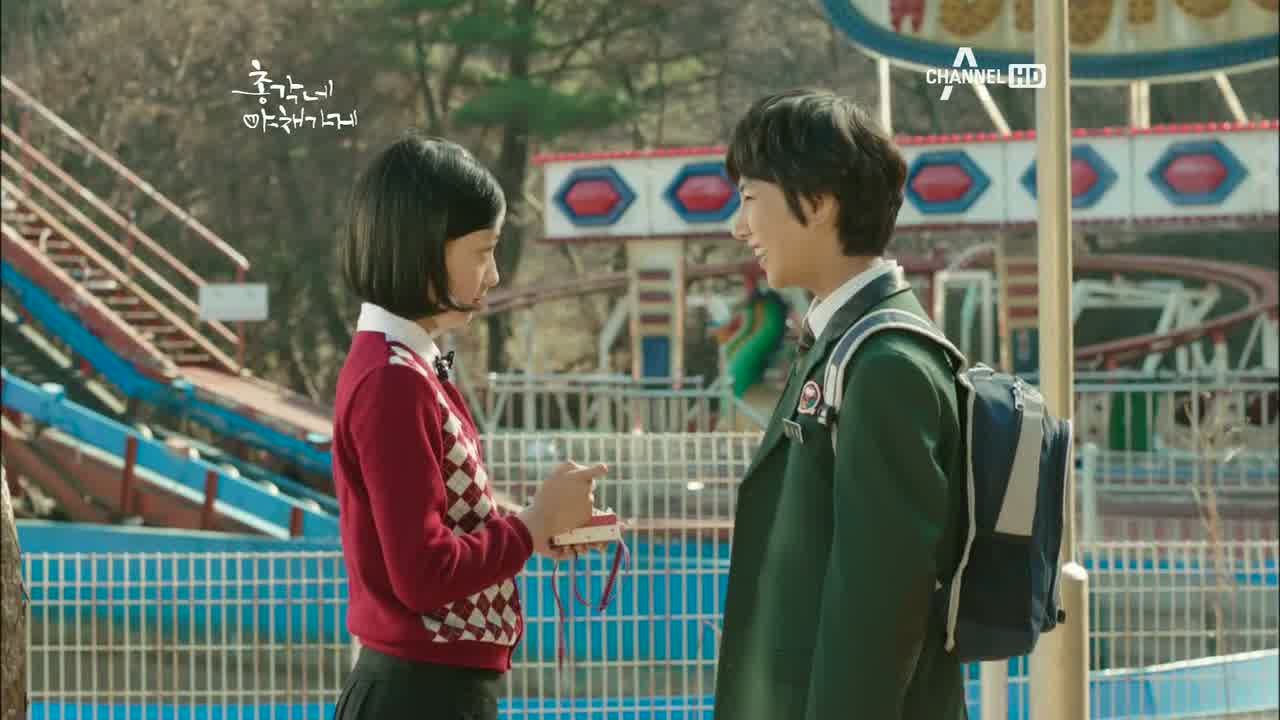 Tae-yang finds her there, and they both admit to not having been here since Ga-on's death. He holds up his lunch sack proudly, and then gives her a present too – the pager he's been waiting to give her.
He tells her that from now on, they'll always be connected, no matter where they are. She lights up, saying that it's the perfect thing that she needs right now, and begins to cry. He looks on curiously, not knowing just how far apart they're about to be.
Meanwhile Mom comes storming into Granny's house, looking for Jin-shim. Granny calls her out on her whole scheme, putting together all the pieces from what she's witnessed. She even figures out that Mom's got a reason for doing all this, and it isn't to take her away to live quietly, just the two of them.
She guesses pretty astutely that if she fools Ga-on's father into thinking that Jin-shim is his daughter, that Mom has something to gain in all this. Damn, Granny should be a detective. She points that that with age, your eyes may grow cloudy, but there are some things you see more clearly.
Mom gets defiant, saying that it's Jin-shim who benefits from all this. But Granny counters that what Jin-shim needs is Jin-shim's mom, not Ga-on's. She threatens to go to the police if she doesn't turn back and go about things the right way.
Mom flips out, grabbing Granny by the collar and shrieking at her, until Granny collapses to the ground and her bottle of pills rolls out of reach. Mom grabs the pills and screams at her to keep her secret, basically withholding them until she promises.
But she says nothing, and Mom throws the bottle to the ground in anger. The pills go flying, and Granny closes her eyes. Damn, I knew Mom was evil and crazy, but she's actually going to cause her heart attack, and then stand by as Granny dies?
Tae-yang and Jin-shim say goodbye, though he says he'll see her tomorrow and to herself she thinks over and over, "I'm sorry." She walks away with tears in her eyes, and then turns to watch him go.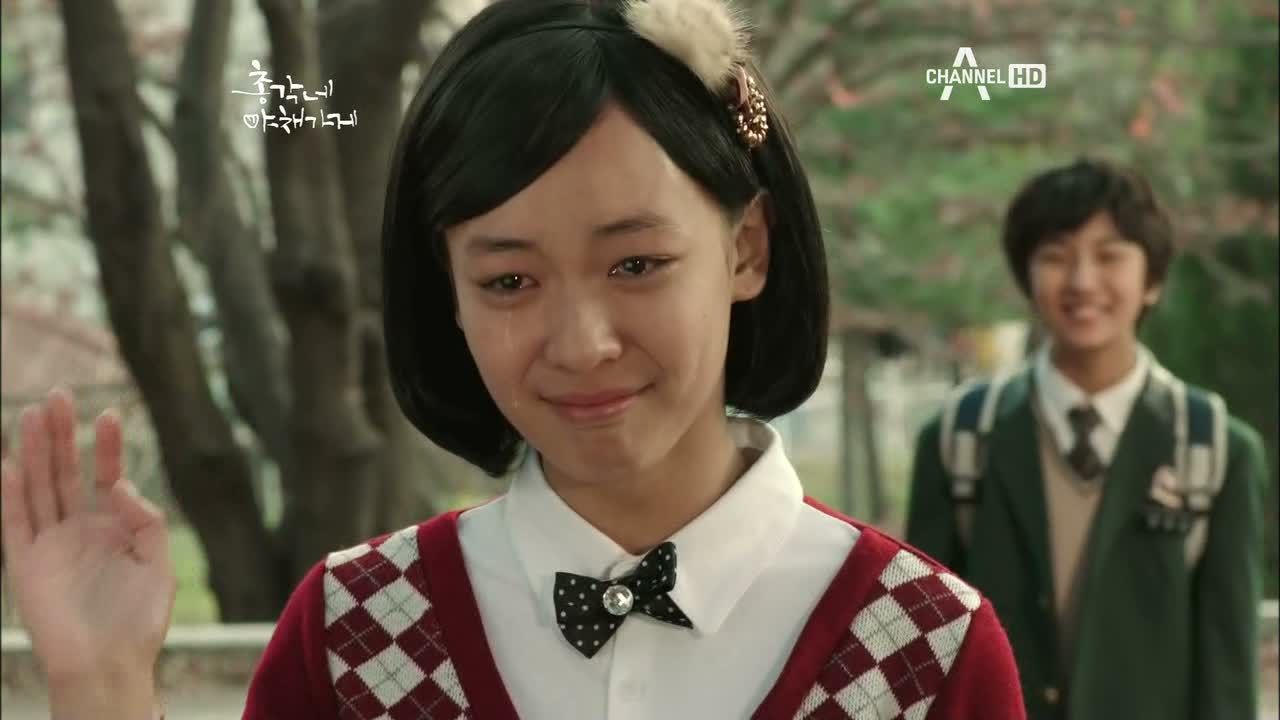 She catches up to Mom who's running in a panic, and they get on the bus to leave town.
Tae-yang comes home to find Grandma on the ground and screams at her to wake up. They try to revive her at the hospital, but she's declared dead. Tae-yang refuses to let them cover her with a sheet, crying that his grandma's going to wake up, that she wouldn't leave them behind.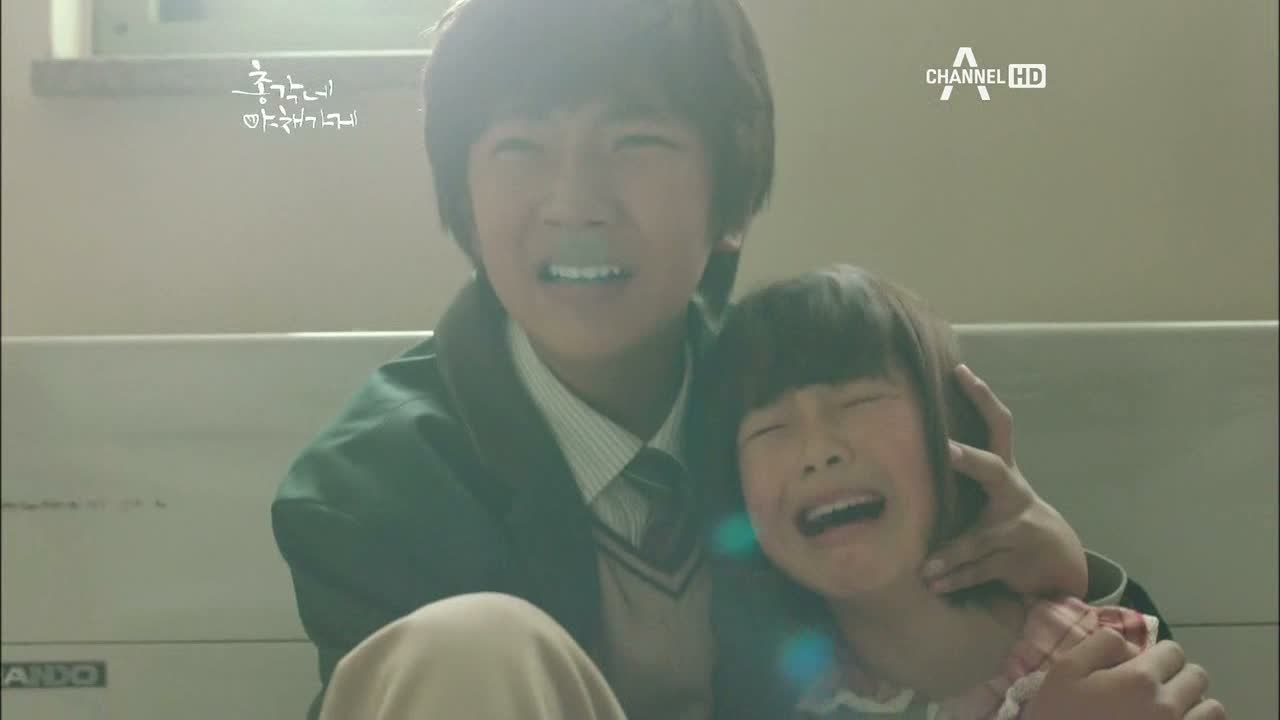 Eleven years later.
Ji Chang-wook! Gah, I thought we'd never see you. Grown-up Tae-yang gets suited up, primping in the mirror. A picture of him with Jin-shim sits on his nightstand. He cheerily makes sure to knock on every neighbor's door in his gosiwon, wishing them luck on each of their tests and whatnot.
He beams at the attendant in the front office that today is the day, and runs off, on top of the world. He screams in excitement as he arrives in front of a fashion design school, and hurries in to look at the graduates' final pieces on display.
Little Sis Tae-in comes bounding up, but not before replacing one of the mannequins' placards with her own name. Uh-oh. She greets Oppa with a big hug, and he congratulates her on graduating from college, all excited like a proud papa. They pose for a picture next to the project that he thinks is hers…
…Only to have her classmate come up and blow her cover, calling her a boyfriend thief and now a project thief. Eek. Tae-in snarls right back, calling her project a cheap-looking knockoff, and then her classmate counters that she's the one who's cheap, since she couldn't even afford to go to school this semester.
Tae-yang's jaw drops. Uh…someone's in trouble. Outside, Tae-yang reminds her that he promised Grandma that he'd make sure she was raised well and graduated from college, and calls that money his blood and sweat… so how could she spend it on clothes instead of tuition?!
Tae-in explains that such hard-earned money should be invested in what's really important, and what she needs is not a diploma, but to maintain her goddess-like appearance. Pfffft. Okay, she's hilarious. I loved their childhood relationship, but their adult one is even better. He stares at her like she's an alien.
He sighs in frustration and she takes his face in her hands as she explains that she'll marry someone wealthy and take care of oppa, so he needn't worry. Oh, you have such a long road ahead with this girl. He in turn takes her face in his hands and tells her through gritted teeth that he'll earn more money, and she WILL re-enroll.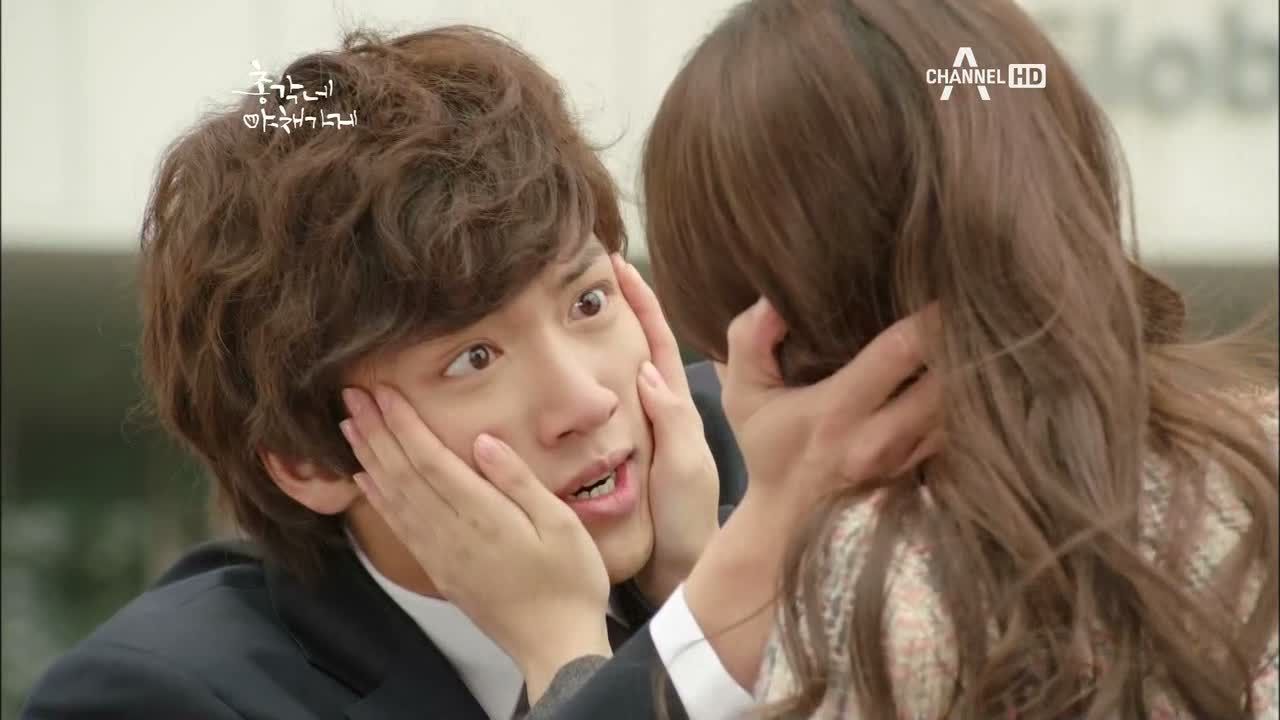 Tae-in's answer? "I'll just take that money and get breast implants!" Hahaha. Dude, is this because you killed her favorite chicken? They end up yelling back and forth. Tae-yang: "Go back to school!" Tae-in: "I don't want to!" Tae-yang: "Go back!" Tae-in: "NO!"
We meet Jin-shim (Wang Ji-hye), er, now Ga-on, working as a parking attendant at a big shopping center. It doesn't seem like the kind of job she'd be working, but we quickly find out that she is indeed the owner's only daughter, and heiress to the whole company. She's just working from the ground up, only everyone knows who she is and treats her like the plague.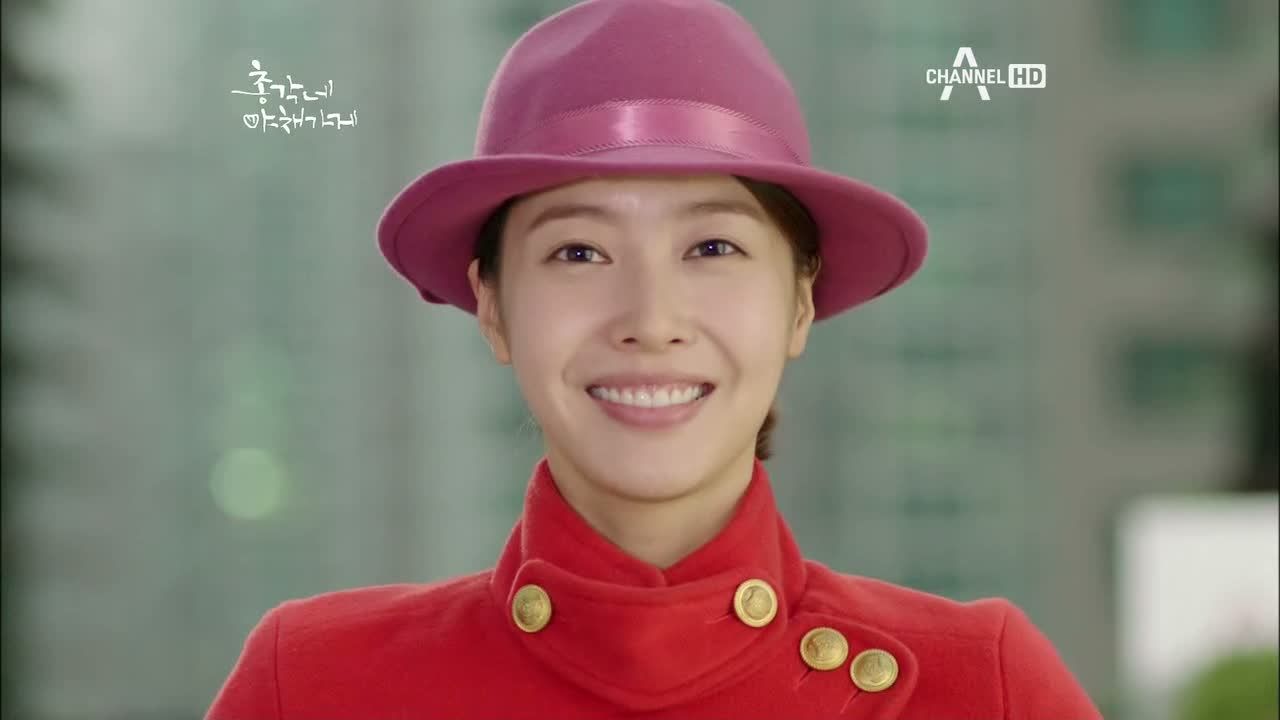 A coworker asks for her help in covering up an incident (where she keyed an annoying customer's car), and Ga-on tells her that she can't lie – that she promised herself that she wouldn't lie. You mean minus the whole playing a dead girl thing?
The coworker lashes back at her for not helping someone out when she herself is in no danger of losing her job, and tells her that her very presence among the staff is an affront to them, since she doesn't actually have to work for anything in life.
Ga-on tells her that she's right, and tells her that if she loses her job, it'll be because she was rude to the only daughter of the company president. She stalks off, fuming.
This whole exchange is witnessed by Kim Young-kwang, though we have yet to learn anything about his character.
Ga-on takes the bus home, clearly living with some residual guilt for her fortune, because she doesn't look or act like a chaebol. We hear her mother's side of a conversation in voiceover, saying that she was right to quit that job, and she was never in agreement with her working her way up like that. She says if she really wants to learn the business she ought to learn directly under Dad.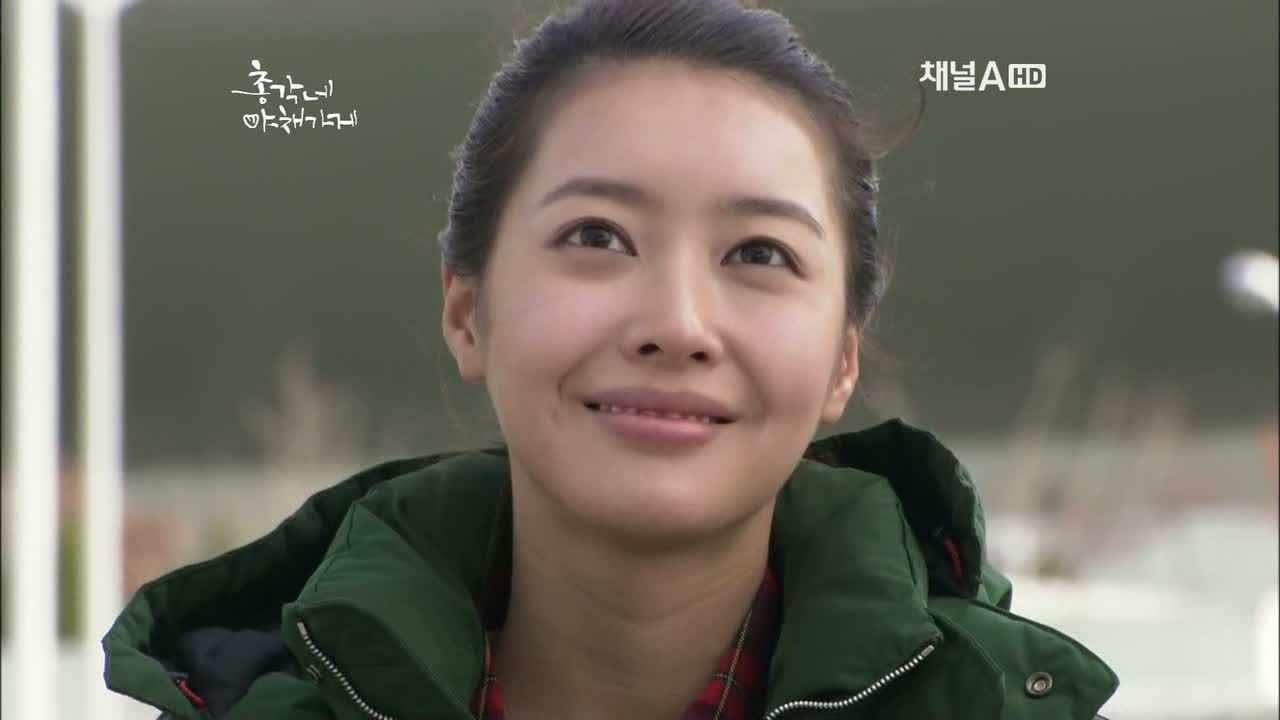 Tae-yang rides his bike excitedly to the site of the new market that's getting ready to open up, where he was given an introduction, but warned that he wouldn't last a day. He looks up at the sign full of hope.
And looking up at the same place not thirty feet away is Ga-on.

COMMENTS
So the kids' backstory was a lot to wade through, especially in this second episode. (I would've been much happier if they had condensed it all into the first episode, despite appreciating the child actors who were cast in the adults' spitting images.) But once we finally get to everyone as adults, the tone becomes much lighter and more hopeful, and not stuck in switched-identity-makjang-land.
I understand needing to set up the proper motivation for the backstory, that is, why Jin-shim would agree to trade in her life that way. The thing is, I understand fully why the child Jin-shim would do so. But if the adult Ga-on struggles under the weight of her guilt, that might end up being a little harder for me to understand (as in, why she lives the lie). But I suppose that's the one lie she's allowed herself, and she really believes that there's no turning back.
What I'm really here for is Tae-yang's story – the veggie store and his struggle to make something of himself from nothing. I just hope he remains the focus of the drama from here on out. I know the Jin-shim/Ga-on backstory has to be properly motivated, but that entire storyline was all so obvious and expected, that I felt like it was just the hill I had to climb to get to the place I really wanted to go. But now that we're finally here, I'm much more excited about what this drama could be.
We're still in wait-and-see mode with this show, since we only have about ten minutes of present-day story to go on. If it gets back on the makjang train, we're out, but if it stays upbeat and lively, we might just set up shop.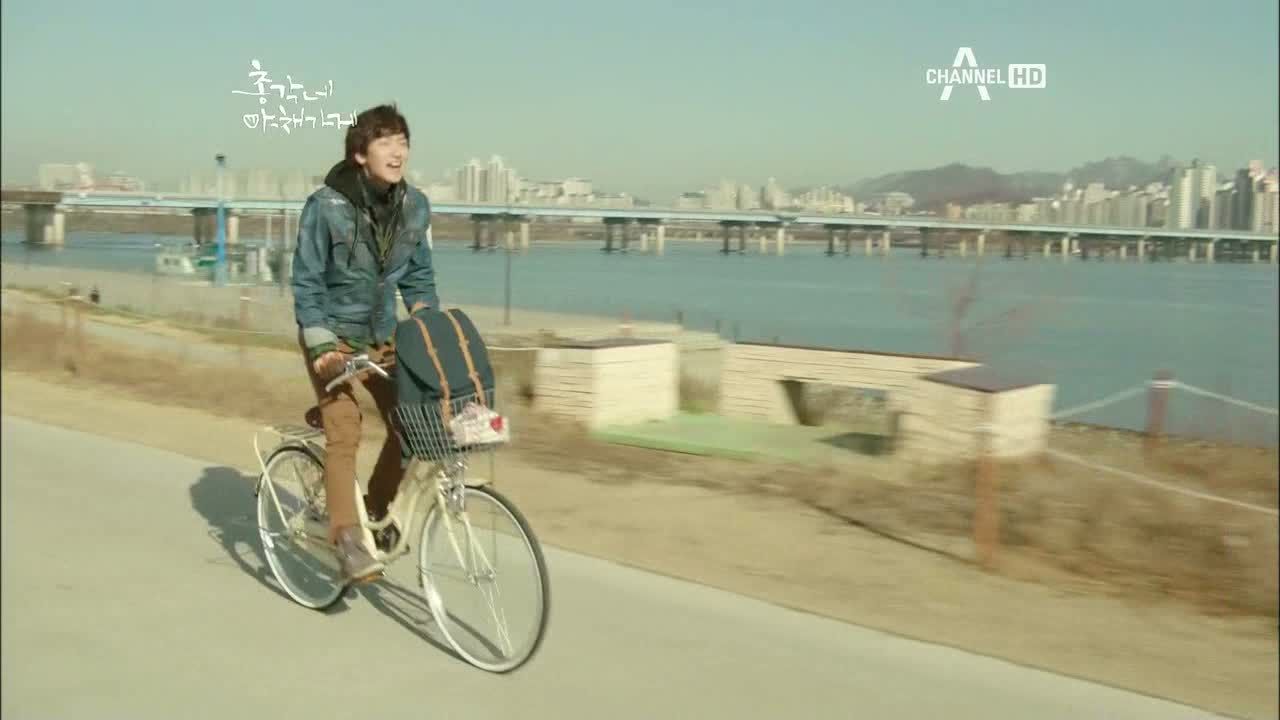 RELATED POSTS
Tags: Bachelor's Vegetable Store, featured, Ji Chang-wook, Wang Ji-hye