Dream High 2 finalizes its cast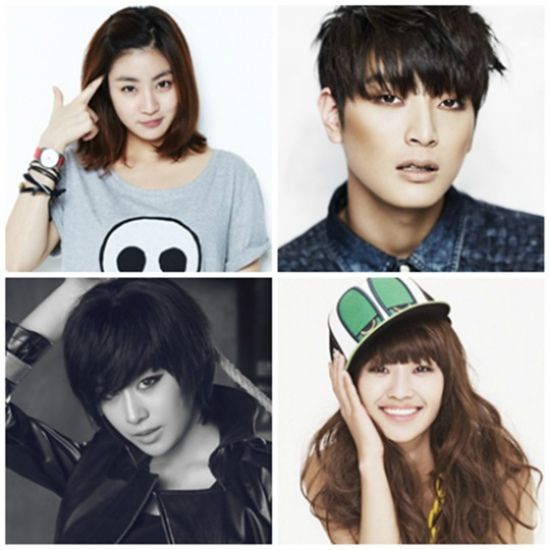 girlfriday: So Dream High 2 finally has its cast! I can't say I know any of them other than Kang Sora, but I loved her in Sunny. She's simultaneously badass and cute. I love it.
javabeans: She was bubbly in Dr. Champ, too, as the girl who got all handsy with Jung Kyeo-woon.
girlfriday: Yeah she ran around calling him Buttocks!
javabeans: I suppose she's the "actor"-actor of the bunch, while the rest look like they're idols.
girlfriday: Yeah, along with T-ara's Ji-yeon who confirmed earlier, we've got Jung Jin-woon (2AM) and Hyorin (SISTAR). That makes her the Kim Soo-hyun of Dream High 2, or what I'm going to call it from now on: Dream Higher.
javabeans: Not Dream Again?
girlfriday: Dream Bigger?
javabeans: Dream On?
girlfriday: Ha. I think that one's got a slightly different ring to it. But I'd watch that drama.
javabeans: That would be funny if they were all unsuccessful and/or has-beens.
girlfriday: Like the D-list idols.
javabeans: The ones who refuse to give up on their dreams, because that's what all the dramas tell you to do, only… in this case, maybe they'd be better off. But it would have to be a black comedy, because otherwise that's just depressing.
girlfriday: Yeah not so much uplifting, dream big dreams, like the franchise.
javabeans: I totally understand the need to go with idols in this case, although it would be nice if they picked idols who have acting talent. Like, Kim Soo-hyun was far and away the best actor of his bunch, but if you had six of him, it would take away from the performance aspect, which was sizable. I don't know anybody other than Ji-yeon in this bunch, though.
girlfriday: Yeah me neither. I can understand that it's a hard balance to strike, because yeah, in this kind of drama you need the dancers and the singers. But there are musical actors and well, lots of choices in that pool.
javabeans: Dancer and singer stunt casting is great for the Pil-sook and Jason roles, but you need stronger people playing Baek-hee and Jin-gook, for instance. In that respect Eunjung was a lot stronger than Taecyeon. I was okay with Suzy and Taec — I went with it, but only 'cause we had no choice. But could you imagine how the drama could've rocked if those roles went to Kim Soo-hyun-level actors?
girlfriday: The love triangle would've been much more heart-stomping.
javabeans: You mean, instead of just waiting for the inevitable shift in the tide? Yeah. Although that's one drama where the romance didn't even matter to me, 'cause I loved the hopes-and-dreams stuff. The misfits banding together, challenging the hotshots.
girlfriday: Yeah that's really the heart of this series (and franchise, we hope).
javabeans: Ha, don'tcha love that in a post about Dream Higher, we're just talking about Dream High?
girlfriday: Heh. So we like to live in the past.
javabeans: Well, if the powers that be have it their way, we'll be doing this post again next year, reminiscing on #2 while waiting for #3. Or, as I'll be calling it…
girlfriday: Dream Higher Still Again and Again?
javabeans: Dream Even Higherer.
girlfriday: That's not even a word! We're done now.
Via Star News
RELATED POSTS
Tags: conversation post, Dream High 2, Ji-yeon, Kang So-ra