Flower Boy Ramyun Shop: Episode 13
Not to state the obvious, but this drama really hinges on Jung Il-woo — and not just because he's adorable, but because he brings depth to Chi-soo that is indispensable to the show. There are definite moments of the ridiculous in the plot — you know, just one or two — but it's his reactions that tell us how seriously to take it, and him. He's like a barometer of absurdity, if you will. Funny how the most outrageous character of all can also be what grounds the crazy in something real, something we can feel and understand.
SONG OF THE DAY
Yozoh – "Sunday" [ Download ]
Audio clip: Adobe Flash Player (version 9 or above) is required to play this audio clip. Download the latest version here. You also need to have JavaScript enabled in your browser.

EPISODE 13: "Gloomy Sunday"
Kang-hyuk drops the bomb about being Chi-soo's brother. Far from being surprised, Chi-soo asks if he means he's that you know from Japan. Kang-hyuk confirms: "I'm the son of the man our mother loved before she met your father."
Outside, Eun-bi pounds on the door, increasingly frantic. Ba-wool and Hyun-woo wonder at her panic ("That's not the bathroom" — ha), and she wails that the boys are about to come to blows over her. Bwahaha.
Chi-soo sneers at Kang-hyuk's parents' hokey love story and wonders why he's only sharing this news now if he's known all this while. Kang-hyurk replies that he'd seen no need to share before.
Ba-wool winds up to charge at the door, and leaps forward to ram it in — at which point Kang-hyuk opens the door and catches a flying Ba-wool in his arms. Aw, it's an accidental hug.
To their surprise, Chi-soo and Kang-hyuk walk out calmly, unharmed. Declaring that it's too loud for their conversation, they head outside, declining offers of help from the others. Eun-bi declares that this is a matter for the adults and sends Ba-wool and Hyun-woo back to bed, only to have Chi-soo and Kang-hyuk tell her to step aside as well: "You're the loudest of all."
Banished from the brothers' conversation, Eun-bi explains that they're fighting because they both like her. Ba-wool expresses his disapproval ("Are you bragging?") and starts to scold his noona, but Hyun-woo steps in to defend her. Their argument boils down to They're Six Years Apart vs. Age Is Just A Number (And We'll Be Adults Soon Anyway), followed by a round of But They're Completely Different vs. So Are You And So-yi, But You Like Her.
Then their argument takes a turn, cutting Eun-bi entirely out of the loop as Hyun-woo says he's disappointed in Ba-wool for being narrow-minded ("I thought you were free-spirited!") and Ba-wool retorting that Hyun-woo's clueless ("And you acted so smart!"). Oh no, is this bromance on the rocks? Quick, someone knit a sweater!
The brothers resume their talk outside, with Chi-soo explaining his lack of shock by saying that chaebols have their ways of dealing with stuff like this — secret children, black sheep, People Who Must Not Be Named. Kang-hyuk sighs that he'd been holding back on asking Chi-soo to back off his woman because he was his kid brother, to which Chi-soo retorts, "Which is why I took her from you." Kang-hyuk returns, "Which is why your mother left. Because you have no idea how to care for people, the selfish Cha family." Ouch, though probably a little true.
Chi-soo fires right back that that's the difference between their fathers: Selfishness is attractive in a capable man, while Kang-hyuk's untalented father has nothing to his name but his pure spirit. Crumpling his water bottle in his hand, he warns Kang-hyuk that any more insults to Cha Sung will get him hurt. Kang-hyuk takes the bottle, blows it full of air again, and says that he doesn't care if he's hurt, but if Chi-soo hurts innocent other people, he'll have to be there blowing on their wounds (aka, fixing the damage).
By "innocents" he means Eun-bi, whom he describes as old-fashioned. If she were to learn the truth, she'd hide, or run. Chi-soo snatches back the water bottle and crumples it again and says he knows her better, so cut the know-it-all act and keep his trap shut.
Eun-bi frets on the phone to Dong-joo, looking for sympathy in the wrong place since the only advice she gets is, "Just enjoy it!" Eun-bi argues that she's in no position to enjoy this; she's so wound up she can't sleep. Cut to: Eun-bi sprawled in morning light.
Chi-soo wakes her and she fusses over him, checking for bodily damage. He asks how she could sleep in such a situation, and she protests that she definitely waited up late for a phone call. He leans in, all cheeky with an expectant smile; "From who, me?" She stops to consider this, and he grumps, "Or Onion?"
She asks what he's so cranky about, and he pinches her lips together with his fingers, saying it's only natural since these belong to him now, reminding her that they kissed and she said he made her heart boil over. Ba-wool storms up, "You kissed?"
Hyun-woo interrupts with another problem, and the gang comes inside to see Kang-hyuk taking down Eun-bi's bedroom door, so as to prevent more nighttime visits by other men. That's so petty of him, but it amuses me.
Eun-bi talks it out with Dong-joo again, who reiterates her "Enjoy it" mantra. She adds that it's not fair to expect the woman in the love triangle to always be torn up about it, or that, for example, if two teachers date at the same school, it's always the woman who's negatively affected. You know. Hypothetically, I'm sure.
When Eun-bi comes back to a tense ramyun shop, she has four men jumping down her throat: "Where were you?" She says she needed some air, and Kang-hyuk decides that they all need a break to recharge, so tomorrow (Sunday) will be their day off.
Ba-wool suggests playing baseball with noona, only to have Chi-soo interject that he's taking her on a date, only to have Kang-hyuk interject that he was planning on taking her on a date, to which Hyun-woo defends his friend as having spoken up first, which gets an indignant Ba-wool backing up Kang-hyuk's claim.
Fed up, Eun-bi calls an end to the squabbling. Pointing in turn, she designates Kang-hyuk as Bachelor No. 1, and Chi-soo as Bachelor No. 2 (let's just hope she's not a Vampire Prosecutor fan): "I'm going to date both of you."
The brothers posture to each other, both throwing around their egos a bit, confident that they'll win out in the end. Chi-soo says Eun-bi's just playing hard to get, and tells him that in all the dramas, the girl always chooses the skilled bad boy. Ergo, Chwa.
Kang-hyuk says that might be true for '93 roosters, but '81 roosters have moved past that. He adds a rule to their date-off: Until Eun-bi makes her final decision, "no skinship." Whaaa? Are you trying to sink this show, Mr. Pillar? Just 'cause you're a sexy panda doesn't mean that others can't have libidos more in rabbit territory.
Eun-bi considers the new dress she bought with Dong-joo, as well as the new advice: "Dating is like shopping. If you don't try it out firsthand, how will you know if it suits you or not?" Time to try 'em on, both dress and date.
So-yi's friends ask what she's going to do on this Sunday, wondering if she's been ditched by both Chi-soo and Ba-wool, since neither have been around. With a confident smile to prove that she's still got it, So-yi calls Ba-wool and aegyo-pouts to him to come right away… then loses the smile after her friends leave, showing us that the call is still ringing. Haha. I love frustrated So-yi. So. Much.
Over on the other end, Ba-wool is fighting with himself — literally, hand over hand — over whether to answer her call. He insists he can't pick up, and when the call goes to voicemail, So-yi lets out a squeak of frustration. It is so satisfying. Panning down to his phone display reveals a whole log of calls from her.
Hyun-woo warns that he's risking losing her, but Ba-wool states that it's all part of the push-pull. Which makes sense, given that the relationship has been horribly skewed the whole time, with him leaping to do So-yi's bidding. Ba-wool snipes at Hyun-woo, asking if he has no friends to be spending his Sunday knitting, and Hyun-woo snipes back at him to mind his own business.
Eun-bi comes out decked out in sexy black dress for her date. Kang-hyuk is waiting, and the screen captions him like a contestant in a dating show, listing his stats, which include "Body size: Pillar" and ending on "Kiss success rate: 1 attempt, 1 failure."
Kang-hyuk takes her to another ramyun shop on their date, but one glance at the chef at the counter leads to angry voices and challenging poses. Ramyun Chef levels a ladle at Kang-hyuk and declares, "How dare you… the hidden son of my father!" Whaaa-? Wait, is this for real? I actually kind of hope it is, because it takes the whole Chi-soo kinship thing and turns it on its ear.
Kang-hyuk assumes a fighting stance, the boys grab chopsticks as weapons…and Eun-bi jumps in to knock down the chef. That's adorable, stepping in for your not-quite-man.
As soon as the chef drops, Kang-hyuk drops the 'tude, though, and hurries forward in concern. Turns out they were just joking. HA!
The fight gives a different couple a chance to escape unseen — Dong-joo's here with Coach, on a sorta-date of their own. She tells him she forgot everything that happened "that day" due to drinking too much, trying to see how he'd react, and he says the same thing, feeling disappointed. Now they rush out holding hands, and decide to take this to Round 2 for drinks.
It appears that Ramyun Chef actually is Kang-hyuk's half-brother, but the animosity was the joke. They both laugh that birth secrets are best referenced in serious tones, for entertainment value. Chef-bro asks for an introduction, surprised to hear that Eun-bi's Korean: "That's surprising. He never dates Korean women."
Chi-soo asks his father why Mom went back to Japan. Dad replies that her heart had been hurting, and she wanted to go back to where she came from before she died. Chi-soo clarifies that he was asking something more specific: Why she didn't love Dad through the end?
Dad: "If I knew, why would I be like this?" He adds that one thing Mom had particular difficulty with was the food — everything Dad liked was stuff she didn't, likening it to a lion eating grass.
On their walk home, Kang-hyuk explains that his decision not to date Korean women stems from his parents: Mom was Korean, to the dissatisfaction of Dad's Japanese family, and the family opposition is what led to their split. As the product of that relationship, he'd decided it was too painful a path and determined that he was best off not falling for a Korean woman.
Eun-bi tries to comfort him, though she makes a muck of it and laughs that he probably can't understand a word she's saying: "What I mean is, it's just the two of us here, but I'm Korean and you're Japanese, and I'm sorry." He takes her by the shoulders and says, "It's just the two of us here — can we just be a man and a woman?" Rawr.
She stumbles in her heels and he holds her up, finding her so cute he has to pinch her cheeks. He calls her "Yang fatale," as in, you heart-breaker, you. At which point an objection arises: "That's breaking the rules!"
Enter Bachelor No. 2. His stats include "Kiss success rate: 3 attempts, undefeated."
Chi-soo reminds Kang-hyuk of their no-skinship rule and gestures Eun-bi away for her second date, with him.
Chi-soo pulls up to a fancy hotel for dinner, and she tries to play it cool like she's totally at home in a place like this. Over a steak dinner, he tells her she can stop with the playing-hard-to-get, Yang fatale routine now. Just admit she likes him.
To his utter shock, she answers that she's not playing a role, but is doing her utmost to suss out how she really feels. He's incredulous, saying that he kissed her, cooked ramyun for her, and admitted he likes her: "Naturally you should like me." In fact, she's pretty much hit the life jackpot to have won his interest.
And just like that, he instructs her to quit the shop and move out, since he'll secure new living quarters in his hotel and a position at Cha Sung. Oh, sigh. You mean so well, and yet, there's the perpetual fumble on the dismount.
Eun-bi looks disappointed with that and takes her first bite of steak, tasting it for a moment before spitting it back onto her plate: "This beef just doesn't suit my taste." Aw. Familiar words.
He follows her out to stop her, at which point she asks if he would be able to comply were she to give him the same instructions: move out and live with her at the ramyun shop. Naturally he doesn't see the reason for that, and answers that Cha Sung is a better workplace, and the hotel tons bigger than her tiny room: "I want to make things better for you."
And the thing is, Chi-soo's entirely earnest. For him, it's simple economics: "I have more money than you, so I can do more for you."
Eun-bi sees that he means well, and with one hand to his chest, she tells him his heart is good: "I didn't see that, and just got angry." And yet… She says she's too materialistic to strip everything aside and just see his heart. As she starts to leave, he tells her that if she really goes, it's really over. He won't keep holding onto her.
Chi-soo entreats her to come out from her place to meet him, since he can't stay there in her world. He promises to shower her with the good life, and she tells him sadly not to talk "like a lion eating grass."
Dong-joo and Coach spot Eun-bi leaving the hotel sniffling back in tears, and wonder at her busy dating life. The closeness reminds them of that other night, and both admit that they hadn't forgotten after all, skulking back behind a bush to repeat the kiss.
Chi-soo sits in front of the saddest dessert ever, eating alone, replaying Eun-bi's words: "You're a lion, but why do you keep trying to eat grass?"
Once home, Eun-bi thinks back to all of Chi-soo's sweet gestures and faces her reflection in the mirror, calling herself a coward.
Kang-hyuk watches Eun-bi sleep and tucks her into bed, resisting his urge to brush aside her hair (it's his rule, after all), settling for setting the hairpin on top of her hair. Turns out she was awake through it all, though, and she looks at the pin with a smile.
Kang-hyuk heads out for a run (to work out his sexual frustration? That's so cute), coming back some time later to see a fancy car pulling up in front of the store. It's Daddy Cha, who has received the disturbing report that Kang-hyuk is the son of his lost love. Hm, this can't be good…
Meanwhile, Chi-soo arrives at Eun-bi's bedside and watches her sleep, then pats her head. Eun-bi murmurs, eyes closed, "Boss, why did you come back instead of going to bed?"
This brings out Indignant Chi-soo: "Onion was here?!" The reason for his presence: He's done a little investigating online, and shows her his cell phone, set to a page (like Ask Yahoo) where he has asked, "Can lions eat grass?" Turns out, according to the responses, sometimes lions do. Aw, how like him to cling to the literal for hope.
Eun-bi urges him to leave quickly before the others find out, but he resists. Lying down next to her, he declares, "I'm going to sleep here tonight." He agrees that he's crazy to spend the first night of his life sleeping without a bed, and grabs her tight to keep her with him.
She flails and ends up elbowing him in the chest, then reminds him that they'd agreed to end things. He asks, "Does that work for you? Can you be okay without seeing me? I can't do it." He declares that he knows it's crazy for a lion to eat grass, or to mix caviar into rice, "But I don't know about all that — I just want to hold you."
Melt. What's a girl to say to that? And now he uses her name for the first time — not intern, not eebbeunie — entreating, "Eun-bi-ya."
And so, they give it a try. Lying side by side, they're adorably nervous, like young kids who've never even held hands, much less danced around much hotter innuendo for weeks, months on end. Her head rests on his arm as a pillow, but that's their only point of contact with a huge gap of space between their bodies.
Chi-soo's other hand makes the tentative journey over her shoulder, carefully landing over her torso, but Eun-bi flips out on him and he ends up stuttering that she touched his chest, so why can't he return the favor? Hee. So it's "I'll show you mine if you show me yours," he?
She retorts, "Is a woman's chest the same as a man's?!" He insinuates that there's not much difference between theirs, at least, which gets her huffy. But before she can get up and leave, Chi-soo pulls them both down together, her face turned into his chest: "Now I'm really holding you."

COMMENTS
I can't help but feel for Chi-soo, even though I still think he's all mixed-up about what it takes to be a boyfriend or a provider. He still thinks in terms of money, like he did when he tried to pay off Hyun-woo's father's debt, because, well, that's the only way he has any agency in this world. If he doesn't solve things with money, he has to own up to the fact that some things are out of his power, and that just does not compute for his grand Chwa brain.
In fact, it's the same sort of thinking that has stunted Daddy Cha, which makes Dad not just the cute teddy bear of a dad who gets jealous of cartoon characters but a truly sad cautionary tale. I didn't actually think Chi-soo's mother's story was going to have as big of a role as it has, but now that we see the story behind that fractured relationship, there's a bigger message that's emerging for Chi-soo: Don't repeat your father's mistakes, if you want to avoid his fate in becoming a morose, befuddled, lonely man.
I love that Chi-soo is trying, though, despite the way he sometimes trips things up for himself with his big gestures. He means well though — he just wants to Fix It, using the only tools he's ever known — which Eun-bi finally recognizes, and when he's told lions can't eat grass, he doesn't just let that put an end to things but tries to find a way so that they can. Maybe Dad never tried hard enough to see outside his bubble, which is why Mom had to leave in the end, because he wasn't meeting her halfway. I hope Chi-soo's the kind of guy who realizes that love can't be an all-or-nothing, your-world-or-mine proposition. You've gotta figure out how to eat your caviar with rice if you want to be together. (Thankfully, there's sushi.)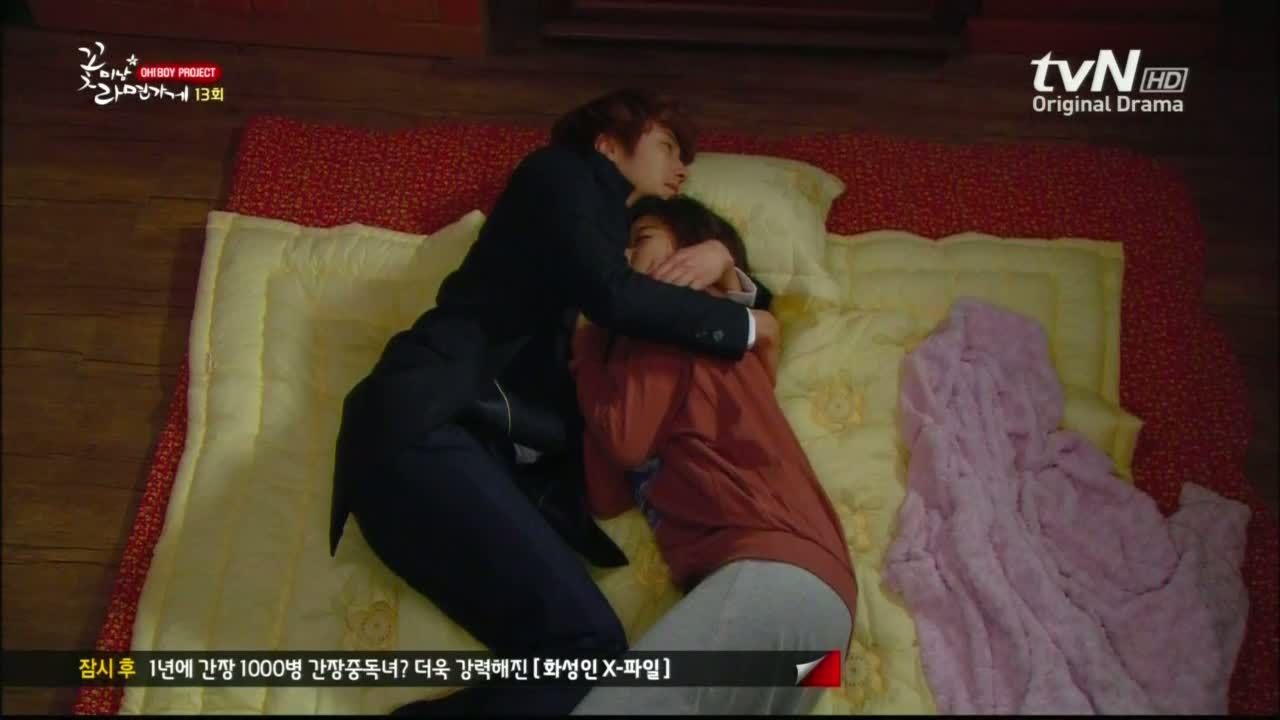 RELATED POSTS
Tags: featured, Flower Boy Ramyun Shop, Jung Il-woo, Lee Chung-ah, Lee Ki-woo