In the market for Bachelor's Vegetable Store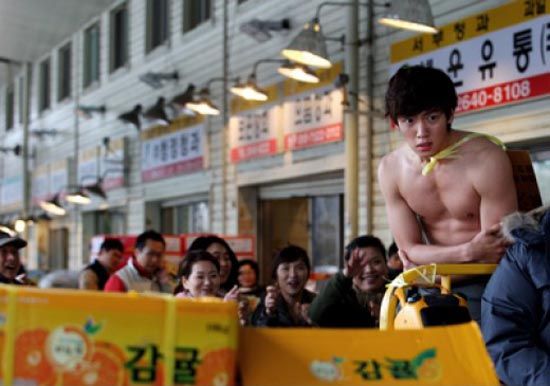 Aha, so this Bachelor's Vegetable Store has some real six-packs to go along with its Bachelor Six Pack! This drama does know how to speak to its audience — it's sure got my attention.
(Also? The real-life Chonggak/Bachelor brand should really expand and make this Bachelor Six Pack into a real thing. What? Beer is a vegetable. And they've got six strapping young bachelors on hand to handle the marketing…)
These two stills featuring shirtless Ji Chang-wook come from a recent shoot in a marketplace. I especially love the giddy looks of excitement on the ajummas' faces, and the one ajumma's attempt to make grabby hands. Ha. Not that I blame her:
Sadly though, it appears the scene was less fun for our actor, who headed to the hospital directly after the scene to get an IV drip (and out of the cold).
Pictured farther down below are Ji's co-star Lee Kwang-soo and his child-actor counterpart Oh Jae-mu — whom you may remember as young Tak-gu in last year's Baker King Kim Tak-gu. Although it's okay if you don't; he's grown up so much that it would be easy to mistake him for someone else.
(Also: How funny that he almost got to play the childhood counterpart for the same actor twice, had Yoon Shi-yoon stayed with the drama.)
We're a week out from its premiere on cable station Channel A, and while normally while that would mean we should have been inundated with press releases, posters, stills, and other promotional stuff, thus far Channel A's been more low-key than its fellow cable competitors (jTBC, on the other hand, as gone the other way with oversaturation). I wouldn't take it as a bad sign, if we're going off of Channel A's other new drama Color of Woman, which premiered with little fuss but has been charming and engaging.
It does mean that I'm still left hanging as to things like tone and attitude, and curious to find out. I have the general idea that Bachelor's Vegetable Store will be a mix of the funny and the heartwarming, described as the story of hard-working young men (with abs!) who band together and grow up, as well as "finding meaning within ordinary life in a refreshing way." We'll see if the drama makes good on that promise.
Bachelor's Vegetable Store premieres next week on December 21. It airs Wednesday and Thursday nights on Channel A.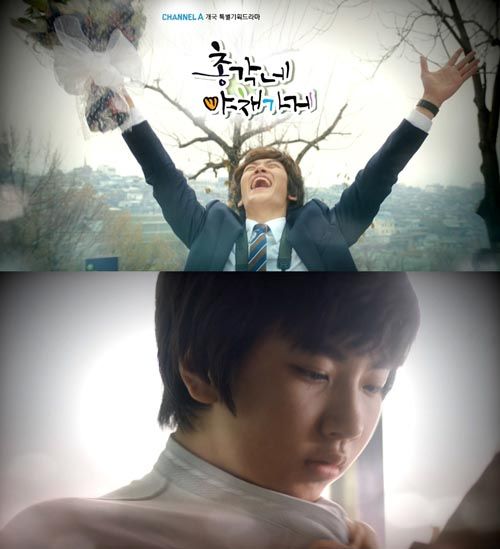 RELATED POSTS