Jung Il-woo replaces Joo-won in fantasy sageuk drama
javabeans: Oh holy WHAAAAATTTTT now? Jung Il-woo is replacing Joo-won in Moonsunraincloud.
girlfriday: WUT?
javabeans: Okay okay, that fantasy-sageuk romance The Moon That Embraces the Sun or whatever. You know, Moonrainbowhippiemountain.
girlfriday: Am suddenly very interested in joining this hippie commune.
javabeans: Apparently Joo-won just can't manage to juggle it with Ojakkyo Brothers. So Jung Il-woo is now playing the older brother to Kim Soo-hyun. Eeep, who to root for now?
girlfriday: Oh I'm Jung Il-woo all the way!
javabeans: But Kim Soo-hyun is the king! And the lead!
girlfriday: But Jung Il-woo is hotter!
javabeans: Hmm, I dunno about that. They have different kinds of hotnesses. Kim Soo-hyun is more straight-up intense and introverted. He smolders like nobody's business.
girlfriday: Ok, fine, hotter to ME!
javabeans: On the other hand, Jung Il-woo plays his hyung who purposely acts like a frivolous playboy because he doesn't want people to back him politically and endanger his dongseng.
girlfriday: Or… he's just a frivolous playboy?
javabeans: Ha. He's using that cover as a cover for his cover?
girlfriday: Works for everyone.
javabeans: The thing is, Jung Il-woo is amazingly good at the show-two-sides double-identity sort of thing. Like the spoiled manchild who also feels (for the first time ever, maybe). Or the commoner by day, the masked avenger by night.
girlfriday: I STILL swoon at the memory of him as Iljimae.
javabeans: Omg. The mane of glory….
girlfriday: *GASP* Best mane of glory ever!
javabeans: He's the OG, yo.
girlfriday: Long live the pedigree of the glorious mane of glory.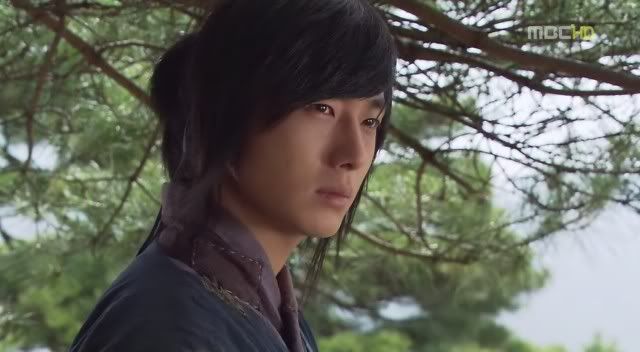 Via Herald Biz
RELATED POSTS
Tags: conversation post, Joo-won, Jung Il-woo, Kim Soo-hyun, The Moon That Embraces the Sun