Me Too, Flower: Episodes 13-14
All Hail the Godly Park Tae Hwa. He dresses in head-to-toe white, hates eating alone, and is the voice of reason in this bipolar drama, which takes after our OTP. He forces The Brat to clean a toilet and informs The Villain that she's bat-shit crazy. Jo Minki, I am forever your fan. ::bows::
Warning: this will be long.
Episode 13
Jae Hee tells Hwa Young that he'll break up with Bong Sun on the condition that he runs the press conference. A satisfied Hwa Young lets her assistant know that the press conference will occur tomorrow.
The next day, Jae Hee sits in front of a horde of paparazzi and tries to calm his thumping heart. Hwa Young watches from the side and recalls Dr. Park's words about Jae Hee's social phobia as the reporters complain about Jae Hee's nervous silence. She tells Jae Hee that she can do the conference, but he rejects her offer. He reflects on his promise to Bong Sun and steels himself to address the room.
Jae Hee begins his speech as the parking garage boss runs in to inform Hwa Young that Ah In is outside, crying and hurt from an accident. She frantically runs out, but strangely ends up in a storage room. Jsut then, the manager locks her inside while apologizing profusely. He's only acting on Jae Hee's orders.
Jae Hee reveals that he was responsible for the noise marketing incident and gives a deep bow to ask for forgiveness from the public. He continues by saying he will step down from his position as co-president and informs the reporters that he will invest his own money to improve Perche. In the storage room, Hwa Young throws a fit and yells out Jae Hee's name desperately.
After the press conference, Hwa Young rages at Jae Hee that she'll never forgive him. Who would buy their products now? Perche's reputation is ruined. He returns that he'll never forgive her for starting this mess in the first place either. It's time for them to go their separate ways. Wha. Did he really just say that? This isn't a fake-out right? Hwa Young can't believe what just happened and she freezes, thunderstruck.
Jae Hee greets Bong Sun as she gets off of work and they go for a drive. He makes small talk and mentions that he's always wanted to drive her in his car. He indirectly asks her to stay with him — "You can sit in the passenger seat of this car instead of taking the bus all the time." She compliments the car but gently turns him down.
He gives her one last chance to continue their relationship and lays down a potential "what-if" situation. Will she come with him if he gives up his wealth and career? She calls him a fool and tells him he shouldn't throw those things away. He replies that he's still young; money, fame, and status are re-attainable but she's not.
Bong Sun confesses that she could never give up all the things she considers precious for him. She talks about how important she feels when she shows up for an emergency call; the people who need help look at her with such hopeful eyes, even though she's young and mostly powerless. She she could never give up her job, so she can't ask the same from him.
She tells him that the happy times she shared with him is enough. She tries to get out of the car, but Jae Hee grabs her hand. She begs him to let go, saying that she's tired of fighting and getting her heart broken. His grip slackens and she opens the door. Before she leaves, she tells him that he looked cool and confident during the press conference, and to preserve that confidence all the time. With that, she steps inside her courtyard and the two lovers cry over their broken relationship.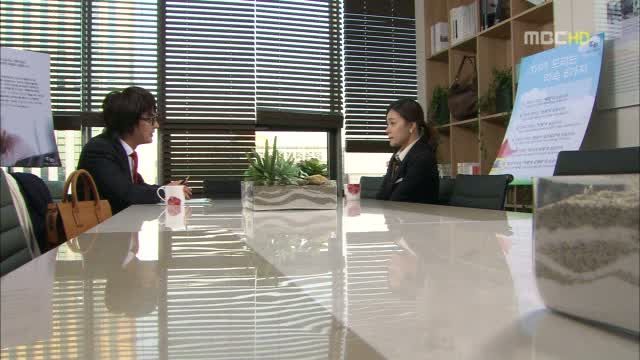 The next day, Dr. Park has a consultation with Young Hee. He asks if she's felt any stress lately, and she replies that it's been really quiet in the store. Dr. Park reports back to Jae Hee, and they worry about the future of Perche. Dr. Park praises Jae Hee for taking responsibility for the marketing stunt, but scolds him for acting without Hwa Young's consent.
Dr. Park tells Jae Hee that he stole a good chance for Hwa Young to regain her conscience. Cough. Methinks he has a little too much faith in his cousin. Jae Hee voices his concern for Hwa Young and Dr. Park tells him to worry about himself instead.
Dr. Park returns to his office and finds Dal working out(?). The office is a pigsty and he commands Dal to clean up her crap and move out. He wonders how a girl can be so dirty; he thought she was going to fly away in the night from all her farts. Puhaha.
He finally grabs one of her shoes and threatens to break it unless she cleans up. She refuses, so he splits the shoe in half. Oh dang. That was cold. She throws a fit until she sees the other shoe in his hand…and then we cut to Dal scrubbing the toilet with Dr. Park dangling her shoes from the doorway to ensure a thorough cleaning. Why didn't anyone think of this before?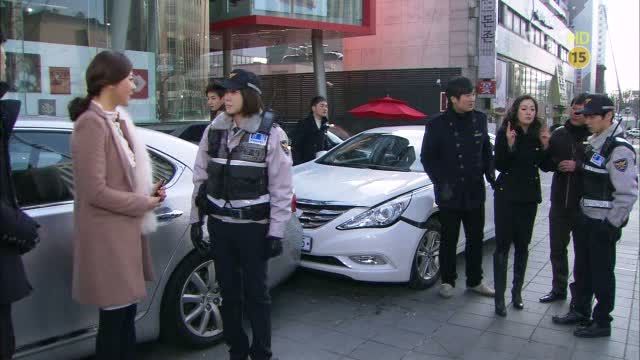 A couple of kids report that their bike tires were stolen and Bong Sun does night watch duty to catch the thieves. Maru stops by to give her coffee and comments that she's pushing herself too hard lately. Working herself to the bone won't cure a broken heart. No, but it does distract her.
The next day, Jae Hee oversees a workshop for store employees who practice explaining return policies. The parking manager informs him that the number of customers is increasing again, and Jae Hee gives an approving nod.
Suddenly, a slight accident occurs between the Chairman's daughter and the drunken woman from the café and boardinghouse. Maru and Bong Sun arrive to resolve the situation, and Bong Sun informs the two drivers that they have to stop by the police station.
Jae Hee fails at ignoring Bong Sun and volunteers to act as a witness for the accident. At the station, she checks the alcohol content of the boozed chick and contains her for drunk driving. This actress is great. She really needs to star in her own film soon.
Bong Sun tells the Chairman's daughter she can leave, and Jae Hee moves to follow the bakery owner out until Maru stops him. He needs to give a witness report before he goes, but Jae Hee confesses that he actually didn't see what happened. Maru questions why he came to the station then, to which Jae Hee responds that he wanted to tell Bong Sun to take care of herself. She looks exhausted. Gee, I wonder why.
Hwa Young comes asks why Jae Hee's been meeting the company lawyer, but he refuses to give her a straight answer. She brings up the Chairman's daughter and asks what he thinks about merging Perche with the Chairman's company. He replies that he needs time to mull things over and asks her to leave. She sucks at picking up hints and tells him they'll talk about it later.
At the convenience store, Maru and Bong Sun talk about the Chairman's daughter. Bong Sun thinks the daughter is pretty, with a solid background that matches Jae Hee's status, which Maru frowns at. She quickly tells Maru to talk to the cashier girl, which causes Maru to flash her a nervous look. He eventually takes up her challenge and pays for his razor while shyly commenting that the girl doesn't really speak. The girl smiles until she exclaims (with mixed swear words) that his sunbae has collapsed.
Dal finally gets kicked out of Dr. Park's office and lugs her suitcase down the stairs when her phone rings. Maru informs her that Bong Sun fainted and Dal worriedly asks if her unni is okay. Oh, so you do have a heart.
Dal brings Bong Sun home and frets over her even as Bong Sun repeatedly calls Dal a biatch. Lol. Dal gives an exasperated sigh and asks when Bong Sun last ate. Bong Sun murmurs a non-answer and Dal goes to the kitchen to find an empty rice cooker.
At the same time, Maru approaches Jae Hee and informs him that Bong Sun collapsed from malnutrition. He should visit her and return her phone. Jae Hee tells Maru that he and Bong Sun are now strangers. Maru should go to her in Jae Hee's place, which ignites Maru's temper. Maru calls him less than a man, which Jae Hee doesn't deny. He asks Maru to get a drink with him and Maru reluctantly agrees.
Maru talks about his family and reveals that he comes from a family of police officers. His brothers became officers because of their dad, and he became one because of his brothers. D'aw. That is so cute. Jae Hee responds that he's envious of Maru's family.
He asks Maru what he would do if his family became endangered. Maru says he'd fight to protect his family, and Jae Hee responds that Bong Sun is currently fighting to guard the precious things in her life. Jae Hee's just respecting her fight.
Maru comments that Jae Hee is probably the most precious thing in Bong Sun's life. Jae Hee admits that he's hurting Bong Sun in the long run if he selfishly continues to hold onto her. Maru shakes his head at their complicated relationship.
Dal cooks dinner for Bong Sun, who refuses to eat at first. She wonders if Dal poisoned the food and Dal snaps that it's better to eat poisoned food and die quickly rather than dragging her death out by starving. Point taken, Bong Sun takes a bite of the uncooked rice and salty soup. She glares at Dal, who brazenly states that Bong Sun should get better and cook herself if she wants a proper meal. Pft. Mom calls and Dal tells her to cook for stupid, malnourished Bong Sun unni.
A worried Jae Hee stands outside Bong Sun's house until Mom spots him. She asks him who he's here for but her question goes unanswered. She invites him inside, but he turns her down politely. He leaves, but not before calling her "Mother" like a son-in-law.
Mom feeds Bong Sun porridge and she brings up Jae Hee. Bong Sun reveals that they broke up and tells Mom to ask her stepsister for information. However, gorilla-face Dad barges in before Dal can give a proper answer. He shoots death glares at all three women and asks the obvious: is Dal his ex-wife's stepdaughter? He tries to drag Mom outside, but Bong Sun holds him back as Dal tries to protect Mom. The three ladies soon break down in tears and Dad is forced to bite back his anger.
Dad orders Dal to get out of his sight. She tries to stand up but Bong Sun pulls her down, saying Dal doesn't have to listen to Dad. Bong Sun announces that she's allowing Dal to stay with her until her debts are paid off, which sets Dad off again. How dare she bring "this" to his house?!
Bong Sun returns that this is her house now. Ohoho. You tell that overbearing, insufferable man. She enlightens him as to why she didn't follow Mom. If she left this house, he would have been all alone.
Bong Sun: I was worried that you'd be alone if I left when Mom remarried. And when you remarried, I decided to stay here because Mom might come back later. I thought that Mom would leave again if she ever came back to the house and found it empty. This house is mine because I protected it…
Mom cries in the kitchen while Dad leaves, smirking at how foolish Bong Sun is for worrying about other people when she can barely take care of herself. Okay, you're an effing asshole. Your daughter pours her heart out to you and that's your response? I thought there'd be some redemption for you but I really don't want to see your face on my screen again. Ugh.
At home, Dal thanks Bong Sun for defending her and Bong Sun predictably shrugs off her gratitude. She tiredly tells a sniffling Mom to stay over because it's late and heads to her room. Dal follows her to admit that Jae Hee only has eyes for Bong Sun. Nothing ever happened between him and Dal.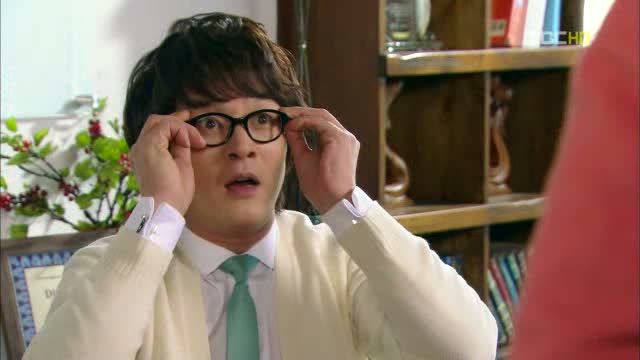 Dr. Park comments that the office is pin-drop quiet without Dal the brat, who actually sneaks in to surprise him. She correctly guesses that he doesn't have anyone to eat with and Dr. Park flashes a mega-watt smile. They order black bean noodles and Dal peppers Dr. Park with questions about his private life. Where's his ex-wife now? Why'd he get a divorce anyway?
He refuses to indulge her and she stomps out after he tells her that he's not interested in her private affairs. Why should she eat with someone who isn't interested her? Oh Dal. Forever the attention whor…I mean…lover. He yells that he's a very picky person who doesn't eat meals with people he dislikes or has no interest in. Puhaha.
Ah In and Jae Hee go on a pizza date and they decide to play a game. Jae Hee will draw the noonas that Ah In thinks are pretty as they pass by on the street. The feminist in me wakes up at the blatant objectification but the boys are so cute that I kind of let it slide. Ah In picks too many girls that Jae Hee starts to take pictures, which is a little creepy…but creepy is the theme for this drama so I'll go with it.
Ah In notices Bong Sun walking by and calls her the prettiest noona. Kyah! I want to steal this little boy away. He's too adorable. Ah In remembers Bong Sun as the noona who visited their apartment before. Jae Hee snaps multiple photos of her until she walks into a restaurant, where she meets her blind date. They share beers as Jae Hee watches sadly.
The initial meeting goes well and Bong Sun leaves with her date. Jae Hee returns to the factory and looks at the pictures he took on his camera as Mr. Bae coughs up a storm. Jae Hee offers to buy cold medicine, and while walking to the pharmacy, he sees Bong Sun with the other man.
He turns away to hide, but changes his mind. He steadies his nerves and walks purposefully towards Bong Sun. At the same time, her date reaches for Bong Sun's hand. Wow. That was fast. Jae Hee passes them and he notes their clasped hands with a pained expression. On the other hand, Bong Sun puts on a calm, unaffected face and the two lovers pass each other in slow motion.
Episode 14
Jae Hee walks into the pharmacy, but can't recall what he came in for. The pharmacist gives him eye drops because his eyes are red. At the factory, Mr. Bae reminds him that he was supposed to buy cold medicine. Aw.
Bong Sun's date drops her off at home and asks her if she wants to watch a movie this weekend. She nods unenthusiastically, which Dal notes as she heads towards the gate. At home, Dal pesters Bong Sun and asks if Jae Hee is really no longer in the picture. Bong replies they broke up for reasons other than Dal's interference, so she needn't feel guilty.
Bong Sun sees a letter from a lawyer's office addressed to Dal. She yells at Dal to get her shit together as she whips the letter at her face. Dal rips the envelope open and reads a statement that Park Hwa Young is firing her for a breach of contract. Damn. That's cold.
A furious Dal walks into Hwa Young's office and slaps the letter down on her desk, asking why she's being fired. Hwa Young responds that Perche needs a top star to model for their company instead of Dal, who's a nobody. Dal threatens that she'll go to Jae Hee directly, but Hwa Young shoots her down. Did Dal even read the contract?
There's a confidentiality clause that keeps Dal from saying anything about their payola deal; if she utters a word to anyone, she has to pay back three times the amount of the initial advance she received when she first signed the contract. Hwa Youg throws a packet of money at Dal and tells her to get out.
Dal calls Hwa Young a monster that'll never receive love, which earns her a slap across the face. Dal retaliates with a slap of her own and leaves after slamming her car keys down. This was the most entertaining part of the entire episode. I'll admit I rewound this scene.
Dal paces Dr. Park's office and calls the hotcake ahjumma a witch who covers all the people around her with flour. She uses anybody for her own benefit and fights dirty. Dr. Park muses that the ahjumma must have a lot of problems, but scolds Dal for agreeing to follow the ahjumma's evil plan.
She retorts that the couple didn't break up because of her. And even if they did, then that's their problem. They didn't trust or love each other enough maintain their relationship. Well, you were a catalyst to the breakdown of their trust. Typical Dal. She's always pushing off her responsibility onto someone else.
Hwa Young orders her assistant to lure a top star into modeling for Perche. He disagrees with her plan, saying no star will tarnish their image by helping to advertise a struggling company. She yells at him to give 3, 4, or 10 times the normal amount of money for signing modeling contract then. Kek. Even her assistant thinks she's going crazy…
Jae Hee plugs in the flash drive Dal dropped off earlier and listens to all the conversations between Hwa Young and Dal. Anger and betrayal bubble up inside him as he realizes what Hwa Young has been doing behind his back.
And to speak of the devil, Hwa Young shows up at the handbag factory and witnesses Jae Hee listening to the flash drive. She immediately denies her involvement and hurries to destroy the laptop, but it's too late. Jae Hee stands frozen as she drops to her knees and tearfully insists that she didn't do anything.
He holds her as she continues to exclaim that the woman on the recording device isn't her. I'd feel more sympathy for her if she just admitted that she was an ice-cold bitch. At Dr. Park's office, Dal gleefully congratulates herself on bringing the hotcake ahjumma down, but later deflates at the lack of complete satisfaction. Is she actually growing a conscience?!
Jae Hee takes Hwa Young home and she brings up the time Jae Hee first confessed that he liked her. We flashback to when Jae Hee and Hwa Young worked at the handbag factory. Jae Hee tells Hwa Young that she will be the only woman to him. She looks away uncomfortably and quietly informs him that she picked a wedding date.
Back in the present, Hwa Young admits that she still recalls how he looked — his voice, his eyes, everything. Jae Hee also remembers that day; how can he not? She was his first love. He sits on the edge of her bed and reveals that he decided to become Hwa Young and Ah In's guardian to honor his hyung's memory and preserve his own conscience.
He says that he believed that he couldn't open his heart to anyone after the accident. Yet when he met Bong Sun, something changed within him. He came to love her without meaning to. Hwa Young silently cries at his words and Jae Hee stands up to leave, saying that he'll try to understand Hwa Young's feelings and actions.
The next morning, Jae Hee invades Bong Sun's house and asks for breakfast. She bristles at his crappy manners and tells him to fix breakfast himself. He smiles and then looks up into her eyes to apologize for letting her go. He recently found out why their relationship became so convoluted, but he can't reveal how and why he knows. He asks her for another chance, but she gently declines.
Bong Sun brings up something she read in a book. She and Jae Hee act out the scenario, complete with 70s outfits and wigs. Are we in "Lights and Shadows" now? A woman went to drink tea with her ex and was trying to figure out why they broke up in the first place. As they sat, the ex-boyfriend kept playing with matchsticks. The woman then realized that his strange habit had caused the break-up. LOL. Yo, that is so stupid. Matchsticks? You broke up over matchsticks? Pft.
Bong Sun's point is that if they re-start the fire, they'll break up because they'll make the same mistakes again. Oh, Bong Sun. Didn't you watch "Can't Lose"? It's called communication. She goes outside and leaves Jae Hee murmuring that he doesn't have a strange habit of playing with matchsticks. Yeah, I know. This analogy makes no sense to me either.
Dr. Park rudely wakes Dal and tells her to clean up again because he has an appointment. Bong Sun walks in before Dal gets her butt off the couch and the girls stare at each other in surprise. Bong Sun drags Dal away to question her motives for befriending Dr. Park. If she tries to seduce Dr. Park, Bong Sun will give her a beatdown.
Dal pulls Bong Sun back and declares that she and Dr. Park are lovers. Hahaha. Ew. She claims that she stayed with Dr. Park for the past couple days and that all the men in the world don't belong to Bong Sun. She can do what she wants. Dr. Park sits flabbergasted at finding out the relationship between Bong Sun and Dal. Bong Sun stomps in and asks if Dal really stayed over, and he confirms it.
She yells that she's disappointed in him; he's no different from every man she knows. She stomps out and Dr. Park demands to know what Dal told Bong Sun. When he hears she said they loved each other, he kicks her out. Heh. That's what you get for being so desperate.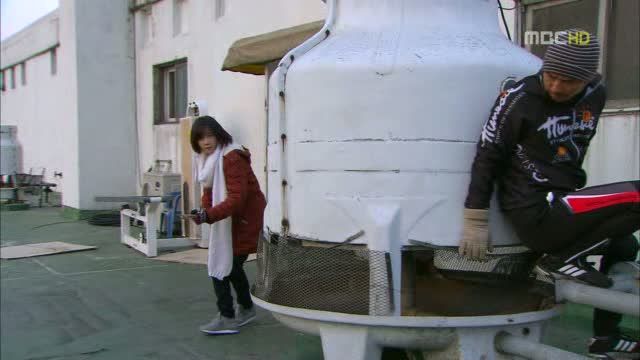 Bong Sun complains to Maru, asking if all men enjoy being seduced by a coy, sly fox of a woman. He's surprised she's even asking. Doesn't she know the saying "a fox is better than a bear"? Puhaha. I don't know why I find that funny. Maybe it's because he's so blunt with how shallow all men are.
She hangs up on him after declaring that she's going to check on the bikes. At the park, she spots a man cutting tires off the bikes and calls Maru. He tells her to refrain from doing anything until he gets there, but this is Bong Sun we're talking about.
Sure enough, she approaches the thief to tell him that he's ruining her bike. He catches a glimpse of her handcuffs and pushes her down to run away. This leads to a death race and Bong Sun follows the robber to the rooftop of a building. He quickly run towards the stairs and locks the door, leaving Bong Sun trapped outside in the cold without her bag and phone.
Hwa Young remains half-dead in her room and Jae Hee takes up her work at the company. Dr. Park visits Hwa Young, who confesses that she liked looking at Jae Hee. She just wanted to keep looking at him for the rest of her life, but things didn't work out as planned. Dr. Park, sensing her craziness, advises her to see a psychiatrist, who's a colleague of his. She adamantly refuses, telling him to get out while pelting him with pillows. You just proved his point, lady.
Jae Hee calls Bong Sun's phone, which Maru answers. Maru asks if Bong Sun called Jae Hee at all today and Jae Hee's sensitive superman senses let him know something is wrong. The other officers try to figure out where Bong Sun could be and the chief orders a search party to be sent out.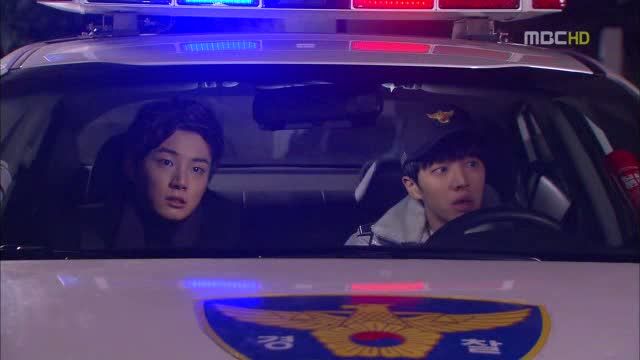 Bong Sun runs around trying to keep warm and yells at the top of her lungs, but nobody answers her call. She eventually takes a discarded box and newspapers to create a small shelter from the wind. At the same time, Jae Hee and Maru try to trace Bong Sun's route with the supervisor's help, who gives directions by mentioning the different restaurants that serve good and bad food. Haha. It's how I give directions too.
They end up in a smaller neighborhood and Jae Hee gets out of the car to look for Bong Sun, who's slowly succumbing to the cold. She fights to stay awake and starts to go through a haze of hallucinations.
The first is Dr. Park, who's dressed in all white and sitting in his regular chair. He asks what the most precious thing to her in the world is, and she thinks to when Jae Hee carried her to her door after the night in the cabin. Dr. Park then asks her another question: what does she regret the most in her life? Her mental answer is when she refused to feed Jae Hee this morning.
She starts to cry until another bright light catches her attention. Imaginary Jae Hee sits by a Christmas tree, singing "Santa Clause is Coming to Town." They smile at each other and Bong Sun calls out to Jae Hee, asking what they're doing for Christmas. He replies that he's going to play with Bong Sun. She tells him that she's sleepy, but he urges her to stay awake.
Real Jae Hee conveniently finds Bong Sun's glove on the ground and heads up the stairs that lead up to Bong Sun's roof. He sees that that the door is locked and turns to leave, but hears Bong Sun calling out to him. He opens the door, only to find an empty rooftop. His heart sinks until he notices an odd pile of boxes and newspapers. He clears them away to find a sleeping Bong Sun. He pleads with her to wake up and embraces her tightly.
Comments:
Damn, Drama. I try not to care about you so much because you're constantly disappointing me, but your characters refuse to let go of my heart. I think Writer Kim just wants to end this project and move on, which is unfortunate because a bad script can handicap even the best actors. The cast is really what keeps me dedicated to the drama because they're still doing a fabulous job at making their characters likeable. Nobody's phoning in a performance, which can happen when the ratings are low and the script loses its heart.
I blame the live shooting system a lot for the degradation of dramas when they hit the second half of their run because the actors, directors, staff, and writer are all tired. The system hit MTF particularly hard because of the delays and cast switcheroo that occurred before production. The last two episodes are filled with flashbacks to buy time. They're used wisely though, so I can't complain too much.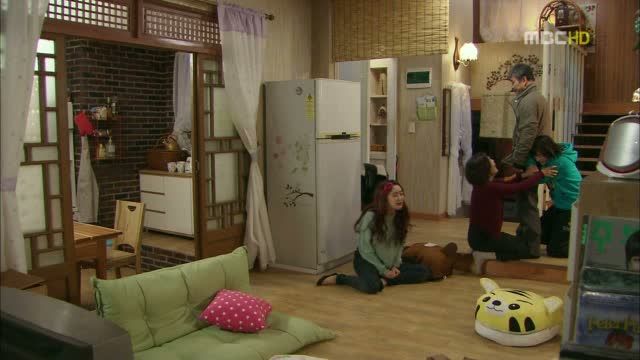 Many of the plot points ended up being kind of pointless, like the lawsuit and the blind date, but we're slowly building up towards the final conclusion. Hwa Young's finally declawed and the relationship between Dal and Bong Sun is restored to its original state. I was expecting some sort of closure for Bong Sun's family problems, but her dad refuses to take off his ass-hattery so we'll have to settle with a regretful mother who finally understands why Bong Sun decided to remain alone in the house.
I have to say though…that the bike thief problem and Bong Sun's reference to the woman who broke up with her boyfriend over matchsticks are so ridiculous that I find them hilarious. I don't know if the writer expected us to take those two plot points seriously but I couldn't stop laughing.
A bike tire thief isn't exactly the most exciting criminal but he served his purpose. Bong Sun ended up alone on the roof and her near brush with death prompts her to realize that Jae Hee is the most important thing to her. We knew he would find her and that she wasn't going to die, which sucks the narrative fun out of the situation but at least now she can't deny that she wants and needs him by her side.
The woman's story with her ex-boyfriend, though, has nothing to do with Bong Sun's problem with commitment. The two couples broke up for entirely different reasons. Breaking up over an annoying habit is one thing while ending a relationship because of your boyfriend's secrets and inability to communicate is another. I get that she doesn't want to get hurt again and Jae Hee isn't effectively assuring her that things will be different.
He needs to explain what Hwa Young did in order to get Bong Sun to hold his hand again. Protecting your first love is a step in the wrong direction; how is he going to gain Bong Sun's trust if he keeps things from her from the beginning? He's prioritizing Hwa Young above Bong Sun, even though he doesn't mean to. Also, what's the worst that can happen if he does tell Bong Sun what Hwa Young did? Bong Sun will hate Hwa Young forever but that's it. Hwa Young already hates Bong Sun anyway.
I finally get why Jae Hee always bent over backwards to explain Hwa Young's erratic actions: she's his first love. See, guilt can only go so far. Love, however, is different. He has a soft spot for Hwa Young because she was the first woman he fell for. He probably didn't want to taint his image of the old Hwa Young by acknowledging how crazy the current Hwa Young was acting. The tape recording forces him to realize that he needs to leave her side for the sake of both Hwa Young and himself.
Also, one more picture of Tae Hwa because he's awesome sauce. Look at that smile. He's a happy ahjusshi.
RELATED POSTS
Tags: featured, Han Go-eun, Lee Jia, Me Too Flower, Seo Hyo-rim, Yoon Shi-yoon