Moon That Embraces the Sun releases posters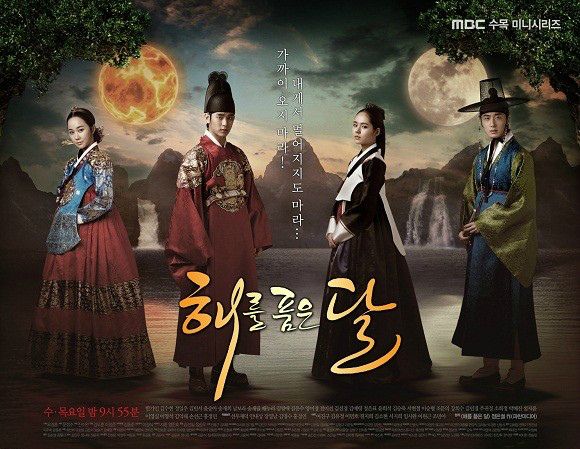 Upcoming fantasy-romance sageuk Moon That Embraces the Sun, or better known around here as MoonSun-Snowflake-PixieDust, has just released its official posters, less than a week out from the premiere. They feature the four leads: Kim Soo-hyun, the fictional Joseon King, Han Ga-in, the shaman who falls in love with him, Jung Il-woo, the king's playboy hyung, and Kim Min-seo, the femme fatale. The posters all carry the tagline: "Don't come close! But don't go far…" which I'm assuming comes from the king. Well THAT's not a mixed message to a girl or anything. Geez. I guess being King doesn't preclude a guy from being a guy.
They're not especially original as far as drama posters go, but the leads are so pretty that I guess that's all the eye candy you really need. There is a thematic touch with the sun and moon sharing the same sky, evoking the mystical cannot-be-ness of their love. I'm looking forward to the genre mashup — if they actually go all-out with the fantasy shaman angle and give us fusiony magic, it'll give the whole thing a sense of whimsy and mystery, and set it apart from all the other sageuk fare.
For a show like this, I want epic mythology and grandeur. The cast is enough to tune in for, but I'm excited about the story as well, and could use a good fantasy series to sink my teeth into. And let us not forget the manes of glory too. I mean, that's what we're really watching for, yeah?
Moon That Embraces the Sun premieres next Wednesday, January 4, on MBC.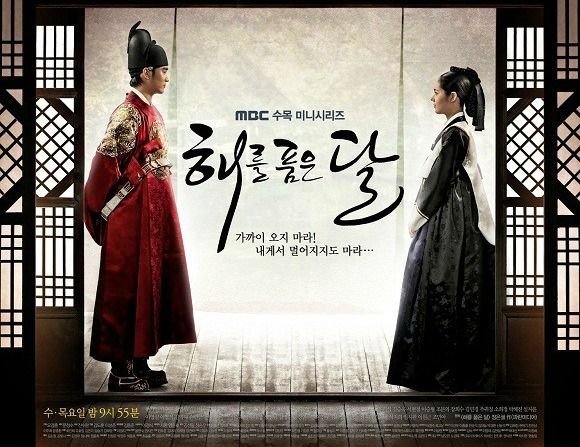 Via E Daily
RELATED POSTS
Tags: Han Ga-in, Jung Il-woo, Kim Min-seo, Kim Soo-hyun, The Moon That Embraces the Sun