Thousand Day Promise: Episode 18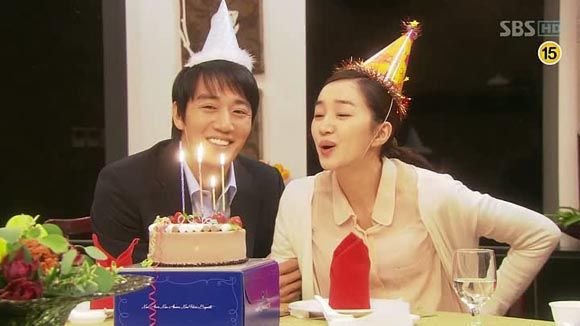 There are several celebrations in this episode, and yet they feel like mournful last goodbyes as Seo-yeon comes a few steps closer to motherhood, and also retreats a few steps further into her mind. There's an approaching feeling of finality to come, in the mood and the interactions between Seo-yeon and her family. *whimper* Hold me.
SONG OF THE DAY
IU – "벽지무늬" (Wallpaper pattern) [ Download ]
Audio clip: Adobe Flash Player (version 9 or above) is required to play this audio clip. Download the latest version here. You also need to have JavaScript enabled in your browser.

EPISODE 18 RECAP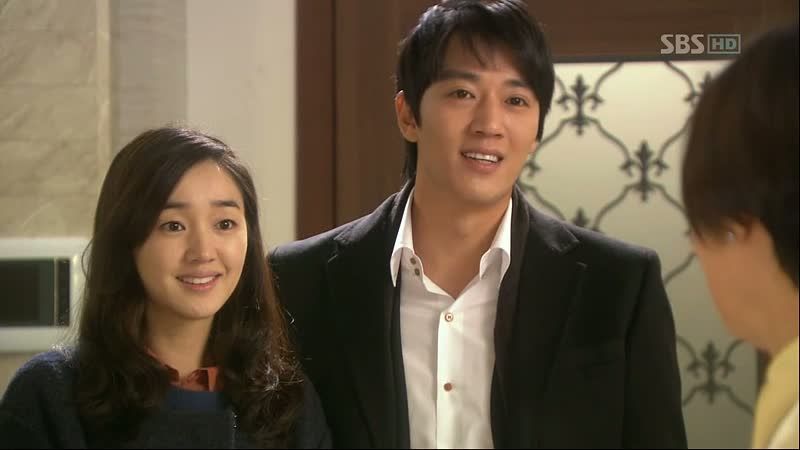 Ji-hyung and Seo-yeon arrive at his parents' home for the big meeting with Dad. Before coming out to greet the kids, Dad breathes in and out, in and out, preparing for the encounter — directed by Mom, who tells him to take another breath and remember to play nice. I find this interaction so cute, the idea that the parents are just as wound up in nerves as the kids are.
Dad wonders what to say, and turns to Mom for advice, asking her to give him some pointers. He's disappointed in her reply, though ("Thanks for coming. I missed you"), sniffing since that would be, you know, too honest or something. Or maybe weak. Or maybe both, in his mind.
That's why I find it doubly amusing when Dad comes out with his stern face on, like an actor stepping onstage to play the part of Grim Patriarch. Seo-yeon introduces herself with bowed head, saying, "I have come, shamelessly, to see you. I am the source of trouble who has disappointed you. I'm sorry. I have nothing to say."
Hahaha. It's not said to be mocking, but I find her excessive self-deprecation hilarious, for some reason. Dad's mollified, and starts in on a calm lecture about how he disapproves of the childrens' choices. Mom cuts him off a few times when the lecturing gets pointed and steers him away, and he throws her a disgruntled look, like I was just getting to that, let me finish. Heh.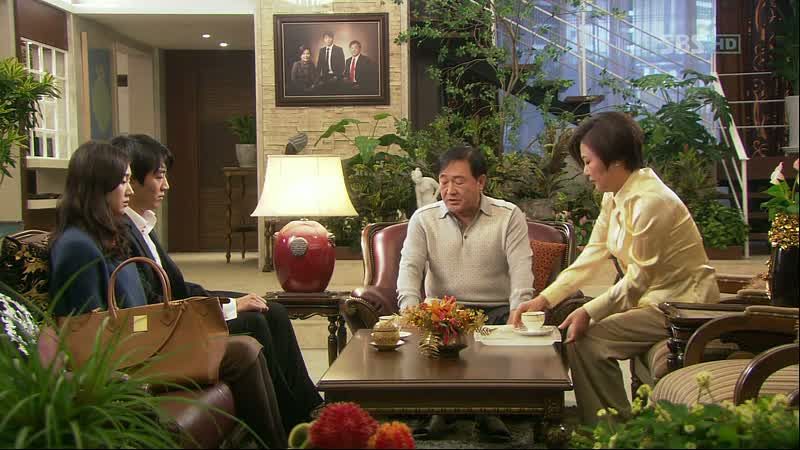 He does finally get to the point, which is tacked on to the back of all those statements of "I don't agree with your marriage, and I think you've made a foolish mistake, and I don't think it's wise to have a baby on top of all that…" He ends, "…buuuuuut I have decided not to burden you by arguing about it anymore."
Immediately, Mom pipes up, "Thank you." Why is this so funny? It must be the staged nature of this exchange; Mom's thanks aren't false, necessarily, but they're amusingly insincere in the moment, because she's basically directing the conversation. Dad knows it too, and can tell he's being managed. But it speaks to his willingness to forgive anyway that he's going along with this pretty readily — it's just that pesky pride that makes him front like he's still grudging.
Dad asks after Seo-yeon's health, and Ji-hyung speaks up to say that she's fine, that the tests show no further deterioration, that she's managing day to day without particular trouble. Seo-yeon corrects him, though, speaking plainly about feeling herself getting worse, and that she's making more mistakes.
Dad's doctor persona comes to the fore as he asks how she plans to handle her illness. He surprises everyone by stating that he spoke with Seo-yeon's doctor, and advises her to listen carefully to her doctor's instructions and to resume her medication as soon as she's given birth. Okay, I like this version of him much better, the good doctor looking after a patient. A little patient confidentiality would be nice, although maybe he feels it falls under his purview as hospital director.
Over dinner, Dad asks if they're managing with living expenses, gives some fatherly advice (helpful for once) about not burdening his business partner too much, and offering up monetary support if they need it. He adds words of encouragement for Seo-yeon, in response to her earlier admission that some days she's just barely hanging in there with the will to continue; he urges her to make the most of every moment, and not to give up.
So….Dad got a lobotomy offscreen, did he? Or did the actor suddenly swap places with his twin brother, who was mistakenly told to play the Dad gentle and kind, rather than small-minded and proud? He even asks for a smile from Seo-yeon, although she's overcome with tears and can only apologize.
Mom gates a phone call as she watches the exchange, which is from Hyang-gi's mother. She picks up, and Hyang-gi's mother actually exclaims in surprise that she picked up. Haha. She grumbles that she's lost weight because of Ji-hyung's mother, who must've been her child in a previous life to cause her so much grief in this one. She's expecting a bit of a bite, so when Ji-hyung's mother just says she'll call her back tomorrow, she accepts it and hangs up.
Mom thanks Dad for accepting Seo-yeon graciously, pleased with his response to the couple. He tells her to convey the message to Ji-hyung about not growing cowardly in the end, since this is the decision he made.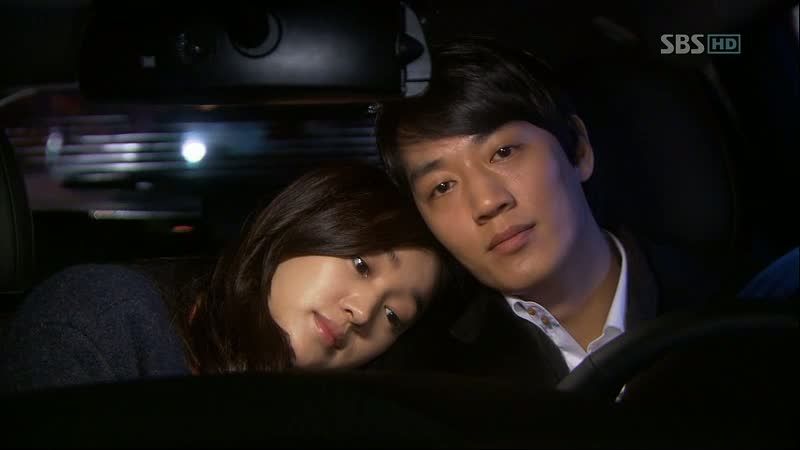 After dinner, the couple drives home and Seo-yeon asks whether she did a good job making her first acquaintance with Dad. It's sad how in most cases that question would be a request for reassurance, but for her she genuinely isn't certain because she may not be remembering it properly. Ji-hyung tells her she was proper, respectful, and precise, like she usually is. He repeats some of Dad's words of advice, and she asks him to write it down for her when they get home.
Now she confides that she met her mother earlier — or rather, as she corrects, "the person called Mother." She tells him that her mother had said she found the idea of raising two kids alone scary, then brushes aside the topic. Enough of that.
At home, Seo-yeon tells Moon-kwon about meeting their mother, and starts to tell him that if he wants to see her too, he can. He cuts her off to say no — that he's lived well without her all these years, and there's no reason to complicate matters now. Seo-yeon gently adds that maybe in the future, way off in the future, he might have reason to see her, and in that case he should — after all, she's the woman who gave birth to them.
Oy, this scene is killing me already and they're not even crying. It's particularly poignant that Moon-kwon is reacting just as she first did, and that she's giving him the okay to want to see Mom anyway, like Aunt did for her. Just as Seo-yeon hadn't wanted to hurt Aunt-Mom's feelings, Moon-kwon is loyal to his Noona-Mom.
Seo-yeon tells him this is her last wish and, having delivered the message, says, "Now it's okay for me to forget." Aw.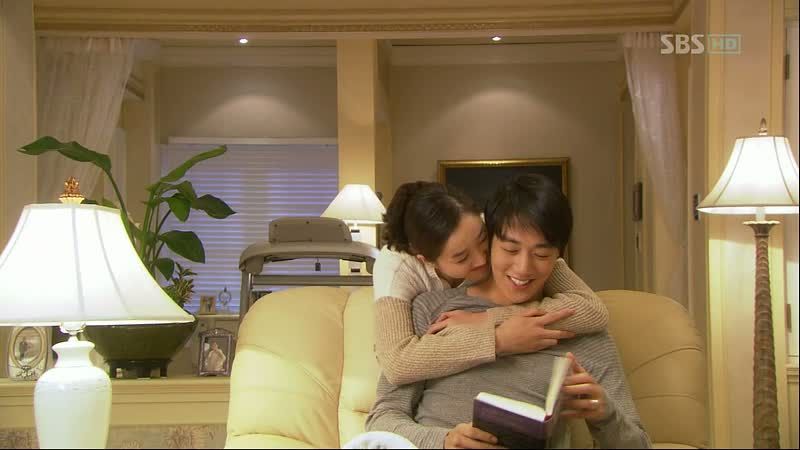 It's a new day, and a revitalized Seo-yeon who sends Ji-hyung off to work with cheer. He narrates that since meeting with Dad, Seo-yeon's mood has lightened considerably. No more waking up in the middle of the night crying, scrupulous attention to exercise and diet, no mention of Hyang-gi. She's made mention of plans for the future, of things to do in spring, and he's grateful for the change.
Ji-hyung's firm wins a big contest exhibition, and the employees exult while Ji-hyung calls the wife to share the good news. His mother congratulates him too, on her way to meet Hyang-gi's mother.
Hyang-gi's mom is prickly as usual, griping about how hard it is to get some face time with her. Ji-hyung's mother cuts to the chase, saying that taking the offensive right now will make this meeting a fruitless endeavor, and asks for an apology and some understanding of how they'd act if the situation were reversed. Hyang-gi's mother points out, "You're the elegant Kang Soo-jung, and I'm the snobby gangster Oh Hyun-ah." Ha. Well, that's definitely accurate.
Hyang-gi's mom tries to get out of a verbal apology by saying she sent over multiple flower baskets, only to get the cool response, "You don't want to say it? Then I don't need to be here." That gets her to apologize, and both mothers acknowledge that there were wrongs on both sides. With that, the husbands join the wives for dinner, with the former friendly mood mostly restored. Was that really so hard, people?
Seo-yeon writes another message to her baby while waiting for Ji-hyung to come home from his celebration party. Looks like it's a late night, and Aunt nods off while preparing food in the kitchen.
Jae-min oppa drops by to take his mother home, having gotten the call that Ji-hyung's on his way home. Seo-yeon greets him happily, but then with a serious face she asks Jae-min to take Aunt home now. It's a request to be left alone, something that this family seems to have agreed is not a good idea.
They don't want to leave her, but she's also insistent to the point where it seems the tension may escalate — she tells them she's no baby to need round-the-clock care, and you get the sense that the next line of argument would be to accuse them of seeing her as an infant. Thus they back down from this one and agree to go home.
So it is that she happens to be alone when washing up for bed, accidentally hitting her head when she stoops to pick up a dropped towel. It causes a deep gash and scares the hell out of her. Ji-hyung arrives home just moments later, in time to hear Seo-yeon sobbing in the bathroom, her hands and head covered in blood.
He calls Jae-min and Aunt, who are still in the car heading home, and they turn right around and rush back. Seo-yeon is calmer now but still sporting a massive bloody head bandage as she tells them she's okay.
At the hospital, she gets stitches in her forehead, and as Ji-hyung watches, he accuses Jae-min of leaving her alone when he said he'd be right home. Aw. I get his worry, but you've seen Seo-yeon when she wants things her way, right? She's like a volcano threatening to explode at any moment, and you can't blame Jae-min for thinking it would be better not to upset her further by refusing to go.
Aunt sobs that Seo-yeon could've died if Ji-hyung hadn't come home, while Jae-min stands by in stoic regret. Ji-hyung holds it together enough to take Seo-yeon home and put her to bed, then seeks out the dark to let his sobs out — just barely, his hands clapped over his mouth to muffle the sound.
Hyang-gi returns to Korea, not thrilled at the prospect of coming home to more constant criticism. Her brother picks her up at the airport, so she's surprised when the car pulls up and Mom's sitting there to welcome her back.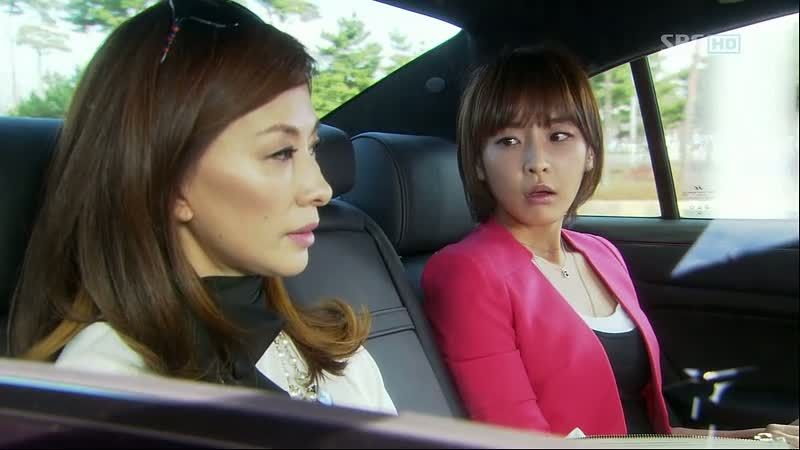 But it's not just for the warm fuzzies that Mom has made the trip, and she directs the chauffeur to a beauty salon post-haste… because Hyang-gi's got a blind date set up for dinner tonight. Haha. Wastes no time, does she? The guy has a similar history to Hyang-gi: Three years ago he'd gone through with a wedding, but they broke up before the marriage was made officially registered because the bride hadn't broken things off with the guy she'd dated before him.
I love that this is Mom's idea of a good thing, that two failed almost-marriages somehow make them suitable for each other. Mom's reason for the rush is that the guy's on his way to a business trip, so it was either today, or a month from now.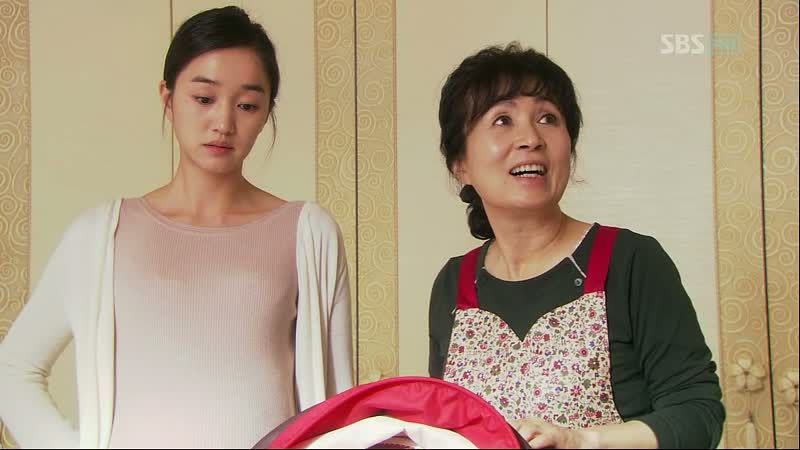 Some time has passed, as evidenced by Seo-yeon's now-very-extended belly, and she and Ji-hyung have been making lots of preparations for the birth. Already the house is babyland central.
She's in a gloomy mood today, distant and withdrawn. Maybe it's because today's her birthday, as we can see from the flowers and gifts around the house. She muses that she used to go out with her office-mates on her birthday, and has to be reminded that they sent her a flower arrangement.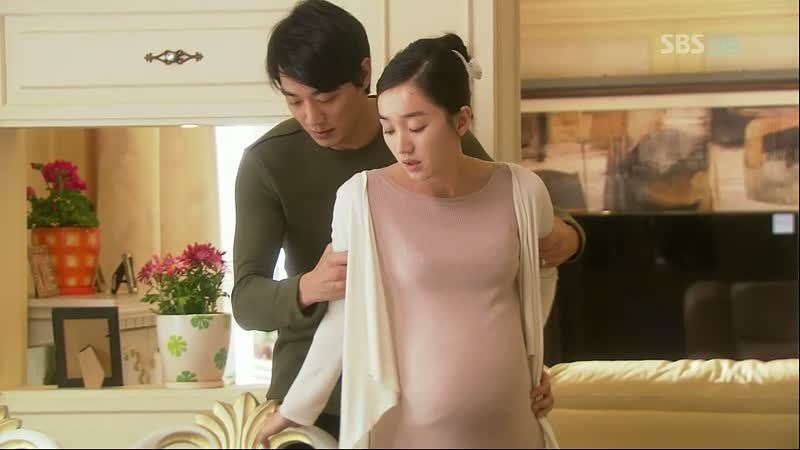 Ji-hyung's narration continues — it's as though he's taken over narration duties from Seo-yeon, who is now often locked in her own head. He watches her silently, with that mix of heartbreak and vigilance, narrating that the baby's expected delivery date is now just over a week away.
As the day draws nearer, Seo-yeon has become more ill-tempered, alternately snapping at questions and ignoring them. Yesterday he'd been out of the house for four hours, only to find that she spent the entire time crying in one place. It's in moments like those that he feels like she's left her body behind to go off somewhere else mentally.
Two of the junior employees from Seo-yeon's old office drop by with birthday gifts, and Seo-yeon has to be told who they are. She gives them detached greetings, like she's completely blank on their identities. When one of them slips in mention of "Jae-min-sshi," the other outs her as chasing after him, although he's not returning her calls or encourating her. Seo-yeon's completely bewildered, while Aunt takes a second look at the woman fawning over her son.
But then, out of the blue, Seo-yeon announces to her aunt that she's not right for Jae-min, judging her coolly like a stranger: "This young lady is too sharp, critical, and selfish." She says it blandly, matter-of-factly, but it's not without bite and it creates the most awkward silence ever.
Her colleagues look at her with shock and her aunt tries to hush her, but Seo-yeon continues, adding that the woman advanced professionally using her wiles, not skill. Offended now, the target of the attack bites out that Seo-yeon's disease must've ruined her personality as well, and leaves.
Aunt tries to smooth it over, saying that Jae-min doesn't seem interested anyway, and asks if that woman had given Seo-yeon a lot of grief at the office. Seo-yeon answers that she didn't act that way for herself, but for oppa's sake.
Ji-hyung apologetically sends the guests away, then rejoins Seo-yeon and asks her why she lashed out, but she ignores the question.
That night, the family gathers for a birthday party and requests a statement from the guest of honor. Seo-yeon goes around the table thanking everybody (accidentally leaving out Moon-kwon and her nephew), and says in her now-usual voice of fatigue that this may be her last birthday.
That makes everyone object, but she says that next year, she may not know when it's her birthday, so she wants to use this time to say some last words, while she can still recognize everyone and think straight.
She thanks her aunt and uncle, and apologizes for upsetting Myung-hee. She thanks oppa for being oppa, and says that even after she's left her empty shell behind and finds herself wandering around somewhere, she'll still carry her gratitude.
Seo-yeon excuses herself with Ji-hyung's assistance, then tells him, "I think the baby wants to come out now." She's been having contractions for a while now, since back at the house. Quickly, the party disperses and the family mobilizes to send her to the hospital.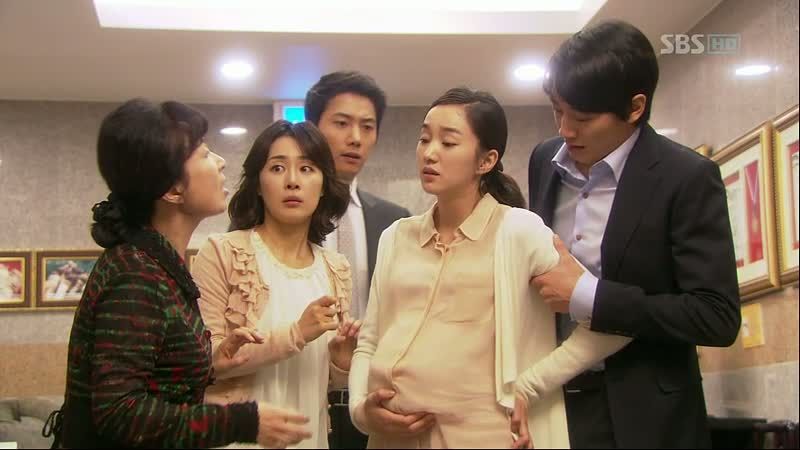 Hyang-gi meets her blind date, who can tell right away that she's been forced into this by her parents. He's understanding when she says she she's not ready yet, agreeing that being less than a year out of her broken engagement is pretty soon. He asks point-blank if she's interested in seeing where this goes, and Hyang-gi bows her head and says no. He's fine with that answer, and suggests they not waste time, letting her off the hook and bringing a smile to her face for the first time tonight. She's even more relieved when he tells her there's a woman he's interested in, smiling even wider.
Hyang-gi comes home to a happy reunion with Dad, while Mom pesters her for details about her date. She says they agreed not to waste each other's time, and that he's already got a girlfriend. Mom grabs her phone muttering, "I'm going to kill her!" and proceeds to rip that guy's mother a new one for sending out a son who was already attached. Ha. Who wants to bet that the other mom didn't know, and that Hyang-gi's mother just stirred another pot?
Hyang-gi calls Ji-hyung's mother to say hello, and they've obviously been on regular talking terms because Mom tells her there are still a few days left till the due date.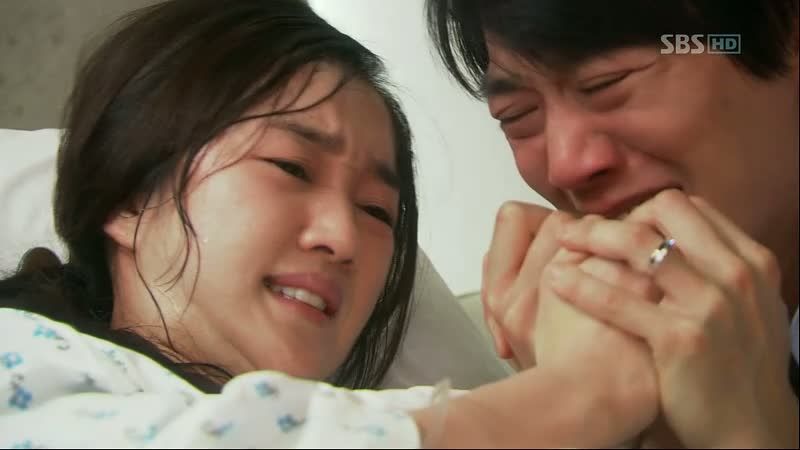 Speaking of which, back to the hospital we go, where Seo-yeon is mid-labor. She's tamping down her cries of pain, which makes Aunt worriedly yell at her to feel free to yell. Seo-yeon asks, "What if the baby hates me? What if it blames me for giving it this life?" Oof. Who felt that, right in the gut? Ji-hyung assures her that won't happen, scared out of his mind, while Seo-yeon tells him, "I'm sorry. I'm sorry."

COMMENTS
The drama's crowning jewel, by far, is Su Ae giving an impressive performance, with all of Seo-yeon's rapid mood changes and wild range of emotion. It's painful watching her loved ones tiptoeing around her, trying not to set off her volatile temper, which is only getting more capricious with her advancing pregnancy and illness. But from an acting standpoint, Su Ae is marvelous, bringing us along with Seo-yeon's gradual decline.
More than any other, this episode showed the biggest progression in her advancing memory loss, thanks to that time jump that took us to the end of her pregnancy. I was a bit surprised at how… mean she seemed, and wondered if there was more to that that just her Alzheimer's making her cranky. There was a sharp undercurrent to it, more than can be explained by her decision, post-diagnosis, to speak what's on her mind in the moment lest she forget it. Perhaps along with her memory, she's stripping down that filter of politeness that most people use in daily interaction. It's hard to watch, though, and speaks to how convincing Su Ae is in the little beats of uncertainty, as well as the grand emotions.
Now that Seo-yeon's retreating further into her mind, it's Ji-hyung's turn to take over the narrating, which is a nicely subtle method of driving home the loss of Seo-yeon. Now we're seeing her through other's eyes more than through her own, which adds another layer of sadness to the proceedings. Hm, maybe that's why she seemed meaner, come to think of it — because we've lost the window into her thoughts, and no longer have the inner monologue explaining the reasons for her defensiveness, her prickliness, her sparks of temper. I'm curious to know how things are going to wrap up next week, but also dreading what's to come now that we've seen a bit of the empty shell version, because it's sure to break my heart. Not that I didn't know that coming into this drama in the first place.
RELATED POSTS
Tags: featured, Jung Yumi (2), Kim Rae-won, Lee Sang-woo, Park Yoo-hwan, Su Ae, Thousand Day Promise