Tree With Deep Roots: Episode 20
What do you get when all of your characters happen to be great at playing actors? One amazing show, is what. It's Conspiracy Pretend Time, and no one is more prepared for any and every eventuality than Team Sejong. Who needs the Thirty-Six Stratagems of War, anyway? Okay, maybe our good guys do, but at this point they could probably write their own (way better) book of stratagems just based on their fight against Hidden Root. Using Hangul. In your face, Jung Ki-joon!

EPISODE 20 RECAP
We find ourselves back with Sejong and his heart-wrenching grief, but even then, Chae-yoon refuses to let him wallow in it for long. He begins a beautiful monologue to the grieving King, who has now wavered in his drive due to Jung Ki-joon's actions.
When Sejong said that he never loved the people, Chae-yoon assuredly tells him that he did. The emotion of the scene is too much for even our hero, who fights back tears as he tells Sejong why he didn't just take So-yi and flee. It was because the letters were that amazing – and mostly, because he was in awe of the fact that Dam had something she wanted to wholly dedicate herself to. He was jealous of her ambition and drive, and so he thought that maybe if he learned the letters, he could be like her. This line is one of the greatest to me, because it gives us a little more insight into what makes Chae-yoon tick. He's just a lost boy in search of purpose. His main beef with Sejong is that he finally found purpose (outside of killing the King), and thus, finally found the ambition that Jung Ki-joon claimed was like opening a door to hell. So what's so wrong about that?
Yet, he claims that he's angry with himself for ever thinking about making his wish to the King to take Dam and leave, bear children, and teach those children letters. He was a fool for trusting Sejong. This is literally reverse psychology of the highest order, and severe props go to Chae-yoon for his intelligence.
Chae-yoon once again takes So-yi's hand, ready to lead her out of the Hangul Room. And once again, this is the catalyst to spring Sejong back into action. Chae-yoon's words have returned the King to himself, but he's still in the self-blaming stage and still shaken by Jung Ki-joon's words about his true motives. Sejong claims that though he wanted to give the people power, but in the end he only wanted to share responsibility.
Here's where Chae-yoon's past really comes to the fore, as he reminds the King that the people have been carrying 'responsibility' for thousands of years. What will really change if Sejong leaves that responsibility behind? That the people might actually gain something they might want to do, that they might actually have (gasp) ambition? Is that such a hell after all? And, in the way that only Chae-yoon seems to be able to talk to the King, he calls him out for being spineless. Sejong finally smiles with pride in his eyes. Chae-yoon, you've done it again.
When Chae-yoon first took himself outside to have a good cry, I thought it was simply because he was overcome with emotion from the scene that just transpired. But when we see a flashback to Chae-yoon carrying the Prince on his back as they escaped from Hidden Root, and then we see the Prince's shoe that Chae-yoon had found sitting right next to him… it becomes clear that he's actually crying for the Prince, which is infinitely more endearing. He really is a big softie at heart, and the fact that the Prince's death affects him this much just gives him that much more depth. So-yi is watching from a distance, and just like when she looked back toward Sejong when Chae-yoon took her hand earlier, once again she turns and looks back toward the direction of the palace.
Alone, Sejong is once again left to stare at the alphabet that has now cost him his son's life. But Chae-yoon has brought him back from the brink, and Sejong finds himself filled with purpose as he begins to write Chinese characters on pieces of paper. He lays them out among the Hangul characters, and together they spell Hunminjeongeum (meaning the correct/proper sounds for the instruction of the people), which is the name for the true historical document that promulgated Hangul. It's nice to see how that name (could have) come about.
Over at the new Hidden Root Headquarters, Jung Ki-joon is busily planning on how to nip this alphabet thing in the bud. He knows that the minute they letters are spread they'll be like a plague, so anyone and everyone who knows about them must be killed. For sure he knows that Jung In-ji, Sung Sam-moon, and Park Paeng-nyeon are involved. He entrusts his lackeys to find out who else has been given secret missions. Any killings that may happen will be permitted. Good gracious, Jung Ki-joon. You really are ruthless.
Team Sejong has a meeting of their own, and it's nice to see the whole gang back together. Sejong knows that they need a new strategy for the promulgation of Hangul, and suggests using the eighth stratagem from the 'Thirty-Six Stratagems' from China, that usually illustrate unorthodox or deceptive means. The eighth stratagem happens to be 'Openly repair the gallery roads, but sneak through the passage of Chencang', meaning that Sejong plans to deceive Hidden Root with an obvious approach, so that they're too distracted to notice the sneak-attack. This is very much like the fifth stratagem, 'Make a sound in the east, then strike in the west', except it's more intense due to the use of physical bait (rather than just misinformation) to assure the enemy of the truth of the misinformation. Thus, whoever gets chosen as the bait must act as though what they meant to do isn't actually what they meant to do, in order to truly draw in the enemy. Phew, it sounds complicated already.
So, that leaves us wondering… who's going to be the bait? And what's the exact attack? Everyone in the Hangul Room hears it, but we don't.
With his (seemingly) last words, Lee Bang-ji told Jo Mal-saeng about Jung Ki-joon's true identity. In response, Jo Mal-saeng goes straight into the King's assembly and drops to his knees, asking Sejong if he actually listened to the advice he was given about suspecting those closest to him. Determination is literally pouring from Jo Mal-saeng's pores as he tells the King that from this moment, the investigation into Hidden Root must be done by him. Even if Sejong doesn't grant him permission, he will do it. Even if he's fired, he will do it. Even if he's forced to leave the palace, he will go at it alone.
He seems to be taken aback slightly when Sejong nods and agrees. He entrusts the entire investigation of Hidden Root to Jo Mal-saeng. And as for the promulgation of the alphabet, and so his son's death was not in vain, Sejong promises that he will wager his life to see that the letters are promulgated. Stakes, meet Upped.
In a meeting with Lee Shin-juk and Jo Mal-saeng, Sejong orders that Jo Mal-saeng must be provided with all the personnel and troops he needs to carry out his investigation. The new investigator's first charge is to find out how Hidden Root became aware of Prince Gwangpyeong's whereabouts. Jo Mal-saeng basically asks if he's free to do whatever he deems necessary to carry out his investigation, even if that means interrogating everyone within the palace. Sejong says yes, and suddenly I'm very worried. I know this is part of the stratagem, but Jo Mal-saeng is pretty old-fashioned when it comes to mercy… meaning that he doesn't have much of it.
Lee Shin-juk, the resident Hidden Root official, looks like he's about to die from holding his breath. Whether Sejong suspects him or not is still up for debate, but he's sent out so that Sejong and Jo Mal-saeng can speak in private. When he meets the other Hidden Root members, he can only convey his worries on how strange it is that Sejong would entrust the entire palace to Jo Mal-saeng.
Meanwhile, just as Sejong said, the printing office within the palace is making printing blocks to mass produce the story of Buddha in the new alphabet. Deputy Chief Scholar Choi Man-ri, the strongest opponent to Hangul that's not in Hidden Root, bursts into the office with other Jiphyunjeon officials in order to start tearing it apart.
Mu-hyul interrupts their destruction session, followed by Sejong. Choi Man-ri boldly confronts the King, adamant that the life story of Buddha cannot be printed within the palace and that he'd rather die instead. I don't know if he was counting on Sejong's good nature, because it seems all but gone as Sejong orders him and the other scholars to be imprisoned at the Royal Investigation Bureau at once.
Han Ga, responsible for most of the spying, reports all of the recent events to Jung Ki-joon – namely, that Choi Man-ri has been arrested and that Jo Mal-saeng has taken over. The Leader notes that it's like they're back in the era of Former King Taejong, where good or bad didn't matter and deeds were done recklessly. Lady, I don't think you're in a position to make it seem like you're the one doing good things here.
But this kind of chaos and pandemonium is exactly what Jung Ki-joon wanted. He firmly believes that good people and bad people aren't any different from each other – because a good person is just one that hasn't been thrown into bad circumstances. Because he killed Gwangpyeong, he threw the 'good' Sejong into 'bad' circumstances, and believes Sejong's true colors are showing. Oh, Jung Ki-joon. Once again you don't know when you're being fooled.
But maybe I don't know when I'm being fooled, because now I'm beginning to doubt where Sejong's control ends and where reality begins. Jo Mal-saeng has dragged all the court ladies out of their rooms to conduct a search, and their rooms are torn apart. Good gracious, it's become a Joseon witch hunt. The moment So-yi arrives, he orders her immediate arrest. Wait, what? What's going on here?
Park-po runs to the station to tell Chae-yoon the news, which sets him off running. Run faster, Chae-yoon!
Jo Mal-saeng has wasted no time, and has already begun to torture So-yi. Did he not even wait one second? He accuses her of being part of Hidden Root, since the only person besides Sejong who knew about Gwangpyeong's whereabouts was her. She protests her innocence, and he only orders more torture (as well as the arrest of all the other court maidens who shared her room). She screams, and it breaks my heart. Not So-yi!
Chae-yoon bursts into the bureau to see that So-yi has already passed out from the pain. He demands to know what evidence Jo Mal-saeng has against So-yi, who's only been doing the King's work. Jo Mal-saeng turns on him instantly, asking what Chae-yoon was doing when the Prince died, thus effectively throwing suspicion onto our hero.
It comes as a slight surprise to Hidden Root that even the court maiden So-yi has been imprisoned, and Pyung doesn't seem to like the information that he's hearing. Jung Ki-joon might be suspecting Sejong has a secret plan at last, thinking that Sejong is truly either suspicious of everyone or there's something that they don't know.
But Pyung goes outside with a mixed expression on his face. We see him flash back to the time when So-yi cried in the woods after finding Kuk-se and how he had watched silently from afar. Oh my goodness… does someone have a crush? Really? That wasn't all just in my mind?
Chae-yoon has tried already to see the King about So-yi, but is quickly rebuked by a court matron who chides him for his bad manners (no one sees the wizard!). Sejong is taking a walk outside with his entourage, and that's where Chae-yoon eventually finds him, interrupting his conversation by falling onto his knees and asking whether Sejong sanctioned So-yi's arrest.
Sejong, to my complete surprise, says that it's true. I was at least expecting shock, like Sejong didn't expect Jo Mal-saeng to go so far as to arrest his most-trusted court lady, but there's nothing there. But the moment he quickly turns on Chae-yoon, blaming him for the secret mission Prince Gwangpyeong underwent and ordering his arrest, I'm beginning to wonder whether everything, including So-yi's torture, was planned.
Stuck in prison and looking like he's seen much better days (or like he just finished partying with Ke$ha), Chae-yoon is forced to listen to another torture session going on outside with So-yi and the other court ladies through the night. One of them reveals that they spoke of the Prince's whereabouts while they were doing their laundry, and perhaps that's how someone else became aware. Regardless, Jo Mal-saeng believes that they must be punished for speaking so frivolously, and orders that their names be erased from the palace roster, and that they be sent away as government slaves. Good god.
Meanwhile, Choi Man-ri is interrupted from his prison protest-staging by the King's pardon. Jo Mal-saeng tells him that this favor should put the kibosh on his insubordination, but Choi Man-ri merely scoffs at this notion.
Chae-yoon is pulled from the prison as well, and ordered to follow Jo Mal-saeng.
The total tally of chaos caused at the palace is: twenty officials ousted, everyone named by the court ladies arrested, Choi Man-ri and the other high officials arrested, as well as Chae-yoon and other palace guards being thrown into prison. Even though Choi Man-ri and Chae-yoon have been recently released, is this everything that Jung Ki-joon anticipated?
Everyone at Hidden Root thinks that Sejong has played right into Jung Ki-joon's strategy, but Jung Ki-joon seems either wary or disappointed. Or both. He wonders if this is all Sejong truly amounts to.
Jo Mal-saeng has brought Chae-yoon before Sejong, and tosses him down to the floor. When he rises, he does so slowly… and then he brushes some of his hair from his face as he coolly asks, "Do you think I fooled them?" Ohhh! I knew there was an act going on, but Team Sejong really is something else. And I wasn't sure of Jo Mal-saeng's involvement either, but it seems like Sejong is truly the grand puppet-master.
We finally see how all the pieces came together, starting with Sejong letting Jo Mal-saeng in on the plan. Sejong knew that he had to get someone out of the palace without arousing suspicion in order to complete the mission, and found the perfect way to do it through exiling the court ladies as government slaves. Of course, as it turns out, everything was staged – the torture, Chae-yoon's reaction to hearing So-yi was being fake-tortured, all of it. We even see Chae-yoon practicing his lines before he did his heroic burst into the torture courtyard. Ha.
It's good to know that the torture was feigned and that none of the court ladies had to lose a limb for the great cause. At the place where they're to take a boat for their slave exile, they're freed instead. Everything went off without a hitch, and now So-yi and her fellow court ladies are charged with completing the promulgation. How awesome is it that we have empowered women that even the King trusts with the most monumental of tasks?
In flashback, we also see that the wavering Sejong did due to Jung Ki-joon has passed, and that he's filled with new resolve to promulgate the letters no matter what that promulgation brings about. He's doing it for his people now, and will no longer worry about what the future holds.
Later, when Chae-yoon has dressed to prepare for a secret mission, he shares a telling moment with Sejong. He asks Sejong if he ever told him that his grace is immeasurable, and Sejong wonders why his grace is suddenly so immeasurable now in a joking tone. But Chae-yoon isn't joking at all.
Chae-yoon: "To come to a decision like this, your grace is immeasurable."
Wow. What a perfect moment for these two. Both of them are in it to win it, and Sejong has earned Chae-yoon's complete and total respect and admiration at last.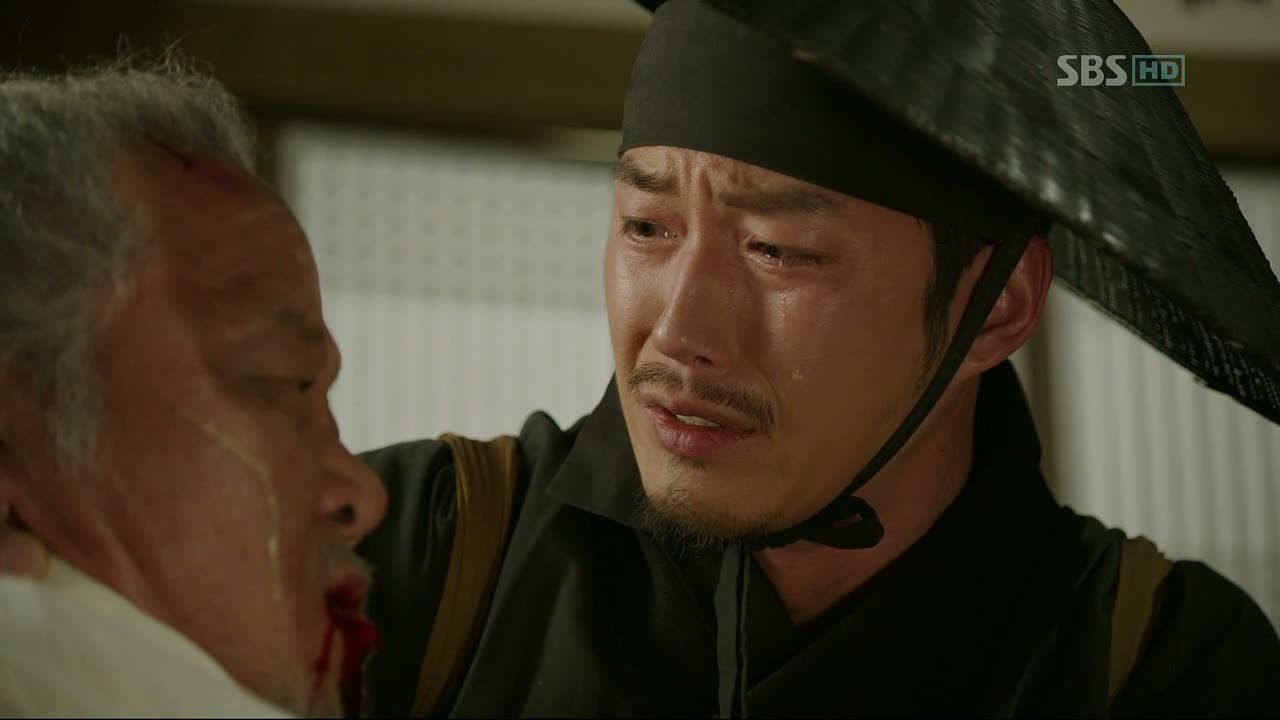 Jo Mal-saeng finds Chae-yoon on his way out of the palace, and takes him to his home. It turns out Lee Bang-ji is still alive, but barely. Though he received the best medical care, his wounds are too grave and he's not long for this world. Chae-yoon gets to be with his teacher in his last moments, at least, and Lee Bang-ji is a father figure until the end – even telling Chae-yoon that he was proud to have him as a disciple… because he had no talent as an assassin anyway. Ha! Even on his deathbed, he's cracking jokes.
He says something we already know, that Chae-yoon is one of the most good-natured people he ever knew. But on the bright side, he's getting to die a warrior's death due to fighting the greatest warrior he ever faced – Gae Pa-yi. With that, Lee Bang-ji dies in Chae-yoon's arms.
Han Ga is busy looking through all the names of people within the palace who might have received secret missions, and is befuddled when Pyung seems to have something to say. Pyung hesitantly brings up the court maidens who were chased out of the palace. Han Ga muses aloud that it's sad since they were wrongly accused. But what of it?
Pyung adorably edges into his next words, as he wonders if those court maidens might hold a grudge now that they've been exiled and maybe… maybe they could be drawn into Hidden Root? They could be useful to the cause, right? Awwwwww. Pyung, your crush is showing.
But Han Ga literally laughs in his face, immediately calling Pyung out for bringing all this up because he just likes So-yi. Pyung is immediately embarrassed and tries to take back his words, but Han Ga isn't finished poking fun at him. Aww, poor little assassin and his poor little heart. But before he can suffer further embarrassment, they're interrupted by Jung Ki-joon. He actually thinks Pyung's idea is worth something and wants to find out where So-yi and the others are. Uh oh.
Chae-yoon has arrived at the simple house where So-yi and the other court ladies are staying, and his happiness bubble at thinking she's making rice just for her orabeoni is swiftly popped when she replies that it isn't for him. In fact, she tells him to go call who the food is actually for, and Chae-yoon only looks puzzled.
Unfortunately Pyung's crush on So-yi looks like it will only cause trouble, as he sends Kuk-se to gather information about where the court maidens were transferred. He finds out that no government slaves arrived in any precinct, and doesn't look happy about it.
It turns out that the people So-yi had planned to feed were a roving band of singers, which makes sense when Sejong had mentioned earlier that even songs about the establishment of Joseon would be used to teach and spread Hangul. The following scene is light and beautifully moving, as So-yi leads a band of children through the streets singing songs. Ah, so this is how Sejong is mounting the offensive. Brilliant!
I was hoping Pyung wouldn't relate the So-yi information to Jung Ki-joon, but he does (bros before… well I can't say the other word, because So-yi is too awesome). And the Hidden Root leader is made aware that he's been fooled – again. Sejong and his nemesis have another conversation across space and time, as Sejong wonders aloud about how Jung Ki-joon had likened the letters to a plague. Smirking triumphantly, Sejong thinks that he was right – his letters will spread like the plague.

COMMENTS
Forget Jung Ki-joon, Sejong proves that you don't have to be evil in order to be a maniacal genius. Okay, maybe not maniacal, but a scheming mastermind. Whatever. Jung Ki-joon may not have been outsmarted for very long, but this isn't the first time Sejong has gained the upper hand. Their battle of wills is just too fun to watch, and I take pleasure in seeing Jung Ki-joon fail. Now that he's killed Prince Gwangpyeong, all bets are off where he's concerned.
I'm wondering if Sejong would have actually fallen into Jung Ki-joon's trap if Chae-yoon wasn't there to snap him out of it. But once again, all of Team Sejong comes together to form a whole. With Chae-yoon and Sejong, it truly does seem like there can't be one without the other now. Sejong had purpose but lacked a way to achieve it, Chae-yoon was without purpose but with the means to achieve almost anything. Together, they're just an amalgamation of awesome.
I wavered a bit during the big pretend party that went on during this episode, wondering if Jo Mal-saeng was a part of it. And even if he was, I wondered if Sejong was really allowing his court ladies to be tortured just to fool Hidden Root. When the full conspiracy was revealed, I admit that I thought: "This show should win every award ever made past, present, and future!" But I calmed down. It should just win 99.9% of every award ever made.
Last episode I remember wishing that we'd just get one sageuk-grade longing glance from Pyung to So-yi, because their relationship is something the series has been toying with for a long while. Now that he's been ousted, I feel gleefully gratified. Yeah, he's a heartless assassin – but he's got a crush, and when is that not adorablesauce? And yeah, maybe that crush will put So-yi into life-threatening danger, but I'm going to pull a Sejong on this one: I'm just going to think about the now.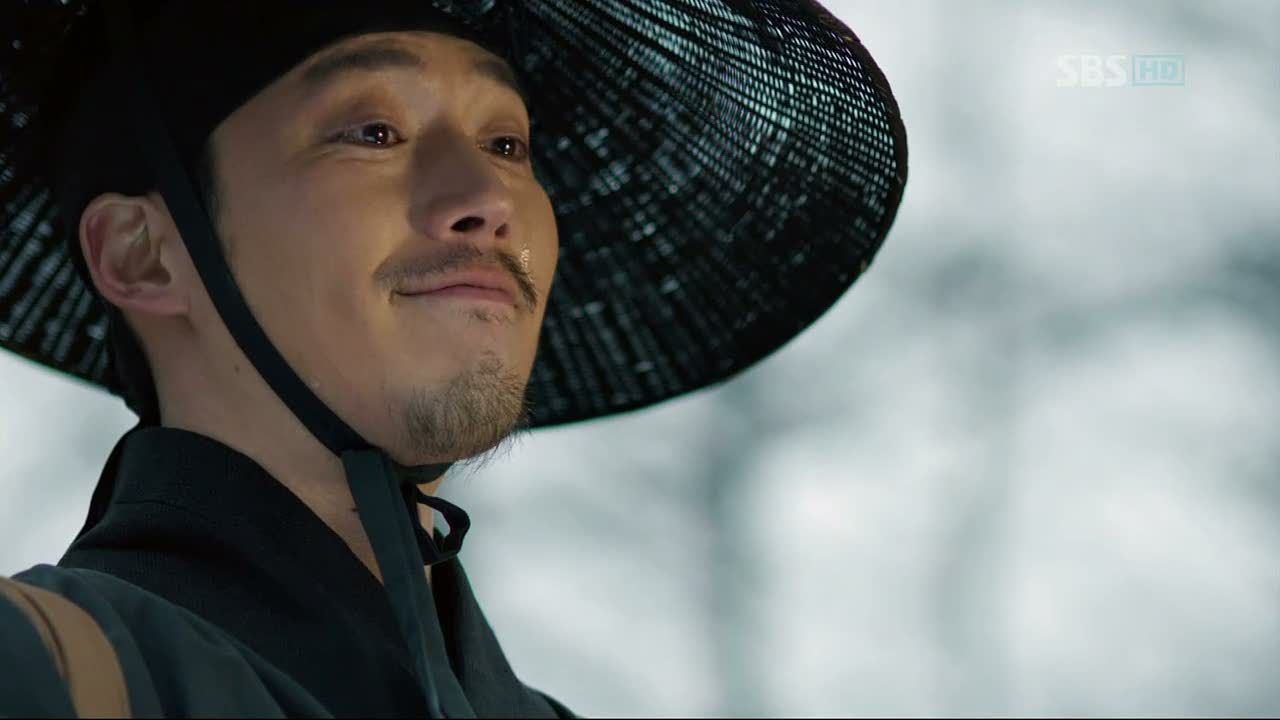 RELATED POSTS
Tags: featured, Han Seok-kyu, Jang Hyuk, Shin Se-kyung, Tree With Deep Roots