What's Up: Episode 3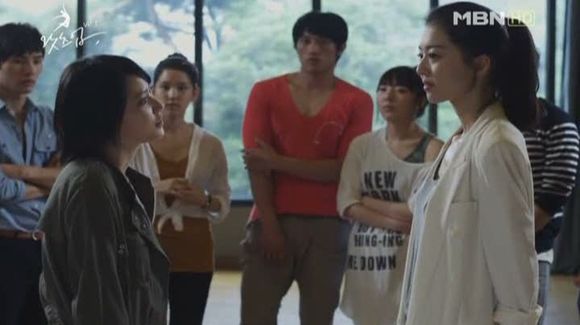 Oh my God. I think I found another drama-crack for the year. It's the drama that has me all excited, twisted up in knots, and just dying to see the next episode. I was going to be PERFECTLY happy if the drama didn't give me anymore singing and dancing sequences, if it just gave me more tension between Sunwoo Young and Professor Yang, if it just gave me a proper Doo Ri and Chae Young catfight.
But it gave me Byeong Gun with his ducktail and flashy 1950's leather jacket, singing to "Those Magic Changes" from Grease. Is it trying to kill me with happy elixir!?
Sunwoo Young enters the classroom filled with the musical students. Byeong Gun immediately thinks the "bum" has got the wrong classroom and offers to lead him off to the professor. Pshh – like Sunwoo Young is going anywhere. (I'm going to call him Sun-Man from now on, because he's 'da man.' Let me know if you have better suggestions for his nickname; I refuse to call him just 'Young.')
Sun-Man walks around the room, judging the students – no one is really here to seriously study musicals, right? Even Chae Young – whom he's calling a B-list star who can't get on the A-list. Everyone just wants to get famous and spend money, right? His cynicism throws people off, and wakes Jae Hun from his slumber on the benches. Tae Hee mutters that Sun-Man is really weird, which prompts Sun-Man to go, "What'd you say?"
Not wanting his "girl" harassed, Do Sung politely asks Sun-Man to leave, especially if he's not a student or a professor. "Well, you could say I'm a professor," he replies. Wide eyes all around.
Yes people – some teachers are actually kinda cool.
He has them all face the floor-to-ceiling mirrors and take a good look at themselves; if any girl thinks she's prettier than Kim Tae Hee, raise her hand. Ooh – Chae Young doesn't raise her hand? Sun-Man tells them that since no one is as pretty as Kim Tae Hee, all their efforts will go to waste because they won't be successful. Now how about the guys – who thinks they're better looking than Jang Dong Gun? Byeong Gun – being a wise-ass – raises his hand. Sun-Man: "If any guy thinks that, he needs to get his head checked out by a doctor." HAH!
Sun-Man advises everyone to take a good look in the mirror and try to view themselves as objectively as possible. Look within themselves – since it's now possible to change your features and your body by a nifty little knife. Again, he targets Chae Young – what does the star think of a person's chances of becoming famous if their body is absolutely perfect? Erm…
His point is that he doesn't think any of them can make it as a star. Chae Young begs to differ – there are plenty of Hollywood stars that went to acting school, don't look too attractive, and became successful. "Then again," she adds, "compared to you they probably look 100x better."
Ooooh – smack down! Sun-Man laughs agreeably and changes his words: to become an actor, you have to be EXTREMELY pretty, or EXTREMELY talented. None of them are. He bows out of the classroom.
But Jae Hun pipes up – what if they ARE talented? Sun-Man takes him up on that challenging note. He picks up a book in his shopping cart and targets Doo Ri to pick a number from 1 to 50,000. Doo Ri: "46,829?" He throws the karaoke book to Byeong Gun and splits them into two teams, A-Team and B-Team. They are to create a musical number in one week revolving around the song with that number.
A-Team consists of Doo Ri, Chae Young, Byeong Gun, among others, and Chae Young is assigned as director. B-Team consists of Jae Hun, Tae Hee, and Do Sung, with Jae Hun as director. The team that isn't so smart with their performance will hopefully wake up and realize they're not cut out for this.
Jae Hun gets excited – this is a competition right? Well – why else would they be split into two teams? Jae Hun wants a reward; the winning team can stop greeting the seniors respectfully. Sun-Man readily agrees! Now if only Jae Hun knows what "directing" is all about…
He moves into his office, which has been left empty and still full of his things packed in boxes. He starts to unpack his shopping cart, and takes a moment to look at a couple of picture frames of a very pretty lady – former girlfriend? Professor Yang stomps right in, disturbing his peace, and starts dumping all of his things back into the shopping cart. Shouldn't a person keep to their promise? He had told her that he quit being a professor, and would never set foot back on any campus again.
Sun-Man: "Heh. Can't a guy change his mind?" Guess he realized being a professor was not a bad career choice after all. Salary, a place to stay, holidays for vacation… Prof. Yang heard he met with the students already, and scoffs at hearing that he told them to wake up and stop dreaming. She picks up a soju bottle and asks what kind of teacher is he to arrive late, drink alcohol when going to class, and tell students to stop dreaming? Does he take perverse pleasure in trampling them? Especially "that girl's"? Oooh – touchy.
Sun-Man's retort: Prof. Yang wanted to be an actress. But that was difficult, so she settled for being a supporting actor. That was hard too, so she turned to theater production – but not everyone can do that. So she ended up teaching in a school, because that was the only way she could be near the stage. Except the only position available was to teach at a musical department – even though she had no experience with it. So for all her dreams, is she happy?
Yang takes his soju bottle and smashes it against the wall. She is going to push him off the edge of that metaphorical cliff he's standing on.
Sun-Man thinks back to why he made the decision to come back. When he was living in the mountains, he had gotten a letter asking him to return because there's a student at school who is the nephew of Eun Hae, and she raised him as her own because he grew up without a mother… and methinks they're referring to Do Sung! So is Eun Hae "that girl" in the picture for Sun-Man!?
B-Team listens to the song they have to work with, and everyone is unsure as to how to start. Who will write the script? and the songs? and form the choreography? Chae Young's roommate tells everyone that Chae Young is so awesome – in two hours she had a script all written up and ready. (More like, she enlisted someone to help her write the script.) Tae Hee wonders if anyone on the team can compose, which makes Do Sung nervous because he is trying to hide his composing abilities and remove all connection to Hades. Another wonders if Soo Bin could help them. Immediately Tae Hee gets all excited – the Lee Soo Bin who is a genius composer ever since he was young and won a lot of prizes in competitions but never gave an interview so that no one has ever really seen his face?! Yeah – she's a fan alright!
A bit too late though – because Chae Young has already latched herself onto Soo Bin. She's still annoyed about Sun-Man giving her a hard time about being a star, so she tries to get reporters to come in for the performance and write articles about her to show who's the "real star." Soo Bin wonders if she ever tires of being a star, and she admits that she's dreamed of not being noticed before. However, the prospect of no one ever knowing her is far scarier than having everyone recognize her. She constantly has to be in the public's minds, lest she falls behind and is forgotten.
On a walk home to the dorms, Tae Hee tells Jae Hun the story about her parents. She heard that it occurred much like the film Roman Holiday, where her father was a poor guitarist, and her mother was like a country princess. Father was playing the guitar, rocking out to Bon Jovi and Led Zeppelin (and Tae Hee gives a damn fine impression of it), when Mother came up to him and asked, "Can music make people happy?" Cue Father – and Tae Hee – to sing "Stupid Cupid."
Jae Hun is so ever charmed by Tae Hee's act, that he even goes and dances with her. (Kyaa!) Cue rehearsals as the teams practice their choreography together and by themselves; Doo Ri films practice; Byeong Gun practices his moves while cleaning the room; and B-Team practices their choreography while creating their set piece.
Tae Hee finishes her little show for Jae Hun, and he is SMITTEN.
Jae Hun's friends, Yeon Joo (the girl) and Ha Geun (the guy) are on the streets of Seoul, now one less in their pickpocket crew, but still on the prowl for drunken men. Yeon Joo pinpoints the target, and then signals Ha Geun over. He goes in the alley way and tries to steal the target's wallet. Problem is, the drunk guy catches him in the act, so he hurriedly tries to escape. Ha Geun pushes the drunk guy away, but a little too hard. The drunk guy slams his head against the wall, and smears a trail of blood as he falls down to the ground… As Yeon Joo and Ha Geun run away, they're spotted by the gangster who chased them in episode 1. Feeling that something bad must have happened there, he sends his underling to find some evidence in the alleyway so that they can give it to the police.
Prof. Yang has her two underlings follow Sun-Man around to make sure he's doing his work. What she hears isn't too pleasing – for one, he shows up for 45 seconds in one class to just show his face and then leaves. So Prof. Yang goes into her room and has her assistant film the entire conversation as a record: Sun-Man is to teach a curriculum that she has approved. If he can't do that, then he has to leave the school. Oh this threat would be so much more effective if Sun-Man weren't smirking the whole way through and waving at the camera.
So he goes into class and starts reading off the material Prof. Yang gave him. It's boring for him – even though the students take notes. Sun-Man zeroes in on his favorite target, Chae Young. What's that she's writing on? A notebook? He crumples it up and tosses it into the wastebasket. The basics of acting in a musical cannot be written down; it must be practiced. Everyone should throw out their notebooks, and move the desks to the side.
So in the next class, Byeong Gun doesn't bring a notebook – and he's the only one! BIG MISTAKE – Prof. Yang is teaching that next class, and she insists on everyone bringing a notebook.
Moving on to the competition between the teams, Byeong Gun puts up signs everywhere saying that the A-team will begin practice at 6; anyone later than that will die. Chae Young informs the team that everything has been taken cared of – the script and the music (thanks to Soo Bin). All that's left is for someone to choreograph, since she doesn't have experience with it. Byeong Gun, who is standing behind her, meekly raises his hand, but he doesn't attract attention fast enough; another teammate offers his services as he was "born to dance."
Now for the leads – Chae Young suggests they all audition in front of her since they don't know each other's talents. Doo Ri pipes up: how about their teammate Yang Ji Eun? She's pretty talented, having had experience with musicals since high school, and Doo Ri believes the girl's got vocal pipes. Chae Young looks miffed.
Doo Ri: Don't tell me, you wanted the role yourself huh? But you're just an actor, not a musical actor.

Chae Young: You've never heard me sing.

Doo Ri: True. Sing then. Hurry and sing. I'm kind of hungry, so I'm not very patient.
WHEE! Smack down! But Byeong Gun intervenes and suggests an audition for the male lead first. Chae Young stalks off to the seats, before putting on a fake smile and letting him begin.
Byeong Gun gets a case of nerves again, and he prefaces his song with a long intro about how he wants to sing "Those Magic Changes" from the original version of the musical Grease. The guy knows more about the history of the song than being able to sing it well, and he causes his teammates to laugh in a snarky way. Chae Young can't take it anymore, thinking that he's fooling around. She yells at everyone: a musical is not something to be joked around with. She wants this one thing to be a success – and will do whatever it takes to finish it.
That evening, Byeong Gun escapes into the empty gym, feeling quite crummy. He wasn't joking around at the audition; he was just really nervous. He hesitantly sings out the first line of the song, "What's that playing on the radio?" In the distance, he hears a chorus going "C-C-C-C-C-C, A-A-A-A-minor!" He looks around, but sees nothing.
OMIGOD – is Frankie Avalon going to come out somewhere?
Byeong Gun continues with the next line: "Why do I start swaying to and fro?" And he hears the chorus again!
A spotlight shines in the center of the gym floor. It's Do Sung, playing your host for the night with his 50s garb! He shouts into his mic: "Ladies and gentlemen! I present to you this generation's brightest gem, the coolest rock star, Kim Byeong Gun!!" (His voice cracks at the end too – so cute!)
And we go outside the campus where a stage is set up for our supremely suave Byeong Gun – in ducktail, sparkly leather jacket, cheesy wink galore – and he sings "Those Magic Changes" with absolute confidence. Target of his affection? Chae Young. Drums? Doo Ri. Guitarist? Jae Hun and Do Sung. Backup singers? Tae Hee and the rest of his team. [download]
Audio clip: Adobe Flash Player (version 9 or above) is required to play this audio clip. Download the latest version here. You also need to have JavaScript enabled in your browser.
What's that playing on the radio?
Why do I start swaying to and fro?
I have never heard that song before
But if I don't hear it anymore

It's still familiar to me
Sends a thrill right through me
Cause those chords remind me of the night that I first fell in love to
Those magic changes
My heart arranges
A melody that's never the same
A melody that's calling your name
And begs you please come back to me
Please return to me don't go away again
Oh, make them play again
The music I wanna hear as once again you whisper in my ear
You're always in my heart

I'll be waiting by the radio
You'll come back to me some day I know
Been so lonesome since our last goodbye
But I'm singing as I cry-iy-iy

While the bass is sounding while the drums are pounding
Beatings of my broken heart will rise to first place in the
charts
Oh I want you – I need you – I love you
Forever, and ever, and ever, and ever-

Whoa-whoa-ah-oh
Whoa-whoa-ah-oh yeah
Oooooo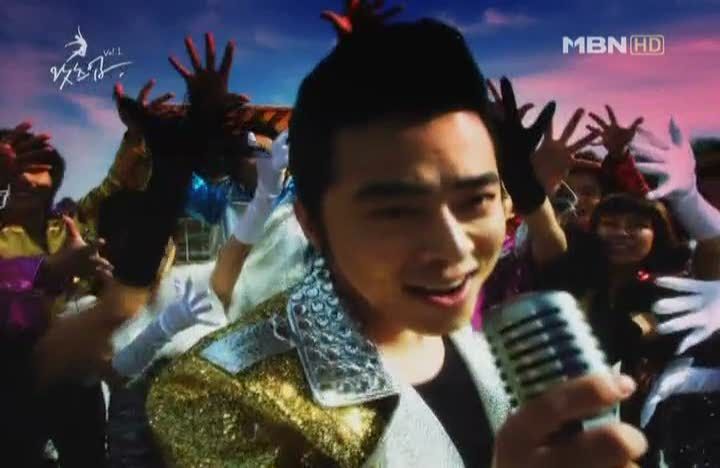 *Wink*
Comments:
WOW. I have to say I really enjoy this set up right now. Renegade teacher comes back and uses his unconventional teaching to train a new crop of musical students, all of whom are a ragtag bunch anyways because they're not all necessarily talented in the same way. Can I just say that I never understood the appeal of Oh Man Seok until now? Then again, I haven't seen his dramas fully until this one. (Don't kill me!) But I love how he's so nonchalant about going against the grain. There's one scene where he brushes his teeth and walks in the opposite direction of everyone else in a hallway. What a way to emphasize the point that he is not your average teacher. I wonder what his deal is, and this seeming connection to Do Sung… He's probably a bag full of insecurities himself. Everyone has their own insecurities to get over with, and while we focused on Byeong Gun and Chae Young's troubles this week, I can't wait to get to Do Sung and Jae Hun. (There's got to be a bromance there too somewhere down the road. I hope.)
I like how this drama infuses musical elements without interrupting the flow of the drama. It's a bit like Glee, although sometimes Glee's song setups are a little cheesy (randomly breaking into song in the middle of the hallway and no one pauses to stare?). The setting is a musical school, so it's not that hard to believe that these kids will just break out into song anytime anywhere. But they also make sense – it's either in rehearsals, just showing off to some friends, or a dream sequence. I'm most happy to see Byeong Gun shine at the end of the episode, because it proves that he does have a place in this school, but he needs to get over his fears first and speak up. I also love that they made it a dream sequence a la Grease; just as how Frankie Avalon appeared for Frenchy, Do Sung and company appear to support Byeong Gun.
As for Chae Young, while she may be easy to hate, she's also got a lot of insecurities. She wants to be taken seriously as an actor, and have the freedom to act without the extra baggage of fame, and yet people are still picking on her. It doesn't help that she is quite snooty, and she does need to be taken down a few pegs from her pedestal. However, I'm hoping that despite all her cattiness in the beginning, she will be a character who changes and proves that she can sing and act on the stage as good as any other of her classmates.
RELATED POSTS
Tags: Daesung, featured, Im Joo-eun, Im Joo-hwan, Jang Hee-jin, Kim Ji-won, Lee Soo-hyuk, What's Up