1 Night 2 Days: Episode 369
EPISODE 369. Broadcast on January 15, 2012.
javabeans: Friend Special, Part Three! We start off this episode with the winners earning a generous dinner, and the losers left with a box of potatoes and their own devices. Oh, how cute: Food Truck Ajumma greets Seo-jin warmly and tells him that she got lots of texts from his fans, asking her to feed "Lee Seo-jin oppa" well.
girlfriday: Oh man, he's Food Truck Ajumma's oppa? That's crazy. How cute to see her fangirling over someone.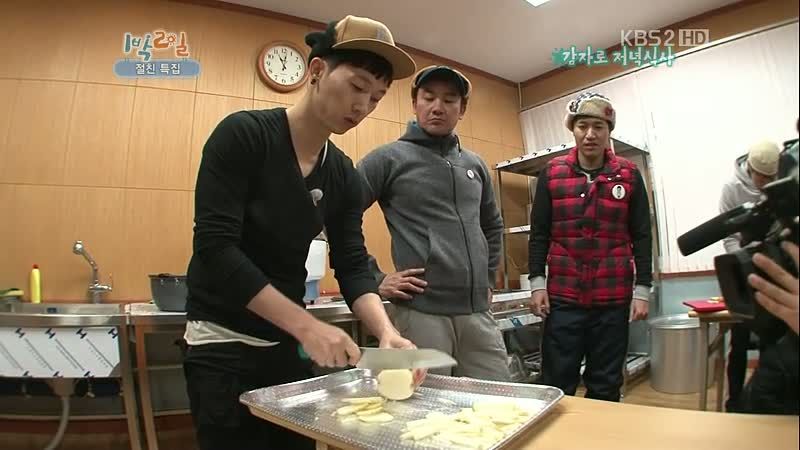 javabeans: Over in the kitchen, Chef Woo-hyuk and Chep Seon-kyun get to work slicing potatoes, while Tae-woong and Jong-min stand around just watching.
girlfriday: Yes, Chep! I hope for his image's sake he can cook.
javabeans: Seo-jin comes back with a heaping plate of food. Seung-gi asks him if he's happy now that he gets to eat, and Seo-jin says in a tone that is so blank as to be hilarious, "Isn't this just standard? This is how normal people should live!" But normal people don't run 1N2D…
girlfriday: It's like he won't give up that last bit of hope that Na PD has a heart somewhere in there. Fool.
javabeans: Looks like Seon-kyun knows his way around a kitchen — and not just a drama kitchen, I mean. Is there anything this man can't do? Ha, Tae-woong suddenly turns into a little kid, pestering him for a taste, and Seon-kyun tells him in Patient Mom voice, "Just a minute, wait, wait…" while Tae-woong fishes for a bite anyway.
girlfriday: Seon-kyun seems more and more like the hyung in this relationship. They're so adorable. Seon-kyun actually handles his frying pan like he learned from Pasta. Hee.
javabeans: Seon-kyun's dish — sauteed… potato… sticks? — seems to be a winner, even if I'm not really sure what they are. Then again, potatoes are one of those foods that are delicious no matter what you do — just slap 'em in some oil and salt and you're good to go. Woo-hyuk seems to be flying by the seat of his pants a little, grating potatoes to fry up a pancake. Not like a latke, but a literal pancake, one that's congealed into a sticky dough. He has some trouble flipping it, but it turns out that despite the questionable appearance, it's the hit of the day.
girlfriday: I think it's the mystery appearance of it that sets the bar low so that you're pleasantly surprised by the taste. It's the only explanation.
javabeans: In the winners' room, Seo-jin wonders if the crew has eaten, like the top star he is. On a drama set, there's a tacit understanding that the biggest names will look after the crew, whether it be giving them presents or setting the mood. Here, though, Seung-gi tells him, "You don't have to worry about them, hyung. We're the only ones who don't eat." Haha, and Seo-jin replies, "I'm starting to like them less and less."
girlfriday: It's cute 'cause Seung-gi's the sunbae in this realm, as he assures Seo-jin that they're a hardened crew. They probably are the most hardcore crew around, considering average 1N2D conditions.
javabeans: Seriously, Woo-hyuk's "pancake" looks like a pile of dog vomit, but everyone's happy with the taste. I actually can see how it would be good, though — it must have the consistency of dduk, or rice cakes, and they're all warm and gooey… They joke that they should set up shop to sell them.
girlfriday: I love that even after they try it, they're still like, "What IS IT?" Tae-woong names it Potato Jam on Potato. Still looks like Mystery Goo to me.
javabeans: Tae-woong takes a plate of it to the others, who are deeply suspicious. They refuse to try it, and Ji-won literally recoils. Finally Su-geun gives it a thumbs-up, and everyone has a taste. Except Seo-jin, who refuses, saying potatoes make him nauseous, and the caption cheekily points out: "Trauma from the sweet potato cakes at the rest stop." (The lunch challenge.) Finally he takes a very, very reluctant bite. He's not impressed.
girlfriday: In the kitchen, the boys get excited when Chep approves the final dish from Woo-hyuk, as if they've slaved over all the trial ones for this one perfect potato pancake.
javabeans: After the potato break, we get to the main highlight of the night: jokgu tournament. They decide it's unfair that both professional soccer players should be on the same team, so they go on opposing sides. Instead of splitting up a friend pair again to make it five against five, they'll do 6 against 4, although only four players will play per team. The 6-member team will get to do player substitutions. So we get Ji-won and Dong-gook joining with Seon-kyun, Tae-woong, Woo-hyuk, and Jong-min. Phew, if they know what's good for them they'll keep Dog Feet on the sidelines the whole time. The other team is Su-geun, Geun-ho, Seung-gi, Seo-jin.
girlfriday: I love it when they pick Seon-kyun because they heard he's good, and someone's like, "But you know that means you get Tae-woong too…" It's really cute how nervous the two pro soccer players seem.
javabeans: It IS their reputations on the line… Ji-won even jokes that if they lose today, he's cutting Dong-gook off his family tree.
girlfriday: It's just funny 'cause it's freaking footleyball.
javabeans: They give the pros a chance to show off their skills, and DAYUM. I mean, I know they're pros. I shouldn't be impressed. But I'm impressed. So is Seung-gi, who is hilariously excited on the sidelines, going along with the motions like he's the one doing all of Geun-ho's fancy tricks. Yes, with the invisible ball that does not betray you, Seung-gi.
girlfriday: Dong-gook says he can't show up his hoobae, so Su-geun messes with him a little, tossing the ball at his chest.
javabeans: I love that Dong-gook makes a move to kick the ball, and Su-geun scuttles back like a terrified crab, thinking he's gonna get a ball to the face.
girlfriday: Stats go up, and the lighting director takes his place as the ref. I'm strangely excited for this game.
javabeans: I think it's because when the skill levels are low, you're going a lot on luck so it's hard to get into a game. Here, the overall skill level gets a major bump. Ji-won and Tae-woong take their places on the sidelines, probably hoping they can stay there all night.
girlfriday: Geun-ho's team wins a few easy points, one from a mistake by Dong-gook. The screen goes black and white. Ha.
javabeans: That'll be on his highlight reel forEVER. And I mean not just for this show. For his life.
girlfriday: How easy things crumble with one appearance on a variety show. Geun-ho's team seems to have a big advantage, in that no one on their team is a big liability.
javabeans: I'm just gonna call Seung-gi/Su-geun's team Blue, per their jackets. Over on the Yellow Jacket team, I think Woo-hyuk does a lot better when he's not trying to be cool, and Seon-kyun's pretty good, as expected.
girlfriday: Yeah, he's seriously good at everything.
javabeans: Seung-gi goes down with one ball to the nuts, and everyone dissolves into giggles.
girlfriday: That's just never not funny. Geun-ho runs over to tend to him… by patting his butt? Must be a soccer thing. Or a bromance thing. Or a soccer-bromance thing.
javabeans: He tries to recover with the dinkiest chest-block ever. I love when Seung-gi tries to be cool and fails. That's what we need from Seon-kyun. Heo-dang Chep moments. But I wonder, how can Seung-gi be so good at soccer and so terrible at jokgu? I know they're different games… but you figure a marathon runner still puts in a decent sprint.
girlfriday: I love that the captions are like, "It must've hurt a lot," and "Now a man afraid of the ball."
javabeans: I love the nice long rallies that go on so long you can hear the crew gasp at every return. Poor lighting director, who makes two questionable calls back to back, getting both teams up in arms. They converge on him like they're about to literally beat him, which is hilarious.
girlfriday: He cracks me up, with his smiley wishy-washy play-calling.
javabeans: He declares both points do-overs, and then adds, "This time do whatever you want." That's not judging!
girlfriday: Haha. Team Yellow wins the first game, so they switch sides to play Game 2. Uh-oh. This time Tae-woong and Ji-won get rotated in.
javabeans: Aw, crap. Maybe they should've alternated so they wouldn't both be in at the same time. Thankfully, though, Ji-won does get in a freak point.
girlfriday: But that's the last of it, 'cause right after that, we get a highlight reel of him giving up point after point after point.
javabeans: Oh no, and now it's Tae-woong's time for the highlight reel of shame. HAHA, Seung-gi can't even complete a play in simulation! His team is at match point so Su-geun coaches them in a few practice moves, and Seung-gi practice-moves himself right into the net.
girlfriday: I love that with Seung-gi, you can always see the mental image of what he THOUGHT he'd look like, doing some cool move.
javabeans: Omg! It's just like in Gumiho, when you first see Woong visualizing the maneuver, and then falling flat.
girlfriday: Hahaha! That's exactly it! He's just Woong-ah.
javabeans: Now they're tied at one game apiece. Time for the deciding game.
girlfriday: Now that it counts, Dog Feet and Ji-won go back to the bench.
javabeans: Team Blue does their chant, which is "Four Lees, Four Lees, Fighting!" Ha, I didn't realize they're all Lees.
girlfriday: Wow, they get some impressively long volleys in. Everyone's suddenly playing much better.
javabeans: Jong-min's their black hole (not as black as their benchwarmers, but a nice dark gray) so Seon-kyun basically steps in and yells, "Mine!" whenever he can cover him. They're for serious now.
girlfriday: He gets one long ball coming straight at him and panics, getting ready to headbutt it, but when his teammates yell that it's out of bounds, he lies flat on the ground to avoid it like it's suddenly a bomb coming for his head.
javabeans: Oh my gosh, I'm cracking up. He basically dives for the dirt because he realizes it's out with just a split second to spare.
girlfriday: At least he's got quick reflexes?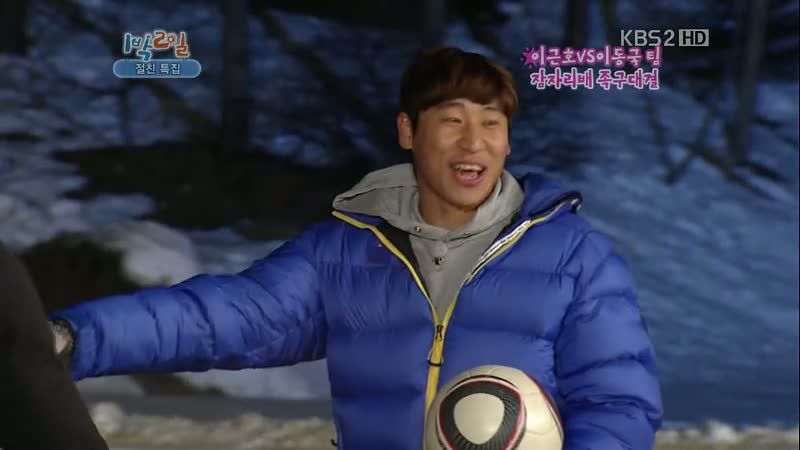 javabeans: Time out is called. Team Yellow is leading Four Lees, so Geun-ho gives his team a pep talk. Both pros are especially anxious about being the ones to make the mistakes, and Four Lees runs around the court every time they feel stressed. Ha, Su-geun does a lap and face-plants into the snow
girlfriday: Ha. I think the running about in circles helps though, 'cause it makes them laugh from the silliness of it.
javabeans: Oh man, it's tied at 10:10 in a game to 11, meaning we're going into overtime to win by 2.
girlfriday: No Deuce dance from Ji-won? He should make himself useful on the sidelines.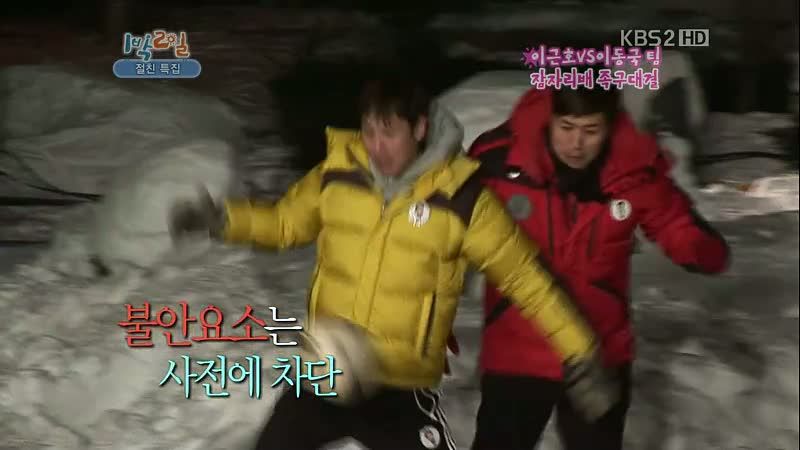 javabeans: Too much on the line! It doesn't help that opponent Su-geun purposely confuses Jong-min by aiming the ball at him and yelling at him to hit it. You can see Jong-min's conflict: He told me to hit it! versus I'm the weak link, I should avoid the ball! Su-geun, the mindfucker. Hahaha, Seon-kyun literally shoves Jong-min out of his way to claim the ball.
girlfriday: HA. Seon-kyun's playing to WIN.
javabeans: Dude, he's all, "Eff my image, get outtamywaaaaaay." Which is good for his team, since we all know Jong-min means well, but rarely hits well.
girlfriday: Team Blue gets another point, and Art School Hyung gets so excited he does a little happy-swoosh dance.
javabeans: Su-geun, of course, can't pass up the opportunity to rib him endlessly on it. This is what happens when you let down your guard in a moment of excitement in front of a bunch of cameras and eagle-eyed comedians.
girlfriday: Like feeding guppies to sharks.
javabeans: I love that even in the excitement, they're shouting, "Art School Hyung, over here!" instead of his name.
girlfriday: The ref is so randomly funny with his commentary: "It's 11:11, deuce! Very exciting!" It actually does become a nail-biter though, with one point to each side, back and forth, endlessly at deuce.
javabeans: Damn, these long rallies are nerve-wracking. The rally at 14 points goes on forever, with numerous impressive saves on both sides, and ends… with an anticlimactic Seung-gi heading into the net. Haha. Team Yellow wins, 15 to 13! Four Lees sleep outside! Team Yellow screams and cheers, and it's like they won the World Cup. Dong-gook can start breathing again.
girlfriday: I can't believe how long that last volley goes on, and how unimpressively it ends with that goofy heading. Hahaha.
javabeans: It's extra-funny because you can see that he meant to kick it over like a normal person, but then at the last second thought it would be better to fake-out with the heading. Hee. Seung-gi collapses to the ground in dismay, and Ji-won "comforts" him with a hug. The caption reads, "It's okay…" and then, "But I'm a little thankful" since Ji-won's on Team Yellow.
girlfriday: I love how epic the victory is.
javabeans: I'm glad, though, that the final point/error went to a 1N2D regular and not a guest. I'm not sure I'd wish that kind of burden on anyone.
girlfriday: Me too! I was worried about that, and also about the soccer sunbae losing. That'd be more… face-losing, I think.
javabeans: I sort of feel like this is how the game should have gone. Sure pro player Geun-ho lost, but that's better than MVP sunbae Dong-gook losing. Young yields to old, it all works out, etc.
girlfriday: Yes. Balance and order. Sigh, we're so Korean.
javabeans: I know! I'm sure everyone would have been fine if the other team won — no heads exploding, you know — but I feel like there'd be a lingering dark cloud of unease.
girlfriday: Like the universe was out of whack?
javabeans: Yes. This way feels right. Heh, Su-geun compliments Art School Hyung on his athletic skills – first ping-pong, now jokgu – and Tae-woong pipes up, "And how was My Friend Seon-kyun?" Haha. I love that he sucks at this kind of stuff but he's all proud of his friend and brags by association.
girlfriday: It's SO CUTE how proud he is to be Seon-kyun's friend. If they had been friends as children, can't you picture Seon-kyun as the jjang and Tae-woong as his…
javabeans: Happy Fat Sidekick?
girlfriday: Hee!
javabeans: They decide to have an impromptu soccer game, just for the hell of it. This time it's the two pros versus Su-geun, Woo-hyuk, and Seung-gi. Man, I wanna see Seon-kyun in the mix.
girlfriday: I like that they just want the chance to play more soccer with their sports heroes, like little boys. They get so into it that Na PD shouts after them, "I thought this was just for fun!" The pros win, of course, with an impressive heel-kick from Geun-ho that's so fast I don't even see it happen until the slow-mo replay.
javabeans: It's only after the pros win and head inside that Su-geun points out Dong-gook's starting to smile again. Dong-gook: "That was so much pressure, seriously!"
girlfriday: Su-geun repeats how well Seon-kyun and Art School Hyung played, and Na PD chimes in about Seo-jin: "I don't know what this hyung's deal is!" like he genuinely can't figure him out.
javabeans: Na PD reveals the morning mission, which cracks me up. At the wake-up call, they have to head out, eat a bunch of sweet potatoes, and whistle. Hahaha. Seung-gi even apologizes to the guests.
girlfriday: At least the losers just have to make breakfast, not starve.
javabeans: The Four Lees head outside into the freezing cold to their tent, and I'm genuinely curious and amazed that they're gonna make Seo-jin sleep outside, on the ground, in the cold. I'm pretty sure he's just as confused as I am. Asked what he thinks about 1N2D, Seo-jin says that even in the army he wasn't treated this badly. Seung-gi says, finding the silver lining, that Seo-jin will be talking about this for months to come. Seo-jin says, totally deadpan, "But I'd like to forget this."
girlfriday: Haha. He's so hilariously dry. And then when Seung-gi tries to get him to do the 1N2D chant, he gets all shy and embarrassed again.
javabeans: Morning call. Everyone heads outside groggily, and the show makes it a point to freeze-frame on Seo-jin's crazy morning hair. We even get a voice-over from one of Seo-jin's sageuks, where he orders enemies (miscreants of some sort, we assume) away. Then there's the slow-mo juxtaposition of his king character (Yi San) and his bedraggled homeless look (1N2D).
girlfriday: Pffft. That's some crazy bedhead. Everyone gets to their sweet potato eating task, while inside, Seon-kyun straggles behind, confused and in no hurry to join them. The others finally notice Seo-jin and start cracking up at the sight of him.
javabeans: Haha, the crew even puts up captions to the faux drama Ten Siblings, with a plot description of the Art School Hyung who lives in a small country town with his nine dongsengs, living off of sweet potatoes. Among the siblings? A national athlete. A Hallyu pop star. Etc.
girlfriday: While Art School Hyung shoots his sad drama, the guys start whistling, already done with their sweet potatoes.
javabeans: So now we're down to the last three whistlers. The slowest two have to make breakfast with their friend-partners, so Ji-won, Tae-woong, and Seo-jin chew madly and make attempts at whistles. Ji-won succeeds so Tae-woong and Seo-jin are out of luck.
girlfriday: Looks like Chep has to make both meals on this trip. While they rest inside, the guys ask what the wake-up song was, and Jong-min says it's his new song. Art School Hyung takes a particular liking to it with big smiles.
javabeans: But not the show. They start talking about how they slept and such, and he chimes in, "I don't think this is a good program."
girlfriday: LOL. Well it's certainly not a NICE program.
javabeans: Ha, I love that Choi Ji-woo could manage, but Seo-jin's all complaints. And he didn't have an ice bath!
girlfriday: Turns out he's an Art School Princess.
javabeans: The breakfast cooks get to work making dumplings, and after making some, Seon-kyun suggests making 10 reaaaaally big ones, instead of all these little ones. Seo-jin points out that that was his initial idea: Just give one person one dumpling each. Haha. They're basically making empanadas. No, bigger. Burritos.
girlfriday: This cracks me up. They're just making these giant-ass dumplings to take a shortcut from their cooking punishment.
javabeans: Lol, this degenerates into Art Class for Tae-woong, who rolls a snake out of his dough and says, "I'm raising this one." Appropriately, Art School Hyung approves.
girlfriday: Seung-gi grabs some sheets of seaweed to pretend like he's paying each of them their hourly wages. Hee.
javabeans: Why are they so cute? Seo-jin takes his seaweed from Seon-kyun, saying there's the money he's owed, just going with this fake narrative. They're just cooking breakfast and goofing off, but it's adorable.
girlfriday: 'Cause they're having fun and being weird. I love it. Seung-gi starts the cooking process with his timer (of course) but then Seon-kyun quickly takes over like a pro, fixing the mess with fast hands.
javabeans: The best part is that the song switches to the Gourmet track, giving us the impression that the genius has stepped in to take over from his less-competent underlings. With his superior tastebuds, he will salvage this Situation!
girlfriday: They present breakfast to the rest of the guys and Tae-woong gives his little snake (which he fried) to Dong-gook. I love that while Seon-kyun made breakfast for ten, Tae-woong made one dinky play snake. It's just ridiculous.
javabeans: Yes, but imagine if he'd tried to help. More work for Seon-kyun to fix.
girlfriday: Their friendship cracks me up.
javabeans: As they eat, Seo-jin gives extra dumplings to Su-geun, and the others comment on how considerate he is. Seung-gi corroborates this, saying he's quite thoughtful of others. And then Seon-kyun hits the nail on the head: "It's because he doesn't like them." Hahaha. Seo-jin doesn't argue.
girlfriday: They talk about how old they'll be this year (eating rice cake soup is the traditional new year's meal that you have to eat to grow a year older). Wow, Ji-won's 35 this year. Seung-gi's turning 26, and Jong-min says he'll be 34. They gape, thirty-four?? Seung-gi: "You suddenly look really old." Heh. Jong-min asks Art School Hyung how old he'll be. Seo-jin: "Be quiet!" HA.
javabeans: Su-geun has lost his voice from all the emceeing/shouting, and he says it's because he wanted to make things entertaining for everyone. Seo-jin (who's shown in brief moments that he finds Su-geun's chatter wearying) just says, point-blank, "Stop talking." HAHA. I love it. Talk-talk-talk-talk-talk on one hand, SHUT-DOWN on the other.
girlfriday: Ji-won calls Tae-woong out on making an inedible snake while the others made breakfast, and he says he had the most to do, what with making the snake, and watching over Seon-kyun. Keh.
javabeans: Apparently Yeom Jung-ah (from the Actress Special) told Seo-jin he'd have fun on his trip, and gave him the advice: "When you get a chance to eat, you have to eat a lot!"
girlfriday: They must be getting comfortable with each other, because Woo-hyuk does an impression of Seo-jin's stiff walk, and then Seung-gi does it too, all butt raised high in the air.
javabeans: Breakfast winds down and Su-geun says it's too bad that they're ending soon, because things are just starting to get interesting now that they've all bonded. Ji-won pipes up that they're all in a great mood because they're leaving, haha.
girlfriday: Seo-jin cleans up after breakfast, and gives a disapproving nod to Su-geun's messy eating habits. I think they've totally formed an antagonistic bond.
javabeans: The two soccer pros sit together afterward, sorta chatting, kinda not. Dong-gook ranks so far above Geun-ho that they both feel that natural structure in place. With prompting from the writer and producer, they reminisce on their early days, like when they both entered their first training days with the national team, and you basically never spoke until spoken to.
girlfriday: Wow, that's some serious hierarchy. Geun-ho says when he started out, he only ever said three phrases all day long: "Hello, Enjoy your food, and Goodnight."
javabeans: Seon-kyun says it's an honor to have played alongside them, and when asked if he wants a photo with them, he's happy to hand over his cell phone over for a snapshot. It's cute that Geun-ho also hands his phone over, and adds that he bought an Lee Seon-kyun backpack after watching Pasta. That is adorable. Seon-kyun says that sports stars and actors are celebrities to each other, which makes sense. They're stars from that other far-off realm.
girlfriday: An Lee Seon-kyun backpack? Was he twelve? That's so cute.
javabeans: It's autograph time, with Ji-won asking the other stars on Dong-gook's behalf for a stack of autographs for family members. (He says Dong-gook's too shy to ask.) I love how Woo-hyuk is so surprised he asks, "For him? Why?" The caption points out: "The brother-in-law of Sechs Kies asks H.O.T for an autograph." That is surreal, definitely.
girlfriday: Hee, Tae-woong writes one for Ji-won and Dong-gook's mother-in-law (since they share the same one) and writes, "If you have any remaining daughters…" How cute. He giggles at how awesome it'd be if the three of them could be brothers-in-law. Seon-kyun: "You're really lonely, huh?" Aw.
javabeans: Woo-hyuk's autograph to Dong-gook starts off with how he's glad he met him and then includes the bit, "Actually, I cursed you a lot in the past…" Haha. Because I guess his team has lost a lot? We flash back to earlier in the trip when Woo-hyuk praised him for scoring goals, but now he can speak honestly. Dong-gook says there's probably not a person around who didn't curse him at some point.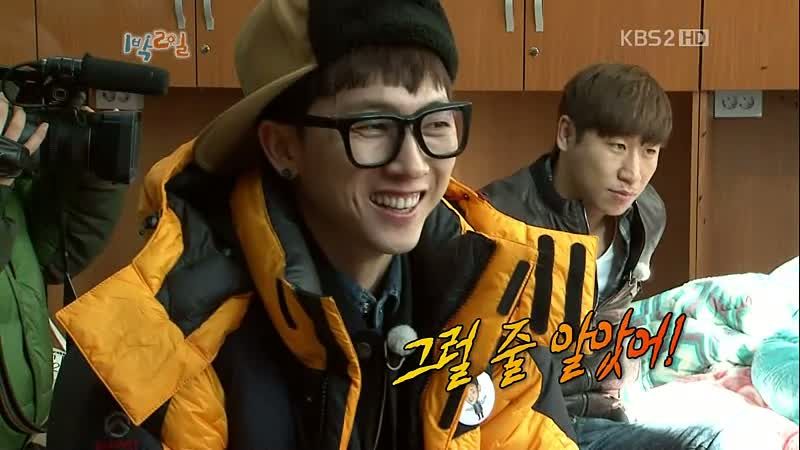 girlfriday: The guests give closing interviews one by one, and Seo-jin finally confesses that he can see why people like this show. Ha. A concession from Art School Hyung? Seon-kyun says it felt like being back in his twenties and hanging out with army buddies, and Woo-hyuk assures us that he's not mad at Jong-min and that they'll be close. Dong-gook has a new appreciation for how hard Ji-won's worked on this show for six years, and Geun-ho thanks Su-geun for being such a good hyung.
javabeans: Seon-kyun can't resist one last jibe, though: "I thought Tae-woong was doing much better, but you've still got a long way to go!"
girlfriday: Hee. Seo-jin asks Seung-gi to thank the other members for him since he's too embarrassed to do it himself, and says he gets it now why so many people like this show and why Seung-gi works so hard for it. Aw.
girlfriday: They gather for the closing, and Dong-gook gives them all jackets as gifts, and they joke that Art School Hyung's going straight from this to a collar-grabbing meeting with the boss. Seo-jin: "First I'm going to meet my lawyer and give a statement." Ha.
javabeans: I'm not convinced he's entirely joking, but he sure does have that variety comic timing down.
girlfriday: Seon-kyun gives a smooth thank you at the close, and everyone oohs and aahs, while Tae-woong giggles, "That's MY friend!" like a big dork. Omo, are they holding hands?
javabeans: That's possibly the cutest thing on this trip, which was chock-full of cute. Brotherly love for the win.
RELATED POSTS
Tags: 1N2D, Eun Ji-won, featured, Kim Jong-min, Lee Seo-jin, Lee Seon-kyun, Lee Seung-gi, Lee Su-geun, Uhm Tae-woong