Interviews with Moon/Sun's child actors
Soon we'll be saying goodbye to the endearing young cast of The Moon That Embraces the Sun, who did such a solid job of anchoring the show in emotion, conflict, and cuteness. Their appeal surely sets up the adults (Kim Soo-hyun, Jung Il-woo, Han Ga-in, Kim Min-seo, Yoon Seung-ah) for lots of goodwill as they make their entrances, so let's take one last look at a couple of the youngsters at the heart of the show: Lee Min-ho playing Yang-myung, and Yeo Jin-gu as young Prince Hwon.
First, Lee Min-ho, who's 18 by Western counting, 20 in Korean age. He's been acting for more years than not; his debut came in 1998 at the age of four in the SBS drama Soonpoong Clinic and he continued that with lots of child roles in dramas like Empress Myung-sung, Jang Hee-bin, Love and Ambition, Gumiho: Tale of the Fox's Child and Kye Baek. (He also had a memorable bit in Sungkyunkwan Scandal as the Banchon thief in Episode 10.)
He says of his Moon/Sun role, "I put everything into it, thinking this would be my last child-actor role. Because I'm twenty now. [Laughs]"
Next month, Lee Min-ho will graduate from high school, and he plans to enroll at Joongang University, where he'll study theater and film.
Lately he's been on the receiving end of so much interest that he's beat out that other Lee Min-ho in search result rankings, although he figures that those results are just a factor of who's being talked about right now and may swap back soon.
But he has started to feel his newfound popularity, which he says came as a surprise to the cast and crew: "When we began filming, nobody could have guessed that it would become this popular. When the first broadcast had ratings at almost 20%, we were all shocked. Most of our shooting was in rural locations and it was hard filming in the cold, but the viewer response gave us encouragement."
"Popularity? I can feel it a bit. [Laughs] Internet reactions sometimes bother me, but it seems like they're definitely positive. I haven't had a chance to play kkot-doryung [pretty boy young nobleman] roles in the past so I think people haven't shown much interest in me, but I was really fortunate with this character. To be honest, it also makes me a little uneasy — the initial response was so great that I worry I'll disappoint later."
Asked about his "pretty boy quartet," Lee explained that he's the third-oldest, after Im Shi-wan (Yeom) and Lee Won-geun (Woon), with Yeo Jin-gu being 14 (Korean age 15). "Since we see each other on the set every day, we became close quickly. When the four of us get together, we get pretty chatty."
His Yang-myung character harbors feelings for Yeon-woo, who has been (as of our most recent episode) designated the future wife of Prince Hwon. Yeon-woo's played by 12-year-old Kim Yoo-jung, with whom Lee Min-ho has acted in a previous drama (Gumiho: Tale of the Fox's Child).
Lee said, "At first, we supported each other a lot because we were friendly. But in the drama, she starts to get closer with Jin-gu, so we had fewer scenes together. It seemed like Yoo-jung and Jin-gu were getting a lot closer, so I started to feel jealous. In the drama, it was really easy to get into character for the scenes where I feel jealousy. Haha."
Lee initially wasn't going to accept the role, thinking that he'd be off to college soon, not sure he wanted to do another child-actor role: "But the role was too good to give up, and I thought if I didn't take it I'd regret it. The script was really interesting." He's modest about his appeal, saying that the character was so well-written that anybody who did it would get lots of love. "In order to film cool action scenes, I went to action school for two months. In Episode 5, you can look forward to another scene where I fight again."
Lee explained being raised to act from a young age, going to acting classes from the age of four: "My father dreamed of acting but wasn't able to, so he wanted me to live out that dream. My start came at the hands of my mother and father, so during my adolescence there were times I rebelled, wondering why I had to be suffering and doing this work. But when I started high school, I took the lead and began acting for myself. That's when I learned the taste of acting."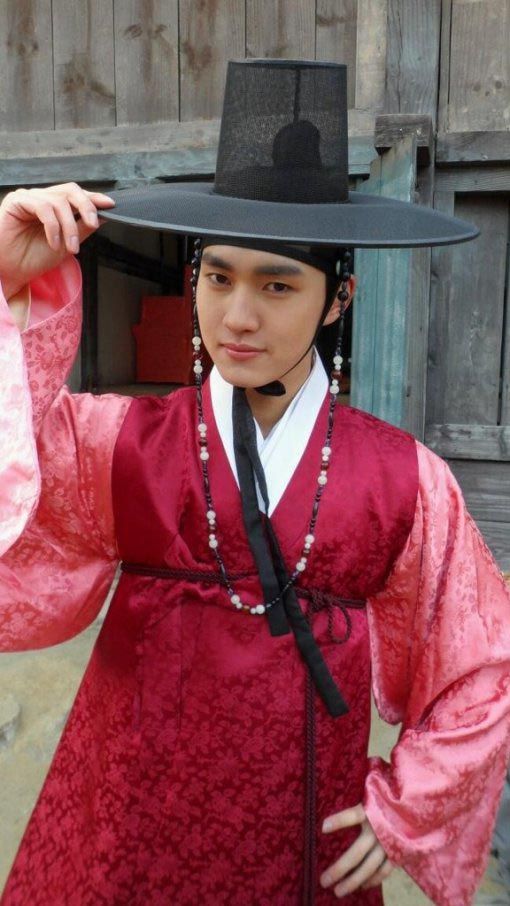 Lee Min-ho has lots of roles on his filmography, but he says that the ones that he found interesting didn't get him recognized: "As an actor, that's a fortunate thing. That's what enabled me to show many diverse sides. Without sticking only to cool roles, I had the desire to take on characters with diverse personalities."
His acting role model? "I want to be like Song Kang-ho sunbae. I want to be the kind of actor who can take on any character well, no matter the role."
Then there's his young co-star, Yeo Jin-gu, already a familiar face despite his young years. Born in 1997, he's in his second year of middle school and has also been acting from a young(er) age; his debut came at age eight in the 2005 film Sad Movie.
Credits: He played young Lee Jun-ki in Iljimae (where he had a young love with Kim Yoo-jung, adorably), young Jo In-sung in Frozen Flower, young Lee Beom-soo in Giant, young Ji Chang-wook in Warrior Baek Dong-soo, and young Ji Sung in Swallow the Sun. He's played young Jang Hyuk twice — in Tazza and again in Tree With Deep Roots (briefly, as adolescent Ddol-bok).
Suffice to say, this young cast has more sageuk experience than most of its adult leads. He called them all good sunbaes, but has particular memories of Jo In-sung, who gave him advice while shooting Frozen Flower: "He told me what I should be careful about in the future, what kind of relationships to make with friends, and talked a lot with me on the set."
Yeo said, "Till now, I've mostly played characters who get hit on their heads with somebody's knuckles or who get mistreated, but now that I'm playing a prince about to become king, it feels awesome. It's the most powerful of all the roles I've played. [Laughs]. …It's especially fun this time, because all I have to do is look at somebody and they bow their head, and with one word I can make them all freeze." He added that despite being a prince who uses royal language, "Since he's still young, I'm trying to show the personality of someone that age. I'm focusing on showing a playful, innocent appearance."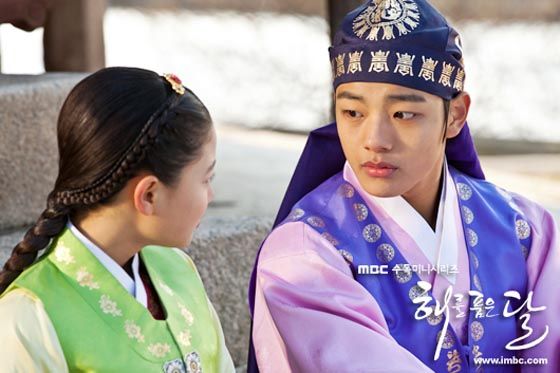 He sounds like he's had a blast playing Hwon: "It feels great that a drama I'm in is doing well. But The Moon That Embraces the Sun is really fun. There's comedy, melo, politics, and multiple genres mixed into it, and with every script that comes out it gets even more interesting."
His acting start: "I really wanted to be on TV. I would be so envious of the actors who came out in dramas, so I nagged my mom to go to acting academy, and within three months of enrolling I was cast in Sad Movie." After seven years, his interest is going strong: "I still find acting such fun. I may get tired of everything else, but I don't ever get tired of acting. It's difficult, but I'm addicted to it and I want to keep doing it."
"The process is really interesting, to live a life that's not mine, to study someone else's life. Whether it's a fictional character or a historical one, I find it appealing just to become somebody else."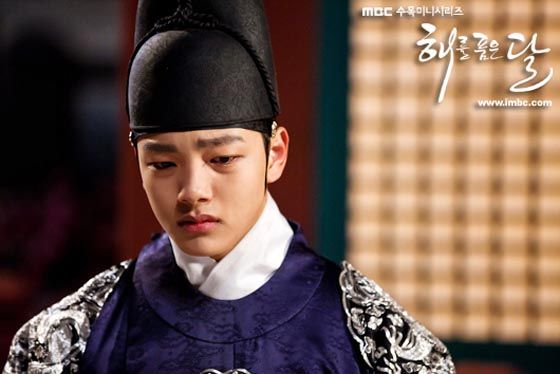 Moon/Sun marks a pretty big growth spurt for Yeo, and that apparently lost him one role. Jang Hyuk took to him when he played his younger counterpart in Tazza (he was adorable as the feisty young swindler), and thought of him for Tree: "Hyuk hyung says he wanted me to play the child role, but that I'd grown too much so I wouldn't be right." But Jang Hyuk had grown attached to the idea, and recommended Yeo Jin-gu for the brief sequence as child Ddol-bok grows into a teenager.
Right now he's a child-part specialist, but he has hopes for the future: "I've never once thought that I won't be able to play adult parts. I want to keep acting and become a good actor as an adult. The praise I like to hear the most is, 'Your acting is just like the adult actor you're playing.'"
I think I speak for more than just myself when I say: Can't wait to see these kids grow up.
Via Yonhap, Yonhap, Sports Khan
RELATED POSTS
Tags: interviews, Lee Min-ho (2), The Moon That Embraces the Sun, Yeo Jin-gu