MBC's upcoming weekend sageuk God of War
MBC's preparing another big-budget special production sageuk drama, titled God of War, to occupy weekends starting next month, and recently released a full set of promotional posters.
The drama is set in the Goryeo (Koryo) era, which preceded the Joseon Dynasty (Goryeo spanned 918–1392) and stars Kim Joo-hyuk as a man named Kim Joon who was born to the slave class and rose to power. He's based on a real historical figure, and in several of the posters below his tagline reads, "I'll break the chains of fate. From slave to the height of power!"
Also in its cast are actors Kim Gyu-ri (Portrait of a Beauty), Jung Bo-seok (Can You Hear My Heart, Park Sang-min (Giant). Kim Gyu-ri plays the granddaughter to the most powerful man at the time, and daughter to Jung Bo-seok. It's love at first sight — or maybe it's attraction — when she spots Kim Joo-hyuk.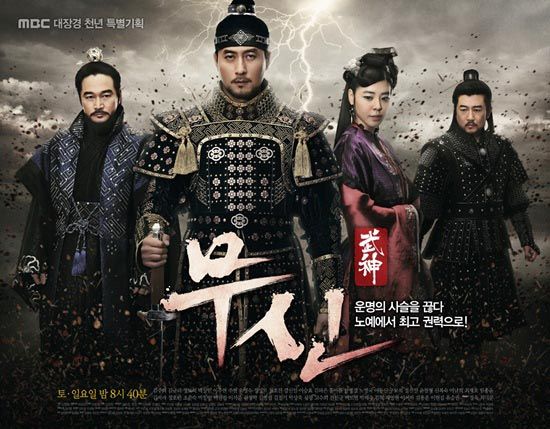 MBC recently announced the timeslot for the drama, which was a bit of a surprise: It airs on Saturdays and Sundays at 8:40 pm, apparently making it the first sageuk to air in that timeslot. There was a bit of a disgruntled reaction from some quarters, since God of War is being touted as a blockbuster period drama and that hour is usually home to contemporary family shows. The bigger productions take up the 10 pm hour, and with God of War's 25 billion won budget, they were probably expecting a grander timeslot.
There's also the understanding that shows that air earlier are home to more family-friendly content, not blood and guts and battle. I wonder if this shift is an attempt to grab a new audience, or a blunder by the broadcaster. You never can tell with MBC.
Well, I can't say I'm terribly intrigued; it sounds like most sageuk dramas, really. Which could be a great thing if you're a sageuk buff. I don't really care for Kim Gyu-ri, but I do have newfound appreciation for Kim Joo-hyuk after his SNL stint, where he was fabulous.
God of War is written by Lee Hwan-kyung (of sageuks Tears of the Dragon and Wild Days), and directed by Kim Jin-min of Road No. 1 and La Dolce Vita. It premieres on February 11 and will run for 50 episodes.
Via Newsen, TV Report, My Daily
RELATED POSTS
Tags: Jung Bo-seok, Kim Gyu-ri, Kim Joo-hyuk