Shut Up: Flower Boy Band: Episode 2
GAH. It's here, my first drama crack of the year. Why is this show so pitch-perfectly stabbing me in the heart? It's so badass and cute and angsty in that authentically teenage way that just gets you right there. It's equally earnest and ridiculous, but it's totally my kind of angst. I love everything about these characters and this world, and especially the telling of it, shot in a moody, atmospheric way that's beautiful without being candy-coated. I'm SO IN.

EPISODE 2 RECAP
The boys charge into their new school and interrupt an assembly, happy as you please. Rich boy Seung-hoon gets up to meet them, thinking they're here to continue their fight, but they announce that they're here… for school.
Byung-hee spies Su-ah a few rows down and waves, "Muse!" She ducks in embarrassment, but we see that she's smiling. Aw.
They get hauled to the principal's office and it turns out their old teacher has transferred here too. Eep. So much for dodging that bullet. This is why you shouldn't sleep with your homeroom teacher's daughter. He'll hunt you down.
The principal lectures them about how it's actually going to be really hard for them to adjust to life here, seeing as how they come from underprivileged backgrounds and will find it hard to keep up. Ji-hyuk: "Oh I see… this is you, worrying about us?" God, I love his sass.
The principal adds that they can't show up to Jungsang wearing their Dongnae uniforms (I love the names of the schools. Their old one is called "Neighborhood" while the new one is jungsang like "peak" or "summit"… but it also means "normal." There's something so delightfully subversive about the rich school wanting to be the best of the best Summit High but inadvertently sounding the same as Normal High, like some creepy stepford factory, while our boys so clearly don't fit the mold.)
The principal says that if they had parents who cared at all about their education, they wouldn't have let their students leave the house dressed that way. Byung-hee takes particular offense to that statement, and Ji-hyuk holds him back, retorting that he stopped being dressed for school by his parents at the age of six. HA. I lub him.
Seung-hoon comes by to drop something off to the principal, and Byung-hee pointedly asks within earshot if students are allowed to bring bodyguards to school. Seung-hoon freezes. The principal calls that ridiculous, and Byung-hee repeats it with just enough menace in his tone that Seung-hoon knows exactly what he means.
The boys walk through the halls in music-video-slow-motion, as Su-ah's friend Deo-mi introduces each member of Eye Candy, according to legend. It's this awesome sequence where she plays Exposition Fairy since it's Episode 2, but in a really entertaining way.
She describes leader Byung-hee as the scariest, badass, legendary performer, Ji-hyuk as the amazing guitarist with laser eyes, bassist Ha-jin as the playboy to out-play anyone, keyboardist Kyung-jong as the cutie who turns into a man on a dime, drummer Do-il as the beautiful but most mysterious, and second guitar Hyun-soo as the ice prince who "once froze a guy to death for talking to him." HA.
Deo-mi says that it's best to avoid them. Su-ah's like, didn't you just get done telling me how cool they are? But her friend says there's a big difference between thinking they're cool from afar, and the reality in front of your face.
She insists that's way too scary to consider, but Su-ah says those are just rumors, and you never know until you know for yourself. Deo-mi shuts the door on their classroom hoping they're not headed here…
But of course that's exactly where they're headed. Or at least half of them are. Ji-hyuk, Ha-jin, and Hyun-soo get assigned to the same homeroom as them. Ji-hyuk looms above Seung-hoon, taunting him with evil glee.
They're called out to the gym though, because somehow in the span of thirty seconds, Byung-hee has started another fight. It's with Seung-hoon's friends from the other night, led by Pyo-joo. Byung-hee decides that he should apologize and buy them another set of drums.
Ji-hyuk and his boys come running, but by the time they get to the gym, all the rich boys are lying on the ground, and Byung-hee is sitting on top of Pyo-joo and playing drums on his ass. Ha. Do-il and Kyung-jong admit they didn't even lift a finger to help.
Byung-hee takes one guy, the nerdiest one, and drags him away to the snack shop. He gets the guy to buy him a truckload of snacks, and then deposits them all on Su-ah's desk. He sits down with a big goofy grin, "I didn't know what you like, so I got everything. Eat!" Pffft.
Deo-mi comes running up in shock, and then haltingly says in jondae that he's sitting in her seat. He obliges, but then asks why she's using jondae when they're all in the same grade. She stammers that they're the same, but they're not the same. Byung-hee whispers into Su-ah's ear not to share her snacks with her. So cute.
The boys lookup the cost of the school uniforms they're supposed to buy, and jaws hit the floor when they find out they're about 300 bucks each. "Are they lined with gold?!" Ha.
They grumble at the hoops they have to jump through just to go to that stupid school, but off they go, to find ways to make money. Ji-hyuk makes money playing pool, Kyung-jong and Ha-jin work part-time jobs at the convenience store, and Ha-jin makes the rounds with his noonas, sweet-talking them into happily handing over cash.
Ji-hyuk and ticket girl Woo-kyung watch him with half-disgusted-half-amazed looks on their faces, but when Woo-kyung sees that Ji-hyuk is rifling through the employment section of the paper, she offers to just give him the money. That is, until her mom overhears and chases them out in a big hurry.
Ji-hyuk heads home to his rooftop that night, where he's greeted by a man in a suit. He introduces himself as the family lawyer, but Ji-hyuk is quick to say he's not part of that family. Hm, interesting.
The lawyer says that his stepfather is in bad health, and is putting some affairs in order. He's asking for Ji-hyuk to sign over his inheritance (as in shares of the family company). Ji-hyuk says he has no interest in those things, but the lawyer says if he doesn't sign this, then it'll be harder on his mom, who's already being pressured by his hyungs to give up all legal ties to Ji-hyuk as her son. Well that's harsh. Ji-hyuk half-heartedly tells the lawyer to just do that then. Aw.
He makes an instant ramyun dinner for two with Byung-hee, and asks if today isn't his mother's memorial day. Byung-hee says it is, but Grandma called and said that Dad's drunk, so to avoid coming home and getting beaten.
Ji-hyuk sighs that they've got some pretty screwed up lives, but then quickly says he's okay with it. Byung-hee smiles, agreeing that he's fine too, especially since he's got his muse. He declares he's got big plans for the future, including getting Su-ah to drop out of school with him.
Ji-hyuk's like why on earth would a smart, well-off girl like her drop out of school? Byung-hee: "Because she loves me. Because she WILL love me." Ji-hyuk scoffs, and Byung-hee asks if he doesn't think she's pretty. Ji-hyuk doesn't think she's all that.
They perk up to eat their ramyun, and across the way on the next rooftop room, Su-ah eats a lonely pot of ramyun as well, not quite so different from them as they would think.
The next day Ji-hyuk wanders the school grounds looking for his friends, attempting to chew gum and walk at the same time, which is apparently tricky for him, since it goes flying out of his mouth… and right onto Su-ah's shoe.
He quickly stammers an apology… which devolves into blaming her for standing there. HA. Seriously? He starts to walk away, and she yells at him to stop, wondering how he could count that as an apology.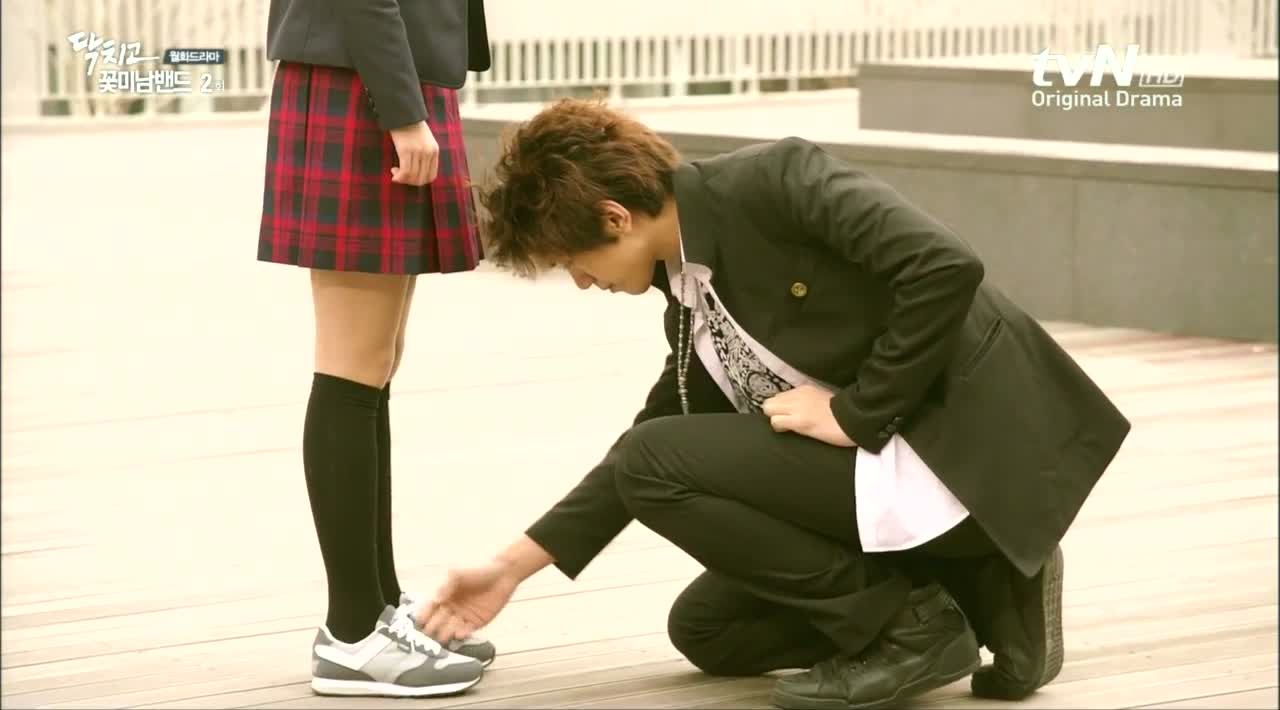 She tells him that it's the same as when he judged her from her designer bag the other day, and he looks startled, wondering why this and that are being lumped together, all of a sudden. I like that it bothered her enough for her to still be upset about it, and that it's confusing for him why.
She starts to tell him to give a proper apology, but before she can even get the words out, he bends down and picks the gum off her shoe and dusts it off. It startles her, and she starts to stammer. They look at each other for long moment…
And then he gets up and walks away like nothing happened, leaving her frozen there, and scoffing to herself in disbelief.
Meanwhile Byung-hee and the rest of the boys find the snazzy practice room reserved for Seung-hoon and his band, and they get into a turf war via guitars. Maro plays a riff and then Byung-hee starts rocking out, so Pyo-joo unplugs his cable, and smashes the guitar.
Byung-hee pins him to the ground and raises the broken guitar neck, ready to strike, when Seung-hoon points out it's good for them since hitting him will result in getting expelled. Ji-hyuk steps in to break it up.
Seung-hoon challenges them to settle it another way – a battle of the bands, in front of the entire school, for the practice room. They agree and back off for now.
Later, the boys count every last penny they've made, and have just enough to buy six uniforms. Byung-hee sighs in relief, dead set on going to that school. Ji-hyuk diagnoses him as officially crazy.
They worry about the battle since the other band isn't exactly talentless, and also are in need of a new drum set which they can't afford. But Ji-hyuk says they'll be fine, because they have Byung-hee, their fearless leader… who is currently sleeping on a pool table while they have this discussion.
Eye Candy marches up the steps to school the next day, dressed in their snazzy new uniforms. They turn heads left and right, and Byung-hee runs up to Su-ah to show off, prompting her with compliments to himself – I look awesome, I'm so handsome, makes you crazy, right? She laughs and tells him it looks good on him.
He happily leads her away by the hand, which Seung-hoon sees from down the hall. His friend Maro points out that he should be careful, 'cause they look like quite the couple.
Byung-hee brings her to his buddies, to show off his muse. She asks why he keeps calling her that, and they each attempt to answer with examples from rock, only confusing her further. I love that player Ha-jin goes to take her hand and Byung-hee sneezes into it so he can't. Ha.
She gets up to go, and Byung-hee chases after her to bite her on the wrist, claiming her as his. Pfft. You're watching way too many vampire movies, dude. When she's gone he does a little happy dance like a doofus and declares that he's licked her, so she's his. Like the last cupcake? Gross.
He follows her out and declares that they're going to go on a date today, and takes her to a steakhouse… where he decides that SHE will pay, because she's rich. Hahahaha. Yeah, what a catch. She smiles and reluctantly pays, clearly not wanting anyone to know the truth. On the way out she glances at the restaurant's help wanted sign, considering a job.
Apparently she told him that she lives in the super ritzy towers where friends like Seung-hoon and Deo-mi live, but doesn't know which direction it's in. He walks her there and gives her a kiss on the cheek before giggling and walking away. Keh. I love that he's equal parts loose cannon and sheepish boy.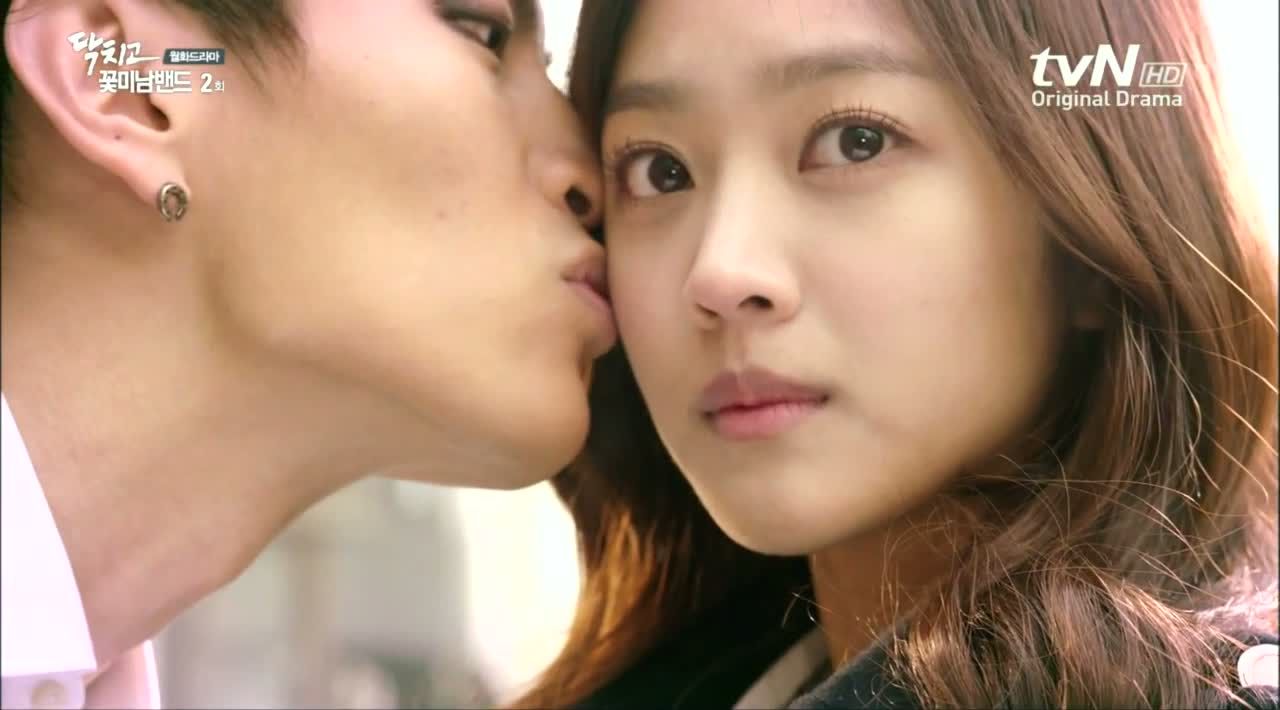 Seung-hoon arrives home and finds her lingering outside, and asks about Byung-hee, saying he gets that she's taking pity on him and just being nice to everyone, but "they're different from us." Ugh. But she doesn't let on that she's different too.
Byung-hee swoons over his muse at the pool hall with Ji-hyuk and Do-il, and wonders if someday they'll get to stand on the stage at a rock festival. He gets swept up in the fantasy, describing the moment when they'd take to the stage and the crowd roars.
Then he would take the mic, and Ji-hyuk would wail on the guitar, and Do-il would play the drums, "And then that day, we die." Ji-hyuk asks why they'd die. Byung-hee: "Just 'cause. I want to die at my happiest moment." Ji-hyuk: "Crazy bastard." Ha, I love this pair. So much.
The next day at school, Pyo-joo finds Byung-hee and tells him he feels bad about smashing the drums the other day, so he's ordered a replacement set. He tells Byung-hee to come alone to claim them. Byung-hee plays along and agrees, not showing that he clearly knows what this guy is up to. Oh noes. Don't go. Please don't go!
That night he calls Ji-hyuk on his way out "to get something" but doesn't tell him what he's up to. Ji-hyuk just nags him to go home to Grandma, and Byung-hee says that starting tomorrow they'll practice hard and get the studio and stand on that festival stage with that awesome song he's written. He chants that he loves "Dog Ji-hyuk" and hangs up.
Su-ah heads out on her roof to hang some laundry, when she spots Ji-hyuk across the way. He squints curiously at her, and she freaks and hides. A little while later she comes knocking on his door.
She wants to ask him a favor as his neighbor, and he's like, "Oh you live there?" without a second thought. He had just assumed she was at a friend's house, and she cringes, realizing if she'd let it be she could've gotten away with that.
Meanwhile Byung-hee heads out to meet Pyo-joo, and of course gets jumped by a bunch of guys. He fights them off, but Pyo-joo comes from behind with a bat, straight to his head. He manages to run away, but they chase after him.
Seung-hoon and Maro arrive late on the scene, trying to find them (and I'm hoping, here to stop the madness). Byung-hee hides and calls Ji-hyuk over and over, now bleeding profusely. Aaaaaugh. Answer the phoooooooone!
But he's too busy sitting outside with Su-ah, who asks him to keep her temporary living arrangement a secret. He asks what she's going to do for him then. She offers to accept his lame apology for the gum thing, and he suggests that she not play around with Byung-hee because he's sincere about his feelings for her. Aw.
She says that Byung-hee's the one playing with her, and says that she's never met anyone like him before. She says that he's a little off, and that even when he's smiling, he seems sad.
She admits that she can't figure him out. Ji-hyuk says he was like that even when they were little – that no one could see his insides, and that once you get to know him better… he's still scary. Ha.
She wishes she were more like Byung-hee, which startles him, but she means that she'd rather be scary and not be so scared of what people thought of her. He guesses that it's because she had to move to a rooftop room, and tells her to just announce it – they're her friends, right?
Su-ah: "That's why I'm scared, because they're my friends. Because I might lose them." Ji-hyuk: "You call that friends?" He promises not to tell anyone, even Byung-hee.
He FINALLY goes inside and checks his voicemail, and hears the panicked messages from Byung-hee. He scrambles to run out and calls the rest of the boys, and they run around combing the streets for him.
Suddenly they spot him across the street. Seung-hoon finds him at the same time, from the other direction. Beaten and bloody, he stumbles across the street and smiles when he sees Ji-hyuk, pausing in the middle of the street.
And then out of nowhere, a truck comes barreling into him at full speed.
NOOOOOOOOOOOOOOOOOOOOOOO!
Gah, I knew it, but aaaaaaaaaaaagh!
Callback to the earlier scene in the pool haul as Ji-hyuk says that everything's going to be okay, as long as they have their leader Byung-hee.

COMMENTS
I knew Byung-hee was headed for disaster from Day One, but I still held out hope that he might just get arrested or expelled or something, but I suppose that wouldn't be enough to separate him from his friends. Clearly they'd go to the ends of the earth for each other, so death is the only way to really split them up. Waaaah. Just stab me why don't you?
What an epic cameo from Lee Min-ki – he was so awesome that I'm worried about what this show will be like without him, but the fact that he died will mean that his character impacts each of them permanently and gives them heightened purpose. I'm okay with it in the sense that I'm fully with Ji-hyuk as the hero, but Byung-hee was so larger-than-life that it's going to be impossible to shake the memory of his character. I guess that's the point though – and why they bothered with such a big extended cameo from someone like Lee Min-ki in the first place.
This drama hits that sweet spot of comic book eye candy badassery with quiet realistic angst, from tiny moments like Do-il's mom begging him to come home for once, or Byung-hee's chip on his shoulder when the principal mentions parents dressing them to go to school. They talk about their drunk or absent fathers the way real people do – dismissively, off-handedly, like it's no big deal and just a part of their everyday. It's that brave face they put on that gets me more than anything, as Ji-hyuk and Byung-hee assure each other that they're okay, as if saying it out loud enough times will make it so.
I of course look forward to all the band battles and rich boy comeuppances, but really, I'm here for the family that these guys have in each other. I could almost watch them just hang out with no real story, but thankfully, the story feels assured and the execution is awesome. I'm already on pins and needles for more. MOAR PLEASE. Is it Monday yet?

RELATED POSTS
Tags: featured, Jo Boa, Jung Eui-chul, L (Kim Myung-soo), Lee Min-ki, Shut Up: Flower Boy Band, Sung Joon