What's Up: Episode 10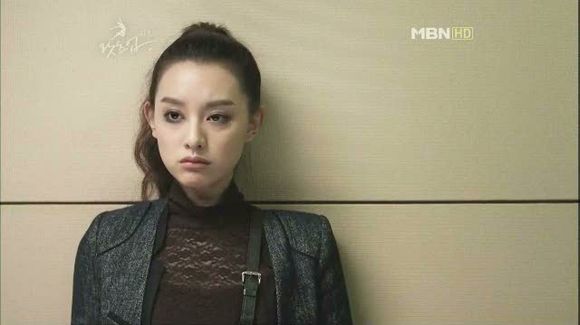 Aaaaand time jump! Although not a massive one – it's just a hop and skip over summer break. It's weird that a semester has passed when I feel like only a week passed, but it's the drama world! This time jump also gives me hope that we'll cover a good amount of time while these students are in school. We'll get to see these characters grow over a longer stretch of time rather than change drastically in one semester. It also gives me hope that when these characters change once, they have time to change again.
I am now caught up – let's save the spoilers for when we get to that episode, 'kay?! No – I don't watch previews!
It's after summer break, and we come across Tae Hee writing a letter to her grandparents. She tells them how she missed school during break, and to not worry because she always pays attention in class.
Cut to Tae Hee in Prof. Yang's class, where everyone is having a zen moment lying on the ground, expelling all thoughts. Tae Hee follows that direction a little too well, falling asleep in class and rolling over to her side in blissful slumber.
She reports that all her friends are doing well – Jae Hun is still a delinquent and Do Sung is still keeping him in line, making sure he goes to class. Sun-Man's classes are more… interesting, to say the least, as he has completely changed. He's wearing decent clothing now, with shoes that are so new they squeak on the floor. He even takes ATTENDANCE! He's really going to try to learn his students' names? Waahhhh… Tae Hee supposes it's because Doo Ri's message over the speaker system in the last episode gave him a good wake-up call.
On top of all this, Tae Hee's gotten a part-time job at the school mini-mart, assisting the cranky lighting director. Tae Hee is quite hopeless, constantly dropping items from the storage to the shelves because she's just too clumsy.
However, Tae Hee is not completely the sweet, innocent Tae Hee we know anymore. When she gets to the lunch room, she sits with Chae Young instead of Do Sung and Jae Hun. Tae Hee thinks she's just blessed to have good friends, but we all know Chae Young can't possibly be her friend for good reason. Jae Hun and Do Sung are slack-jawed, and Doo Ri reminds Byeong Gun to stop drooling over Chae Young and being so jealous.
Byeong Gun is still enamored by Chae Young and her "commoner" traits like eating kimchi. -__-
As for Doo Ri, she's now doing homework on her computer rather than playing games or filming, but only for Sun-Man's class. (Ha! Figures.) Nonchalantly, she says, "Jae Hun, are you disappointed that your beloved gal is someone who is hung up on celebrities?"
Beloved?! Jae Hun awkwardly looks at Do Sung, who slows down his chewing, and then sputters that Tae Hee isn't his beloved. Doo Ri turns to stare at Do Sung – she wants to see how he'll react to Jae Hun's response! Heh – it's so obvious to everyone on this table that there's a love triangle, but Do Sung and Jae Hun are consciously trying to deny it. Heehee.
Ka Young, Tae Hee, and Glasses Girl are all bonding in Chae Young's room over some makeup and nail polish, beautifying themselves. Thing is, Tae Hee has no clue about makeup, not even knowing what an eyelash curler is. As for Chae Young, she's outside talking to her manager's underling, Director Oh. It appears they want to approach Tae Hee about joining their company. They had hired another girl, but plastic surgery messed up her face, and so they want Tae Hee as a replacement.
Her manager gets on speakerphone, and Chae Young takes the opportunity to find out why he's so interested in Tae Hee. Was it her singing? Or was it because she's pretty? That's a very tricky question, and so he redirects the question to Director Oh. Since he's not directly managing Chae Young I guess, he answers quite honestly: the manager thinks Tae Hee has a fresh look and a pure image. She's completely opposite of Chae Young, and so they won't be competing for the same thing.
Chae Young takes offense; if Tae Hee is young and fresh, is she old and stale? She hangs up, heads back to her room, puts on a fake smile and asks Tae Hee concernedly why she's not putting on makeup.
Tae Hee admits to not being good at it, and so Chae Young gives Tae Hee some of her very own makeup. (Other girls shoot jealous death glares.) Tae Hee can use it to practice with, and in the meantime, she'll put on makeup for her.
Ha! The result is ghastly to say the least. (Well, we're supposed to think it's ghastly.) Chae Young puts on way too much purple eyeshadow that makes her eyes look super big and clownish. Even her conscience/Angel Papa thinks she looks like she got punched in the eye. HAHAHA.
But it's too late – Tae Hee thinks her dad is being old-fashioned, and she's intent on buying new, branded clothes to look good. She's changed her thinking, believing that there's nothing wrong with wanting to look pretty. (And being shallow apparently.)
Meanwhile, Byeong Gun steps up next to the piano (with Ji Eun playing) to sing… but he can't. And his audience is only Myung Hwan and Sun-Man. Myung Hwan's summer assignment was to sing one song 500 times. Byeong Gun would have sung the song so many times he could do it in front of anyone. He admits that he sang it 520 times – 20 extra for good luck! Sun-Man struggles to contain his laughter, while Myung Hwan just looks like he gave up.
Sun-Man wonders if Byeong Gun never sang in front of his parents, or if he got scolded for singing, or if his parents laughed at his singing. None of it is true; Byeong Gun did sing in front of his parents, but they would just wait patiently for him to finish. Aww… indifference is worse.
So Sun-Man has an assignment for Byeong Gun – find one person that he can sing to. Just one person is good enough. After that… well, they'll get to it when they find his one person.
Back in her room, Tae Hee tries putting on mascara but fails, and so Doo Ri gives her some pointers. Tae Hee feels left behind that everyone seems to know about makeup and girly stuff. She's even starting to feel insecure, wondering if people are talking behind her back and what they think of her. Doo Ri puts her straight – most people in the world aren't that interested in her. And if they talk bad about her, it's because they're bored, not because they're interested in her. Tae Hee sadly rubs her eye, which leads to a smear in her mascara.
Appropriately, Doo Ri says, "If you go around the world looking like that, sure they may make fun of you. But they'll all forget in time."
It doesn't help that Chae Young gets Tae Hee to do a photo shoot. Tae Hee smiles and looks cute, but she doesn't really have that "X" factor. When Chae Young and Ka Young try to get her to pose with an S-line, well, Tae Hee has no idea what that is. Glasses Girl says they can do photoshop later, and Chae Young comments that she doesn't see any femininity from Tae Hee; what a way to make a girl feel insecure! Chae Young summons for her "magical pouch," and at the end of the makeover, Tae Hee is fully made-up as rockstar-groupie-chic. Now try working in a mini mart with heeled boots and a mini skirt…
Once again Tae Hee drops everything, and rubs her ankle. Jae Hun rushes to her aid, and then belatedly realizes it's Tae Hee. Haha! I love how he is startled by her new look. He gets up, and just watches her struggle to stand up without revealing anything. (Meanie.) He dares her to pick up the items off the floor one by one while looking "sexy," coaching her but not doing it himself. HEEE. I'm just so gleeful over the fact that he's teaching her a lesson – "Why look like Angelina Jolie when you're moving (awkwardly) like that?"
He even asks if she knows how to do the "model walk," and is about to demonstrate to her when Chae Young comes by. Danggit – she just spoiled the party. Chae Young rushes Tae Hee to come outside; they have an interview that she can't be late for. With a glance at Jae Hun, she then leaves to wait outside. Jae Hun's surprised Tae Hee's going for another part time job, but she can't really explain. It's clear she needs to go, but she can't leave the mess behind. So Jae Hun negotiates with her – he'll clean up the mess in exchange for pizza. But what about her remaining hours!? OK – Jae Hun promises to work her shift too for two pizzas.
Tae Hee quickly takes him up on the offer and thanks him. He's surprised she readily agreed to spend so much money, and the lighting director tells him about her interview with an agency. It's likely Tae Hee's been scouted, but it might be hard for her to get selected from the large pool of applicants. However, even if she is picked, her life won't be easy; stress, scandals, and suicides occur behind the scenes.
Worried, Jae Hun visits Doo Ri. Immediately she knows what he wants to ask: yes, Tae Hee got scouted, and its by Chae Young's agency no less. Jae Hubn: "How'd you know I came to ask you that?" Doo Ri: "I can see through you like a jellyfish." HAH! He wants to know the statistics of how many commit suicides, and Doo Ri advises him to teach Tae Hee how to drink. If he's worried about her safety, he should teach her the basics of holding her liquor  and not getting drunk, because that's an invaluable survival skill in that industry.
On the car ride to the agency, Tae Hee stares out the window, fascinated by Seoul. Chae Young picks up on the fact that Tae Hee's like a fish out of the water, and so she tells her about the time she went to the countryside. Everything was so primitive that she couldn't stand it, and felt so uncomfortable there. (I think Chae Young's a privileged wuss, but that's just me.) So she tells Tae Hee that if she feels uncomfortable in the city, she should run away. Wow – that's subtle.
When they arrive at the agency, Chae Young is pissed to find out that she has to wait. She doesn't like waiting, you see, and has things to do. She even brought the girl personally. Director Oh looks around – but where's the girl? Somehow, Tae Hee manages to get lost, and stumbles into a recording studio where a girl group is rehearsing behind the window. The manager of the girls is angry that Tae Hee managed to come inside, and has one of the people from the recording studio take her out.
That guy then searches through Tae Hee's bag, making sure she didn't record anything. He starts going through her cellphone, and Tae Hee begs for her stuff back. Director Oh happens to find her at the lobby, and she tearfully cries to him for help. She's such a child still…
Now that they've found Tae Hee, Chae Young gripes about having a concert with Soo Bin to attend to. Director Oh tells Chae Young she can leave, but no way is she going to leave Tae Hee alone with the manager so that they can make deals without her knowledge. She throws the question to Tae Hee – does she want to stay or leave?
Tae Hee chooses to stay, and Director Oh deposits her in a practice room where other trainees are dancing. When the manager returns from his meeting, they'll come get her. Of course, they end up making her wait, way past closing time. She gets kicked out of the room and is forced to wait in the hallways. When she asks her father how much longer she'll have to wait, he isn't around to comfort her.
Jae Hun is worried about whether Tae Hee returned or not, and has Do Sung call. But she had ignored his calls and turned off her phone because it was disruptive during the dancers' session. Do Sung calls Doo Ri for more details, and Doo Ri jokes that Tae Hee must have ignored Do Sung's call. He gets all sensitive about – why would she ignore him!? But Doo Ri reasons that she's probably still with Chae Young, and Chae Young isn't back yet either. She wonders if Do Sung is afraid Tae Hee will leave him for a rich chaebol since he's not rich.
Erm – actually he is. He has a very rich financial backer in the form of his mother at least…
He hangs up and runs out the room petulantly, because he's apparently being dumb and worrying about Tae Hee unnecessarily. Hee – the way Daesung plays him is adorable.
When he returns from the store outside campus, he sees Soo Bin and Chae Young drive up back to the dorm, but there's no Tae Hee in sight. He chases after them – does Chae Young know where Tae Hee is? Weren't they together? Why isn't Tae Hee back yet?
Soo Bin is confused, as he didn't know Chae Young was with someone else. And Chae Young (damn that girl) pretends she has no idea either. Is she supposed to know everything about Tae Hee and where she is? Isn't she allowed to not know? Chae Young – I want to punch you in the face. Thankfully, Soo Bin doesn't fall for her words and asks her point blank what she did with the little girl he played piano with.
Chae Young storms into Doo Ri's room, pissed that Doo Ri is spreading rumors. Doo Ri: "What rumor?" Chae Young feels insulted that Doo Ri made it look like she's supposed to be Tae Hee's chauffeur, and had just left her in some hostess bar. Doo Ri: "Is that what you did?" Hah. Chae Young tries to shift the blame on Tae Hee, saying that the girl should know how to ride the bus and come back.
Doo Ri: Do YOU know how to ride the bus? Do you know how much the fare is?

Kaedejun: HAH.
So in the common area, Do Sung is FREAKING out about Tae Hee being gone for five hours, as the last time Chae Young saw her was around 5pm. Jae Hun joins them as a super calm figure, despite the fact that Tae Hee could have ended up with some perverted men in shady talent agencies. They hope that Tae Hee is still at Chae Young's agency, but neither has a car or a license. Doo Ri asks Jae Hun if he can ride a motorcycle.
Suuuuuuure – it's just, can he get over his fears from the accident?
Do Sung and Doo Ri plan on how to get the key for the motorbike – apparently it belongs to Chang Jin! Byeong Gun has the perfect timing to pop on over and ask if they can listen to him sing just once. Doo Ri says he has to do something in return first… Do Sung and Byeong Gun are sent to the locker room where the upperclassmen are changing. While Do Sung distracts them with a song, Byeong Gun is to steal the key.
Good thing the upperclassmen think that this is some weird assignment that they were given. Singing in front of upperclassmen isn't too hard though; they had to do it on a subway. They find it odd that Do Sung doesn't have to do something weird (like sing naked) or challenging, but they let it slide. Do Sung ends up choosing to sing a Hades song.
That's Chang Jin's favorite song! Uh-oh… but good thing Chang Jin is now interested, because now Byeong Gun has a clear shot at getting the key. Do Sung performs, and it's hilarious that the upperclassmen try to teach him on how to act like Hades!
Byeong Gun and Doo Ri hand over the key to Jae Hun in the garage. He stares at the bike one more time, but the memories of the accident is too much to bear. He hands it back, unable to ride it, when finally Tae Hee calls Doo Ri. Tae Hee finally realized that it's really late, and her phone was off.
Hilariously, Doo Ri ends up being the one super hysterical: "What do you mean wait longer? Do you even know what time it is? What are you going to do? All the buses are off duty. Are you going to a motel? Do you know what it is? Why didn't you pick up your phone!?"
Wow – she's worse than my mother.
Jae Hun takes the phone away, and in a calm, soothing voice, asks if Tae Hee is still at the agency. She is. He hops on the bike and rides off.
WHEEEEEE! Doo Ri notes this as a sign of his obvious affection for Tae Hee, while Byeong Gun goes, "Oooooooooh!" and notes that the kid really can ride a motorcycle.
Tae Hee tries to find her way out of the building, wandering around until she finally reaches the elevator and goes to the lobby. But the front door is locked! She pulls at it crazily until someone opens it – it's Chae Young's manager. Tae Hee falls over, so he helps her up, but they discover that she sprained her ankle badly. He scoops her up into his arms and brings her upstairs… just as Jae Hun races towards the agency on the bike.
Comments:
The change in Tae Hee was a little jarring, but it's more like she's still her naive self in someone else's clothing. She is the most impressionable character in the drama, and so I'm not surprised that she's the one oblivious towards Chae Young's manipulations. I am surprised that she's being set up as Chae Young's rival rather than Doo Ri. I would rather it be Doo Ri because it'd be a battle of the smarts and of true talent. Tae Hee is talented as well, but by pitting her up against Chae Young, it's become a Cinderella/underdog story. Fun – but not as witty. After all, Cinderella didn't get her prince alone; Tae Hee is not going to succeed on her own.
I do love that Doo Ri has opened up a bit more to her friends. She's come to care for Tae Hee a lot, and she seems to be close with Byeong Gun. (That guy has great comic timing by the way. And the most comical facial features.) Once again, the friendship between these guys kill me. It's the sort of friendship I'd strive for, where you're willing to do anything for each other, and not afraid to insult or confront each other either. With this mini time-jump, we get to establish everyone's fears. Fear of becoming "old," fear of new places, fear of making another tragic mistake, fear of the past. Now, they just have to get over it.
And I seriously hope Jae Hun doesn't have to be a rival to Jin Yi Han. Jae Hun's hair is so much better.
Mini story at the end: It's all about Prof. Yang's hair, nicknamed "Sheep Hair," because I guess the curl resembles that of a ram's horn? She freshens up her makeup before Team A and B's "You & I" performances, as there might be reporters present. Her assistant comes in, sees that ridiculous curl on Prof. Yang's head, and then adjusts it so that a stray curl is tucked inside. It's appropriate her last name means 'sheep' in Korean and Chinese. Hee.
RELATED POSTS
Tags: Daesung, featured, Im Joo-eun, Im Joo-hwan, Jang Hee-jin, Kim Ji-won, Lee Soo-hyuk, What's Up