What's Up: Episode 11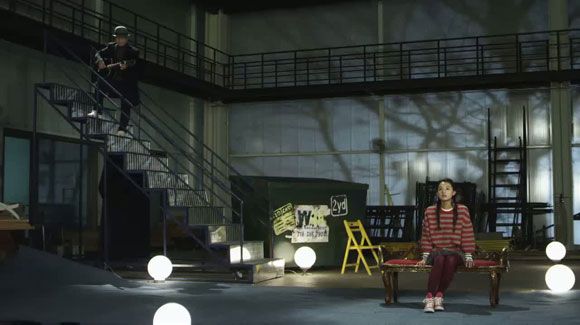 Jae Hun is the BEST ever! I have never loved such a prickly but honest, and loving wise-ass character in the WORLD! Wait – Uhm Tae Woong in Dr. Champ was kind of like this. But Jae Hun is better – he's younger. And for all the Tae Hee haters, she kind of gets her comeuppance in this episode.
So the manager director – whose name is Kang Min Woo – takes Tae Hee to his office in his arms. All he knows is spraying some medicine for any ankle sprains, so he gets Tae Hee to unzip her boots. He notices her hands are like a pianist's, and after some questioning, he realizes this is the girl that he wanted Chae Young to bring over. Well goodio for him! He claims he's great friends with Chae Young (though I'd question that), and gets Tae Hee to sing for him. (download episode audio rip)
Audio clip: Adobe Flash Player (version 9 or above) is required to play this audio clip. Download the latest version here. You also need to have JavaScript enabled in your browser.
While she sings, and even performs in front of Director Oh and that crabby manager that kicked her out earlier, Jae Hun is racing over to the agency building. Throughout his ride, he keeps thinking of shared moments with Tae Hee, like when they sang and danced together that one late evening, and when he nearly shared his friend's letter with her, and when the two partnered up for morning exercises. He smiles at the memories; this boy is a sucker for Tae Hee. TOTAL SUCKER.
After Tae Hee's audition, she and Min Woo go down to the lobby as Director Oh gets the car. She gets a call from Jae Hun; he's waiting outside already. Before he can speak, she excitedly tells him that her audition went well, and that it was a good thing she stayed. He no longer has to worry about her because Min Woo will be giving her a ride back to school too. She quickly hangs up on him, and that's when Jae Hun turns around and sees Tae Hee get in the expensive car with Min Woo in the back. Director Oh meets eyes with Jae Hun before getting in the front. (I hope they face off one day?)
Jae Hun is clearly hurt. Not only did he ride on the one thing he has a fear of, and ride for hours trying to get to her, but he ends up getting jilted for a man with a nice car, and possibly-sleazy intentions.
The next day (or two), Jae Hun ignores Tae Hee, sitting away from her during class, and refusing to walk from class to class with her and the usual crew – meaning, Do Sung, Doo Ri, and Byeong Gun. Tae Hee spots him after Prof. Yang's acting class (where everyone reads and tries to emote based on a script), and tries to reach for him. But Jae Hun walks quickly away. (Interesting that they're both wearing similar black and white striped shirts…)
They go to their next class with Sun-Man, and he teaches acting a little differently. He presents them with a scenario rather than a script: they're aspiring actors, but they also have a very rich father who would give them everything as an inheritance when he dies. But because they want to act so badly, the father wants to disown them; their task is to convince their father to do otherwise.
This scenario – of course – hits Byeong Gun to the core. No doubt his situation is quite similar to this scenario. Sun-Man calls on Kim Sung Jae – Mr. Born to Dance choreographer for Team A – to act out the scenario, but Sung Jae doesn't want to. His thinking is, if he were the rich son, he would set up a production company and hire all the directors and cast, and hold all creative control. When the father dies, then he'll become an actor – win-win situation right? A lot of students agree, and Sun-Man can't argue the logic. But he asks if there are any volunteers for this exercise.
Tae Hee, Byeong Gun, and Do Sung raise their hands, but Sun-Man picks Tae Hee. (I smack myself in the face – why must he always pick her? She's usually the worst when it comes to his assignments! Oh right – favoritism for the niece.) He has her speak to her class as if they are her father, and gives her the tip to be as sincere as possible.
Meanwhile, Chae Young confronts Soo Bin in the library. She just heard the rumor that Soo Bin will be writing the music to the musical her agency is producing, and she wants to know if it's true. Soo Bin hasn't given a concrete answer yet, but just that he'll think about it. She wants to know if he's heard the voice of the lead candidate for the main role. Soo Bin: "Yes." Chae Young: "Was it Park Tae Hee?" Soo Bin: "Yes. I instantly recognized her voice."
Chae Young shakes with anger, tears forming in her eyes. This is now much more than just a petty jealousy.
Back in the classroom, Tae Hee is trying to convince her father/the class that she doesn't need his money, doesn't need his inheritance. All she wants is for him to watch her perform onstage, just once. I guess her approach could be described as innocent, or reverse psychology – maybe if her "father" saw how well she could act, he won't disown her after all. Suddenly, Jae Hun blurts out, "Stop with the lies."
He looks to Sun-Man to ensure that he can continue, speaking as Tae Hee's "father," and when he receives the go-ahead, he continues, his voice rising with every sentence:
"You're (choosing to act) because of your own vanity…Being on stage makes you happy and excited – saying that is so easy. But you know that isn't the case. You want to ride a nice car, you want to become famous, you want to meet someone awesome – isn't this why you want to be an actress? I have a lot of money. I can do everything for you. Expensive foreign cars? Have it! Men? Who do you want? A chaebol?"
Tae Hee laughs nervously, still in character. She can't drive, so why does she need a car? And she's not going to pick some random chaebol as if he were a product in the supermarket.
Jae Hun: So are you telling me you're going to be on sale at a supermarket? Wearing tons of makeup that make men look at you twice? Go on stage and sing and dance, saying "Please pick me"?

Tae Hee: Wearing makeup is giving respect to the audience.

Jae Hun: Respect my ass. Is it respect when you wear a short skirt that reveals your thighs while being carried in a man's arms? You're using the word 'respect' a bit too broadly.

Tae Hee: Why are you talking to me like this?

Jae Hun: Because I'm your father.

Tae Hee: If you're my father you shouldn't be speaking to me like this!

Jae Hun: Are you saying that a father should only say things you want to hear? That's not a father. Where in the world is that kind of father? How can he be a father?

Tae Hee: What do you know about my father!? Did you ever meet him? I know you're angry at me right now!
Um – uh-oh. Tae Hee's veering off script now. Even Jae Hun tries to warn her about it by pretending he has no idea what she's talking about, because despite his anger towards her, he's very much aware that they're still in class, and this is not the place to be talking about private matters. Tae Hee cries out that he should have just told her straight he was coming to pick her up. She had no idea, and therefore didn't think it would be wrong to accept a ride from Min Woo. Jae Hun screams, "Park Tae Hee!" and that shuts her up. Kinda too late though – everyone is staring at the two of them, riveted.
Class ends, and Tae Hee and Jae Hun go their separate ways. Doo Ri asks Do Sung if they should help facilitate a reconciliation, but decides against it. Watching them is just too much fun. Also, if they continue fighting, it increases Do Sung's chances with Tae Hee! He gets mad at her, and then blames her for not properly telling Tae Hee about how much trouble Jae Hun went through to go get her. Doo Ri shoos him away, and starts complaining on why Byeong Gun is taking so long from coming out of the classroom. (Heh – I love that she turns her concern to Byeong Gun, and thus avoids Do Sung's accusations.)
Byeong Gun is actually still in class, speaking with Sun-Man. He still hasn't found his "one person" to sing to. Sun-Man reminds him that speaking is for communicating one's thoughts and feelings, and singing is for communicating things you can't express in words. Wow – Sun-Man really is shaping up to be a good teacher! He adds that if Byeong Gun sings only to himself, and thus speaks only to himself, he should be regarded as a crazy person.
At lunch, Tae Hee sits with Ka Young and Glasses Girl, but Chae Young is nowhere to be found because she's on a "date" with Soo Bin. The two other girls gush about how good looking of a couple they are, but Tae Hee is sad and bored. She looks over at the table with her friends, where they're all having fun, and catches Jae Hun's eye. He pointedly looks away and continues eating.
That evening, Doo Ri can't play her shooting game in peace because she can hear the mournful music coming from Tae Hee's earphones. Tae Hee is still pouting, which begs the question if her father was always the one who apologized first. Even if Tae Hee were wrong in an argument, would her father always try to make her feel better?
Tae Hee doesn't understand what she did that was so wrong, and Doo Ri exasperatedly tries to explain. If Tae Hee rode all night to pick someone up, only to see that person leave in someone else's car, how would she feel? Tae Hee: "But I don't know how to ride a motorcycle." HAHA – rely on her to pick up on the unnecessary details.
She argues that she didn't know, but Doo Ri says it's not Jae Hun's fault either. Just because she didn't know he was coming, she shouldn't feel bad then? Doo Ri then stops herself from explaining further; instead of being an observer, she's actually helping them reconcile, and that's no fun for her. Doo Ri would make an awesome, mean, older sister.
Meanwhile, Byeong Gun has dragged Jae Hun to the courtyard outside, wanting to make him his "one person" to sing to. However, all Jae Hun can think of is when Tae Hee had performed for him at that very same place. Byeong Gun prefaces his song with a lot of explanations, and just when he's about to sing, he always chickens out and gives more explanations.
This whole experiment is deemed a failure, which disappoints Byeong Gun. He knows he's a better singer than Jae Hun, and therefore should feel more confident about singing in front of him. (HAHA – so narcissistic and honest.) But as they return to the dorms, they bump into Tae Hee, who is just leaving. Byeong Gun attempts to make small talk with Tae Hee, congratulating her for getting scouted by a talent agency. He finally gets the hint though that he needs to leave, and return to his nightmare of a room that Soo Bin must have trashed somehow again.
Tae Hee apologizes. She did wait for Jae Hun, and she's sorry that she put him through so much trouble. However, she can't understand why he's so mad. Is he really this petty to be angry over this one situation? She starts crying, feeling like she's being unfairly blamed by him (especially since Jae Hun hasn't explained why he's so angry), and it startles him. He looks a little contrite, but she insists she's not crying – and definitely not over him – before stomping off on her sprained ankle.
Jae Hun goes inside, and finds Byeong Gun crouched behind the front door, eavesdropping the whole time. He tsk-tsks Jae Hun for not knowing how to "speak" when they've been having lessons all day about "talking." Jae Hun asks what he's still doing here, and Byeong Gun lies that he's been tying his shoelaces… (for quite some time!)
Poor Byeong Gun though – when he arrives in his room, it's already a mess with paper littered all over the floor. Byeong Gun is even annoyed that Soo Bin composes with paper and pen instead of on a computer, but he happens upon one of Soo Bin's unfinished pieces. It's a very good piece, and he grudgingly admits that Soo Bin is a genius – albeit one with very bad habits.
We finally get to Soo Bin and Chae Young at a bar over drinks. Turns out the agency had led her on about getting the lead in the upcoming musical. They advised her to be a musical major in college, as it might help her chances in landing the role. But now a complete unknown in the form of Tae Hee has taken away that opportunity. Chae Young is trying to find her comeback, but it's proving to be harder with greater competition.
In the middle of the night, Tae Hee sits in an empty room, and talks to her Angel Daddy. She says she's excited about the prospect of getting a callback from her audition, but she doesn't look it. It's because every time she thinks of something good regarding her future career, she is reminded of Jae Hun. Her thoughts keep straying back to him and puzzling over why he is so angry with her. She then wonders what would happen if she became a star; would her friendships change or stay the same? Dad doesn't have a real answer, but tells her that she doesn't have to choose between stardom and friendship. When Tae Hee asks if Dad would always stay by her side no matter what, he doesn't answer. Tae Hee herself doesn't have an answer to this question.
Chae Young makes her way to meet Prof. Yang, only to find the professor kicking furiously at the brick walls. Prof. Yang then storms into Sun-Man's office. He's applied to a musical festival using Haneul's name without consulting her?! When she is the one who's usually managing the performance for this festival? Sun-Man proposes they enter two teams: she can take "Haneul Old Team," and he can take "Haneul Young Team." HAHA – what a way to offend.
Prof. Yang won't let him off so easy; now that he shows up to class on time and doesn't drink anymore, he's probably trying to usurp her position as dean, right? Sun-Man laughs – he has no political motivations against her. He just wants to do something fun with his students, the freshmen, and this is something he wants to do before he dies. Prof. Yang is disgusted that he thinks it's fun to risk the school's reputation on a little project with amateur freshmen, and so Sun-Man starts flapping up his shirt, crying, "I don't care! Whatever!"
Of course, Chae Young soaks all of this in.
When she goes to the agency, she requests to speak with Director Oh alone. She picks at his ego; isn't it frustrating to be the smarter, more competent person, and yet Min Woo – the aimless son of the owner – is the one with the higher title? To be the one who does all the work, and Min Woo gets all the credit? She proposes that he prepare a musical of his own, while Min Woo does his musical. Min Woo's will end up failing because he likes to just show off cute girls and his money (read: Tae Hee and his musical project). In the meanwhile, Director Oh can prepare a musical with unknown actors, and then bring them out with a bang at the last minute to save everything. It would be better if his musical team won a national contest as well. (Read: Chae Young and the winning musical team in Haneul.)
Of course Chae Young would be on Director Oh's team, as she's an "amateur" at musicals.
In the library, Tae Hee finally gets that callback from the agency. She's so excited that she runs out of the building, sees Do Sung and Jae Hun in the distance, runs up to them… and hugs Do Sung instead. Boy is Do Sung a happy dude… She squeals that she'll be missing the afternoon class to go sign the contract, and Do Sung warns her to read it carefully. It's SUPER important that she reads it. (Try talking sense to a crazily giddy girl – think she'll really listen?) Jae Hun, on the other hand, receives the news quite sedately, unable to share in her joy.
Funny interlude where Chang Jin and his cronies see Chae Young speaking with Prof. Yang. One of his cronies volunteers to eavesdrop for him, and gets all kissy faced, pretending to be Chae Young. Except… he actually does kiss Chang Jin. The kid is far from Chang Jin's side faster than Speedy Gonzalez.
Chae Young is just telling Prof. Yang about a new sponsor, who will help her musical production as long as they place well at the musical festival, the National Youth Musical Festival, or NYMF. Now that's a bit difficult, as their best ranking was "runner-up." So Chae Young suggests they get some talent from the outside.
Back in the dorm room, Do Sung calls his uncle for some information about Chae Young's agency, DCS Media. It's a stable, legit place, and they are good at training new talent. Well that eases both his and Jae Hun's minds. But then the uncle spills some alarming news – the managing director is quite problematic.
Meanwhile, Tae Hee is meeting that very managing director – Min Woo – and signing the contract with him. She hesitates, still shocked that they're going to give her so much money. Director Oh frankly states that a lot of money goes into training and creating a star, so even though she receives this amount of money, she needs to live up to its worth. Tae Hee: "I'll do my best." And she signs it.
Jae Hun rushes out of his room and stops Chae Young from where she's going. He wants more details on this Min Woo character – is he really sleazy? Chae Young admits that it's Min Woo's hobby to take the new girls he signs on to a poker game with his rich chaebol friends to "show them off." (UMMM….) Chae Young had been invited before, but she declined, having an idea of what might happen. After that, she lost a lead role that they were going to give to her. Jae Hun forces her to tell him to location of this poker game.
And Tae Hee enters a hotel room, right behind Min Woo, all dressed and made up for the rich boys.
Jae Hun storms into the upperclassmen's locker room and boldly takes Chang Jin's motorcycle key. The upperclassmen chase after him, and when Jae Hun bumps into Chang Jin outside, he thanks him for the ride, and then runs out of there – getting on the bike and racing towards the hotel Tae Hee is at.
Comments:
A strong episode for Tae Hee and Jae Hun. Granted, I would love to see more of the other characters, but right now Tae Hee and Jae Hun's story is so strong that I don't mind the other stories are taking a backseat.
I especially love the scene where Jae Hun and Tae Hee play-act in Sun-Man's class, and it ends up reflecting their real concerns for each other. First off, it's a nice parallel to see Jae Hun pretending to be her father, and watching out for her, considering he had accidentally caused Tae Hee's father's death. Though he made no promise to watch over Tae Hee, he practically is. It's beyond friendship; Jae Hun cares for Tae Hee like a sister, a daughter, and a girl he's interested in. That may sound weird, but it just shows how deeply he cares for her. Of course, he just acts cool about it.
Secondly, this was also a bit of great writing and acting in one scene – there's so much intensity, so much truth, so much emotion in that one scene. I love that Song Ji Na's writing isn't idiotic, but reflects how students in their twenties would talk and think. They may be juvenile, but they also think like adults. They challenge and they tease; they're honest and yet they don't know how to be completely honest with their feelings. Im Joo Hwan also brings a spark onscreen as he plays "father," and he not only proves himself as an actor to us, but also to his class. He reacts to scenarios by tapping into his own experiences and deep-seated emotions; that's the sincerity that Sun-Man is talking about. Now to his classmates, they may think he has a grudge against Tae Hee, but wouldn't he make a great father? Don't his words ring honesty there?
While Tae Hee could seem quite idiotic, I think I can understand where she's coming from. She has no idea about the entertainment world and agencies, and since this is Chae Young's agency, she doesn't see any reason to fear. She is scared about going into the hotel room full of rich guys at a poker table, and I don't think she's an idiot for not realizing the possible danger she's in. I don't fault her for the decisions that she is making, and I also am not worried for her. She is very lucky to have found friends who would do anything for her.
RELATED POSTS
Tags: Daesung, featured, Im Joo-eun, Im Joo-hwan, Jang Hee-jin, Kim Ji-won, Lee Soo-hyuk, What's Up