What's Up: Episode 14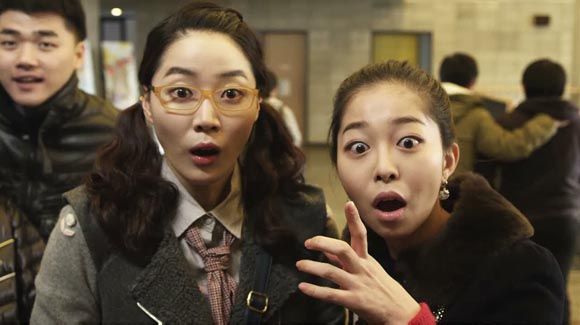 OH THE ANGST! At least we have some resolution now with Tae Hee and Jae Hun, but the ANGST! I knew it was coming…
As for Byeong Gun's storyline, it's predictable in how it ends, but that doesn't take away from the sweetness factor of it all. I am most touched by the revelation on who his first audience/person really is.
"So what'd you do?" Sun-Man asks. Deep breath. "I can't say," Jae Hun responds. WHAAAAT!? You can't leave people hanging like that! It's like saying, "Oh, you know what happened to me last night? Oh wait, never mind."
At least Sun-Man doesn't care that much. Even though Jae Hun swears to repay for his sins and all the pain he has caused, Sun-Man tells Jae Hun he's being an idiot for keeping the secret to himself only. "A secret is like a cancer" – if he keeps it inside without telling anyone or getting "treatment" for it, it will just grow and grow until it kills him.
The next day all the students gather in front of a posted list to find out if they made it to the musical. Ka Young and Glasses Girl are thrilled to find themselves as part of the cast, but are puzzled over the overwhelming number of students involved. Behind them, Byeong Gun's brother appears, asking if his younger brother is on the list too. Ka Young says he didn't even try out because it was a singing audition. And no, Byeong Gun won't be working backstage either.
At lunch, Byeong Gun broaches on the topic about his future – he'll probably do production and directing instead. (Changing majors again!?) Either way, he needs to work with musicals because it's been his lifelong dream for ten years – ever since the family went to New York City and watched "Cats" at the Winter Garden Theater. After "Cats" it was replaced with "Mamma Mia." Dude knows his musicals! What's cuter is when Byeong Gun sings "Mamma Mia~" his brother shakes his shoulders and dances along for a bit.
His brother asks why he didn't start studying musicals to begin with, and he said it was because musicals were just a dream – and dreams don't really come true.
Suddenly Young Jin hits him on the head and asks where Chae Young is. He doesn't have an answer, and she tells him to relay a message that she needs to start following deadlines or else the stage sets will never get made. To make sure he got it, she even has Byeong Gun recite the message back, and he recites it word for word. That's his one talent!
Big Bro is most shocked that Byeong Gun let a girl younger than him (but older, school-grade-wise) hit him around. Byeong Gun once again tries to send him off, because Big Bro should be busy with training, and he himself needs to go "save a friend."
That "friend" is Tae Hee, and his method of "saving" is to bring Tae Hee to Sun-Man for help. Or, to Sun-Man and "his-unwanted-sidekick-that-will-never-leave-his-side" Doo Ri.
Sun-Man wonders if the inability to sing is an infectious disease, and to punctuate the point, Tae Hee sidles away from Byeong Gun. (Aww!) Sun-Man figures it's psychological, and so he gives them a treatment that may work on an early case like Tae Hee, but would be hopeless on a long-term case like Byeong Gun's:
Every morning they have to stand on their hands and recite the multiplication tables from 2 to 9 for 15 minutes. And then after that, recite it backwards. When going up and down the stairs, use the right foot first. Then if she's right-handed, she has to use her left hand only for everything for the next 15 days, so that she can rewire her brain. Byeong Gun asks why the number "15" all the time, and Sun-Man says it represents the cycle of the moon from full to new. Then (Sun-Man continues), at midnight they are to say, "geum-da-oon-jin-ii-ru / ru-ii-jin-oon-da-geum" twelve times. All this palindromic bull-crap means, "As long as you dream, your dream comes true."
Doo Ri is flabbergasted that Tae Hee and Byeong Gun swallow up all this nonsense and even write down the phrase. Only naive characters could ever believe it, and so all this would only work on Tae Hee and Byeong Gun.
Tae Hee spots Jae Hun out of the corner of her eye, who had entered the auditorium quietly and watched.
Left alone, Big Bro wanders through the halls of the school and he sees the different departments, with a particular affection for the painting studio that he visits. Meanwhile, Byeong Gun wanders through the campus looking for the red tracksuit ghost, wanting to talk. The red tracksuit ghost finds it more fun just hiding from him though.
Jae Hun and Tae Hee head up the icy steps to the auditorium, and he helps support her when she loses balance, making sure she starts up the steps on her right foot. Though he smiles at her, his face is a mask of pain.
The other students gather in a different auditorium, waiting for Prof. Yang to announce the musical that they are all a part of. And guess what – it's "Fame"!
OMIGOD-I-SERIOUSLY-HOPE-WE-SEE-A-PERFORMANCE!!!!!!
Everyone screams in excitement, and then Prof. Yang announces their student director – Chang Jin. (Yikes…) She hands him the book with the casting decisions to announce. Lead actress as 'Serena Katz'? Eun Chae Young. (Duh.) Actor for 'Nick Piazza'? Sung Jae gets ready to stand up in acknowledgment, but the role goes to senior Kim Suk Tae. Actor for 'Joe Vegas' goes to another senior, and 'Carmen Diaz' goes to senior Jang Soo Jung. Poor Ka Young – she was already halfway out of her seat, thinking she'd get the role.
Eventually the freshmen realize that they're not getting cast in any roles, the only exception being Chae Young. So they can pretty much just give up their hope of getting a role.
Sun-Man wakes up from an uncomfortable snoozing position to find (of all people!) Soo Bin before him. After verifying that Do Sung auditioned for Sun-Man, and wrote the music for Team B, Soo Bin wants to audition too. For Sun-Man.
KYAAAAAAAAAAAAA! Oh sorry – did my scream just break your monitor?
Jae Hun readies to leave Tae Hee on the empty stage so that she can practice in peace. He even hands off a hot canned coffee for her in case she gets thirsty. "Jang Jae Hun, you're like my guardian angel," Tae Hee says, awestruck. Jae Hun: "It'd be better if you called me a guardian devil." Tae Hee: "Oh! How'd you know that I've always wanted to meet my guardian devil!?"
Tae Hee doesn't want him to leave just yet though, because she's comfortable with him around by her side. Jae Hun's heart cracks just a bit more. It gets worse when Tae Hee notices that he's never been able to look at her in the eye since a few days ago, and apologizes that she couldn't go to the musical with him.
Jae Hun turns around, and solemnly forbids her from ever apologizing to him. A simple "sorry" is too much for his guilty heart. He takes a seat on a couch onstage, still not looking at her. Feeling indebted to him in some way, Tae Hee offers to buy him anything he wants – as long as it's under $10.
But Jae Hun asks for a different kind of favor – could she tell him a little about what her dad was like? Tae Hee's surprised by his request, but she doesn't know what to say because to her, dad is just a boring old ahjussi. She leans against Jae Hun's shoulder, and finds it a perfect height for her head.
1) She's leaning on him. 2) She thinks he's perfect. 3) He's her chic guardian devil. 4) She will buy him anything he wants because she feels that sorry to him. GAHHHH – must you load on the guilt on the poor fellow?
Big Bro knocks on Byeong Gun's dorm door, but there's no answer. He finds the door slightly ajar, and enters – to find the red tracksuit ghost sitting on Byeong Gun's bed!!! Dang – this ghost really can appear to anyone and everyone! Is he really a ghost?! The ghost invites Big Bro to sit down, smiling bashfully like a shy lover.
As for Byeong Gun – he's actually at an empty auditorium, addressing his non-existent audience. He pretends he's an MC, and introduces the handsome, prince of dreams, soulful singer who can make any man insecure, "Kim! Byeong! GUN!"
[Cue step out of spotlight. And step back in.]
This "Kim Byung Gun" flirts with a female audience member, presses play on his stereo, and sings. [download episode audio rip]
Audio clip: Adobe Flash Player (version 9 or above) is required to play this audio clip. Download the latest version here. You also need to have JavaScript enabled in your browser.
And guess who his "one person audience" is? Yep – it's his very own brother, brought to the auditorium by the very kind red tracksuit ghost.
Jae Hun takes the subway and wanders through the streets of Seoul until he sees a police station. The memories of Tae Hee and her father overwhelm him, and he slowly makes his way inside. He approaches a police officer for some information about an accident one year ago. He lies that he's a relative of the victim, and the police officer hands him a form to fill out. They need to file paperwork for anyone requesting an incident report.
Jae Hun fills out his name and the date of the accident, but then quakes. He just wanted some details, but didn't need any written report. The police office takes the form back, and suspiciously asks if he, Jang Jae Hun, is related to the victim, Park Yeon Soo. Jae Hun loses his nerve, and runs out of the station.
He runs, and he runs, and ends up in an alleyway. Jae Hun calls up Doo Ri, who's pissed that someone is calling in the middle of the night. He just wanted to check if Tae Hee got back to her room ok, and Doo Ri tosses the phone onto her roommate's bed.
He gets the shock of his life when he hears Tae Hee's voice on the other line instead of irritable Doo Ri.
Tae Hee is worried over his whereabouts, since it sounds like he's outside past dorm curfew. Jae Hun's heart beats faster and faster… he takes a breath to calm down and then asks if she managed to sing yet. She hasn't, feeling suffocated herself, as if something was stuck in her throat. She tells Jae Hun that it's nothing to get worried over about, and that's when Doo Ri marches right up to her and kicks her out of the room for being too noisy.
Yay for non-understanding roomies!
On to our favorite Shadow Singer! Byeong Gun sleeps on the floor while his Big Bro has the bed, and Soo Bin is interestingly not in bed… Big Bro is all dressed up, as if ready to leave, which cheers Byeong Gun up. He kicks his bro off his bed and gets under the covers.
Big Bro: "Hey Byeong Gun. I heard you singing."
That's the best alarm clock in the world. Despite it being 6AM ('cause who gets up at that hour!?), Byeong Gun bolts upright in disbelief. No way – his brother couldn't have heard him, so Big Bro imitates his introduction of himself, down to the "Kim! Byeong! GUN!"
And then he breaks his own little bombshell: he's thinking of quitting being a prosecutor. He was afraid to quit because he didn't know what would happen afterwards. However, his own little brother's singing made him feel hopeful stirrings in his heart, that yes, it's possible to start over. That it's OK to start over.
Even Big Bro needs to wipe away a tear, while I blow into some Kleenex. Hearing that his voice holds so much power over others' emotions is probably just what Byeong Gun needed to hear.
Big Bro also left behind an early birthday gift on Byeong Gun's desk. It's a drawing of "Superstar" Byeong Gun singing – guess Big Bro has a hidden talent after all!!
It's been quite a while, and Tae Hee and Jae Hun are still talking. Or more like, she's talking his ear off. He finally interrupts her: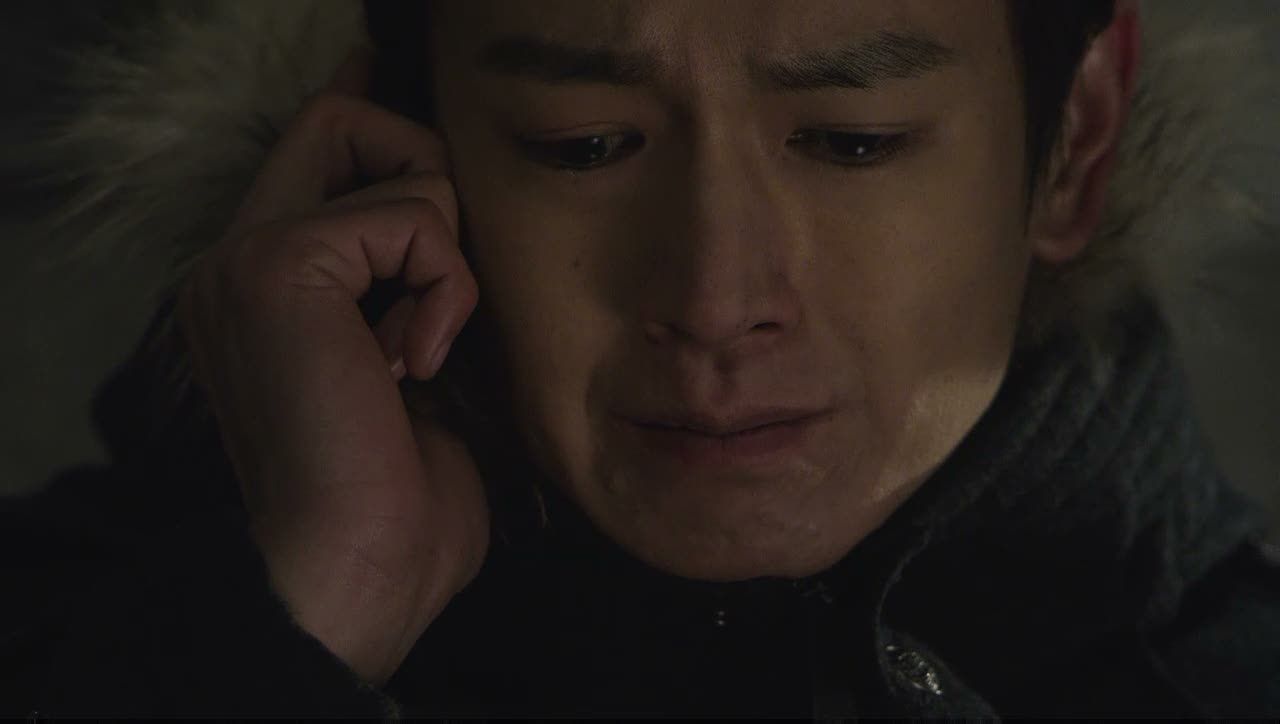 "Tae Hee. I probably won't be able to say this again, so listen carefully. Do you remember the first day we met? […] It was on the subway, on the way to the test. You asked me if this subway was the right one, and I told you it was. I was concerned about you from the first moment I saw you. And you kept staying with me. At school, if I turned around because I felt a tingle, you were standing there. Isn't it strange? If you were smiling, if you were crying, and why, it kept me wondering. You really smile and cry a lot. So, I… I thought I liked you. I thought I liked you Park Tae Hee."
You have GOT TO BE effin' kidding me…. At this point, Jae Hun is struggling to mask his tears.
"But, I'm going to stop now. To be honest it annoys me. You're little…and loud… That's why I'm going to stop now. Being concerned, being upset because of you, I'm going to stop. I want to stop. It's hard on me. […] Let's not cross paths again. I'm asking you this favor."
AGHHHHHH! YOU NOBLE IDIOT!!!
Time for a rebuttal from Tae Hee:
"I'm sorry. I think I know what I did wrong. I bother people around me a lot. The more I like a person, I think I bother them more. I make them sick of me. I'm sorry, I know it too…"
NOOOO~ it's not your fault!!!
And Jae Hun hangs up on her for saying "sorry" to him one more time.
Comments:
AAHGKAWHGUA;HFJSDFNA;KJFHWEUIFAGJSJFNSK;HFWEIUFAJ
Well. I can't say I didn't know it was coming. Grr. Argh. Blech. Yuck. GIMME EPISODE 15 NOWW!
OK – back to the voice of reason in my head. We get two emotional punches in the show, both of which were very predictable and yet, it doesn't lessen the sting at all. I'll start with the one I hate: Tae Hee and Jae Hun. We finally have some resolution to their issue; frankly, I expected this break-up call to occur in the last episode, and that's why I felt episode 13 was so unfinished for me. I'm so worried that Jae Hun will be discovered at the last minute for his involvement in the crimes because that just screams to me, "Rushed ending!"
But we'll see – this drama has been good about pacing so far.
As for the second emotional punch, I loved how cliched Byeong Gun's brother ended up being. After episode 13, I knew this brother was having second thoughts about his chosen career path. And I knew that his brother would be inspired by Byeong Gun's risky choices. What I didn't expect was that he would be his brother's first audience member. I loved that it ended up being his brother rather than someone like Doo Ri because I think Byeong Gun needs to get that stamp of approval from his family. In fact, the mini story at the end of the episode has Byeong Gun announcing to the family that he got into college. His family gets on his case for switching majors again, and before he can even announce what major it is, they tell him to just do whatever he wants and spend his own money. As everyone makes assumptions about him, their voices become chipmunk voices, and they conclude that Byeong Gun must be mental.
His family keeps assuming things about him, and thus never gives him a voice. It's no wonder that he can't even sing to express what's truly in his heart because he can't even say what is in his heart. So for his brother to finally hear his voice, to acknowledge that voice, and to respond to that voice is a miracle. It's the exact miracle that I think Byeong Gun needs to be able to sing in front of others again.
That also means, I'm expecting him to sing in class in the next episode.
Also, I am SO WAITING for Chae Young to be found out for the fraud that she is. She can't sing for her life, and I hope we see her "practicing" and trying to perform in "Fame," before coming up with some lame excuse on why she can't do it.
RELATED POSTS
Tags: Daesung, featured, Im Joo-eun, Im Joo-hwan, Jang Hee-jin, Kim Ji-won, Lee Soo-hyuk, What's Up