What's Up: Episode 16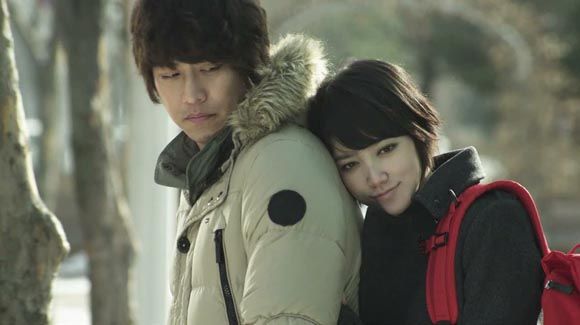 Whoa. I fervently request that all remaining episodes – however many it may be, because I REFUSE to count down – be 90-minutes long each. At it's rate, it's going to be difficult to resolve everything when each episode is only 45-50 minutes long, and the drama is just starting to reach the climax by adding more conflicts and obstacles for our dear characters!
Plus, I'm getting really attached to the coupling in the above photo.
This episode begins with a monologue. Our dear Doo Ri muses about the story of "The Princess and the Frog," and I'm sure she's seeing Byeong Gun with new eyes; he's her Frog Prince, and his singing is a rare miracle. It doesn't mean she's in love with him though.
Yet. (Maybe?)
Still hovering around Sun-Man, she follows him all the way to the hospital, and then watches from a distance as he says goodbye to his doctor. Immediately her eyes widen in anger and jealousy. She puts on lipstick (in the men's bathroom no less, because her anger has made her oblivious to bathroom signs), and then angrily confronts Sun-Man in the reception area.
In front of everyone, she calls him out on choosing status over feelings. So what, just because she's a musical student, he won't date her even if she likes him? Is he someone who really goes for a girl who's a doctor and super rich? Must she play hard to get just so he can be interested in her too?
Sun-Man waves his medical bill in her face. He's in a HOSPITAL. And he just met a DOCTOR… Suddenly Doo Ri asks, "Oh, are you sick?"
Bah! Took you a while to figure that out!
Visibly relieved, they go get lunch together, but Doo Ri can't eat. She wants to know what he's sick from, and what kind of medicine he just got. She even blocks his spoon from reaching his mouth until he answers. Sun-Man: "The drugs were for withdrawal symptoms. I was an alcoholic remember?" Doo Ri is skeptical, but she accepts his reasoning. When she asks how long he has to take medicine for though, his answer is quite morbid:
Doo Ri: Till when do you have to take the medicine?

Sun-Man: Not sure. Probably not for too long.

Doo Ri: So after a while, you're going to get better without medication?

Sun-Man: Probably. By then they say it usually becomes all better.

Kaedejun: You mean – by then, you're probably dead?
Suddenly, he gets pangs from his liver and quickly holds back his nausea. He excuses himself to the bathroom, and Doo Ri quickly snatches a couple packets of drugs for herself. Girl – don't be taking other people's medication! Even if you think it'll cure your future hangovers!
Jae Hun also leaves campus to go to the police station. He waffles between leaving and entering, but finally ends up going in. He is greeted by Detective Cho. Jae Hun tries to act cool by saying he's really busy and has a paper to write, so Cho throws a photo in front of him. It's the scooter left behind on the scene of the accident – the one that Jae Hun had driven before nearly hitting Mr. Park.
Jae Hun pretends he doesn't recognize it, but when Cho says that there were witnesses seeing him there, he blurts out, "In the middle of the night, how could anyone have seen or remembered me clearly?"
Cho: "I didn't say it was at night."
Damn – I hate slips of the tongue like that. Cho informs Jae Hun that his case will be treated like a hit-and-run accident, which means he could get the maximum sentence of 5 years. He sends Jae Hun off to the holding cell and suggests he call his mother. Jae Hun would rather not, but he doesn't hand over his cellphone for confiscation just yet…
After lunch, Doo Ri tries to do couple-like things with Sun-Man, walking down a snowy tree-lined path a la Winter Sonata and leaning behind his solid back to "escape from the wind." Sun-Man then gets a call from Jae Hun from jail, and he tricks Doo Ri into getting on the bus back to school without him.
At the police station, Cho is surprised that Jae Hun used his one call on a teacher, and that the teacher actually did show up to pick him up. Despite not being related to Jae Hun, Cho honestly tells Sun-Man the situation. They don't want to reopen Jae Hun's case. It had been settled a year ago between the truck driver and the victim's family. However, because the truck driver kept insisting on his innocence, posted petitions on their bulletin board every day, and could have gotten the netizens all up in arms against the police station, they had to reopen it.
I'm surprised that Cho would rather just be done and over with Jae Hun, since I thought he was going to go through any lengths to get him. It's like, he became the good guy…! But then again, after one year, a person can change, and Cho admitted to Sun-Man that he wanted to go after bigger criminals instead of small ones like Jae Hun. So he asks Sun-Man for some help, and has Jae Hun released from the holding cell.
On the bus ride back to school, Sun-Man understands that Jae Hun was scared to tell the truth, but he also wanted to just say it and get it over with. He should know – he feels the same exact guilt towards Eun Hye. Jae Hun insists that he was trying to avoid hitting Mr. Park, and got hurt in the process. But because people started gathering around, and it was looking bad for him, he bolted. It was a complete accident.
Sun-Man tells him that he needs to go tell that to the victim. The victim in this case is Mr. Park, but since Mr. Park is dead, he needs to go tell it to the victim's family. Sun-Man hands over a slip of paper – it has the address of the family, and the name of Mr. Park's daughter.
Dun dun dun!! The fact that it's Park Tae Hee is like the large pink elephant on the bus. Without saying much, they both understand that Tae Hee needs to forgive Jae Hun, and arrange a settlement. Only then can Cho submit an appeal on Jae Hun's behalf, and the case can be closed for good.
Meanwhile, a new choreographer has stepped in for Team Yang and "Fame," but his choreography is so much more difficult, including lifts and different rhythms. The choreographer bitches about the amateur cast to Director Oh, and Chang Jin begs Prof. Yang to renegotiate. His cast had practiced their own choreography for over a month, and they're not used to the new dance routines or even the newly-rearranged music. Besides, their original plans for "Fame" weren't that bad.
When Director Oh comes over to speak with Prof. Yang, she broaches on the topic, but is quickly dismissed. Director Oh wants to replace the core dancers with his own people. This musical is becoming less and less about the students, and more and more about commercial success. On top of that, Director Oh wants to have more rehearsals during the day, so he requests that all the students' schedules be rearranged so that they can have classes at night.
Ugh.
But his final condition is the most upsetting: he wants Byeong Gun and Tae Hee in "Fame."
Imagine Sun-Man's reaction when Prof. Yang asks for him to hand over the two freshmen. The guy laughs so hard I'm sure he caused additional pain to his liver and stomach, but probably relished it because the situation was too funny.
Sun-Man knows it's all because of Director Oh; the fact that Prof. Yang is losing control over her own production is all over the school's message boards. Prof. Yang defends her actions, saying that the school finally has a chance to win a prestigious award. Sun-Man: "But if the directing, choreography, script, and actors are all from the outside, can it really be counted as Haneul's performance?"
Prof. Yang gets down on him – though this may all look like she's acting out of personal greed, she's doing it for the students. If they can take part in a well-produced musical and win NYMF, they will have greater opportunities and get scouted by bigger agencies, and have flourishing careers. Success is not built just upon pride and lessons learned in class, but it's built on opportunities and seizing that chance when it's presented to you.
As much as I hate Prof. Yang, I can't argue with her logic, and neither can Sun-Man. But he laughs anyways – Byeong Gun and Tae Hee aren't "his" to keep or give away. If she wanted them so badly, she should have gone to them and asked first!
Of course, the student most miffed by Director Oh's new conditions is Chae Young. She steals his car keys so that he's forced to talk to her, and yells at him for taking away her chance to shine. She came up with the musical idea so that he could execute it and be recognized by the talent agency. How could he betray her and insist on getting Tae Hee to replace her?!
Director Oh is visibly annoyed at her self-centeredness. First off, if the musical fails, Chae Young will only have a black spot on her resume, but she'll still have a career. However he will get fired and have no future. Hence, he's trying to make the musical as fail-proof as possible. Secondly, he never said that he wanted Tae Hee to take over Chae Young's role. He knows that Tae Hee is on the weak side, and doesn't have a thick enough skin to survive in the entertainment business. By putting her in "Fame," Chae Young can continue to mess Tae Hee up mentally. Eventually, Tae Hee may lose her voice again, and she'll be dropped from her contract.
Put it that way, and Chae Young feels slightly better. However, she has an honest moment with Soo Bin afterwards that she's tired of constantly acting in real life. She hasn't felt excited, or laughed, or felt happy for real in a while. She doesn't even know if winning an award for best actress would make her happy, even if it would improve her reputation.
Chae Young hates happy people. I say, this girl needs to stop scheming and just admit that there are more people in this world than she, and someone is going to be better than her.
Soo Bin on the other hand, is perfectly happy and excited. It looks like he's going to be collaborating with Do Sung on the music for Team Sun-Man's musical (!!!!), and he's looking forward to working him because Do Sung is no amateur, and has his own unique style that is rarely seen in songwriters. It's so weird to see him go from bad-ass assassin in Tree With Deep Roots to sensitive music guy here…
Wait till Soo Bin finds out Ha Do Sung = Hades.
Meanwhile, Prof. Yang tracks down Tae Hee and asks if she can be part of her musical instead. Tae Hee's unsure, since she's already promised to work on Sun-Man's. Prof. Yang appeals to her dream: isn't it her wish to perform on a real stage in front of a real audience on a real musical (as opposed to a school musical)? That might have been Tae Hee's wish, but right now it's looking like she just wishes she could speak with Jae Hun again.
While doing some solid thinking and wandering, she bumps into Sun-Man. He wants her to convey a message to Jae Hun that he's assigned Jae Hun to be the director of the musical. Tae Hee is super excited – not only is Jae Hun going to be director, but she now has a good excuse to go and talk to him!
I'm pretty sure this random assignation is Sun-Man's way of keeping Jae Hun in school. I think he knows that Jae Hun would rather run away than face Tae Hee, much like how he ran away after Eun Hye's death.
Sun-Man notes Tae Hee's excitement to be messenger – she likes Jae Hun, doesn't she? Tae Hee admits that she does, unable to hide it, but she also believes that it's just a one-sided love. She may look like a fool to everyone, but there's nothing she can do about it. Sun-Man requests for a 50 Won coin as payment for a secret: "Jang Jae Hun likes you too. He probably likes you five times more than you like him."
That brightens her day, and dispels all doubt she may have had in her mind.
Unfortunately, Jae Hun is already packing up his things and getting ready to leave. (Sun-Man should have assigned him the role as director earlier!) Do Sung catches him in the midst of it and steals the tape. He refuses to submit Jae Hun's leave of absence paperwork, or let Jae Hun leave period without an explanation and without saying goodbye to Tae Hee.
Do Sung: Do you remember this? Last time when I was packing you asked me what I was doing. You said that the people you hated the most were those who faked being all cool. So stop faking your coolness and tell me what's going on!

Jae Hun: You're like a nagging ahjumma. Can you wrap up these boxes then, and ship it to me?

Do Sung: You can't go.

Jae Hun: I'll text you my address.

Do Sung: Jang Jae Hun! Why are you doing this? You know all my secrets! I'm your friend – I think I'm your friend – so what is all this? You can't pull this on me!

Jae Hun: …I think I'm going to end up in jail soon. The police is telling me to settle with the victim's family, but if I do, I'd have to tell them everything. I can't say it, even if I die. I'd rather go to jail.

Do Sung: What are you talking about?

Jae Hun: You said we're friends right? Because we're friends… you can pay for the postage costs right?
Oh Jae Hun, you're still too cool in the face of adversity. He leaves the room, but bumps into Doo Ri at the lobby. She snarks that he must be planning a camping trip with his backpack.
Jae Hun: Oh Doo Ri. I hope things work out well with Prof. Sunwoo.

Doo Ri: You wanna die? Even if you don't hope for it, of course it'll work out well!

Kaedejun: Oh, Doo Ri, you're too confident…

Jae Hun: You're really a great kid.
And as a final farewell, he ruffles her hair, much to her displeasure.
Byeong Gun appears just as Jae Hun leaves, singing Doo Ri's name. Doo Ri pipes up, "You know, you were actually kind of okay when you didn't sing."
But he's got information for her. She had given him the drugs she stole from Sun-Man and asked him to get his doctor father to look into it. Byeong Gun asks if she's crazy – does she actually think his father would willingly go look up the drugs for a son who doesn't live at home and just randomly sent him a packet of drugs!?
He sent it to his brother instead for analysis. Apparently they're painkillers that are usually used in conjunction with patches. Doo Ri nods; she remembers seeing something that looked like patches in Sun-Man's bag. But Byeong Gun's brother had also added that only cancer patients would use these type of drugs and patches.
UH-OH. Someone just found out that Sun-Man has liver cancer. And I'm pretty sure Byeong Gun is going to find out real soon.
Comments:
A lot of conflicts are coming up now, and it's not centered on just our ragtag crew. Aside from the issue of "How to Get Jae Hun Back," we also have "How Will Doo Ri Deal with Sun-Man's Cancer," "How Will Chae Young Try to (and Fail to) Torture Tae Hee,"  and "What Will Prof. Yang Do?"
I am most interested in Prof. Yang's conflict right now. As much as her logic in trying to help her students made sense, I hope she does realize that she cannot have Haneul claim credit for "Fame" if Director Oh gets his way. She may be a bitter has-been, but I hope she recognizes the talent in her students, and fights for them. It's sometimes OK to be idealistic and proud of one's work, even if it doesn't win any accolades or awards. If she does choose to let Director Oh get his way, then I'm looking forward to seeing her fail; she would have then deserved it.
Related to that, I'm also curious about Sun-Man's musical. We already know that their musical is probably going to be raw, full of college-student-angst, and great music from Soo Bin and Do Sung. But we see nothing else. I'm getting worried that we may never see a full, solid performance from his team. I won't be completely disappointed, since I know the focus of this drama is the students, so their growth is more important. But I will throw a five-minute tantrum and cry…
On a side note, Oh Man Seok is so wonderful in this role, and his bickering relationship with Im Joo Eun is so fun to watch. I seriously feel like he's being wasted in Wild Romance, and that the writer of that drama should put these two together at some point. The mini story at the end of this episode is centered around him. It goes back to when he's greeting the students and faculty as they come in to watch the Team A vs. Team B musical. He hands each one a red flag and a blue flag representing each team.
Chang Jin looks at these incredibly simple flags, and Sun-Man goes straight up to him: "They're awesome right? I made them. Last night. I started designing them since kindergarten." What else can Chang Jin say but, "Oh – you did a great job."
I felt like that entire sequence was ad-libbed, as some other students were snickering in the background. It was so awkward and felt spontaneous. But if it wasn't ad-libbed, then I applaud Oh Man Seok for making it seem so. He's got great comedic timing, and it's lucky that his character also happens to be so awesome and carefree. Why can't his character in Wild Romance be like that!?!
RELATED POSTS
Tags: Daesung, featured, Im Joo-eun, Im Joo-hwan, Jang Hee-jin, Kim Ji-won, Lee Soo-hyuk, What's Up